Do you suddenly find yourself unable to enter your Zoom Meeting room because of an "Invalid Meeting ID" error?
When it comes to platforms for hosting meetings online, Zoom makes for the perfect companion as they not only provide quality service and avenues for getting connected with your friends and co-workers, but they also have several features that will make the meeting's proceedings flow through as smoothly as possible.
Despite Zoom's intuitive nature and features, the platform can be somewhat finicky to use and sometimes lead to some frustrating problems at the worst moments possible. One such error is not being able to join an ongoing Zoom Meeting because of a mistake preventing access.
---
Types of Zoom Invalid Meeting ID Errors
Meetings in Zooms are typically held in unique Meeting Rooms that are usually created and hosted by a single person, the meeting host. Co-hosts and admins are also assignable where they can be granted most if not all the control a meeting host has over the Zoom Meeting.
A common problem users have been experiencing with Zoom is that they cannot enter the Zoom Meeting Room despite having stable and strong internet. This problem usually manifests with an error that says, "This meeting ID is not valid. Please check and try again." or "This personal link is not valid.".
Regardless of the error messages you receive above, they both end up with you unable to join the said meeting from the link. This can be understandably frustrating as you can miss out on crucial parts or the meeting completely.
---
That being said, we're here to help as we have this guide with 5 reasons why the Zoom Invalid Meeting ID error might pop up and 8 fixes you can follow to get the situation sorted out quickly.
This guide will cover simple to complex fixes and a fix involving using the Personal ID feature. Zoom is also readily available on various platforms, which we will cover whenever possible.
Now that we have all that away let's start troubleshooting your problems with Zoom!
For more help and information, you may check out our other guide for fixing the Zoom Error Code 5003 or Unable to Connect error.
Why Does the Zoom Invalid Meeting ID Error Happen?
1. Outdated Zoom Application/Browser/System
One of the most common reasons several users found why they received the error was having their Zoom application severely outdated from the meeting host. While Zoom doesn't strictly require you to use the latest version of the app to attend a meeting, it does have a minimum version requirement that you must fit into to use it.
Being updated with Zoom isn't only limited to the app itself. You also need your system to be updated to the latest versions possible alongside your internet browser especially if you use the latter to access Zoom consistently. Check and update your Zoom App (Step 1) to the latest version possible and also check and see if you can update your respective internet browser (Step 2) alongside updating your system (Step 3).
2. Blocked by Firewall and Security
A reason you might find why you aren't able to connect to Zoom meetings can be a result of your system's firewall and security settings. As we mentioned earlier, Zoom requires a strong and stable internet connection, and getting blocked and flagged by your system can interrupt this.
You can quickly solve this issue and prevent it from happening in the future by unblocking Zoom from your firewall (Step 4) and allowing it connection across all your network types.
3. Internet Connection Issues
Internet issues are also a potential reason behind your receiving the error, similar to the previous reason. A poor internet connection will very likely make it impossible to use the app as you will be faced with several errors and warnings that only come as a result of a weak connection.
Resetting your internet connection (Step 5) is the best way to quickly solve this issue and set your DNS address (Step 6) rather than relying on the automatic settings.
4. Wrong Meeting ID
Another reason you might be having problems with joining a Zoom Meeting can be a simple enough reason for having and using the wrong meeting ID when attempting to join a meeting.
Zoom Meeting Rooms are very case-sensitive with what you input to join a room, and one simple mistake can easily lead to several minutes of frustration as you can find a solution. If you find yourself in this situation, double-check and see if the link/meeting ID (Step 7) you use is correct as you could've easily missed out on a simple detail.
5. Expired Personal Meeting ID/Session
Personal IDs are a unique feature in Zoom that allows the platform to distinguish one user to another. Other than being used for identification, this ID can be used for creating unique Meeting Rooms based on your ID and are treated differently compared to standard Zoom Meeting Rooms.
A host having an expired meeting ID will invalidate this room and cause other users to experience a similar error message indicating such a thing happened. Renewing or even creating a new personal ID and then creating a Meeting Room soon after (Step 8) is the best way to fix the problem or even older problems mentioned earlier.
8 Fixes For the Zoom Invalid Meeting ID Error
1. Update Your Zoom App
Keeping your Zoom App updated is crucial in avoiding any fatal bugs and errors that might delay your entry to a meeting. Staying updated to the latest version not only gives you access to the latest features but also any fixes from application break bugs.
Browser users for Zoom can skip the next step as you don't need to worry about updating any application to use Zoom as it relies on the browser version instead.
Updating your Zoom app is especially easy for mobile users as you only need to open your respective app store (Play Store/App Store), navigate to the Zoom app page, and check if any updates are available. If a new update is detected, the corresponding button will appear; otherwise, it will be "Open" and "Uninstall" instead.
For Desktop
On the Zoom app, click on your Profile Icon on the upper right corner of the app.
Click on "Check for Updates" to start updating your app.
Following the steps above will initiate a version check of your Zoom app. If a new update is detected, the app will immediately start to download and install it otherwise, the application will notify you that you are in the latest version possible.
2. Update Your Internet Browser
Zoom is compatible with a large variety of popular internet browsers such as Google, Firefox, Microsoft Edge and Opera GX to give an example. Zoom's browser version functions similarly to its app counterpart, albeit with a few features exclusive to the software.
Having an updated browser is an important part of using Zoom as it prevents any compatibility and performance issues resulting from having an outdated version. This is moreso apparent for several outdated internet browsers as they are completely incompatible with Zoom.
One of the fastest ways to update your internet browser is to visit their download page then downloading and installing the latest version available. Most installers can detect the current version of your browser and perform an update procedure at your convenience.
3. Update Your System
Similar to keeping your browser and app updated, it is essential to have the system you are using Zoom on also be updated. An outdated system usually equates to outdated software and drivers, which might be crucial components to Zoom operating smoothly.
Updating your system allows you to avoid any incompatibilities caused by having an outdated version and prevent any fatal system errors caused by mismatched app and system versions. Here's how you can quickly update your system:
For Windows
Open your system's "Settings" ⚙️ by searching it up.
In your System's Settings window, click on "Update & Security".
Open the Windows Update tab in your Settings by clicking on "Windows Update".
Under the Windows Update tab, click on the "Check for Updates" button.

For macOS
First, select the Apple menu icon and tap System Preferences.
After that, click Software Update.
Next, if there are pending software updates, proceed to click the Upgrade Now or Update button.
For iPhone/iPad
First, open the Settings app and tap General.
Next, select Software Update to search for pending updates.

For Android
First, open the Settings app, scroll down, and select System.
After that, choose System Update.
Then, on this page, you can tap Check for update to search for pending updates.
Note: These steps may differ between Android devices depending on your phone's model and current OS version. However, you should find the steps are generally like the above.
4. Temporarily Unblock Zoom From Your Firewall
Since Zoom heavily relies on having an internet connection and a fast and stable one, anything that would be an obstacle to this and impede on it will cause the app to malfunction and error out.
Zoom can be falsely flagged by your system's firewall, which can prevent it from any of your network connections. Unblocking Zoom will immediately fix the problem and prevent it from getting blocked again in the future. Here's how you can do it:
Open "Windows Defender Firewall" or something similar in your desktop system.
Select "Allow an app or feature through Windows Defender Firewall" in the left-side task pane of the Windows Firewall settings.
Click "Change Settings" in the upper right portion of the app list. Afterward, look for "Zoom Video Conference" from the app list after clicking on "Change Settings".
Check both boxes under "Private" and "Public" with discord.exe to allow the application through these 2 connections. Click on "OK" once both boxes are ticked.
Following the steps above will unblock Zoom from your Firewall and prevent the app from getting blocked again by your system and firewall. This will also allow Zoom to connect to any network type you are connected to.
5. Reset Your Internet Connection
Besides getting blocked by your firewall, Zoom can perform considerably poorly if the internet connection is substantially slow. There can be several reasons you are experiencing a sudden drop in internet performance or an odd error with accessing certain websites.
One of the best ways to fix this problem is by performing a reset on your internet connection. Resetting will allow you a new internet connection instance which should be free of any network errors. Here's how you can do it:
Open your Command Prompt as an admin by typing "CMD" in your Search bar and right-clicking then selecting "Run as Administrator".
In the Command Prompt window, type in "ipconfig /release" and hit enter, and wait for it to finish.
Afterward, type "ipconfig /flushdns" and hit enter to flush and clean your DNS settings.
Once the previous step is completed, type in "ipconfig /renew" to restart and renew your internet settings and configurations. Once it finishes, you can close the window and restart your computer to make sure everything is applied properly.
Following the steps above will allow you to run through the quick process of resetting and restarting your network connection without having to do anything to your modem/router. This will give you a fresh instance and solve any connection problems caused by your old internet connection.
6. Change your DNS Address
Like resetting your internet can help boost its performance and be free from any errors, changing your DNS Address from automatic to static can also help improve it. Having a static DNS Address can make your network perform faster and avoid any errors caused by a wrong/incompatible DNS address.
Here's how you can do it for each respective platform:
For Desktop
Open your computer's "Settings" ⚙️ by searching it up.
Select "Network & Internet" 🌐 from the category list.
In the Status page of your internet connection, select "Change Adapter Options" underneath "Change your Network Settings".
Select the active network you are connected to (Ex: Ethernet) and right-click it. Select "Properties" from the menu.
Look for "Internet Protocol Version 4(TCP/IPv4)" and select it. After selecting the category, click on "Properties".
Click on "Use the following DNS Server Addresses" instead of "Obtain DNS server addresses automatically".
In "Preferred DNS Server", type in "8 . 8 . 8 . 8"
Afterwards, in "Alternate DNS Server", type "8 . 8 . 4 . 4".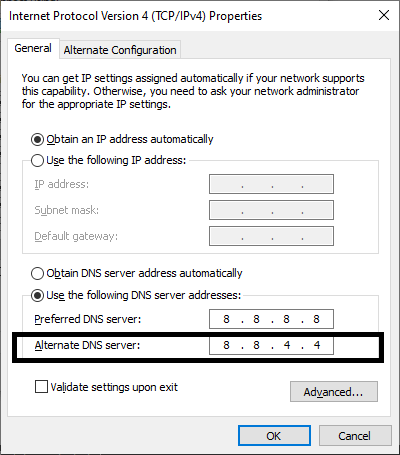 Click on "OK" to apply the changes and restart your computer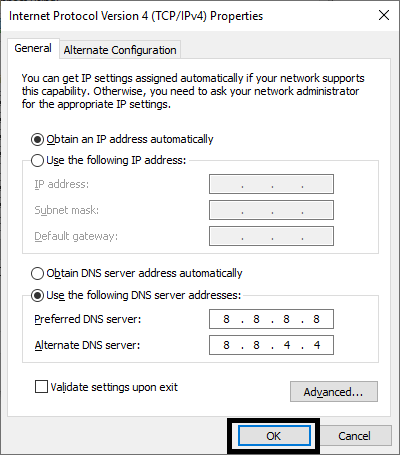 For Mobile
Open your phone's Settings ⚙️ app.
Select "Connection & Sharing" or "Network & Internet".
Look for "Private DNS" and select/enable it.
When asked to type a DNS Provider, type in "dns.google". After typing in the provider, hit "Save" to apply the changes.
You might want to consider restarting your phone before opening Discord. Additionally, it is only possible to set your DNS manually if your Phone is Android 9 or higher. Older versions don't have this feature making it impossible to use.
7. Double-Check the Zoom Meeting ID Used
One of the main things with Zoom Meeting Rooms is that they are all unique areas and rooms with their IDs. A single can host 2 different Zoom Meeting Rooms, but a Zoom Meeting Room can't have the same Room ID as an existing Zoom Room.
Be sure to double-check the Zoom Meeting ID you are using and give it as you could've easily missed a character at the end of the link. It is possible to have a meeting room with a similar ID string but end with a different character altogether.
If the meeting continues to be invalid, you might want to consider canceling the current Zoom Meeting Room, creating a new one, and hosting the meeting there instead. You can easily do this through these steps:
Open the Zoom Web Portal and click on the "Meetings" tab in the left side of the web page.
Find the meeting you want to cancel/delete and mouse over it. Click on the "Delete" Button to delete the meeting.
Click the "Schedule a Meeting" button once the previous meeting was successfully deleted.
Following the steps above will allow you to delete and create a new meeting with your Zoom account. The new meeting's Meeting ID can be found right below the title of the meeting which you can copy and share.
8. Renew/Create a Personal ID and Meeting Room Session
The Personal ID is a unique ID that is assigned to each Zoom account and is usually valid for 1 year (365 Days) before expiring and requiring to create of a new one. One of the nice tidbits about creating a Personal ID is how you can use it as a way to create and host meetings in Zoom.
Here is how you can create/renew a Personal ID in Zoom as well as host instant Zoom Meetings through it:
Open the Zoom Web Portal and sign-in to your account. Click on "Profile" in the web portal's left side tab.
Scroll down until you reach the Meeting category of your profile. Click on "Edit" which is right beside your Meeting ID settings.
If you are a premium user, you can have the ability to edit your ID after clicking on Edit. Otherwise, you will be generated a new personal ID.
Click on "Save" after checking/changing your Meeting ID.
Following the steps above will allow you to renew and check your Meeting ID in Zoom. After you finish the steps, you can copy the link below your now hidden ID to instantly host and create Zoom Meetings without having to go through the trouble of scheduling one.
Take note that you need to use your Meeting ID at least once every 365 days; otherwise, the ID and the corresponding link will expire and become usable.
Conclusion
The convenient platform that Zoom provides for meetings and discussions makes meeting and discussing things online considerably more manageable. Zoom's list of features helps boost your productivity in meetings and save time from having to make your way to the meeting venue.
Meeting Rooms in Zoom can be bugged and errored for many reasons that can't easily be distinguished at the start. This is why we prepared this guide, as we have 5 reasons and 8 fixes that you can follow that will help you set up the perfect Zoom Meeting or join one instantly if you are encountering problems.
Check out our other guides covering similar issues for more fixes:
Overall, let us know down below 👇 in the comments:
If you found this guide helpful and which of our fixes listed help you?
Any fixes we missed and should consider adding in the list?
What is your favorite feature Zoom has compared to other similar platforms?
Any additional experiences/problems you want to share about Zoom?
Feel free to share this guide to anyone you find that might be struggling to get into their Zoom Meetings or the "Invalid Meeting ID" error, especially if they are in a hurry.