Suddenly finding that the picture or image you just captured on BeReal is not uploading or posting?
BeReal is a unique take on a social media app as it emphasizes and focuses on being authentic and, as the app's name suggests, honest. Contrary to many social media apps such as TikTok and Instagram, BeReal asks its users to upload unfiltered photos of themselves at specific points of the day.
This concept is made even better as all app users are notified simultaneously, allowing you access to unique content worldwide. Additionally, many of the pictures that get uploaded only last for about 2 minutes which makes the app's experience all the more unique and intriguing.
Despite this unique take and twist on a social media platform, BeReal is unfortunately prone to issues and bugs that can make the app more frustrating than enjoyable. One of the most prominent issues that can take away from experience is not being able to upload or post anything on BeReal, especially when the app notifies you to do so, which can be frustrating and make you feel like you missed out on things.
---
Types of BeReal Not Uploading or Posting Problems
As we mentioned, BeReal is an incredibly unique entry into the massive social media platforms available today. Like many social media platforms, BeReal is straightforward, following the same formula of taking pictures and uploading content to their websites.
Putting aside the unique quirk BeReal has that we have explained earlier, several users have been reporting experiencing a shared problem with not being able to upload content in the BeReal app during the notification and sharing 2 minutes which can make them miss out on the same allotted period. This issue with being unable to upload in BeReal usually manifests with an error indicating the upload failed.
Regardless of how the problem with uploading content can happen to any user, it is understandably frustrating as you can't enjoy the app to the fullest since you can't participate and interact with other users with your unique content when the time comes.
If you're encountering other issues with the BeReal app, we recommend checking our other complete guide tackling various app issues when the Bereal app isn't working as you'd expect, right here!
---
With all this in mind, we have prepared this nifty guide here that will cover 5 reasons why you might not be able to upload anything in BeReal, as well as 8 fixes for these issues that you can try out to get you out of the situation you find yourself in.
BeReal is mainly available on mobile phones that support android and apple for their operating system. This guide will mainly cover these 2 platforms (Android & iOS) whenever possible and is applicable for both platforms as they have no real difference between the BeReal apps.
Now with all that out of the way, let's start fixing the problem with uploading content in BeReal.
Why is Your BeReal Not Uploading or Posting?
1. A Problem With Your Network Connection
One of the common reasons many users have been finding why they cannot upload anything on the BeReal app usually has something to do with their internet connection. As with many social media apps, an internet connection is necessary to access the content that is available on the platform and to be able to upload your own.
Having an unstable or weak internet connection can make it particularly difficult to not only use the BeReal and other similar apps but can make it impossible for the app to function correctly and as intended. Any issues with your internet connection can also make it difficult to upload or post content in BeReal, requiring you to fix the situation to avoid any problems.
If you have problems uploading and posting content in BeReal, consider checking your internet connection to see if you can properly access it. Resetting your internet connection (Fix 1) in your phone is a quick and easy way to solve any issues or settings your DNS address in your internet connection (Fix 2) is another way to solve any issues you might have with establishing a stable connection.
2. BeReal Has Server Issues
Besides a network issue on your end causing an unstable internet connection with BeReal to work appropriately, there can also be an issue on BeReal's end, particularly with their servers. Any issues and problems with the servers over at BeReal will cause many problems on the app and for many users.
Not being able to upload anything despite having a fast and robust internet connection is one of the most notable instances of BeReal's servers going down and can be why you can't upload any content to the social media site.
Consider checking out the servers for BeReal (Fix 3) and making sure they are up and running, as you might've fallen into the unfortunate circumstance of BeReal's servers being down just as you are uploading to the app.
3. Your Device Storage is Full or Almost Full
The following reason you might be having problems with BeReal can stem from an issue with your device, particularly with your storage. Many phone apps require a certain amount of space available in your device to run correctly, and BeReal isn't an exception.
If you are experiencing problems with getting to run BeReal and even using some of its functions and features, consider cleaning out your device storage by uninstalling and deleting apps (Fix 4) and other content that might be eating up any free space you could've had.
4. Bugs/Problems with the BeReal App
Another reason you might find BeReal not working correctly can be an issue with the app itself. There can be numerous reasons why your BeReal app isn't working correctly, and it can be challenging to pinpoint a specific reason why you might be having a problem with the app.
Nevertheless, it can be generalized that some reasons why BeReal cannot be working properly can either be from your device, as mentioned earlier or with the internal files found in the BeReal App. In either situation, you can try out several things to alleviate and fix the issue, such as clearing out BeReal's app cache and data (Fix 5), relaunching the application altogether (Fix 6), and doing a clean reinstallation of BeReal (Fix 7).
5. Outdated BeReal App
The last reason you might have with BeReal not working correctly can be simply that the BeReal app you are using is severely outdated. An outdated BeReal app will have issues with adequately working as it will have specific bugs and issues not found in the updated version.
Additionally, an outdated app will have difficulty correctly accessing the servers to upload your content as it can get a mismatch error, making uploading difficult, if not impossible. With this in mind, the quick and easy solution to this problem is to check and update your BeReal app (Fix 8) if you aren't already updated to the latest version.
8 Fixes For When BeReal is Not Uploading and Posting Properly
1. Reset your Internet Connection
Resetting your internet connection is a fast and easy way to fix any issues you might have with your current internet connection, as the problem can result from something going wrong with the settings. Many phones often use an automatic setup to connect your device to the internet and keep it connected.
It is not uncommon for your current internet connection to experience problems and slowdowns due to these settings going wrong somewhere. That is why resetting it can fix the problem, as you have a new connection instance. Here's how you can do it:
For iOS
Open the Settings ⚙️ app on your iOS device.
In your Settings app, navigate to the "General" tab by tapping on it.
Under the General tab of your Settings, scroll down until you find the "Reset" option. Tap on it to proceed.
After tapping on Reset, tap on "Reset Network Settings" and confirm the reset afterward to begin the process.
For Android
Open your Settings app on your phone.
In your Settings, open the "Wi-F & Network" option by tapping on it. You can look for a similar option such as "Wi-Fi" if you have a hard time finding it.
In the Wi-Fi portion of your Settings, tap on "Additional Settings" found underneath the "Wi-Fi Settings".
In your Additional Settings, tap on "Managed Saved Networks". This will show you a list of all connected networks you connected to and saved on your phone.
Find the network name you are currently connected to and tap on it.
After tapping on the connected network, tap "Forget Network" to delete and forget it.
2. Set your DNS Address
Similar to the previous fix, besides resetting your internet connection, setting up your DNS address in your phone is another way to fix any internet problems that you might have with your phone. Setting your DNS address, in particular, allows you to solve any connectivity errors, such as severe lag and slowdown in your phone.
Here's how you can set up the DNS address on your phone for each compatible mobile device:
For iOS
Open the Settings ⚙️ app on your iOS device.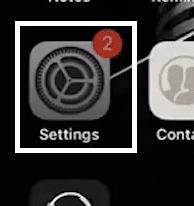 In your Settings App, tap on "Wi-Fi" to view a list of your connected networks.
Tap on the Wi-Network you are currently connected with to view its details.
In the Connection Details of your Wi-Fi, scroll, and tap on "Configure DNS".
Under the Configure DNS portion, tap on "Manual" and then tap on "Add Server."
In your DNS servers, input "8.8.8.8" and "8.8.4.4" to use the Google DNS.
For Android
Open your Phone's Settings ⚙️ app.
Select "Connection & Sharing" or something similar to it, like "Network & Internet".
Find the "Private DNS" option and select/enable it.
If you are prompted to select a mode, choose "DNS Provider." Type in "dns.google" as the hostname and provider, then save it to apply the settings.
3. Check the Server Status for BeReal
As we mentioned earlier, it is important to have a stable internet connection and for BeReal's servers to be up and running without any issues. It is very little you can do for the latter to fix the issue, as you have to rely on the team over at BeReal to fix the issue.
The best thing you can do is to check the server status of BeReal to check and see if there are any ongoing issues with the app. You can head over to BeReal's official twitter account to check if any issues were posted, or you can check this website here that gives an overview of the site status. You can also check UpDownRadar, as this website can give you an overview of the servers that are up and running for BeReal.
4. Clean Out Installed Apps on Your Device
For many apps, it is essential to have enough free space to run properly without any issues. Free space is necessary for apps like BeReal as you can get extra data, such as pictures, that must be saved on your device without any issues. This also includes any cache and essential data that the app will be making and using in the future, requiring more space from you.
If you have been having many apps downloaded recently and haven't been cleaning your phone, consider checking and cleaning out installed apps and data that you haven't been using for some time already.
Here's a general look at the process:
Open your Phone's Settings ⚙️ app.
Open your Phone's App List by tapping on "Apps" or something similar.
Tap and open the apps you want to delete and after opening the App Info, tap "Uninstall" to delete the app on your phone.
Following the steps above is the fastest way to delete anything installed on your phone without any lengthy process. We recommend having a sizable amount of free space in your phone not only for BeReal to work properly but also for your other apps.
5. Clear Out the BeReal App Cache and Data
Any issues with the internal files of BeReal are more likely to lead you to experience problems such as uploading content to the app. These internal files can be anything from essential data used to run the app or even saved content you received from the website.
Having this kind of problem can be annoying and not easily fixed, as it can be challenging to find the specific problematic file. Clearing out your cache and data related to BeReal is one of the fastest ways to fix the issue without having to go through the process of reinstalling everything on the app. Here's how you can do it:
Open your phone's Settings ⚙️app.
From your Settings app, open your App List by tapping on "Apps," "Manage Apps," or something similar.
Find "BeReal" in your App List and tap on it to open it.
In your BeReal App Details, tap on "Force Stop" ✖️, and once it finishes, tap on "Clean Data" or something similar.
Note: In order for iOS users to achieve a similar result, they can reinstall the Bereal app (Fix 7) as there is no native Clear Cache button available on iOS devices and reinstallation is the closest alternative.
6. Relaunch the BeReal App
You might need to relaunch the app if you have been having problems uploading content in BeReal due to constantly crashing or suddenly freezing up. Relaunching your BeReal is one of the best ways to fix the issues, as the problem might've been your phone's lack of memory.
You can follow these steps below to relaunch your BeReal app without any additional problems or issues along the way:
Open your phone's Settings ⚙️app.
From your Settings app, open your App List by tapping on "Apps," "Manage Apps," or something similar.
Find "BeReal" in your App List and tap on it to open it.
In your BeReal App Details, tap on "Force Stop" ✖️ to stop the app from running.
After the game has been stopped, you can re-open the BeReal app on your phone.
Apart from that, especially for iOS devices, you can easily restart apps by simply removing it from your Recent Apps or from the App Switcher, by swiping up from the bottom of your screen (for iPhone models newer than iPhone X) or double-clicking the home button (for iPhone models older than iPhone X).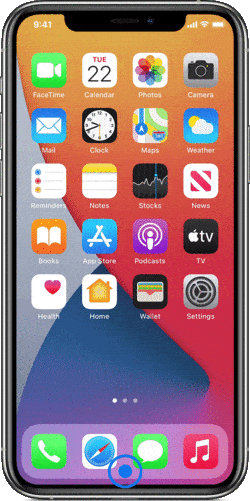 7. Clean Reinstallation of the BeReal App
If the two previous steps don't fix the issues you have with your BeReal app, then reinstalling your app is one of the best ways to fix the issue. Reinstalling your app can fix most problems you might have with the app, especially with consistent crashing and errors that make uploading or even using it a general problem.
Doing a clean reinstallation is the key to proper installation BeReal without any issues, and it can be quickly done by following these steps:
Open your phone's Settings ⚙️app.
From your Settings app, open your App List by tapping on "Apps," "Manage Apps," or something similar.
Find "BeReal" in your App List and tap on it to open it.
In your BeReal App Details, tap on "Force Stop," ✖️ and once it finishes, tap on "Clean Data" or something similar.
Once the app has been stopped and clean data is finished, tap "Uninstall" on the app page.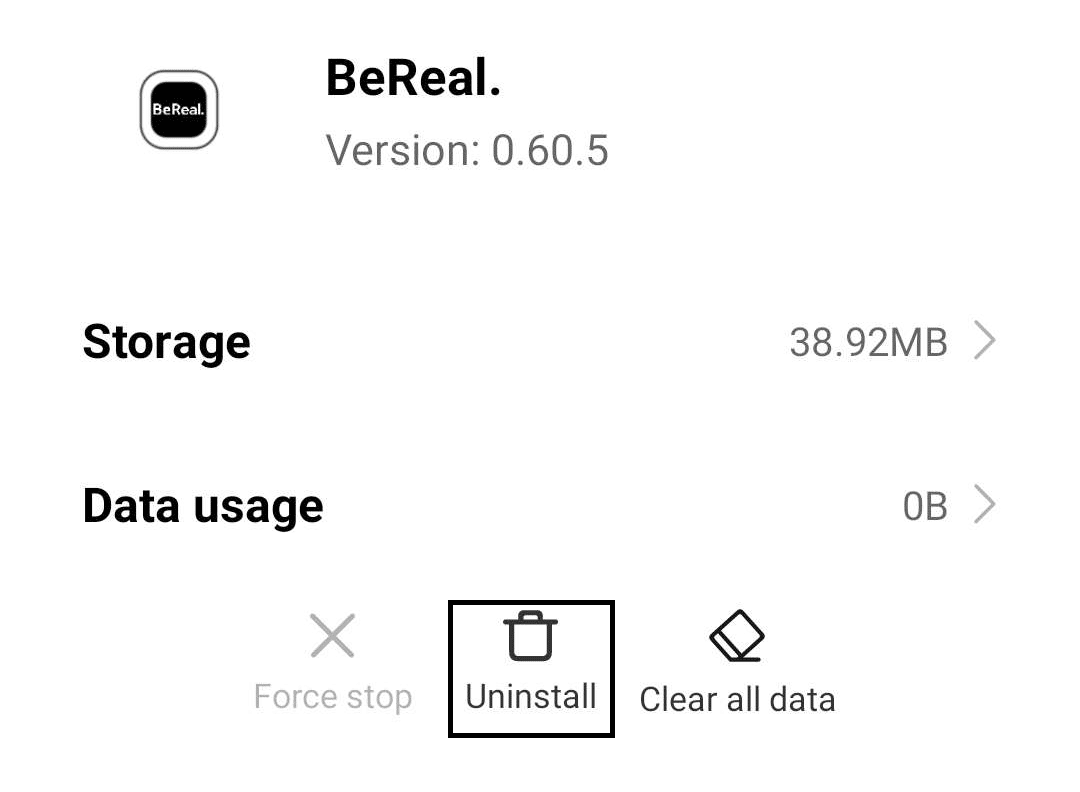 Once BeReal has been uninstalled from your phone, you can open your phone's app store (Play Store/App Store) and navigate to the BeReal app page to reinstall the app.
8. Update the BeReal App
As we mentioned earlier, having an updated BeReal is crucial when using the app, as it prevents you from experiencing old bugs and glitches known in earlier versions of the app.
Updating your BeReal app in Android and iOS is incredibly easy as you only need to open the Play Store or App Store respectively and navigate to the BeReal app page. In the BeReal update, an "Update" button will appear if you can update your app; otherwise, "Open" and "Uninstall" will appear, which signifies that you are already in the latest version possible.
Conclusion
Uploading content to any social media platform allows you to share a part of yourself and your life with everyone worldwide. BeReal allows you the unique opportunity to share more unfiltered and authentic aspects of yourself with its unique take on social media posting, which makes it stand out from similar apps it competes with.
It can be frustrating not to be able to upload content into BeReal due to several problems that make posting content difficult or impossible. This guide we have readied here with 5 reasons and 8 fixes for the issues are sure to solve any problems you might have with uploading content into BeReal so you can get back to posting content.
Again, if you're struggling with another BeReal app issue, you may check out our other more general guide, catering to solving various Bereal platform problems when it isn't working as you'd expect, here.
Let us know down below 👇 in the comments:
If you found this guide particularly helpful and which of the fixes worked best for you?
Any fixes we missed out on you want to share and that we should consider adding?
What are your favorite things about BeReal compared to other apps?
What memorable posts and moments do you want to share with your experience in BeReal?
Feel free to give our guide a quick share with anyone you might find that are struggling with getting things uploaded to BeReal.