Are you facing issues where Binance notifications or price alerts not functioning as expected, potentially impacting your ability to stay informed and make timely decisions in the cryptocurrency market?
Binance notifications are vital alerts that keep users informed about cryptocurrency price movements, trades, and account activities. Binance price alerts or notifications keep you connected to the market, alerting you when a specific buy or sell price is attained.
When users configure a price alert within the Binance application, they can choose the market, trading pair, condition, and live price criteria and even assign a distinctive alert sound. Additionally, it allows them to attach a note to each alert for convenience.
However, there has been a notable surge in user complaints regarding Binance alerts not functioning correctly.
When these alerts fail to function, users risk missing out on crucial market developments or failing to execute trades at opportune moments. This, as a result, can lead to financial losses and missed investment opportunities. Thus, undermining the primary purpose of using Binance – to stay informed and manage assets effectively.
A functioning notification system is essential for staying informed, making timely trades, and safeguarding investments. Therefore, addressing the problem of Binance notifications not working is vital for users to maintain control and make informed decisions in the dynamic world of cryptocurrencies.
Why Are Binance Notifications Not Working?
1. App/Software Glitches
Sometimes, temporary glitches within the Binance app or platform can cause notifications to malfunction. (Fix 2, 3, 9)
2. Device Notification Settings
On smartphones, if the app's notification permissions are turned off, you won't receive alerts. Ensure that Binance has the necessary permissions to send notifications. (Fix 4)
3. Do Not Disturb Mode
If your phone is set to "Do Not Disturb" or a similar mode, it may lead to Binance notifications not working because it silences all notifications and alerts on your phone. (Fix 5)
4 Network Issues
If there's a poor or interrupted internet connection, it might delay or prevent notifications from coming through. (Fix 6)
5. Overloaded Servers
If many users are setting alerts for the same price point or if Binance's servers are experiencing high traffic, there might be delays in processing and sending out notifications. (Fix 7)
6. Outdated App Version
Using apps with older versions may result in compatibility issues. It's always a good idea to keep your outdated apps updated to the latest version to ensure optimal functionality. (Fix 3)
7. Binance Maintenance
Binance occasionally undergoes maintenance or updates, which can temporarily impact some of its services, including notifications. (Fix 1)
8. VPN
VPNs alter your device's location by routing internet traffic through foreign servers. Binance's servers may not recognize these locations, resulting in failed notifications and alerts. (Fix 8)
10 Fixes for Binance Notifications or Price Alerts Not Working
Before diving into complicated fixes, try this simple solution: restart the Binance app. It's like turning a glitchy device off and on again.
So, if the Binance notification is not working, start closing and reopening the app. This straightforward step can resolve small problems or bugs all by itself, making your app work smoothly again.
1. Check the Binance Server Status
Binance maintenance can disrupt the normal functioning of Binance notifications or price alerts. During maintenance, certain app features may be temporarily disabled or affected, including notifications.
This can lead to users experiencing issues where they don't receive alerts as expected. Checking the server status is crucial in such instances because it helps users determine whether the problem lies with the app or if it's a result of ongoing maintenance on Binance's servers.
When maintenance is planned, you'll see a notice about the maintenance schedule directly on Binance's homepage, along with an estimated time for the platform to become accessible again.
To address this, first, confirm the operational status of the Binance website by visiting it.
Additionally, Binance employs various communication channels to update users about maintenance, including email notifications and official posts on its website and Twitter page.
If the Binance notifications are not working because of scheduled maintenance or updates, the best course of action is to wait patiently until the system is up and running. The underlying cause is beyond your control, and there isn't a direct action you can take to resolve it.
2. Restart Your Device
When you restart your device, it removes the device's temporary memory, closes background processes, and reloads all system components, including the Binance app.
This action can help eliminate any software glitches or conflicts that might be hindering the proper functioning of the app's notification system. It essentially provides a fresh start, allowing the Binance app to run smoothly and deliver notifications as intended.
So, when you encounter notification problems on Binance, a simple device restart is often an effective and easy-to-implement solution to get things back on track.
For Windows
First, click the Start button. It's usually located in the lower-left corner of your screen and looks like the Windows logo.
In the Start menu, you'll see a power icon, which looks like a circle with a vertical line. Click on it.
After that, click on the "Restart" option.
Lastly, Windows will ask you to confirm the restart. Click "Restart" again.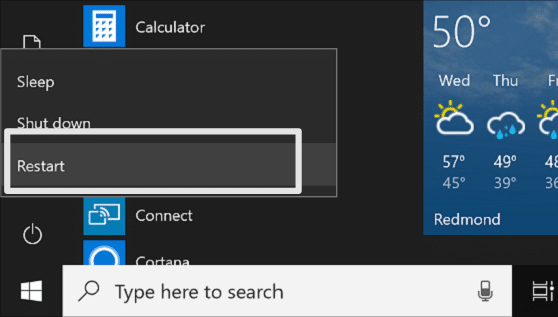 For Mac
First, click the Apple logo. This will open the Apple menu.
Then, from the dropdown menu, select "Restart".
After that, a confirmation dialog will pop up; click "Restart" again.
Your MacBook will now begin the restart process. It will shut down and then automatically turn back on.
For Android
First, long press the "Power button" for 5–10 seconds.

The power menu will show up on your screen once you hold down the button.
Next, choose the "Restart" button.
For iPhone
First, press and hold the Side button and Volume Down button simultaneously.
When the slide-to-power-off slider appears on your screen, release the Side and Volume Down buttons.
Then, swipe the slider from left to right to shut down the phone.
Wait for 15-30 seconds. Once the iPhone is completely off, press and hold the Side button again.
Lastly, release the Side button when the Apple logo appears and allow the phone to start up.
3. Update the Binance App
Updating the Binance app is a crucial step in resolving issues where Binance notifications are not working. App updates typically include bug fixes, improvements in performance, and enhancements in notification delivery mechanisms.
By updating the app, you ensure that it is running the latest, most stable version, with potential glitches or software-related problems addressed by the developers. This helps maintain the app's compatibility with changing operating systems and ensures that notification features remain reliable and functional.
In short, updating the Binance app is like applying a remedy that brings it up-to-date and aligns it with the current technical requirements.
For Android
First, go to the Google Play Store on your Android device.
Now, press the "Profile icon".
Then, click on the "Manage apps and device" option.
Lastly, tap the "Update" button next to the Binance app or click the "Updates all" option to update all apps.
After that, wait for the update to complete.
For iPhone
First, navigate to the "App Store" on your iOS device.
Then, tap on your profile icon.
After that, scroll down to see pending app updates. If updates are available, you'll see a list of apps with "Update" next to them.
You can either tap "Update" next to each app to update them individually or tap "Update All" at the top of the list to update all available apps.
For Desktop
First, open the "Binance" app, then locate and tap the gear-shaped icon to open settings.
Then, inside the Settings menu, tap the option "Checking for updates."
After that, hit the "Install Now" option.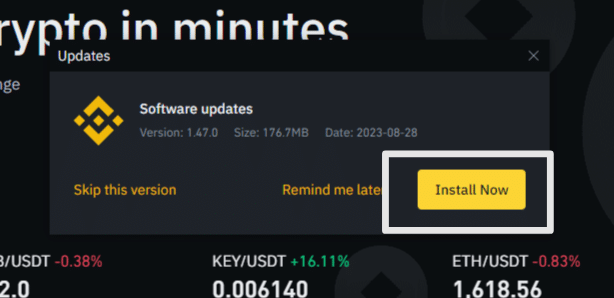 Lastly, tap the "Restart to Update" option.
4. Check Device Notification Settings
Check your device's notification settings to make sure that the app has the necessary permissions to send notifications. Sometimes, these settings can accidentally get disabled or misconfigured, preventing Binance from delivering alerts.
So, this simple step ensures that Binance notifications have the green light to reach your device, allowing you to stay informed about critical cryptocurrency market changes and trading opportunities effectively.
For Android
First, navigate to your device's "Settings" menu.
Then, scroll down and select "Apps", depending on your device.
Now, find and tap on the "Binance" app in the list of installed apps.
Then, tap the "Notifications" option.
Lastly, make sure that notification permissions are enabled for the Binance app. If not, then press the toggle switch next to "Allow notifications."
For iPhone
First, navigate to your device's "Settings" menu.
Then, tap the "Notifications" option from the settings menu.
After that, look for the "Binance" app and tap it.
Lastly, make sure that notification permissions are enabled for the Binance app. If not, then press the toggle switch to enable it.
5. Disable "Do Not Disturb" Mode
When "Do Not Disturb" is active, it prevents Binance from delivering alerts with sound or visual cues, which are crucial for timely responses to cryptocurrency market changes.
By turning off "Do Not Disturb", users can ensure that Binance alerts are not muted, allowing them to stay informed.
For Mobile Users
First, navigate to your device's "Settings".
Then, tap the "Do not disturb" option to open the main page.
Lastly, press the toggle switch to disable the "Do not disturb" mode.
For Windows
First, open "Settings" on your PC, and navigate to the "System" option.
Now, select the Notifications tab.
Lastly, disable the "Do not disturb" toggle switch to turn off this mode.
For macOS
First, tap the Control Center icon.
Then, click the Do Not Disturb section (look for the moon icon)
From there, you can turn off Do Not Disturb by simply clicking on it.
6. Check Network Connection
Inadequate or unstable internet connectivity can hinder the Binance app's ability to communicate with its servers in real-time. This can lead to delayed or failed notifications.
By fixing your network connection, you ensure that the app can send and receive data smoothly.
If you're experiencing network issues, try switching to a more stable Wi-Fi network or using mobile data if available.
By addressing network-related problems, you can improve the reliability of Binance notifications, ensuring you receive timely updates on cryptocurrency market movements.
First, look for the Wi-Fi icon at the top of your device's screen. If it's there, it means you're connected to Wi-Fi.
If not, then open "Settings" on your device.
Now, locate the Wi-Fi option on your device. After that, press the Wi-Fi toggle switch to turn it off, and then press it again to turn it back on. See if that resolves the problem or not.
If the issue persists, then switch to a more stable Internet connection, especially one with good network coverage, and turn on "Cellular data" or "Mobile data" (depending on your device). Make sure to turn off Wi-Fi once you've done this.
7. Wait for a While
Overloaded servers can lead to Binance notifications not working due to excessive user requests overwhelming the server's capacity. When the server is flooded with traffic, it can struggle to process and deliver notifications in a timely manner, resulting in delays or failures.
In such situations, the best course of action for users is patience. Attempting to continuously refresh or reconfigure alerts can further strain the server and exacerbate the problem.
It's advisable to wait for the server load to normalize, as Binance's technical team is typically working to address server issues promptly. During this time, users can monitor the market manually and refrain from making impulsive trades until notifications resume functioning normally, ensuring a smoother experience for everyone.
8. Disable VPN
When you face problems with Binance price alerts not working, it's a good idea to turn off your VPN (Virtual Private Network). Here's why.
VPNs change your device's IP address and make it look like you're connecting to Binance from a different location, often in another country.
This can confuse Binance's servers and lead to errors, especially if some Binance services are restricted or not available in that particular region.
To fix this issue, follow these steps:
Disconnect your VPN.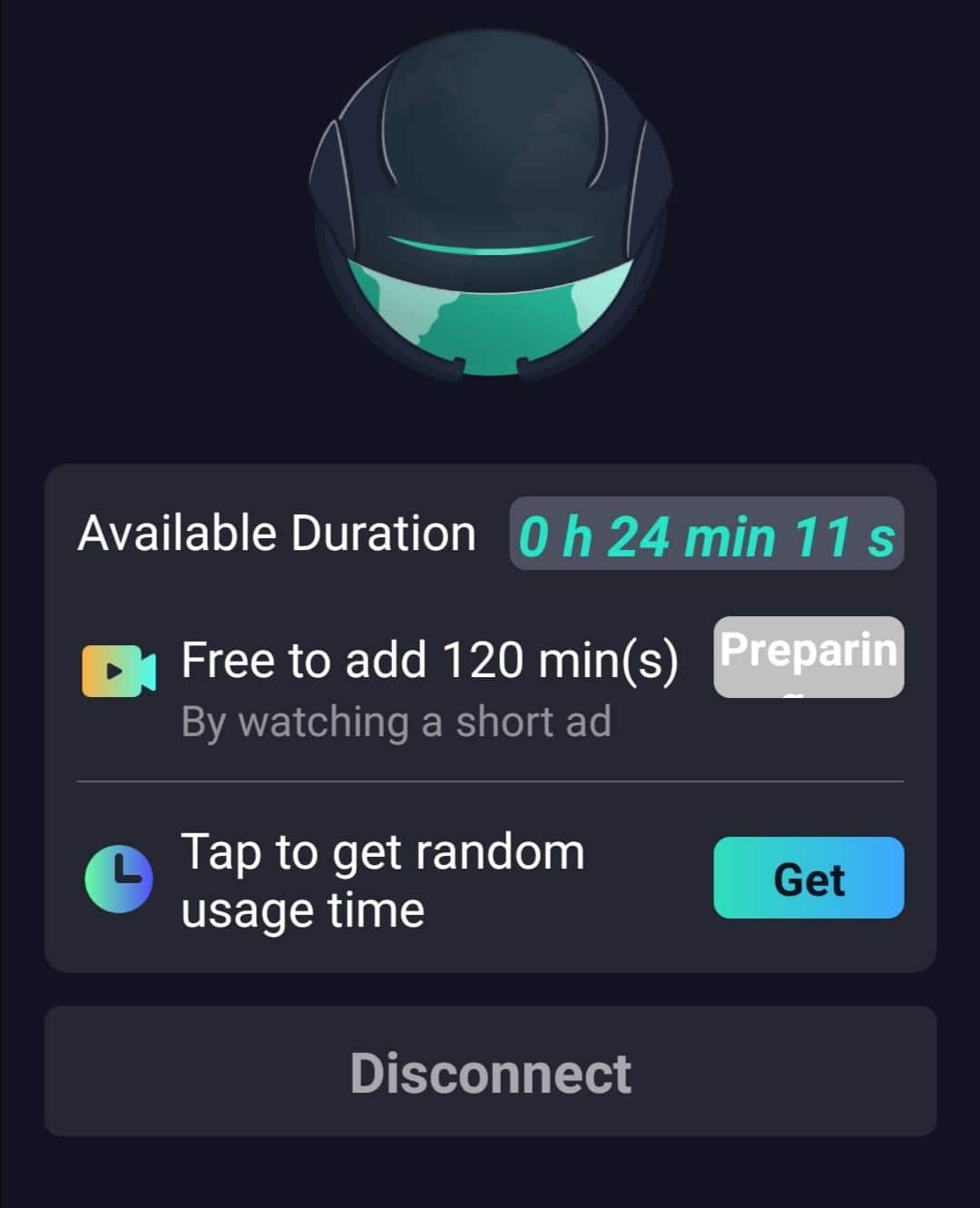 Restart your mobile or desktop to ensure all changes take effect.
After restarting, check if Binance alerts are now working properly.
By doing this, you'll likely resolve the problem, as your device will connect directly to Binance's servers without the complications introduced by the VPN, allowing alerts to function correctly.
9. Clear App Cache
Over time, an app accumulates data in its cache, which can become corrupted or incompatible with new updates, leading to malfunctioning notifications. By clearing the app's cache, you essentially reset it, allowing the app to rebuild its cache with fresh data.
This can eliminate potential conflicts, glitches, or errors that may have been hindering the delivery of notifications.
It's a simple yet effective troubleshooting step to ensure that Binance notifications work smoothly, as it ensures the app has access to the latest and most reliable data when generating alerts for users.
First, open the "Binance" app on your device.
Then, press the Settings gear icon at the corner of the screen.
Now, tap the "Clean Cache" option.
Lastly, tap the "Confirm" option.
10. Contact Binance Customer Support
If you've tried all the methods mentioned earlier to resolve the notification issues and still it's Binance notifications not working, it's advisable to reach out to their customer support.
You can access customer support via this link.
When reaching out to support, provide a thorough explanation of the problem you're facing. The more detailed your description, the better assistance Binance Bot can offer in addressing your issue effectively.
Conclusion
We have demonstrated 10 effective ways to address the issues where Binance notifications not working. Implementing these solutions can help users ensure a seamless and reliable experience while navigating the cryptocurrency market through the Binance platform.
For more questions or assistance, use the comment section below.
If this informative guide was helpful, then share it with others!