Are you unable to access Bing Chat? Are you wondering if it is a server issue or if your browser needs an update?
AI Chatbots have exploded in popularity since the release of ChatGPT. Users are flocking to these tools in enormous numbers because they are fast and accurate, saving them hours of searching the web for a relevant answer. Bing Chat is the latest addition to Microsoft's arsenal. 
The Chatbot allows users to connect and communicate with others in real-time. It employs AI to understand and reply to user queries, but sometimes users may encounter errors where they cannot access Bing Chat. If you suffer from the same problem, don't worry; numerous users have reported the same issue. Therefore we have compiled 8 fixes for when you are unable to access Bing Chat.
So without further ado, let's get started!
1. Check Your Internet Connection
Verifying your internet speed is the first and foremost solution to resolving issues with Bing Chat. An unstable internet connection can prevent your device from connecting to Microsoft's servers. This can cause errors or issues with accessing Bing Chat. You can check your internet speed via popular online speed checkers like Speedtest.net or Fast.com.  In our guide, we will use Fast.com to verify our internet speed. 
To proceed, simply navigate to Fast.com and run a speed test for your internet. If your connection is slow or unstable, try contacting your Internet Service provider or restarting your router. Lastly, launch Bing Chat again to see if the issue persists.
If your internet connection is stable, we recommend checking out other solutions in our guide.
On the other hand, if your Internet is currently experiencing low speeds or high Ping and latency, you can try the below-mentioned tips to improve your internet speed:
Turn on and turn off Airplane Mode ✈️
Reboot the device 🔁
Re-enable the WiFi 📶
Restart or power-cycle the WiFi router
Stop All Downloads 🚫
Contact the ISP Provider ☎️
2. Clear the Web Browser Cache and Cookies
Your browser stores temporary files, such as images and videos, in the form of a cache, so the next time you visit a website, it becomes easier for you to load it. This reduces loading time and enhances the user experience.
But this cache can become corrupted over time and make you unable to access Bing Chat. In addition, corrupted cache or stored cookies can sometimes prevent websites like Bing Chat from functioning properly.
Fortunately, this issue can be fixed easily by simply following the steps below:
For Microsoft Edge
Begin by clicking on the kebab menu in the window's top right corner.
Then, in the drop-down menu, select Settings.
On the newly opened page, click on Privacy, search, and services in the left sidebar.
Then, under the Clear browsing data section, click the Choose what to clear button.
After that, in the popup window, ensure the Time range is set to All time.
Next is to ensure that only the Cached images and files option is checked.
Click on the Clear now button in the popup window to get rid of the cached data.
Finally, restart your browser to ensure all changes take effect.
This will effectively clear your cache and cookies. Lastly, try accessing Bing Chat again to see if the issue persists
3. Disable Browser Extensions
Your browser add-ons or extensions can sometimes cause conflict and interfere with the working of websites like Bing Chat. Some extensions are prone to bugs and need to be updated regularly by developers and hence become obsolete. These browser extensions interfere with Bing Chat's ability to return responses and establish a stable connection to Microsoft's servers. These faulty extensions can also prevent Bing Chat from running its scripts properly, prompting error messages. We recommend disabling your extensions individually to identify the problematic extension. To get started with this fix, simply follow the instructions below;
For Microsoft Edge
Begin by clicking on the kebab menu in the window's top right corner.
Then, in the drop-down menu, select Extensions.
In the newly opened drop-down menu, click on Manage extensions.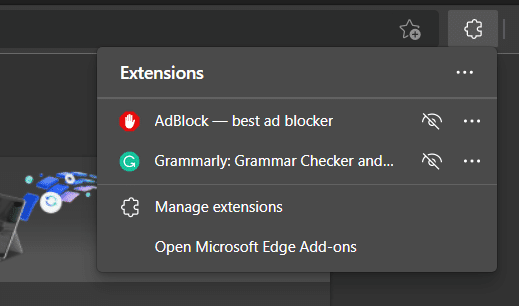 After that, in the newly opened tab, you may disable all your currently enabled extensions by clicking on the toggle on the right of each extension.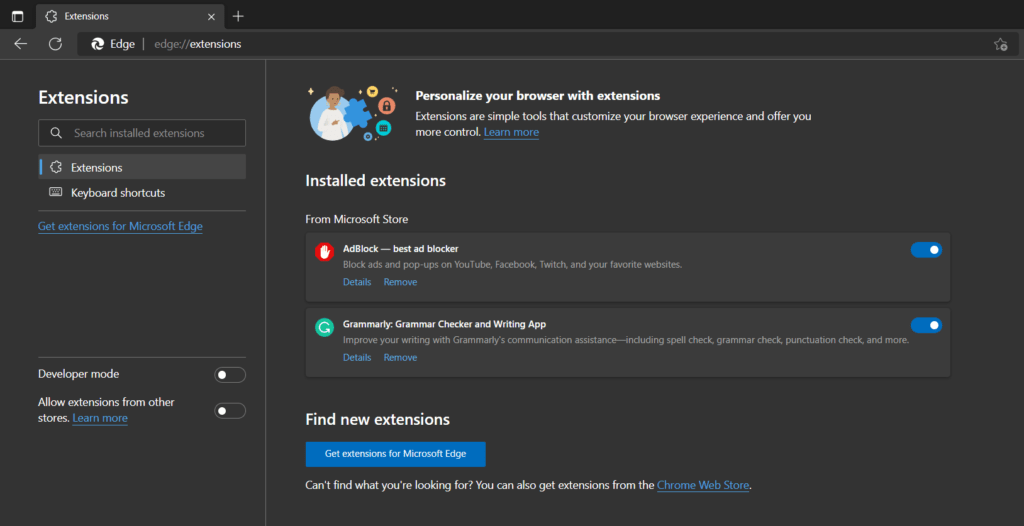 Finally, restart your browser to ensure all changes take effect.
4. Disable Firewall or Antivirus
Your firewall or antivirus software can sometimes block access to certain websites by falsely labeling them as suspicious or potential malware. Disabling these false positives temporarily can help identify if they are the root cause of the problem.
Before we proceed with the steps necessary to disable your firewall, it is crucial to know that disabling your firewall can expose your device to various security threats. Therefore, this should only be done for troubleshooting purposes, and the firewall should be re-enabled once you resolve your issue.
To disable your firewall or antivirus, simply follow the steps below:
First, open your

antivirus

or

firewall

software

Now, look for an option to disable the program or turn off the protection

Then, follow the instructions to disable it

Alternatively, you can access the

settings

or

options

menu of your firewall or antivirus software and disable it.

Finally, try accessing Bing Chat again.

Lastly, if Bing Chat loads successfully, it may indicate that your firewall or antivirus is blocking access to the website. Add an exception or safelist Bing Chat in your firewall or antivirus settings.
5. Clear Your DNS Cache
Clearing the DNS cache can often help with Bing Chat issues. DNS cache translates website domain names into IP addresses that your computer can use to connect to the website's server. When your computer's DNS cache becomes corrupted or obsolete, it can prevent your pc from successfully connecting to a website's IP address.
To clear your DNS cache, simply follow the steps below:
For Windows
First, open the

Command Prompt

on your Windows computer by pressing the

Windows key + R

and typing "

cmd

" into the Run dialog box. Then, press

Enter

.

Next, type "

ipconfig /flushdns

" into the Command Prompt and press Enter. This will flush the DNS cache on your computer.

Now, wait for the Command Prompt to confirm that the DNS cache has been cleared. Once you see the message "

Successfully flushed the DNS Resolver Cache

," you can close the Command Prompt.
Finally, try accessing Bing Chat again to see if it loads properly
For macOS
Click on the Apple Icon found in the System Tray in the upper-left portion of your desktop, and afterward click on "System Preference".
In your System Preferences, look and click on "Network".
Find the Wi-Fi connection you are currently connected to and click on it.
After clicking on the Network connection, click on the minus ➖ symbol to delete it.
Once the connection was deleted, click on the plus ➕ symbol to re-add the network connection.
To flush the DNS cache on macOS:
First, open the Terminal app on your Mac and execute the mentioned command in it, and hit Enter:
dscacheutil -flushcache
Subsequently, enter your system password in Terminal to move ahead and then run the mentioned command:
sudo killall -HUP mDNSResponder
Once you've executed the above-mentioned command, restart your Mac PC and clear all the DNS data.
If clearing your DNS cache doesn't fix your issue with Bing Chat, we recommend employing the next fix mentioned on our list.
6. Disable Pop-up Blocker
Pop-up blockers can sometimes block the chat window or other important components of Bing Chat, preventing access. Additionally, they can prevent some of Bing Chat's scripts from running properly, which causes issues with loading Bing Chat. Disabling your pop-up blocker or adding an exception for Bing Chat can help to fix this issue. 
To disable your pop-up blocker, simply follow the steps below.
First, launch your web browser and click on the

three-dot menu

icon at the browser window's top right corner.

Then, from the dropdown menu, select "

Settings".

In the

Settings

menu, look for the "

Privacy and Security

" tab and click on it.

Under the "

Privacy and Security

" section, click on "

Site Settings

".

Now, on the

Site Settings

page, scroll down and click on  "

Pop-ups and redirects

".

Toggle off the switch to disable the pop-up blocker.
Finally, try accessing Bing Chat again to see if the issue persists.
7. Contact Bing Chat Support
If none of the solutions mentioned above work, then you should try contacting Bing Chat support because it is likely that the issue is on Bing Chat's server side. Contacting Bing Chat's support team allows you to seek technical assistance to resolve this issue promptly.
To contact Bing Chat's Support, simply follow the steps below:
First, open your browser and go to

Bing Chat Website.

Then look for a "

Help

" or "

Support"

link on the Bing Chat website. This link is usually at the top or bottom of the page or in the chat window itself.

Then click on the "

Help

" or "

Support

" link to access Bing Chat support

Now you look for a "

Contact Us

" or "

Submit a Request

" link on the support page or website and click on it to initiate the contact process

Fill in the required information, including the duration and frequency of your issue, along with your name and email address.

Finally,  submit the contact form and wait for a response from

Bing Chat Support.
Conclusion
In conclusion, being unable to access BIng Chat can become quite frustrating for users, but thankfully there are several solutions to this issue. If you follow the steps and procedures in our guide closely, you will get back to using Bing Chat without any issues. We hope our solutions helped you fix your issue regarding Bing Chat not opening up properly.
Lastly, don't forget to share this guide with peers encountering issues regarding Bing Chat.