Trying to watch your live lectures or access notes on Blackboard only to be halted by the Sign On error?
This error message usually arises when users or students are logging in to their Blackboard account. In worse cases, you may be attempting to make a last-minute submission, but Blackboard keeps showing you this Sign On error message😱.
Other times users find this error when watching live lectures or attempting to reconnect to the stream on Blackboard Connect. So, why does this error happen?
We've narrowed down the possible causes for this Blackboard Sign On error to be:
The Blackboard servers are overloaded or experiencing downtime.

A login system cache issue.

Users were not logging out before closing the Blackboard webpage.
Knowing these causes, I then compiled this list of steps that may be effective in solving this error. Therefore, these are 7 steps that I tried out or were recommended whenever I came across the Blackboard Sign On error.
Additionally, these steps apply whether you're using Windows, macOS or even Linux to access Blackboard.
---
Table of Contents
---
1. Reload or Hard Refresh the Blackboard Web Page Multiple Times
For starters, we recommend restarting your session with the Blackboard platform. You can do this by restarting the web page. Hence, this step is done in an effort to reconnect with the Blackboard servers to allow you to access the system. Besides that, reloading a web page is also a simple way to clear minor cache associated with it.
Simple Reload of the Blackboard Web Page
We recommend starting with a simple reload of the web browser. You can do this simply by:
Clicking the

reload button

on the web browser.

Pressing the

Ctrl

+

R

key (For Windows) or

Command(⌘)

+

R key (For macOS).
The above steps should be the same regardless of which web browser you're using, whether it's Google Chrome, Safari, Firefox, Microsoft Edge etc. 
Also, do note that this step may not be successful on your first try. Therefore, try reloading the Blackboard page a few times before giving in.
Hard Refreshing the Blackboard Web Page
A hard refresh is a more effective reload of the webpage, as it clears the browser cache associated with it. Hence, doing this forces the browser to boot up the latest version of the Blackboard page and resets the login cache. It's a faster way of clearing the browser cache than going through the browser settings (Step 4).
For Windows: On most major web browsers (Chrome, Firefox, Edge), you can do a hard refresh by pressing the Ctrl and F5 key together at the Blackboard page.


For macOS: The equivalent for Safari is to press the Command(⌘) + Option(⌥) + R key together.


2. Check the Blackboard Server Status
From time to time, Blackboard servers are seen to experience downtimes. If many people are logging onto Blackboard at a time, this can result in the servers being overloaded with users. Thus, you may get stuck in a perpetual loading loop or even be prompted with this Blackboard Sign On error.
On that note, it's important to determine if there are any issues on Blackboard's end that's resulting in this error message. If you find there are server problems, we suggest logging in to Blackboard after a few minutes. Usually, these server issues get sorted out in 5-10 minutes.
There are a few ways you can check the Blackboard server status:
Through the Official Blackboard Service Status page
Blackboard has its own page with real-time updates of the status of all their services. You can visit this page by clicking here.
Once you're on the status page, find your region, and from the drop-down check if the particular service or servers are Operational.
Additionally, you can check this webpage to check if there are any Blackboard server/service maintenances.
Through Downdetector
Additionally, we suggest checking Downdetector, a third-party server status website which reports on Blackboard as well. Downdetector is a very reliable source to determine if there are any Blackboard-related errors, as the status they display is based on reports from real users.
You can visit the Blackboard page on Downdetector by clicking here.
Additionally, they have a comment section and a live map you can check to see the types of problems and the afflicted regions.
3. Use a Different Web Browser
The Blackboard platform is more optimised for certain web browsers compared to others. This doesn't mean that they're completely non-functional on these other web browsers. However, you may be prone to facing more errors, including the Blackboard Sign On error.
Therefore, try switching to Google Chrome or Mozilla Firefox. Many users have found that these are the best web browsers to use for Blackboard.
4. Clear Your Web Browser's Recent History, Cache and Cookies
As mentioned previously, the interfering login cache can be the culprit behind this Blackboard Sign On error. Besides that, other web browser cache and cookies may hinder the Blackboard platform from loading up properly. With that said, it's important to delete this built-up browser cache from time to time.
The following are the steps to clear the web browser history, cache, cookies and other site data for whichever web browser you're on.
On Google Chrome (Windows)
Press the Ctrl + H key together or click the three dots at the upper right, hover over History, and select History again. After that, click the Clear browsing data button on the left.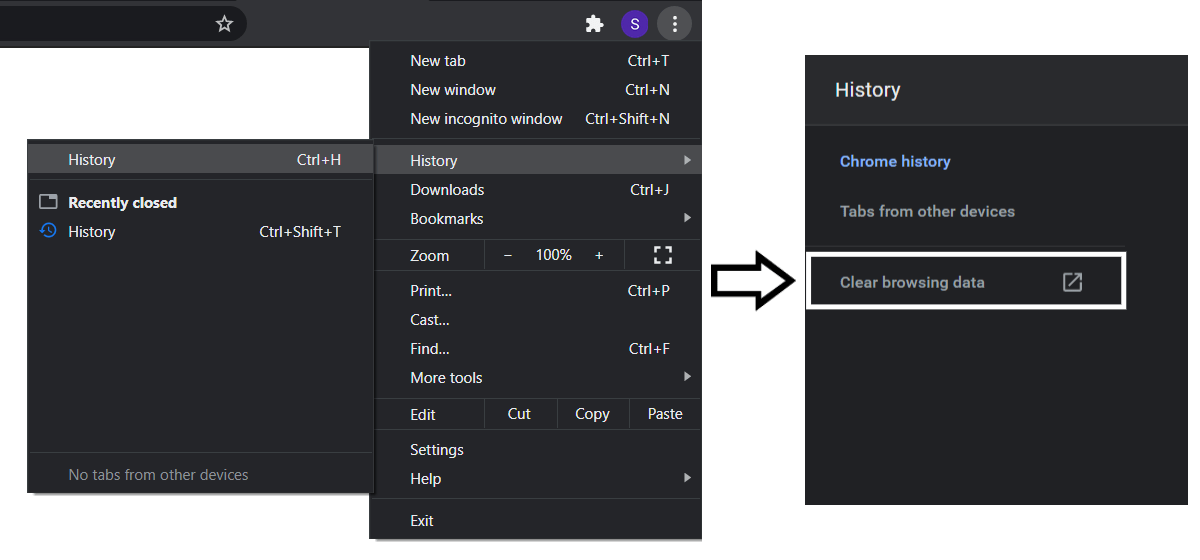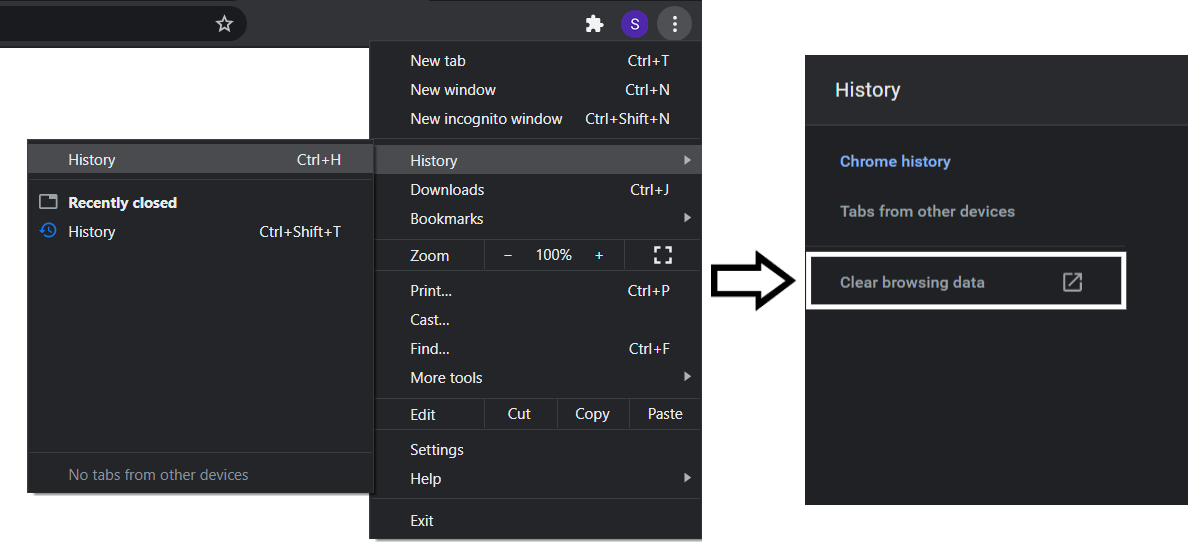 Following that, under Basic, tick all the boxes, and for the Time range, select All time. Then, click Clear data.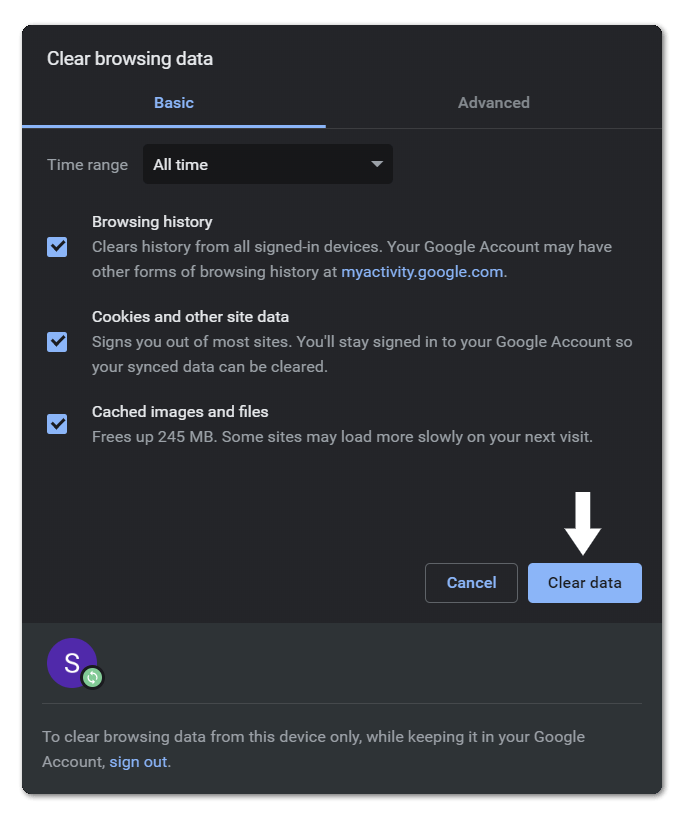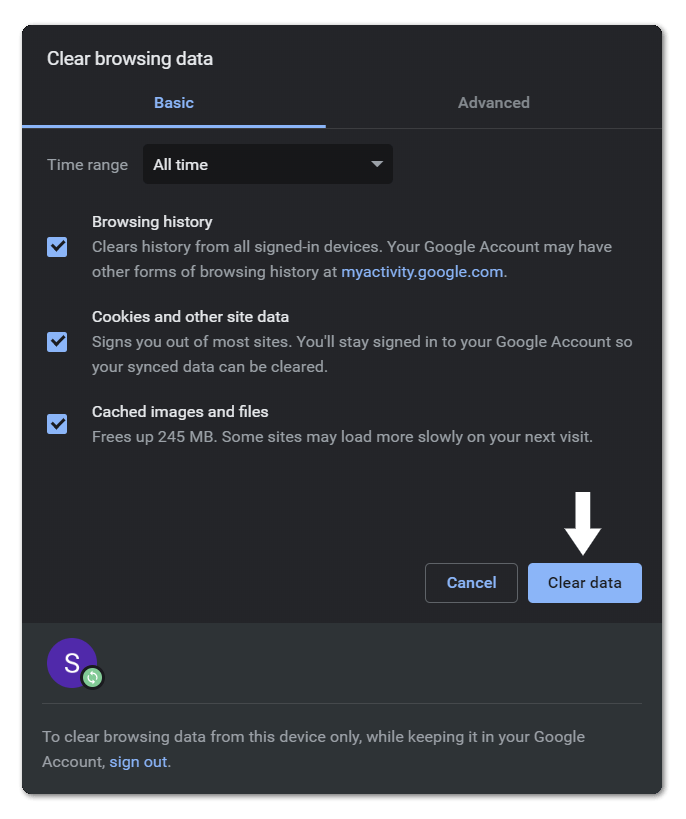 On Firefox (Windows)
Firstly, click the menu icon at the upper right corner and click

Library from the drop-down.
After that, select

History

,

and then click

Clear Recent History.
Next, on the "Clear All History" window, check all the boxes under

History

, and under

Time range

, choose

Everything

. Finally, click the

OK button.
On Safari (macOS)
Firstly, with Safari open, from the

Menu Bar

, click

Safari

and select

"Preferences…".
At the following window, from the top bar, choose

Advanced

and tick the box next to

"Show Develop menu in bar".
Next, from the

Menu Bar

, click

Develop

, and select

Empty Caches.
After that, you can clear your search

History

and more

Site Data

and

Cookies

. For this, from the

Menu Bar

, click

Safari

, and choose

"Clear History…"

.

Finally, click

Clear History at the following window.
5. Sign Out and Sign Back Into Blackboard
Perhaps you've already logged into Blackboard, but when you try accessing your content or Collaborate live streams, this Sign On error is displayed. Therefore, if possible, we suggest signing out from the Blackboard platform and signing back in. 
Also, it's advised that once you're done using Blackboard, sign out before closing the webpage. Usually, you could just close the webpage straight away, and you shouldn't face any issues. However, some users have found that this Sign On error is a result of closing Blackboard without actually logging out.
The following are the general steps to log out of Blackboard:
From the left sidebar, click

Sign Out.
On the next page, click the

"End session and log out" button.
Finally, at the subsequent pop-up, select

End Session.
Once you've completely logged out, you can either restart your browser or PC, or go straight to signing into your Blackboard account. At the same time, check if the Sign On error is popping up again.
The steps may not appear exactly identical for all platforms. Nonetheless, the steps to log out of Blackboard Collaborate are fairly similar. Just look for the Sign Out button across the web page, at the navbar or in the Settings page. 
6. Avoid Leaving Blackboard Logged In on Your PC
This is not exactly a step, instead, it's more of a tip to remember. In case, you've kept the Blackboard page running on a separate tab for a long time. Then, when you try reentering the page to access your content, you might get prompted with the Blackboard Sign On error.
In case you get stuck like this, we suggest logging out of your Blackboard account, and/or closing your web browser and opening it again. Also, you could try clearing your web browser cache (Step 4).
7. Contact Blackboard Support or Your School's Tech Support Department
So you've tried every step in the book, but every time you try accessing Blackboard, you get the Sign On error. What do you do then?
In that case, there might be an error associated with your Blackboard account that's preventing you from accessing the platform. Therefore, to obtain a definitive solution, we suggest getting in touch with the Blackboard Support team and your education institution's tech support division or other relevant offices.
So, you can ask around your school, preferably the helpdesk or student services, to get in touch with the right division for Blackboard-related issues. You can also find who to contact at your school through the following method:
To contact the Blackboard support team, firstly, head to the Behind the Blackboard page or click here. Choose the service you were using with the select box on the right. If you were trying to access the platform with your subjects that'll be Learn. Alternatively, if you were accessing your live lectures that'll be Collaborate.
After that, there are 2 methods to contact Blackboard support, either through a live chat (Chat with Collaborate Support) or by creating a case.
Additionally, to find the division in your school to contact, enter their name in the University box and click Get Support. Then, you should see the contact number and email of the particular department.
Conclusion
To sum up, those are 7 ways that we've found to be helpful in solving the Blackboard Sign On error. So, if out of the blue, you're hit by this error message from Blackboard, keep in mind that it's a common issue.
In fact, this guide is written by a fellow student, plagued by the learning-from-home era during these unprecedented times🤓. The good thing is this problem usually gets sorted in about 10 minutes.
Lastly, let us know in the comments: 
Have you also faced the Blackboard Sign On error?

Which step did the fix for you?

Is there another step you think we should add to this guide?
Want a guide to speed up lecture recordings on Blackboard Collaborate? Check out our other guide for this, by clicking here.
Feel free to share this post with your friends or coursemates who are also facing the Blackboard Sign On error😁.