Keep getting the "Something went wrong" error on FuboTV, or is the platform just not working correctly🤨?
From plain-sight, FuboTV seems to check off all the boxes for a top-tier streaming service. The platform has a vast catalogue of TV Shows, Movies and it provides a quality livestream of your favourite sports. FuboTV is certainly one of our go-to streaming services whenever we want to sit back and watch TV like the good ol' days📺.
However, the FuboTV platform is not free from the occasional bugs and errors. A common problem that users, including us, frequently face is the FuboTV "Something went wrong" error.
Besides that, there are other issues, like the "Streaming Error", "An Unexpected Error", "No Video" error messages. Overall, in the most unsuspecting times, users tend to find FuboTV not to work properly. Hence, this error is mainly seen to pop-up when loading a stream or signing in.
So why do these FuboTV errors occur?
We believe the possible causes can be narrowed down to:
A widespread

server issue

on FuboTV's end

Your

internet connection

is too slow or unstable

You're using a

VPN

with an IP address blocked by FuboTV

Minor FuboTV

platform bugs

or glitches 👾

Your streaming device is experiencing

hardware problems
Knowing this and from user reports, we put together this guide of 9 fixes for when FuboTV is not working correctly. 
This guide is intended to be useful for any device you're on, specifically, Windows, Mac, iPhone, iPad, and Android users. However, Smart TV and set-top box (Roku, Firestick, Apple TV) users can also find some steps working similarly and effectively.
---
Table of Contents
---
1. Reload the FuboTV Page or Restart the App
For starters, we recommend something simple, which is performing a reboot of the FuboTV session. By doing this, you're restarting the stream, in case there were any initial issues when loading or retrieving the programme info.
So, the following are ways to restart the FuboTV page or app depending on your device:
Restart the FuboTV App
If you're watching from your phone, set-top box (Roku, Firestick, Apple TV), or Smart TV, we suggest restarting the pre-installed FuboTV app. The steps are similar for most devices:
To do this, simply exit the FuboTV app, remove it from your Recent Apps, and try relaunching it.
Reload the FuboTV Web Page
Perhaps you're watching from your PC on a web browser. In that case, the close equivalent to a restart is reloading the FuboTV web page. The steps are similar on most major web browsers (Google Chrome, Safari, Firefox, Edge):
Click the

reload button, ,

on the web browser.

Press the

Ctrl

+

R

key (For Windows) or

Command(⌘)

+

R key (For macOS).
Hard Refresh the FuboTV Web Page
By doing a hard refresh, you're also removing cache associated with the web page. Thus, force loading the most recent version of the web page. So, it's quicker than deleting the browser cache separately.
For Windows: On most web browsers (Chrome, Firefox, Edge), press the Ctrl and F5 key together at the FuboTV page to perform a hard refresh.


For Mac: On Safari and other browsers for macOS, press the Command(⌘) + Option(⌥) + R key together.


2. Check the FuboTV Server Status
Occasionally, FuboTV is seen to experience server-side issues, which causes these error messages to be prompted. In that case, some users will be affected, where they can't log in to FuboTV or their streams don't load up properly.
Hence, to check if there are any server issues with FuboTV, you can follow the following 2 methods:
Check the Official FuboTV Status Updates Page
For starters, we suggest checking the status page, by FuboTV themselves. This page is frequently updated, ensuring the latest server-side issues or outages and the affected devices are addressed.
You can visit FuboTV's Status Updates page by clicking here.
So, read through the brief report, and check whether your streaming device is meant to encounter issues.
Check DownDetector
We also recommend giving DownDetector's FuboTV status report a quick check. This page records the latest reports from actual FuboTV users. Thus, giving you a real-time indication if other users are also experiencing hiccups with the platform.
You can visit this DownDetector page by clicking here.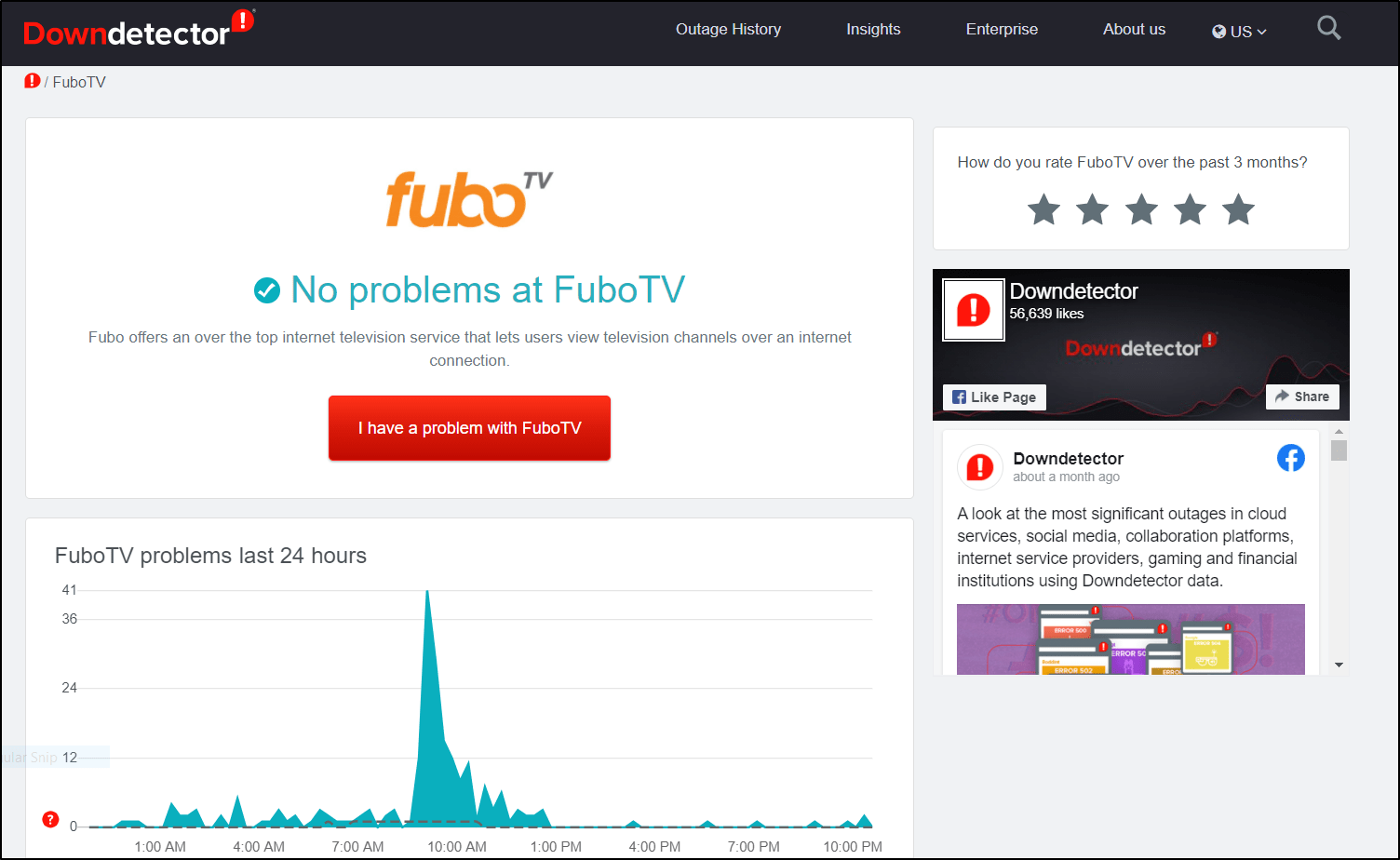 You might find the live map and comment section useful as well. That way, you can see the most affected areas and the types of issues faced by other FuboTV users. So, if you spot something similar, then most likely there's an issue on FuboTV's end.
3. Check Your Internet Connection's Speed
A key reason for the FuboTV to not work is due to a low-speed and highly unstable internet connection. Therefore, if your internet connection keeps breaking, understandably your livestream or shows cannot be properly loaded up. Hence, prompting your error messages, such as the FuboTV "Something went wrong" error.
On that note, we suggest testing your internet speed at Fast.com.
This page, created by another major streaming service, Netflix, gives you a quick measurement of your internet speed and latency.
After that, you can compare it with the minimum internet requirements for FuboTV by clicking here.
If you've noticed your internet is unusually slow or keeps disconnecting, try the following steps to improve your internet connection, 📶:
Power-cycle your Internet/Wi-Fi Router

 
To do this, turn your internet router off, unplug it, then after about 3 minutes plug it back, and turn it on.
Turn on Airplane Mode, then turn it off.
If you're using your cellular internet to stream FuboTV, toggling Airplane Mode ✈️ reconnects to a different cellular tower.
Use a Wired Internet Connection.
A wired connection, using an ethernet cable, can provide a more stable internet connection with higher speeds. You might prefer this option if you're watching on a set-top box or Smart TV.
4. Restart Your Streaming Device
A simple reset of your streaming device might prove to be the definitive fix. Doing this step ends any other background processes that might interfere with the FuboTV app or taking up sizable internet bandwidth.
The following are 2 ways to restart your FuboTV streaming device:
Simple Restart of Your Streaming Device (For Windows, Mac, Android, iPhone, iPad)
For almost any device, a simple restart is not only helpful but straightforward and similar. 
Generally, this step involves turning off your device📴, waiting about 2-3 minutes, and then turning it on again. If available, you can also choose the Restart option.
Power-Cycle Your Streaming Device (For Set-Top Boxes, Smart TVs)
For devices that are continuously connected to an electrical outlet, as stated above,  power-cycling performs a more thorough reset. 
What makes it better than a simple restart? 
Power-cycling resets the power supply within the streaming device by emptying the internal capacitors. Thus, after a complete reboot, the device can properly relaunch new apps, like FuboTV.
Therefore, to power-cycle your streaming device:
First,

turn off the device

you're using to stream FuboTV, and switch off your TV.

Next,

unplug

all the cables 🔌, mainly the

power cord

and

HDMI

cable.

Then, wait for about 1-2 minutes before

plugging

the cables back correctly, and

turning on

your device and TV.
5. Watch FuboTV on Incognito Mode (For PC)
When using FuboTV on an incognito page, the extensions or plugins won't be used for the site, unless the settings allow it. Hence, by doing this step, we can identify if there's a browser extension causing the FuboTV platform not to work.
Moreover, there are no search history, cookies or site data being collected. So, this comes in handy, especially if you're using a VPN, as these cookies and site data can give away your true location (in case you're not in the US). In step 8, we'll explain more on using VPN to access FuboTV.
The following are steps to open FuboTV on an incognito window, depending on your web browser:
For Google Chrome, press the Ctrl + Shift + N keys together. Or click the 3 dots at the upper-right, and select New incognito mode.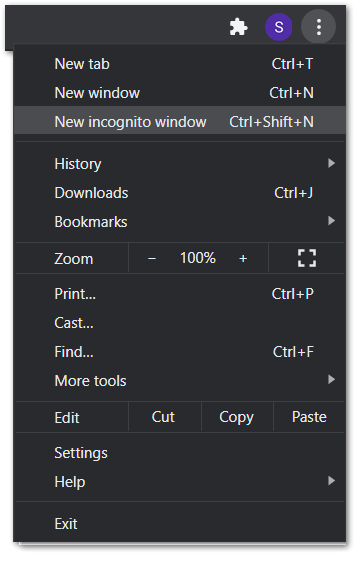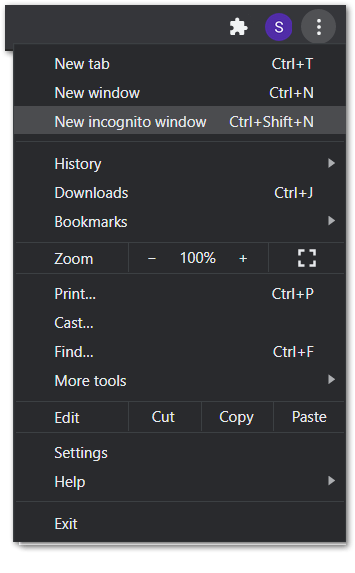 For Safari on macOS, press the Command + Shift + N keys together.
6. Use FuboTV on a Different Device
There's also a possibility that you find FuboTV not working due to the device you're using. This could be due to an incompatibility because of a recent update to your device's kernel.
Thus, as a troubleshooting step, try watching your FuboTV stream on a different device that's around your home. For instance, perhaps you're encountering these FuboTV issues on your set-top box. In that case, try watching it on your phone📱 or PC💻 instead.
If you find there are no FuboTV issues now, the cause is most likely that particular device. So, check if there are any pending software updates for that device.
7. Reconnect or Check Your VPN
If you're not in the US, understandably you can't access the platform. You'll be prompted with the "fuboTV is currently not available in your location error".
Hence, you might be using a VPN to spoof your location by making your IP address appear like you're in the US. However, FuboTV has sophisticated methods to check if you're using a VPN. Thus, FuboTV can block you for using that particular US IP address. So, we highly recommend refraining from using low-quality or "free" VPN services which assign the same IP address to many users. Some of these VPN services are blacklisted by FuboTV.
From our trials, we found NordVPN and ExpressVPN work the best with FuboTV, giving you little to no errors.
Steps when FuboTV is Not Working with VPN
Reconnect your VPN to another US server.

 
You might have to repeat this to get an IP address not blocked by FuboTV. Some IP addresses might have been assigned to multiple users. Hence, with an exorbitant amount of traffic from one IP address, this raises suspicion.
If available, use a Specialty server found in your VPN service. 
For example, for NordVPN users, we recommend using Obfuscated servers, as this assigns you an IP address that can't be tracked back to NordVPN.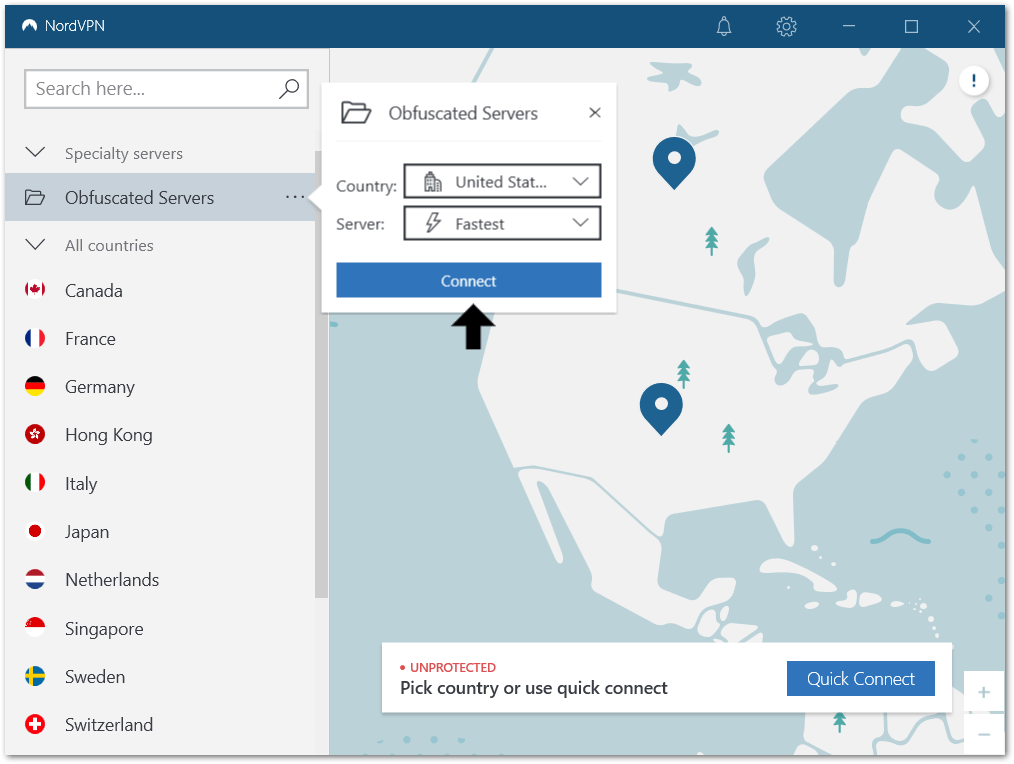 If you can't find these NordVPN Specialty servers, check out our complete guide by clicking here.
Visit the FuboTV web page on an incognito window (Step 5).
On incognito mode, the web page doesn't save cookies, which can point to your actual location.
Use a different web browser to watch FuboTV, such as Google Chrome, Firefox, Edge, Safari.
A different web browser might have a clean record of browsing data and no extensions. Thus, this prevents interference to the VPN connection.
Clear your web browser history, cache, cookies, and site data.
By clearing this browsing data, like before, there are no cookies mapping to your real location. Also, the web browser cache might slow down or interfere when the FuboTV page is loading, causing these errors.
Disable GPS Location services.
This is an alternative way for FuboTV to identify your location. So, if your browser, at any time, asks you to enable location services, choose Block or Disable.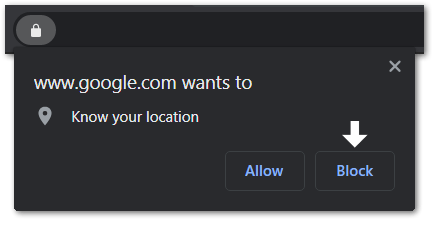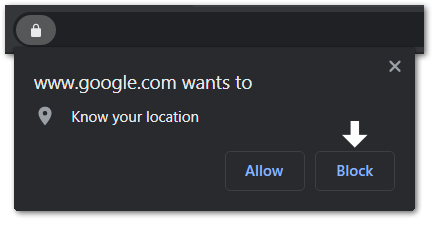 Also, you can turn off the Location Services settings, in the Privacy settings.


8. Reinstall the FuboTV App
Often we find reinstalling is among the most effective fixes to various FuboTV issues. Through a complete reinstall, you can clear all the app files, including the built-up cache. Thus, with a fresh installation, say goodbye to dreaded platform glitches that might cause the FuboTV "Something went wrong" error.
You'll find this step more applicable for devices with the pre-installed FuboTV app, like your phone, set-top, or Smart TV.
To do this, on your streaming device, uninstall the FuboTV app, either by long-pressing or through its settings, and select Uninstall or Delete App.
If needed, refer to your device's manual or any online guide.
Then, from the app store, at the FuboTV app page, you can begin installing it again.
9. Contact FuboTV Support
Perhaps you've been haunted by FuboTV not working for a few dreadful days without TV. Then, as a last resort, we suggest raising the issue with FuboTV support.
There are different causes for this "Something went wrong" error on FuboTV. So, don't be alarmed if some fixes didn't work for you. By contacting FuboTV themselves, you can identify any problems in the backend, and get fixes more specific to your error.
So, we've found 2 helpful ways to contact FuboTV:
Through the FuboTV Help Center Page
On this page, you're essentially filling up a form, with your contact details and a brief description of your FuboTV problem—kind of like an email.
So, from your web browser, you can reach the FuboTV contact page by clicking here. For your Issue, in this case, we suggest choosing the "I'm experiencing technical issues" option.
Through Twitter (@fubosupport)
If you're more active or suited to Twitter, you might find this method preferable. So, you can reach out to FuboTV Support at their Twitter page as well.
Conclusion
In sum, it's fairly common for users to encounter bugs and issues with the FuboTV platform. However, don't let these streaming problems spoil the big game🏈 or your binging session🍿. 
Therefore, those are 9 steps you can do from your end to fix the FuboTV "Something went wrong" error.
Feel free to share in the comments:
What errors or problems did you face with FuboTV?

Is there another fix to the FuboTV app issues we should add to this list? You might help a fellow reader, 😉.
We hope the fixes in this guide proved to be useful. Share this post with your friend whose FuboTV is not working correctly.