Are you finding the Hulu subtitles are not showing or working properly at all?
These days, having clear and correct subtitles💬 are an essential part of almost any streaming service. Especially with Hulu's diverse range of movies and shows, you wouldn't want a language barrier, preventing you from watching these enticing shows.
Even if a show is in your native language, subtitles help you follow along with the dialog and stories more easily. Thus, it's clearly useful if you're in a noisy environment or catering to a person who's hard of hearing👨‍🦳.
Nonetheless, Hulu subtitle and caption-related issues are fairly common to Hulu users. Heck, it's probably the last problem you wish for when you just want to sit back and binge😪.
Therefore, some common Hulu subtitles-related problems that users report are:
The subtitles or closed captions are

not showing up

The subtitles options are

greyed out

You get the

"subtitles are unavailable for this content"

error message

The subtitles or closed captions appear

out of sync

You can't change the

language

of the closed captions or subtitles
Are you facing a similar error to these☝? Feel free to share in the comments, so we can hopefully help😊.
On that note, we curated this guide of 9 steps to troubleshoot and fix when the Hulu subtitles aren't working.
We recommend running through the fixes and seeing which works best, regardless of whichever device you might be using. However, specifically, these steps cater to Windows, Mac, iPhone, iPad, and Android users. Also, if you're using a Smart TV or set-top box (like Roku, Firestick, Apple TV), you might find some steps working similarly and effectively.
With that out of the way, let's get to the fixes.
But before that…
We know it's a no-brainer, but before proceeding with the steps, ensure that you've correctly enabled the Hulu subtitles or closed captions. For this, you can check out Hulu's comprehensive guide, which has steps for all devices by clicking here.
---
Table of Contents
---
1. Restart the Hulu Stream
Ending the Hulu stream and restarting it is the first step we recommend when Hulu subtitles aren't working properly. This fix is primarily for when the Hulu subtitles are incorrectly synced. Hence, by doing this simple restart, you're reloading the stream with its subtitles.
To close your Hulu stream, simply click the X button at the top-right.
After that, from the Hulu page, you can begin the stream again. Now, do check to see if the subtitles are showing up.
2. Completely Close and Relaunch Hulu or Reload the Hulu Webpage
If restarting the stream didn't work, then instead, try completely relaunching the Hulu app. Doing this begins a new session with Hulu, which can also clear up minor cache that may have been interfering with the subtitles display or encoding.
Besides that, you should definitely see a performance or speed boost with the app once you've restarted it.
The following are a few ways to restart Hulu depending on the device you're using:
Reload the Hulu Web Page
This step is for when you're viewing Hulu on a web browser. So, regardless of whichever web browser you're using, (Google Chrome, Safari, Firefox, Edge), the steps to reload are:
Click the

reload button

on the web browser.

Press the

Ctrl

+

R

key (For Windows) or

Command(⌘)

+

R key (For macOS).
Hard Refresh the Hulu Web Page
A hard refresh is like a step ahead of reloading the web page. Through this, you're also clearing the cache associated with the web page, thus force loading the latest version of the web page. It's essentially a quick way to remove the browser cache.
For Windows: On most web browsers (Chrome, Firefox, Edge), you can do a hard refresh by pressing the Ctrl and F5 key together at the Hulu page.


For Mac: On Safari and other browsers for macOS, press the Command(⌘) + Option(⌥) + R key together.


Restart the Hulu App
Perhaps you're watching Hulu from your mobile device or a set-top box with a pre-installed app. In that case, restarting the Hulu app is the direct equivalent which is a common troubleshooting step for various app issues.
Generally, the steps are similar for whichever device you're watching from:
First, exit the Hulu app, clear it from your Recent Apps, and reopen it. You can also Force Stop the app within the system settings on Android devices and set-top boxes.
3. Switch to a Different User
As trivial as it sounds, some users have reported that using another Hulu profile did the trick. Thus, this might be because an issue with your account is resulting in the Hulu subtitles problem. Nevertheless, since it's only a few clicks away, we would recommend trying this step.
For Windows and macOS (Web Browser): Hover over your profile at the top-right, and from the drop-down select a different profile.
For iPhone, iPad, Android (Mobile App): Firstly, tap Profile from the bottom bar, and tap your account name at the top-center.
Then, in this Switch Profile page, choose a different user from the list.
You can take this step a little further by signing out of your Hulu account, then logging in again. It should have a similar effect.
4. Change the Subtitles Settings and Configurations
Sometimes, the Hulu subtitles might not appear correctly due to a configuration error. Hence, the subtitles may not have been initiated or started properly. Also, switching around with these subtitle display settings has been an effective fix to sort out these subtitles-related errors.
Owing to this step's simplicity, we placed it further up the list as it'll only take you about 2 minutes to perform.
Therefore, the following are a few methods we recommend to change the Hulu subtitles settings:
Manually Toggle the Subtitles Off then On
Switching the subtitles midway through the stream might be the right fix when Hulu subtitles aren't working correctly. This is because we believe it's a quick way to recalibrate the subtitles stream.
For this, select the settings button ⚙️, then select Subtitles.
Next, under Subtitles, choose the Off option, and after a while, select your desired language again.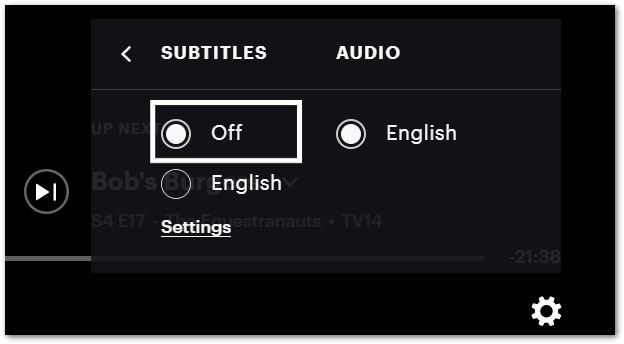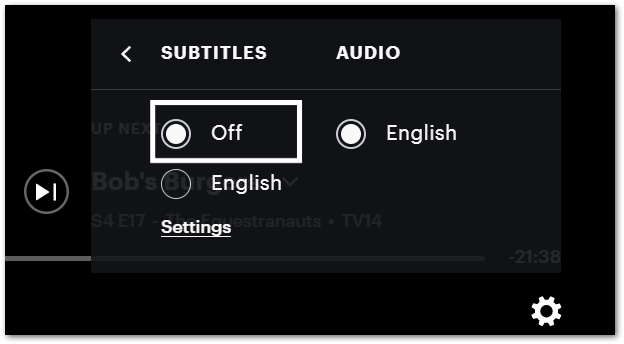 This settings button may not appear in the same place on every device, but it's most likely near the progress bar. Also, you may try this step a few times before moving on.
Additionally, you can also switch between different subtitle languages to try recalibrating the subtitles.
Change the Subtitle Display Settings (Size and Font)
In this step, we're changing the subtitles typeface to ensure it displays properly. For this, we have the option to change the subtitle's size and font style.
For iPhone, iPad, Android, and set-top box users, you can change the subtitles display through the Accessibility settings. On most devices, you can find this in the system settings, then Accessibility and Subtitles & Captioning.


For PC users, you can change the Hulu subtitle settings from the video player itself. To do this, click the settings button ⚙️, then select Subtitles.
After that, under Subtitles, click Settings and you should see the Caption Options which you can alter.
5. Check the Subtitles on a Different TV Show or Movie
Perhaps the Hulu subtitles issue is only affecting that particular show or movie you were watching. Therefore, proceed to view the other shows and inspect whether the subtitles display properly and are synced. Maybe try repeating this step with a few shows just to be entirely sure.
Additionally, Hulu's support guidelines have stated that subtitles/closed-captions are available for most shows/movies in their library. However, there could be a possibility that the content creator hasn't provided the right subtitles.
So, you could submit a request to Hulu for the show subtitles to be added, through emailing them at captions-feedback@hulu.com.
Also, some users report that a nifty fix is to enable the subtitles on a different show/stream. After that, when they return to the original stream, the subtitles will be correctly shown again.
So, you can give that a shot as well.
6. Try Using Hulu on a Different Device
On the other hand, this Hulu subtitles issue may result from the device you're using. So, this time, try viewing the particular Hulu show on a different device lying around your home, like your phone or PC.
In the past, many users have reported recurring Hulu subtitle errors when viewing on an iOS device. Therefore, this might result from an improper software or firmware update.
On that note, regardless of whichever device you're using, we suggest checking for pending software updates for your device. Doing this ensures that your device is well optimised and capable of running the latest version of Hulu without prompting any unwanted errors.
Additionally, suppose you were watching from a set-top box or Smart TV when the Hulu subtitles problem occurred. A nifty temporary solution is to watch Hulu on your laptop or phone then mirroring to your TV. You can also connect your laptop to your TV using an HDMI cable.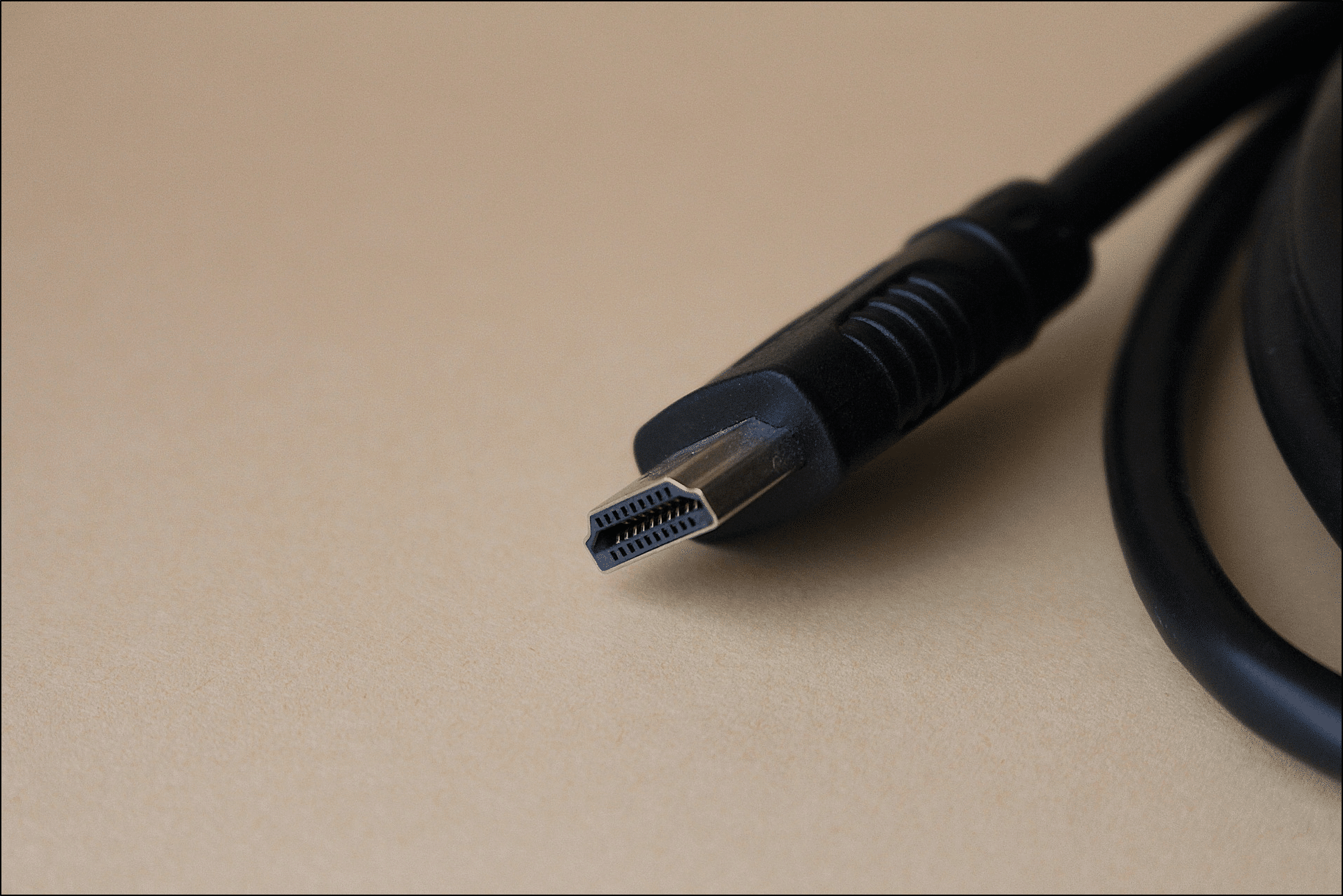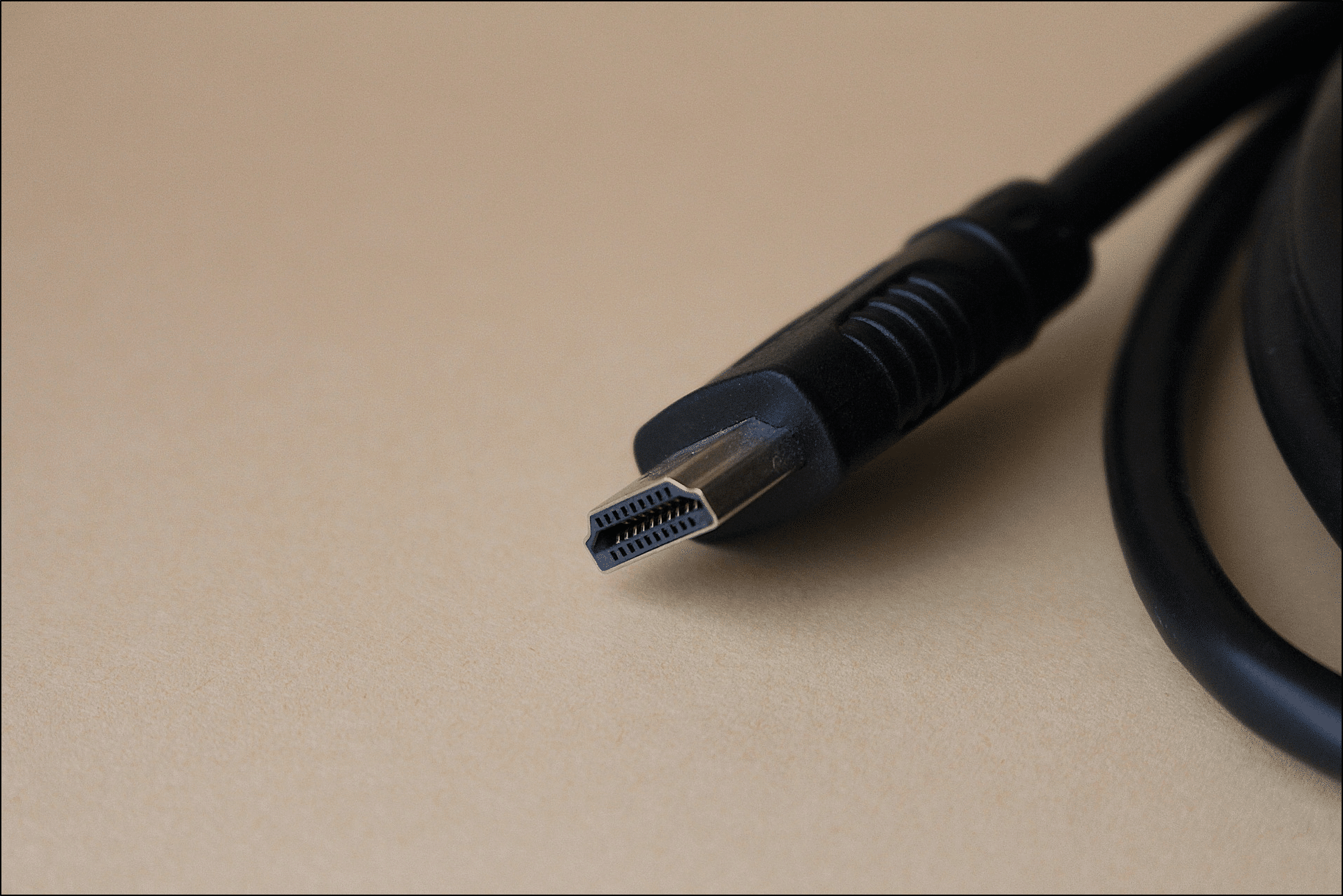 ---
Need a reliable HDMI cable? Here are our top picks from Amazon:
Budget: AmazonBasics High-Speed HDMI Cable, 6 Feet, 2-Pack
Premium: Belkin Ultra HD High Speed HDMI Cable
---
Alternatively, if you're watching from a web browser, try using a different one that's capable of supporting Hulu's HTML 5 video player. Hulu is found to work fine on Google Chrome, Firefox, Edge, Safari or even Opera.
7. Enable Closed Captioning in the Accessibility Settings
By turning on the closed captioning settings, this ensures the subtitles on Hulu shows and movies are displayed when available. Generally, you should find this option in the Accessibility settings within your device settings, if you're watching from an iOS, Android, set-top box (Roku, Firestick, Apple TV), or Smart TV.
For iPhone and iPad
Firstly, open the

Settings

app ⚙️, scroll down and tap

Accessibility.
Next, under Hearing, tap

Subtitles & Captioning.
Finally, turn on

Closed Captions + SDH.
For Android
The steps to enable the closed captioning settings may vary depending on your Android Version or your device model. Nevertheless, they should typically look like the following:
From the

Settings

app⚙️, tap

Accessibility.
After that, select

Caption Preference.
Lastly, enable

Use captions,
For Apple TV
The following video by Apple Support explains clearly the steps to enable closed captioning on your Apple TV. It shows how you can make other font changes to the subtitles too. You can also read their guide by clicking here.
The steps are generally alike for other set-top boxes as well. However, if you require more detailed steps, we've listed the following guides for each device:
8. Check for Hulu App Updates
By now, it's evident that a prime reason for the Hulu subtitles not working is due to an interfering app bug 👾. On that note, the Hulu devs may release an update with the essential bug fixes soon to resolve these platform errors. So, from our part, it's important to check that all pending Hulu app updates have been installed.
Generally, the steps to checking for app updates are similar across all devices.
For this, go to the app store where you initially installed Hulu. From there, visit the Hulu app page, and if there are updates available, the Update button will be visible.
So, go ahead and tap it.
Once you're done updating, try watching your favorite show on Hulu again. Check to see if the subtitles are appearing correctly this time.
9. Report the Issue to Hulu Help
Perhaps you've found this Hulu subtitles problem has been plaguing you for a few infuriating days. In that case, we suggest raising the issue with Hulu Help themselves. That way, you can explain the subtitles problem in more detail, and hopefully, Hulu can provide some more fitting fixes.
Also, this can help Hulu identify any backend issue causing the subtitles not to work. So in a way, you're actually doing a public service🌟.
The following are a few ways you can get in touch with Hulu Help:
Through the Hulu Contact Support Page
From your web browser, you can visit the Hulu Support page by clicking here.
Next, for this case, we suggest choosing Video Playback, then Captions.
After that click "I Still Need Help" to bring up the contact methods. From there, you have various ways of contacting Hulu, such as through a live chat or even a phone call.


Through Twitter
Alternatively, you can also reach them at their Twitter page. So, if you're more active on Twitter, then this might be your preferred option. However, the previous may get you a quicker response to the subtitles issue.
Conclusion
Now, if these fixes didn't work right away, then fret not, as this subtitles issue might most probably be on Hulu's end. In that case, these subtitles issues usually take a day or so for Hulu to release the appropriate bug fix.
However, with this guide, you can rest assured knowing that you've done all the troubleshooting steps from your part.
So, in sum, those were the 9 steps that we recommend trying whenever the Hulu subtitles aren't working properly.
Let us know in the comments:
Are your Hulu subtitles also missing?

Did any of the fixes above work for you?

Is there another fix you think we should add to the list? We'll be happy to give you a shout-out📢.
We hope you found the above fixes helpful🙂. Share this post with your friend whose Hulu subtitles aren't working.