Find that you can't sign in to Hulu, or the Log In button isn't working?
After a long day of productivity, what better way to unwind than turning on your favorite Hulu show or movie 📺. However, after entering your Hulu username and password, then clicking the Log In button, you find you just can't get in.
You try clicking the Log In button multiple times and reloading the page, but it just won't budge 😤.
Considering this Hulu login problem is common for many users, this may not just be an error on your end.
According to user reports, when attempting to sign in, they received the "Error: Your Login has been blocked" message.
Besides that, the "Error: Your login is invalid. Please try again" message is another familiar problem as well.
Other times, users get stuck in a loop of ReCaptcha 🔁 checks to verify when signing in.
Therefore, this guide shows you 11 fixes when you cannot log in to Hulu or the Log In button isn't working correctly.
Plus, these fixes cater to whichever device you might be using to stream Hulu. Specifically, the steps and screenshots are from Windows, Mac, iPhone, iPad, and Android devices. However, if you're using a Smart TV or set-top box (e.g. Roku, Firestick, Apple TV), you may find steps that work similarly and effectively.
With that settled, let's get into why these Hulu login problems occur.
---
Table of Contents
11 Steps to Fix When You Can't Log In to Hulu
---
Why Can't You Log In to Hulu?
1. You're using incorrect Hulu account login credentials
First off, entering the wrong Hulu account username or password is usually the primary reason users can't sign in. Thus, when this happens, they get shown the "Error: Your login is invalid" message.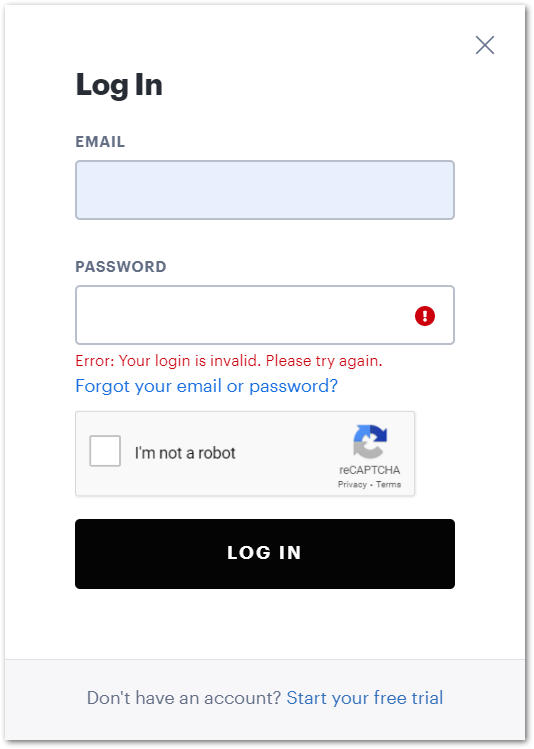 And we don't blame you. With tonnes of online services and streaming platforms out there, it's common for users to mix them up accidentally 🤯.
That being said, ensure that you're entering the correct username and password for your Hulu account.
At the same time, make sure your Caps Lock isn't enabled, which can make you enter your login credentials incorrectly.
2. Problems with your Hulu subscription
Another reason you can't access your Hulu account is because of account-related problems. Thus, your Hulu account may be on hold, or your subscription has ended.
Having said that, Hulu recommends that you check the status of your subscription on the Account page. Here, you can see notifications about your subscription status, whether it's on hold, canceled, or your credit card 💳 has expired.
Along with that, you may have to update your payment info to get your account on good credit.
If that doesn't work, you can raise the issue with Hulu Help (Step 11) to sort out any account issues.
3. Your Hulu subscription is part of a bundle or not activated
Perhaps you received your Hulu subscription bundled with your Disney+, Spotify, or Sprint subscription. Therefore, if you try logging in with your old Hulu login credentials, you understandably can't get access.
Instead, you should try signing in with your bundle's username and password.
Additionally, you have to make sure that your Hulu subscription within the bundle is activated. For this, you can find the steps for each bundle in this guide by Hulu.
4. Hulu server problems
From time to time, there are temporary problems over at Hulu servers, like server outages or downtime. When these problems occur, users encounter general Hulu issues, especially not being able to sign in.
Hence, one of your first steps should be checking the Hulu server status and if others are reporting similar issues (Step 2).
Else, this could be an issue on your end. So, you'll have to try the other fixes in this guide.
5. Hulu app glitches
On a lighter note, a pesky Hulu app bug 👾 might be the culprit that's not letting you log in. Typically, an app glitch is a cause for the Hulu login button not working, even after you try clicking it numerous times. In that case, this might just be a temporary issue with the app.
Therefore, to combat this, there are a few general fixes you can try, such as:
Restarting the Hulu app (Step 1)

Completely restarting or power-cycling your streaming device

Updating the Hulu app (Step 3)

Clearing the Hulu app cache (Step 10)
Aside from that, do note that you're prone to face these issues if you're using the Windows Store's Hulu app.
Instead, it's better to visit the Hulu website through your web browser and watch your favorite shows and movies there (Step 4).
11 Steps to Fix When You Can't Log In to Hulu
1. Restart the Hulu App or Reload the Hulu Webpage
We recommend starting off simple by rebooting the Hulu session. Perhaps the Hulu app or web page wasn't initiated correctly.
Thus, through a quick reboot or reload, you can prevent any temporary issues that might leave you unable to log into Hulu.
After that, you can even take this a step further by restarting your streaming device as well. For this, power off your device, wait a few minutes, then turn it on again.
The following are ways to restart the Hulu session, depending on which device you're using:
Reload the Hulu Web Page
When you can't log in to Hulu through your web browser, first, try reloading the Login page. For this, regardless of whichever web browser you're using (Google Chrome, Firefox, Edge, Safari), the steps to reload are similar:
Click the

reload button

on the web browser.

Press the

Ctrl

+

R

key (For Windows) or

Command(⌘)

+

R

key (For macOS).

Additionally, you can try closing your web browser, reopening it, and then going to the Hulu Login page again. Doing this starts a brand new session with the web browser.
Hard Refresh the Hulu Web Page
Through a hard refresh, you're not only reloading the Hulu Login page, but you're also removing the cache associated with it. Thus, this force loads the most recent version of the web page.
Perhaps, you've already logged in successfully, but only after hard-refreshing will you be able to get past the Hulu Login page and reach the Select Profile page.
Therefore, the following are steps to hard refresh a web page:
For Windows: On most web browsers (Chrome, Firefox, Edge), press the Ctrl and F5 key together at the Hulu Login page to perform a hard refresh.

For macOS: On Safari and other browsers for macOS, press the Command(⌘) + Option(⌥) + R key together.

Restart the Hulu App
If you're watching through the preinstalled Hulu app, like on your mobile device, set-top box, or Smart TV, a simple app reboot should do the trick. The step are generally similar, regardless of whichever device you're using:
First, exit and close the Hulu app completely by removing it from your

Recent Apps

or

App Switcher

. For

Android

devices and other set-top boxes, you can

Force Stop

the Hulu app through your

Settings

app.

Then,

relaunch

the Hulu app from your homepage or apps list.
2. Check the Hulu Server Status
As said earlier, you might be unable to log into Hulu temporarily because of ongoing server-side problems. Hence, no matter how strong your internet is, your device can't establish a connection with the Hulu servers to access your account.
Therefore, whenever you notice anything wrong with the service, you should start by checking to see if Hulu servers are currently down.
For this, we recommend referring to DownDetector's page for Hulu.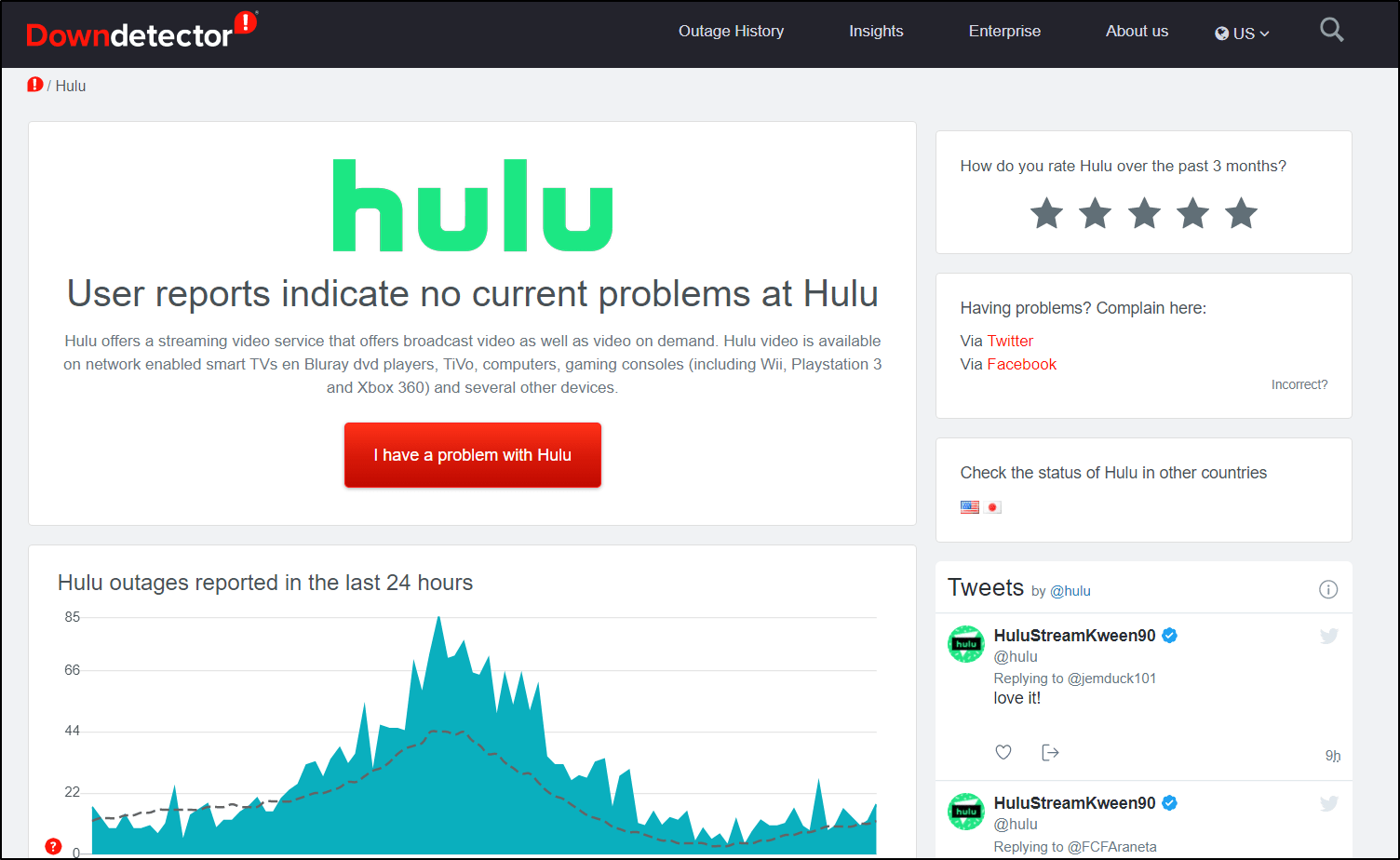 Here, we suggest checking the live map and comments section to see if other users report similar issues.
If so, you might have to wait up to a few hours for Hulu to resolve any backend problems.
3. Install Pending Hulu App Updates
Another one of your first steps should be checking if you're running the latest version of Hulu. These latest updates come with essential bug fixes that address various issues with the earlier app version. In fact, the Hulu login error might be a problem with the previous version.
This step applies to users with the Hulu preinstalled app on their mobile device (iOS, Android), set-top box, or Smart TV.
If you're watching through your web browser, the online Hulu platform constantly updates to the latest version.
Therefore, the steps to check for Hulu app updates are generally alike for most devices:
First, go to the

app store

where you initially installed Hulu.

From there, visit the

Hulu

app page.

If there are updates available, tap the

Update

button.
4. Log In to Hulu through the Web Browser instead of Using the App from the Windows Store (For PC)
According to some users and replies from Hulu Help, they're no longer supporting the Hulu app available on the Windows Store.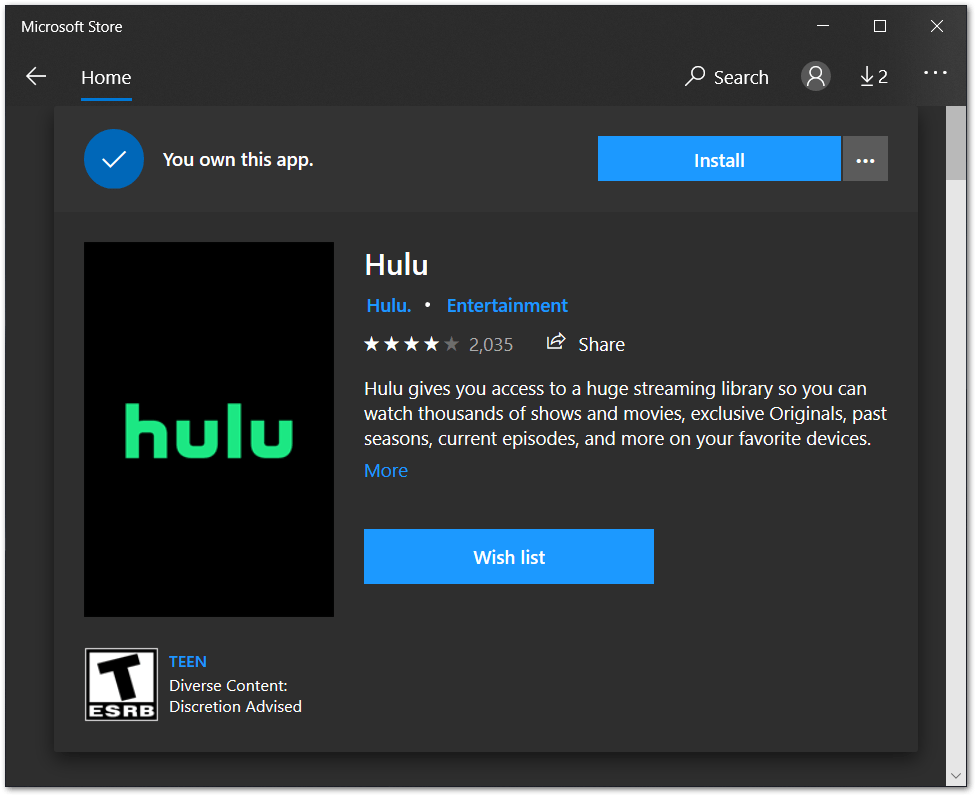 Hence, with no new app updates or bug fixes, you may face some infuriating Hulu glitches, including login problems.
Therefore, we suggest logging in through the Hulu website instead.
This web platform is always kept updated and optimized. Besides that, you can watch all your programs just like usual, if not better.
5. Watch Hulu on Incognito Mode
By using Hulu on an Incognito window, you can ensure that no extensions or plugins are being used on the site, unless the settings allow it.
Additionally, cache and cookies stored on your web browser won't interfere with the Hulu Login page either. Furthermore, if you're using a VPN, this cache can give away your actual location.
Thus, Hulu may prevent or block your IP from accessing its content. Sometimes, the Hulu app shows the Proxy error if it notices you using a VPN or Proxy.
Overall, through incognito mode, we want to ensure neither the extensions nor web browser data interfere and cause problems with the Hulu Log In form. This can prevent issues like the reCaptcha loop or the Hulu Log In button from not working.
Especially if you're using an adblocker or captcha bypasser plugin, these could interfere with this Hulu page.
That being said, the steps to open Hulu on Incognito mode is generally the same for most web browsers:
For Google Chrome, press the Ctrl + Shift + N keys together. Or click the 3 dots at the upper-right, and select New incognito window.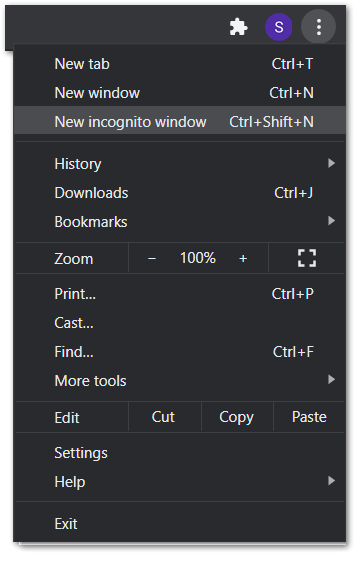 For Safari on macOS, press the Command + Shift + N keys together.
6. Temporarily Disable, Reconnect or Check Your VPN
As mentioned before in step 5, if you're using a VPN, Hulu might identify this and prevent you from logging in and accessing content. Hulu has sophisticated techniques to point out when you're using a VPN to spoof your location. Hence, Hulu might show you a Proxy Error or cause other problems when logging in.
For starters, we recommend disabling your VPN, then restarting your browser and logging into Hulu.
However, what if you're outside the US and want to watch Hulu?
Don't worry, there are still ways you can use a VPN with Hulu error-free. First and foremost, we believe you shouldn't stick with "free" or low-quality VPNs since there's a higher chance for you to get blocked.
This is because these VPNs assign the same IP address to tonnes of other users. Thus, it's fairly simple for the Hulu algorithm to detect this and deny your login request.
That's why we recommend using a quality VPN service, like NordVPN, which works perfectly with Hulu. Plus, they have Specialty Servers, which further enhances your anonymity 👨‍💻 and error-free access to streaming services, including Hulu. You can check our guide to enable NordVPN specialty servers by clicking here.
---
Click here to get NordVPN with up to 68% Off!
---
Aside from that, the following are a few steps you can try to get your VPN working with Hulu:
Turn off your VPN connection, then reconnect to a different US server.

If available, use Your VPN service's Specialty Servers, like Obfuscated Servers on NordVPN.

Clear your web browser cache, and then try again.

Disable GPS services 🛰️.

Use a different web browser.
7. Try Logging into Hulu on a Different Device
Moving on, the device you're using may affect the Hulu app and cause login problems as well. This may happen if the built-up cache on your device starts interfering with the Hulu app. Also, the Hulu app might be incompatible with the device's software version or kernel.
This error usually happens on set-top boxes, where you can't log in to watch Hulu on your TV.
Nevertheless, as a troubleshooting step, we suggest that you try signing in to Hulu on a different device around your home. For example, try watching on your phone 📱 or PC 💻 instead.
Hence, if you find no login errors now, you should try checking for pending software updates for the initial device.
If your PC works well, you can even mirror its screen to your TV using an HDMI cable. This can be a temporary replacement for your set-top box or Smart TV.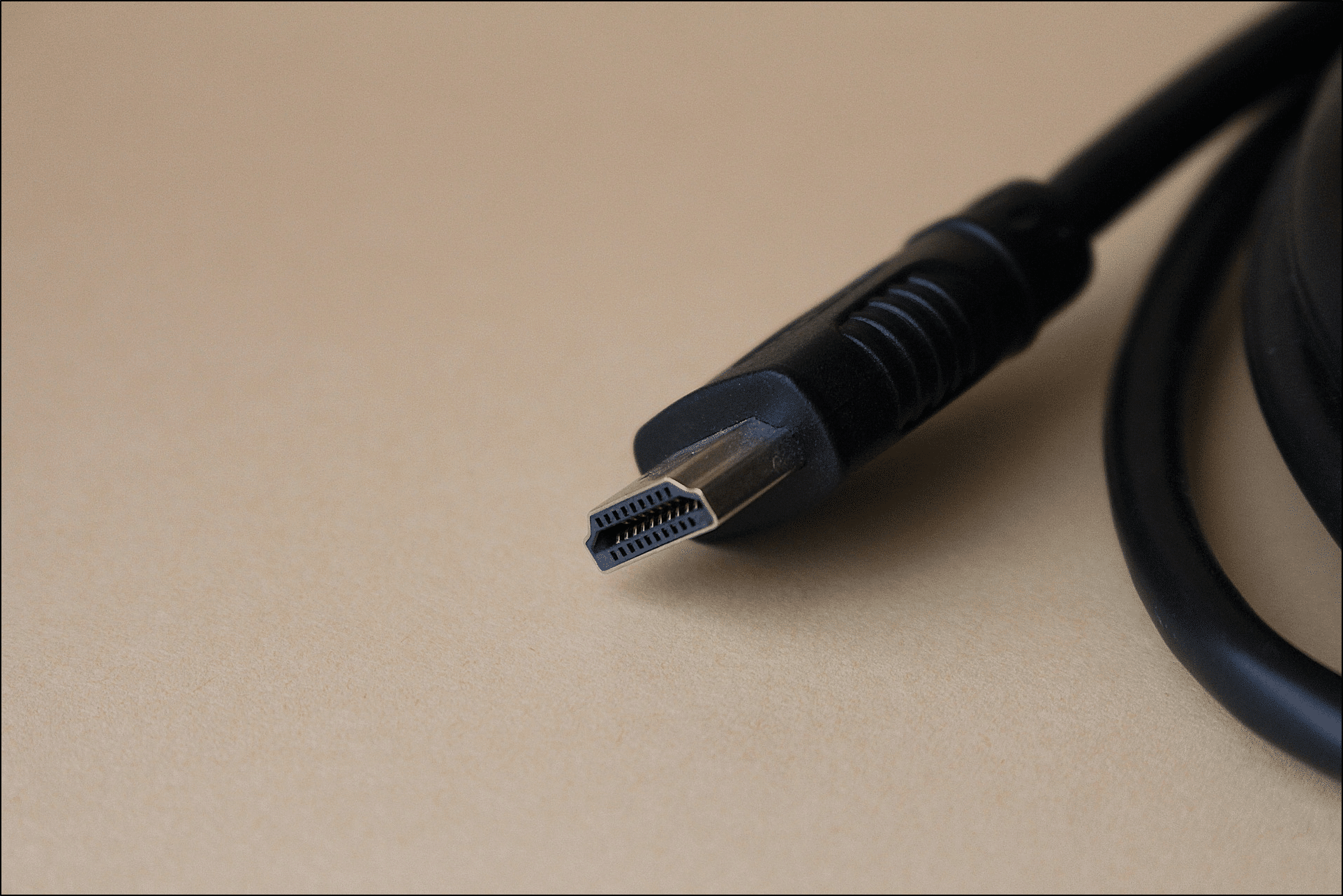 ---
Need a high-quality and reliable HDMI cable? Here are our top picks from Amazon:
Budget: AmazonBasics High-Speed HDMI Cable, 6 Feet, 2-Pack
Premium: Belkin Ultra HD High Speed HDMI Cable
---
8. Delete Your Web Browser Data
Suppose you customarily use your web browser to watch Hulu shows and movies. Every time you interact with the platform or log in, your web browser stores data to speed up your experience. This data comprises cache, cookies 🍪, and site data.
However, this inessential data can accumulate and interfere with the Hulu platform, especially functional features like the login form and its verification.
Thus, to clear your web browser data:
On Windows
The following steps are on Google Chrome, however the steps are similar for other web browsers on Windows (Firefox, Edge).
You can access your browsing history by pressing Ctrl + H together.
Or click the menu button at the top-right and choose History at the drop-down.
On the following page, click the Clear Browsing Data button. For Google Chrome, that'll be on the left.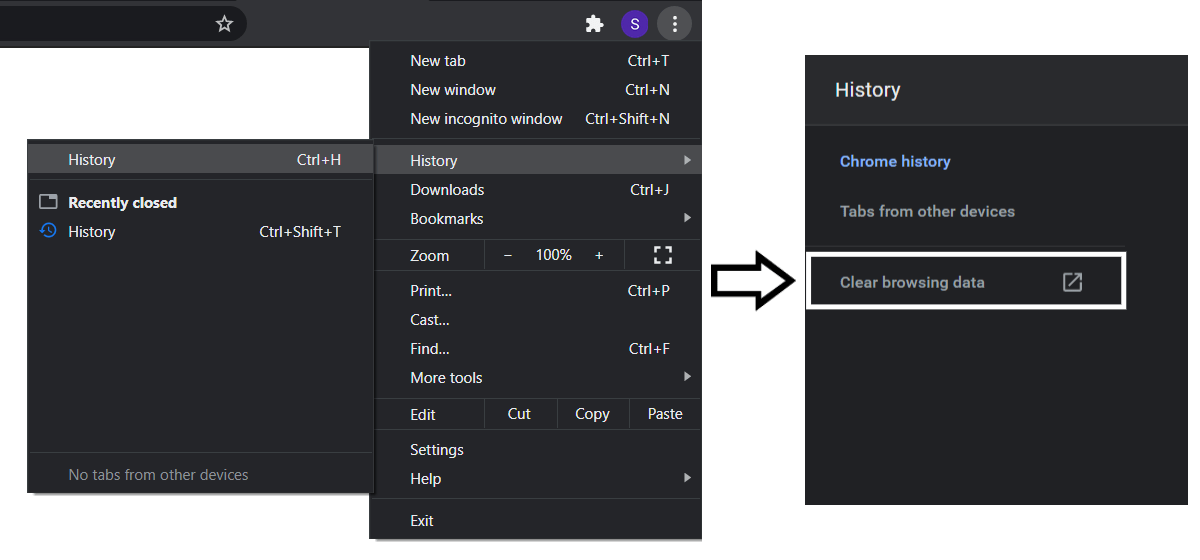 Next, under Basic, ensure that all the options are checked. Plus, you should select a time range of All time. Then, click Clear Data.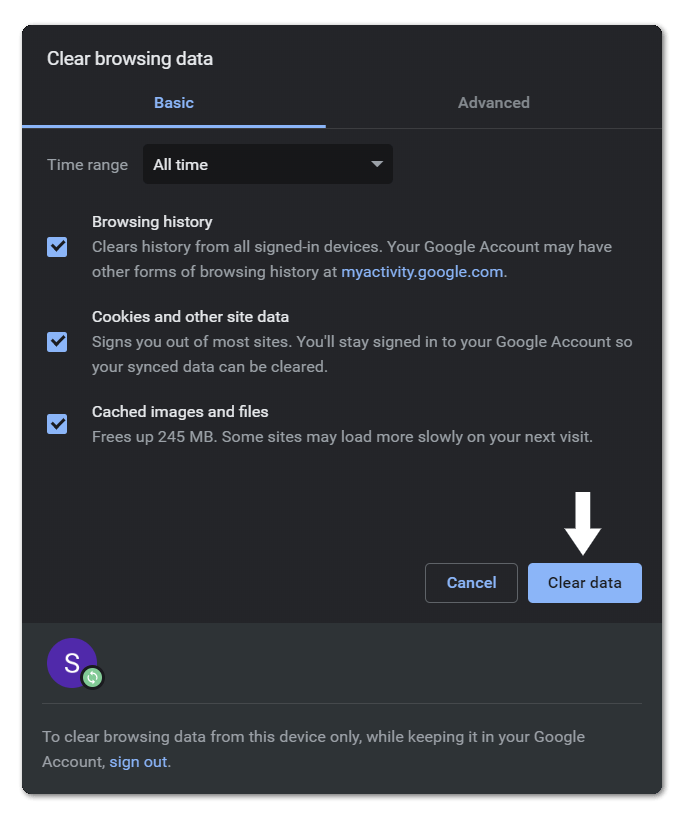 On macOS (Safari)
First, with

Safari

launched, from the

Menu Bar, click

Safari

and select

"Preferences…".
At the following window, from the top bar, choose

Advanced

, and tick the box next to

"Show Develop menu in bar".
Subsequently, from the Menu Bar, click

Develop

, and select

Empty Caches.
After that, you can clear your search

History

and even more

Site Data

and

Cookies

. To do this, from the Menu Bar, click

Safari

, and choose

"Clear History…"

.

Lastly, click

Clear History at the following window.
9. Clear the Hulu App Cache and Data
Similar to the previous step, the Hulu app on your mobile device or set-top box can accumulate a tonne of cache over time as well. Thus, this built-up cache can lead to app bugs and slower app navigations.
To make matters worse, this cache might be the culprit interfering with the Hulu login form submission.
Hence, there are 2 ways you can completely clear the Hulu app cache and data:
Deleting the Hulu App Cache and Data on Android
For Android devices, some set-top boxes like Amazon Firestick, or Android TVs, you have a one-click button to clear all the Hulu app cache and data within the Settings.
To navigate to these settings:
Firstly, open the

Settings

app, and tap on

Apps & notifications

.

Then, select

Hulu from the list of apps.
Next, tap

Storage & cache

.

Following that, start by tapping

Clear Cache

, and then you can choose

Clear Storage.
For Amazon Fire TV devices, you can check out their guide to clear app cache by clicking here.
Reinstalling the Hulu App
If you're using an iPhone, iPad, or Apple TV, this is your only option to clear the Hulu app cache, unlike on Android. However, this step is a more effective method, regardless of whichever device you're using.
This is because, through a complete reinstall, you're deleting all the Hulu app files and data stored on your streaming device. Then, you can reinstall a fresh copy free from any corrupted files that might result in your Hulu login problem.
Thus, the steps to reinstall Hulu is similar on most devices:
First, uninstall the Hulu app, whether by

long-pressing

for the selection menu or through the

Settings

.

Then, select

Uninstall

or

Remove App.
Next, you can choose to

restart your device

, or straight go to your

App Store

to install the Hulu app.
Finally, open the newly-installed Hulu app and try logging into your account.
10. Reset Your Hulu Account Password
This step is one of the most effective when you can't log into your Hulu account. Perhaps the reason Hulu isn't letting you log in is because you keep entering an incorrect username or password. Besides that, in the most remote possibility, perhaps there could be a backend change that altered your login credentials.
Therefore, by resetting your Hulu account password, you have 100% surety that you're not making any mistakes filling up the login form.
To reset your Hulu login credentials:
First, go to the

Hulu Log In page

.

On the Log In form,

click "Forgot your email or password?".
On the following page, enter the email tied to your Hulu account. Then click

Send me a reset link. If you don't remember your email address, you can click the link underneath instead.
Now, check your

email inbox

for the password reset email and link from Hulu.

After that, simply follow the guided steps to changing your account password.
With that done, use your Hulu username and newly-set password to log in to your account.
11. Contact Hulu Help
So, you've reset your Hulu account credentials countless times, and it's been a few days, but you're still unable to log into Hulu. In that case, without delaying the problem any further, we recommend reaching out to Hulu Help.
By doing this, they can identify and resolve any account problems preventing you from logging in. Also, they can provide you with fixes more suitable to your situation.
With that said, you can contact Hulu Help through their Contact Us page:
From your web browser, visit the

Hulu Contact Us page

.

After that, select the topics which best describe your issue. For this case, we recommend selecting

Device Setup & Login

, and then

Email & Password Not Working.
Next, click

"I Still Need Help"

to bring up the

contact methods.
From there, you have various ways of communicating with Hulu, like through a

live chat

or

phone call

.
Conclusion
In sum, don't let these Hulu login problems prevent you from getting in and spoiling your chill session, binge-watching your favorite shows and movies 🍿. As fellow film geeks 🤓, we too were left dumbfounded when we couldn't get past the darn Hulu Login page.
With that in mind, we prepared this guide with reasons and 11 fixes to try when Hulu is not letting you log in.
After each step, don't forget to test the Hulu login page to check if it's working correctly again.
If you find the fixes aren't working right away, this problem could likely be on Hulu's end. In that case, it's best to try logging into Hulu again after a few hours.
Lastly, let us know in the comments:
Are you unable to log into Hulu as well?

Which device are you using to stream Hulu?

Did any of the above fixes work for you?

Is there another fix you think we should add to the list?
Feel free to share this post with your bud, who can't log into Hulu 😊.