Find that you can't share or repost Threads on the new Instagram Threads app? Perhaps you're eager to promote a new interesting or visually appealing Threads post to your followers but are stuck with a glitchy sharing or reposting button.
Instagram Threads is a popular feature that allows users to create and share multiple photos and videos as a cohesive story. Threads provide an engaging and interactive way to communicate with followers and friends.
Instagram Threads are a series of media content pieces that users can upload together, creating a narrative or a visual story. Threads appear as a single post in a user's feed but are scrollable, encouraging viewers to swipe through the content.
Threads offer several advantages, such as enabling users to showcase products, share events, or tell a compelling story in a visually appealing manner. With this feature, businesses and influencers can promote their brands creatively, captivating their audience.
The "sharing" and "reposting" buttons on Instagram Threads app are the prominent features designed to offer a more focused and intimate experience than the Instagram basic app. The mentioned button enhances user engagement and fosters a sense of community within the platform.
However, users encounter rare issues where the mentioned buttons for sharing or reposting Threads do not work as expected.
Imagine discovering an aesthetic or funny thread post you can't wait to share with your friends and followers on Instagram. So, you curate your thoughts to write for the post you wish to repost or share with your friends, ready to hit the share or repost button. But to your surprise, you find that the button is not working!
Therefore, we've created this simple yet comprehensive guide with 7 fixes for when you can't share or repost Instagram Threads. 🙂
So, let's get started!
How to Share or Repost Instagram Threads?
Let's look at how to share or repost Instagram threads to ensure that you are doing it correctly before getting into the issue of being unable to share or repost threads on the Instagram Threads App.
You can share a post on Threads by tapping the Send button beneath it.
You can do the following from here:
Copy the thread's link to share on any other app.
Upload the thread or post to your Instagram story.
Share or post the thread on your Instagram feed.
Next, reposting on Threads is akin to retweeting on Twitter. You can repost any thread or post on your account with these simple steps.
Choose the thread you wish to repost by clicking on it in the app.
Tap on the repost button, represented by a circle of arrows located below the image of the thread.
Now you'll have two options: "repost" or "quote repost."
A simple repost will share the thread on your feed and profile, while a quote repost allows you to add a comment above the reposted thread on your profile. The thread will show up on your profile after you've chosen your repost type and clicked "repost".
You may check it on your profile!
7 Fixes When You Can't Share or Repost Instagram Threads
If you're following the steps mentioned above for sharing or reposting Instagram threads and still need help, there could be some technical glitches or issues preventing you from successfully sharing and reposting Instagram threads.
Let's look at some fixes that might help you resolve this issue.
1. Test Your Internet Connection
A dependable Internet connection is crucial when using a media-sharing app like Instagram Threads. The app relies heavily on a stable connection and can consume significant data during sharing or reposting threads.
However, some users may encounter difficulties with sharing or reposting threads, which can be linked to issues with their internet connection.
In cases where the internet connection experiences fluctuations or becomes slow, connecting to the Instagram servers may fail. The app's features and buttons may require more data than what the connection can handle, particularly when faced with low speed or latency. As a result, users may be unable to share or repost threads.
Therefore, check your internet connection to ensure it is stable and operational.
Here's what you can do:
Disconnect from your current Wi-Fi network or cellular data.
Reconnect to the network or switch to a different network.
Test the internet speed using a speed testing app or website. Make sure you have a strong and stable connection.
Moreover, to verify the status of your internet connection, you can use commercially available speed checkers like SpeedTest.net or Fast.com. In our tutorial, we will use Fast.com to verify the internet speed. Navigate to Fast.com and run a speed test to identify your connection analytics.
If your internet connection and speed are reliable, and the app is still not working, move on to the next step.
On the other hand, if your Internet is currently experiencing low speeds or high Ping and latency, you can try the below-mentioned tips to improve your Internet speed:
Turn on and turn off airplane mode ✈️
Reboot the device 🔁
Re-enable the Wi-Fi 📶
Restart or power-cycle the Wi-Fi router
Stop all downloads 🚫
Contact the ISP provider ☎️
Perhaps your Internet connection has improved, but you still can't share or repost threads on Instagram Threads. You can try more fixes, and we'll give thorough guides for you to follow.
2. Check the Instagram or Threads Server Status
If you're experiencing difficulties with sharing or reposting on Instagram Threads, one of the first steps is to check the status of the Instagram or Threads servers. This straightforward action can provide valuable insights into the problem, helping you determine whether the issue relates to your device or the app's servers.
There have been instances where users encountered problems caused by downtime or server-related issues. By doing so, you can identify whether other users are facing similar issues of being unable to share or repost Instagram Threads.
If the issue is with the app's servers, it is likely a temporary situation that the platform's administrators will resolve. For this, we recommend third-party server status checkers, such as Downdetector, which compiles user reports and displays the current status of online services, including Instagram.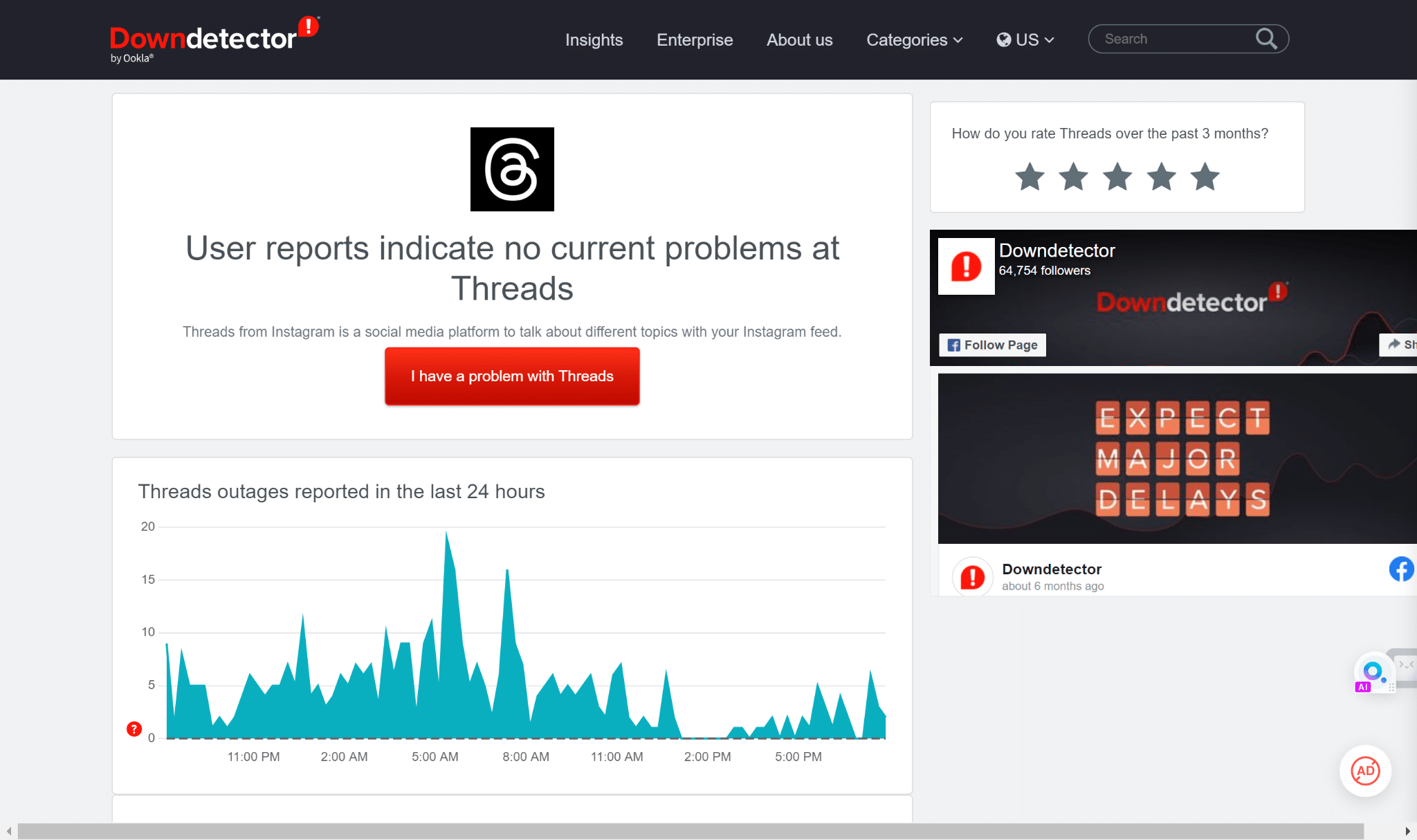 Therefore, on this page, you can refer to the outage graph, live map, and comments section to determine where and how the platform issues appear.
Besides that, you can refer to Twitter, and search for terms such as #ThreadsDown, to see if users report issues with the service.
3. Install Pending Instagram Threads App Updates
Updating the app is essential to fix issues like can't share or repost threads on Instagram Threads. The Instagram Threads app, being relatively new, receives frequent updates to address bugs and enhance its performance. Not having the latest updates may lead to app glitches, including malfunctions with the repost or share buttons.🐞
Therefore, if an update is available, install it and restart the app to see if the problem resolves.
If you are an Android user, go to the Play Store or open the App Store for iPhone users.
Search for the Instagram Threads app in the store.
Press the "Update" button beside the app if an update is available.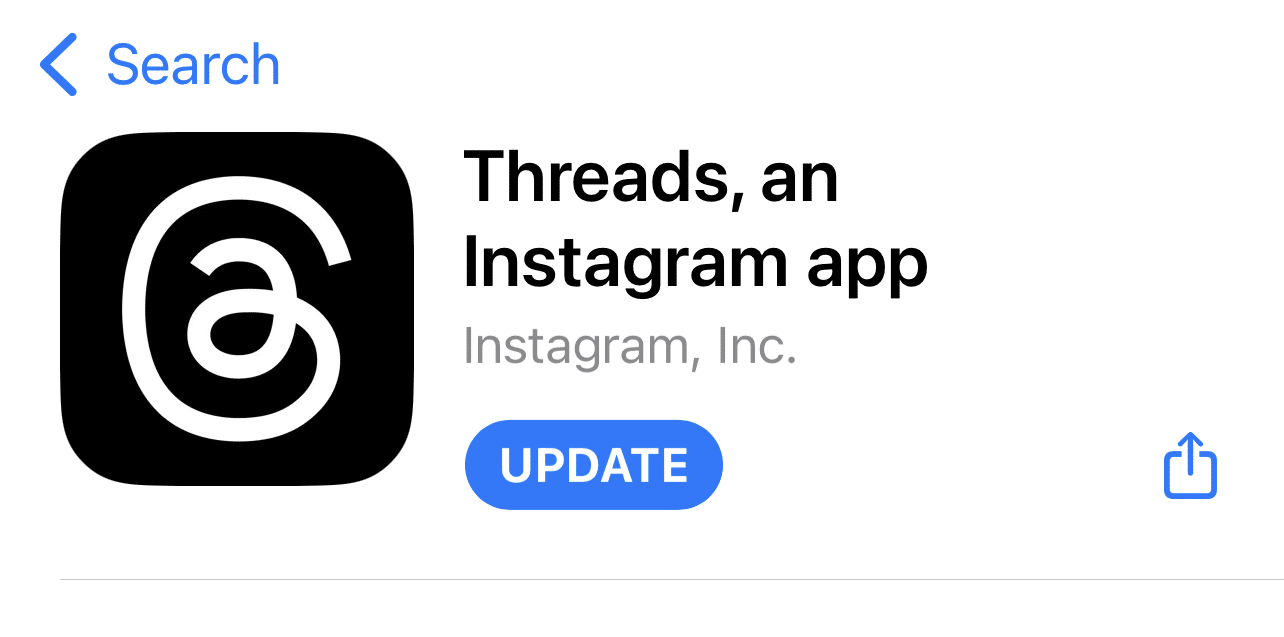 Once the app is updated, check if the issues have been resolved.
4. Clear the Threads App Cache and Data
Cache plays a crucial role in enhancing the efficiency of the Instagram Threads app by storing data from your interactions, recognizing your preferences, and facilitating quicker loading times.
However, as the app receives updates and your usage accumulates, the cache and app data may become outdated or corrupted. This accumulation can lead to performance problems and hinder the app's functionalities.
Clearing the Instagram Threads app's cache and data is recommended to address the issue at hand. By doing so, you can remove any corrupted data that might be causing trouble with sharing and reposting.
Here's how you can clear the app cache in just a few steps:
For Android
Go to the device's settings menu.
Find the "Apps" or "Applications" section.
Locate the Instagram Threads app from the list of installed apps.
Tap on the app and select "Storage" or "Storage & Cache".
Tap on the "Clear Cache" and "Clear Data" buttons.
Clearing the app's data will log you out and reset any app-specific settings. After clearing the cache and data, log in and check if the Instagram Threads app allows you to share and repost threads.
For iPhone (iOS)
For iOS devices, clearing the cache can be achieved through several methods, including reinstalling the app or offloading it.
Offloading an app is a feature available in the iOS system settings that allows you to remove an app while saving or retaining its data and documents.
5. Force Restart the Instagram Threads App
This action clears any temporary glitches or hiccups that might be causing the problem. It's like hitting the refresh button, and let me tell you, it does the trick!
Force-stopping an app means terminating all its background processes and activities forcefully. This action can be beneficial when an app is misbehaving or facing glitches.
Force-stopping the Instagram Threads app can refresh its functionality and potentially resolve the "Can't Share or Repost Instagram Threads" issue.
On both iOS and Android devices, the steps to close and restart Instagram are similar:
Firstly, exit the app, open the Recent Apps or App Switcher menu, and swipe up at Instagram to clear it.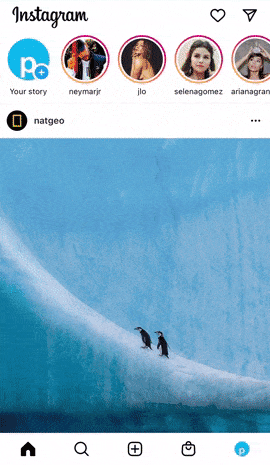 To force stop the Instagram Threads app on Android, follow these steps:
Go to "Settings" on your Android device.
Navigate to "Apps" or "Application Manager", depending on your device's configuration.
Find and select "Threads" from the list of installed apps.
Finally, tap the "Force Stop" button to stop or terminate all app processes.
For iOS devices, follow these steps to force stop the Instagram Threads app:
Double-click the home button (for devices with a home button) or swipe up from the bottom (for devices without a home button) to access the app switcher.
Locate the Instagram Threads app in the app switcher.
Swipe the app's preview card up or off the screen to force stop it.
6. Restart Your Device
This straightforward fix can often resolve minor glitches or software-related issues that might be causing the problem.
By rebooting your device, you effectively halt all background processes, which can sometimes interfere with push notifications and app functionalities. This action also frees up RAM on your device, leading to improved speed and performance.
This fix can be particularly helpful for users experiencing the can't share or repost Instagram Threads issue.
For Android
Press and hold the power button until the device options menu appears.
Select the "Restart" option on the menu.
Wait for your device to shut down, and then restart automatically.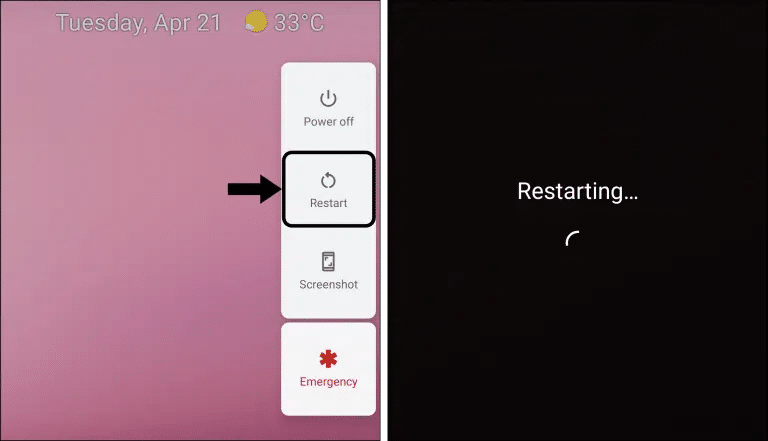 For iPhone (iOS)
Press and hold the power button until the device options menu appears.
Slide the power off switch.
Wait for your device to shut down, and then restart automatically.
Once your device has rebooted, open the Instagram Threads app and check if it's allowing you to share and repost threads.
7. Contact Instagram Support
If you've followed all the previous steps and still need help with sharing or reposting on Instagram Threads, you should seek further assistance by contacting Instagram Support. Their team will be able to offer personalized solutions to address your specific situation.
Additionally, if you're facing an issue with sharing or reposting, other users may be experiencing similar problems. By reporting the issue through the Instagram Help Center, you contribute to raising awareness about the problem.
The more individuals who report the issue, the sooner Instagram will likely take notice and work on resolving the problem.
So, to report this error to Instagram Help:
First, go to your profile page by tapping your profile picture icon at the bottom right.
After that, select the menu icon at the upper right.
Next, choose Help.
Then, select Report a problem.
After that, you can select Report problem without shaking.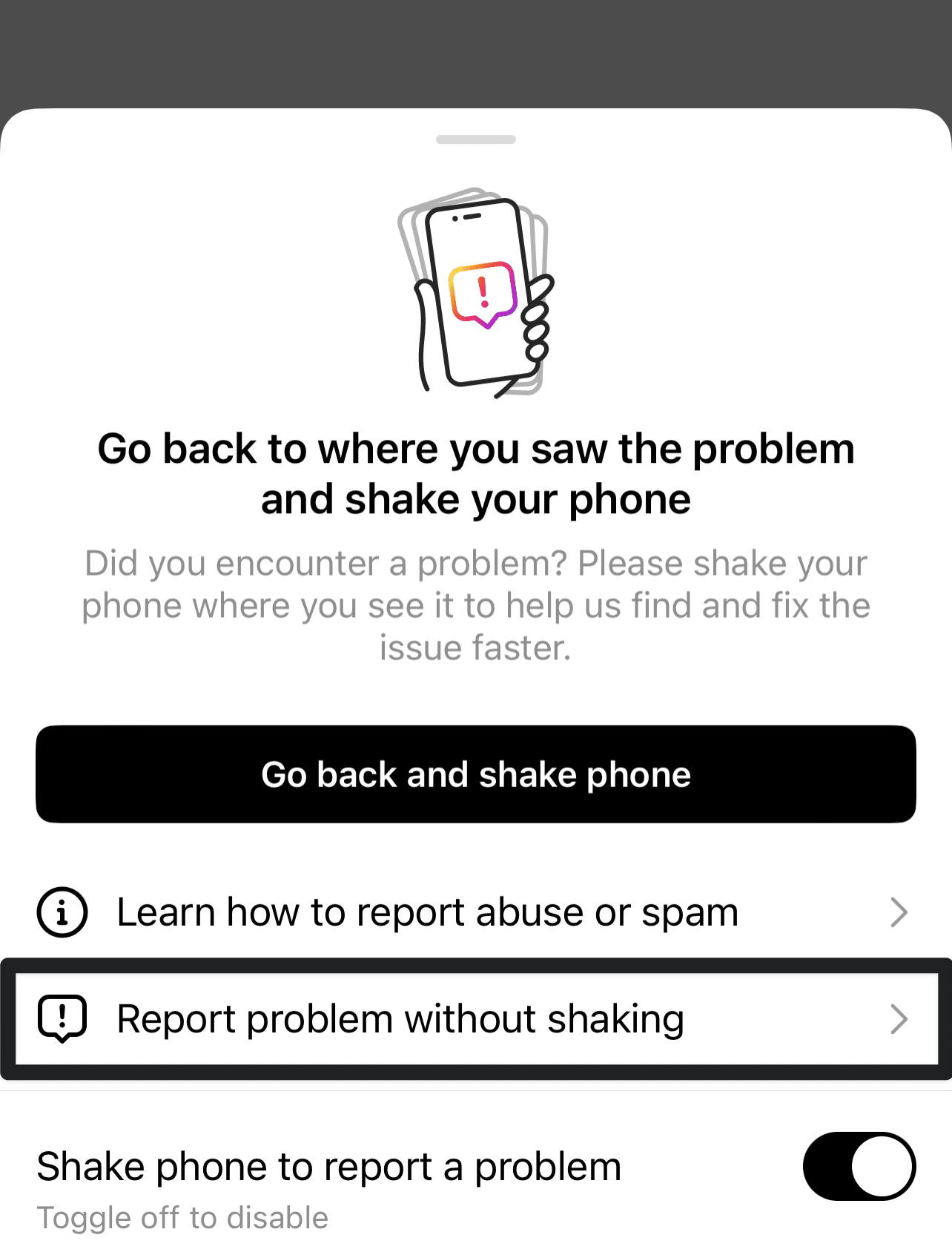 You can choose whether to include complete logs and diagnostics on the following page.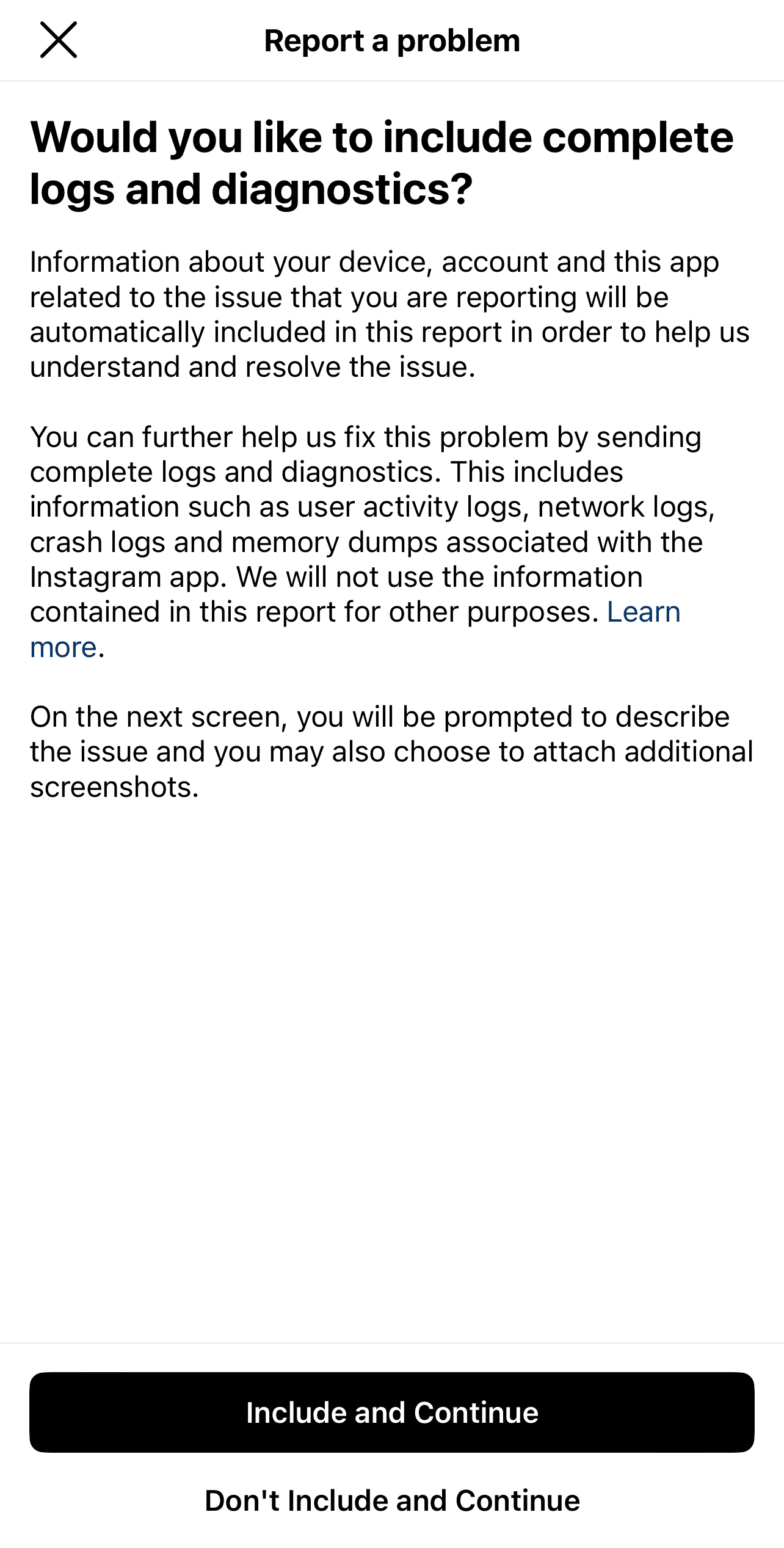 On the following page, briefly describe your problem. Including key info, like your device model, when the issue began, and a screenshot, will be helpful. Have a look at ours if you need inspiration.
Finally, tap Send.
Conclusion
In conclusion, Instagram Threads is a captivating feature that allows users to weave engaging visual narratives and uniquely connect with their audience. However, encountering the frustrating issue of being unable to share or repost Threads can dampen the experience.
But fear not! Following the 7 fixes in this guide, you can swiftly overcome this obstacle and return to sharing those incredible moments with your followers.
So go ahead and share this guide far and wide with your friends and help them overcome the issue of can't share or reposting Instagram threads!