Are you left out because you can't reply to threads on Instagram's new Threads app? Or are you caught in what seems like an endless posting loop?
Instagram Threads offer dynamic and private discussions with your close friends, family, and followers, all within one seamless conversation.
When engaging in a thread, you can reply to those threads with short texts, share links to interesting articles or websites, and attach photos, videos, or any combination of them.
Imagine scrolling through your Instagram Threads feed, checking out those colorful threads, and encountering one that tickles your fancy. You want to jump in on the conversation, add your two cents, or send some love with a reply. But alas, despite your efforts, you find yourself stuck in a posting loop and need help to reply.
Therefore, this article explores the prevalent causes of this issue and presents 6 solutions to get you back to replying to threads smoothly.
Let's dive right in to find a solution!
Possible Reasons Why You Can't Reply to Instagram Threads
The issue of being unable to reply to Instagram threads can stem from various factors. It is important to identify the root cause to apply the appropriate solutions effectively.
1. Internet Connectivity Issues
Instagram needs a reliable internet connection to run smoothly. You might have trouble replying to threads if your internet connection is weak or unreliable. (Fix 1)
2. Outdated App Version
Updates are frequently made available by developers to address bugs and enhance app functionality. If you cannot reply to threads, there is a possiblity that you haven't yet updated the Instagram Threads App on your device. (Fix 2 and 5)
3. App cache and data conflict
Accumulated cache and data within the Threads app can cause conflicts and performance problems. Frequently, these problems can be solved by clearing the cache and data. (Fix 3)
4. Server issues
Instagram's servers may experience temporary outages or maintenance, affecting the functionality of Threads. Server issues can prevent uploading, posting, or thread creation. (Fix 4)
6 Fixes When You Can't Reply to Instagram Threads
1. Test Your Internet Connection
A dependable Internet connection is crucial when using a media-sharing app like Instagram Threads. This app thrives on connectivity, and it's all about sharing the magic of photos, videos, and messages with your friends and followers.
It consumes significant data while engaging with threads or replying to threads. However, some users may encounter difficulties replying to threads, which can be linked to issues with their internet connection.
In cases where the internet connection experiences fluctuations or becomes slow, connecting to the Instagram servers may fail. The app's features and buttons may require more data than what the connection can handle, particularly when faced with low speed or latency. Users might consequently be unable to reply to threads.
Therefore, check your internet connection to ensure it is stable and operational.
Here's what you can do:
Disconnect from your current Wi-Fi network or cellular data.
Reconnect to the network or switch to a different network.
Test the internet speed using a speed testing app or website. Make sure you have a strong and stable connection.
Moreover, to verify the status of your internet connection, you can use commercially available speed checkers like SpeedTest.net or Fast.com. In our tutorial, we will use Fast.com to verify the internet speed. Navigate to Fast.com and run a speed test to identify your connection analytics.
If your internet connection and speed are reliable, and the app is still not working, move on to the next step.
On the other hand, if your Internet is currently experiencing low speeds or high Ping and latency, you can try the below-mentioned tips to improve your Internet speed:
Turn on and turn off airplane mode ✈️
Reboot the device 🔁
Re-enable the Wi-Fi 📶
Restart or power-cycle the Wi-Fi router
Stop all downloads 🚫
Contact the ISP provider ☎️
Perhaps your Internet connection has improved, but you still can't reply to threads on Instagram Threads. You can try more fixes, and we'll give thorough guides for you to follow.
2. Install the Pending Instagram Threads App Updates
Instagram Threads, a relatively new app, receives frequent updates to keep things running smoothly. These updates not only squash bugs but also work magic to enhance performance.
Hence, updating the app is essential to fix issues like can't reply to threads on Instagram Threads. Not having the latest updates may lead to app glitches, including malfunctions with the reply button.🐞
Outdated versions of the Instagram Threads app might also be susceptible to compatibility issues. To fix this, ensure you check for available updates for Instagram Threads on your device's app store.
If an update is available, install it and restart the app to see if the problem resolves.
If you are an Android user, go to the Play Store or open the App Store for iPhone users.
Search for the Instagram Threads app in the store.
Press the "Update" button beside the app if an update is available.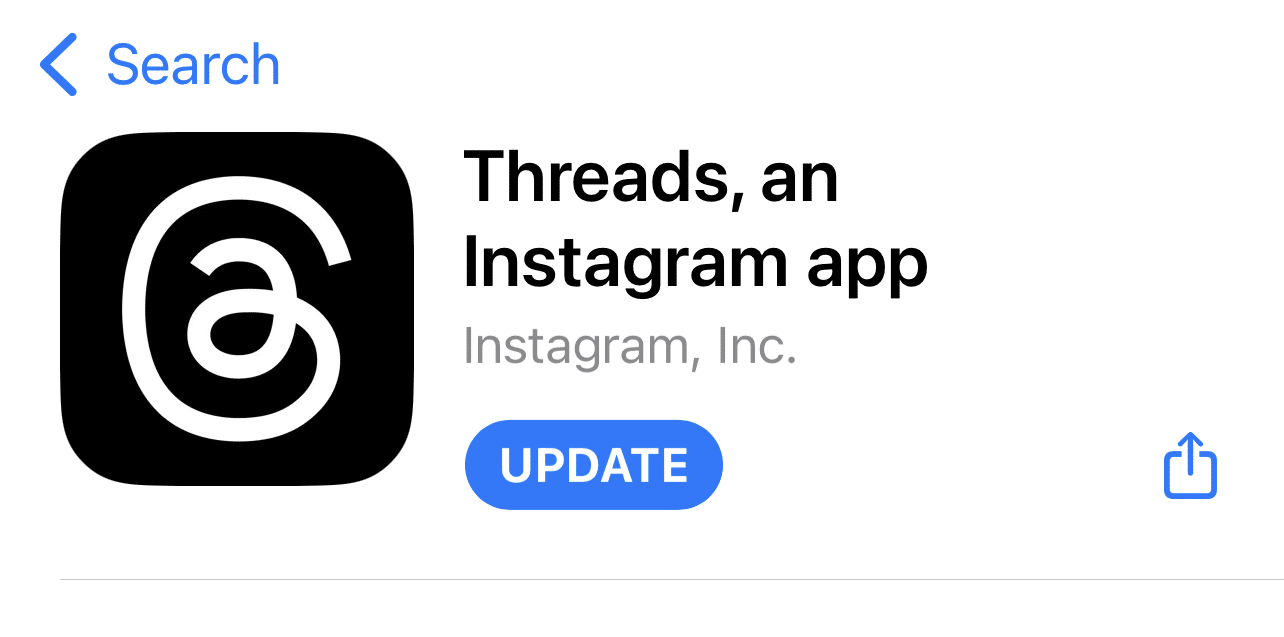 Check to see if the problems have been fixed after the app has been updated.
3. Clear the Threads App Cache and Data
If you're facing issues in replying to Instagram Threads, it's essential to consider clearing the app's cache and data.
Cache stores valuable information from your interactions, learns about your preferences, and showcases threads that match your interests on your feed.
And guess what? Those are the threads where you might want to jump in and make a delightful reply.
However, as the app continues to receive updates and your usage accumulates, the cache and app data may become outdated or corrupted. This accumulation can lead to performance problems and hinder the app's functionalities.
Clearing the Instagram Threads app's cache and data is recommended to address the issue at hand. This process can help improve the app's performance and resolve issues related to replying to threads on Instagram Threads.
Remember that clearing the app's cache and data will not erase your account or personal data. It merely refreshes the app and allows it to function more efficiently.
Here's how you can clear the app cache in just a few steps:
For Android
Go to the device's settings menu.
Find the "Apps" or "Applications" section.
Locate the Instagram Threads app from the list of installed apps.
Tap on the app and select "Storage" or "Storage & Cache".
Tap on the "Clear Cache" and "Clear Data" buttons.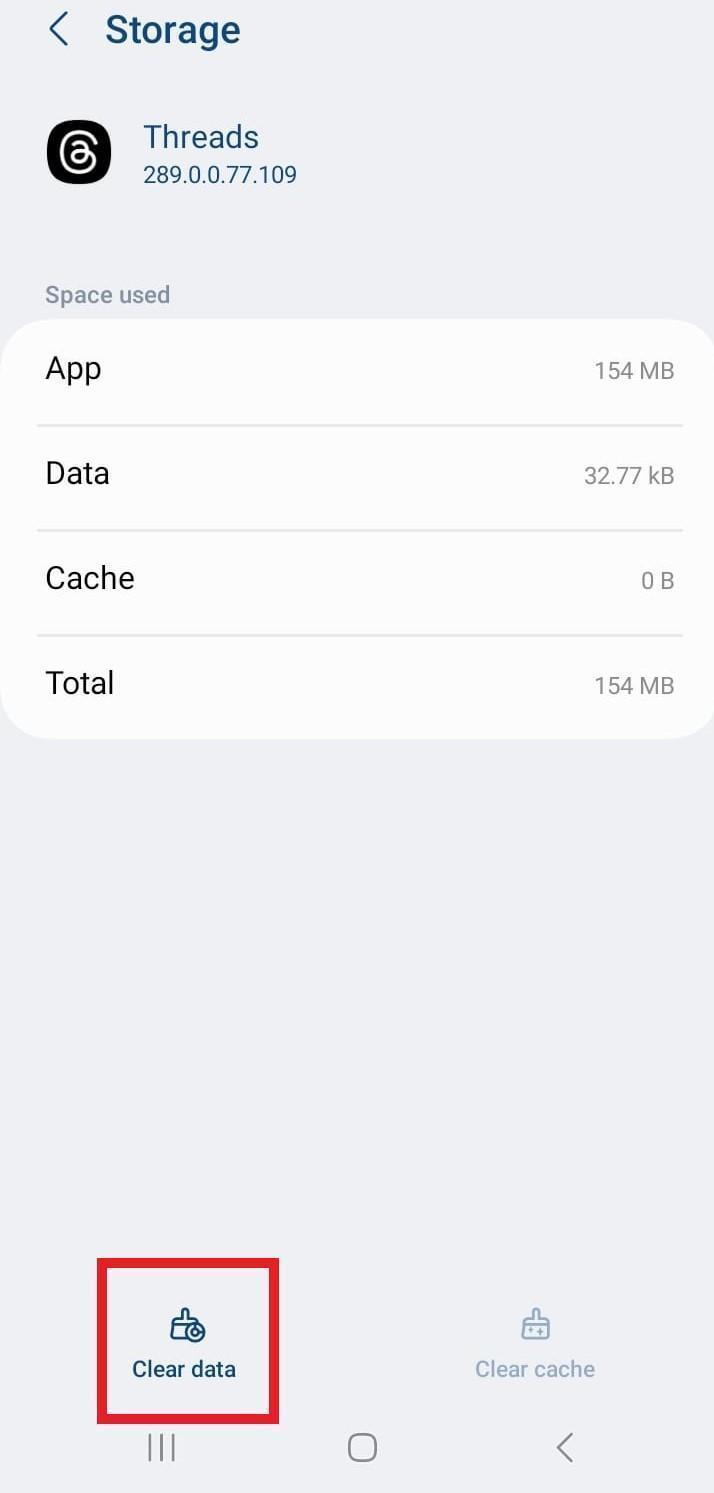 Clearing the app's data will log you out and reset any app-specific settings. After clearing the cache and data, log in and check if the Instagram Threads app allows you to reply to threads.
For iPhone (iOS)
For iOS devices, clearing the cache can be achieved through several methods, including reinstalling the app or offloading it.
Offloading an app is a feature available in the iOS system settings that allows you to remove an app while saving or retaining its data and documents.
First, launch the "Settings" app on your iOS device and scroll down to the "General" section.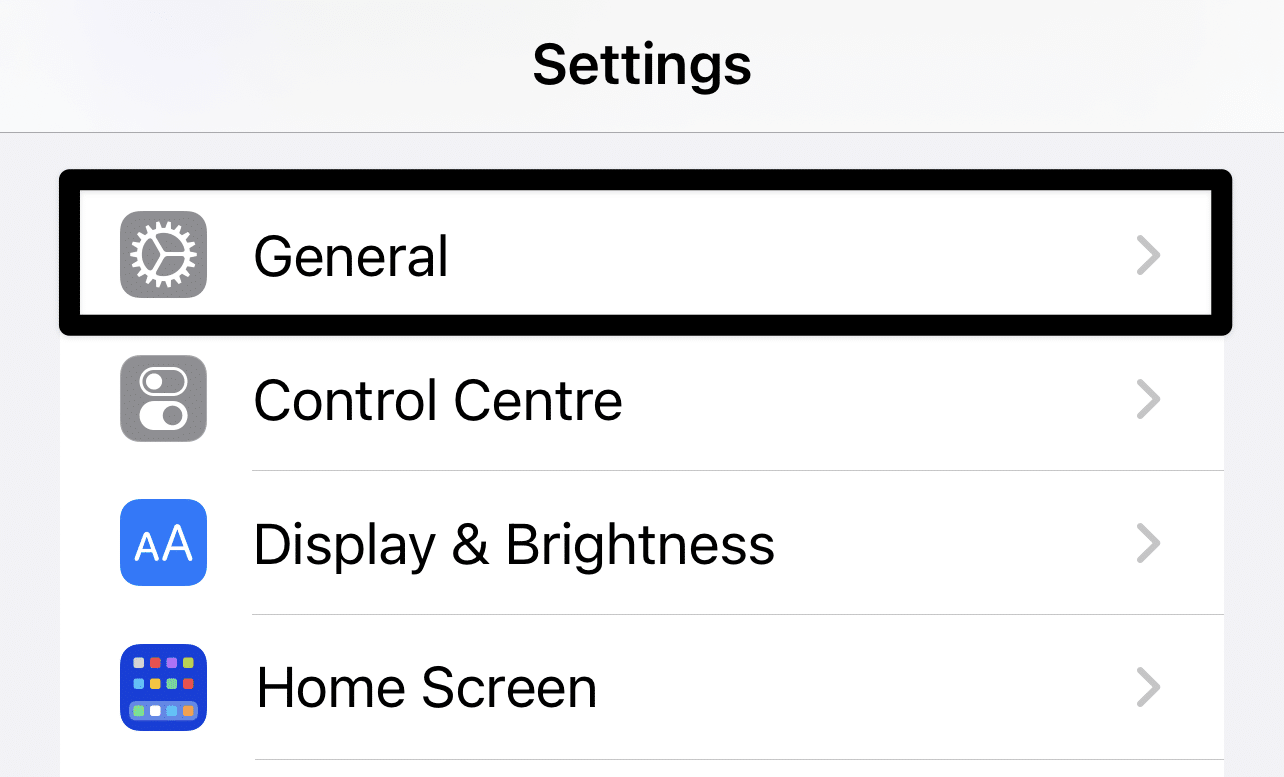 Now, click on the "iPhone Storage" section.
Then, select the Threads app from the list of installed apps.
Afterward, click "Offload App" to temporarily remove the app or click on "Delete App" to remove it permanently.
Lastly, reinstall the Threads app from the App Store once the app has been removed successfully.
4. Check the Threads Server Status
One of the first steps you can try is checking the status of the Instagram or Threads servers.
First things first, access the official server status page for Instagram or Threads. Here, you'll find valuable information about the health of their servers. This straightforward action can provide valuable insights into the problem, helping you determine whether the issue relates to your device or the app's servers.
There have been instances where users encountered problems caused by downtime or server-related issues. By doing so, you can identify whether other users are facing similar issues of being unable to reply to Instagram Threads or being stuck in the posting loop.
If the issue is with the app's servers, it is likely a temporary situation that the platform's administrators will resolve.
For this, we recommend third-party server status checkers, such as Downdetector, which compiles user reports and displays the current status of online services, including Instagram.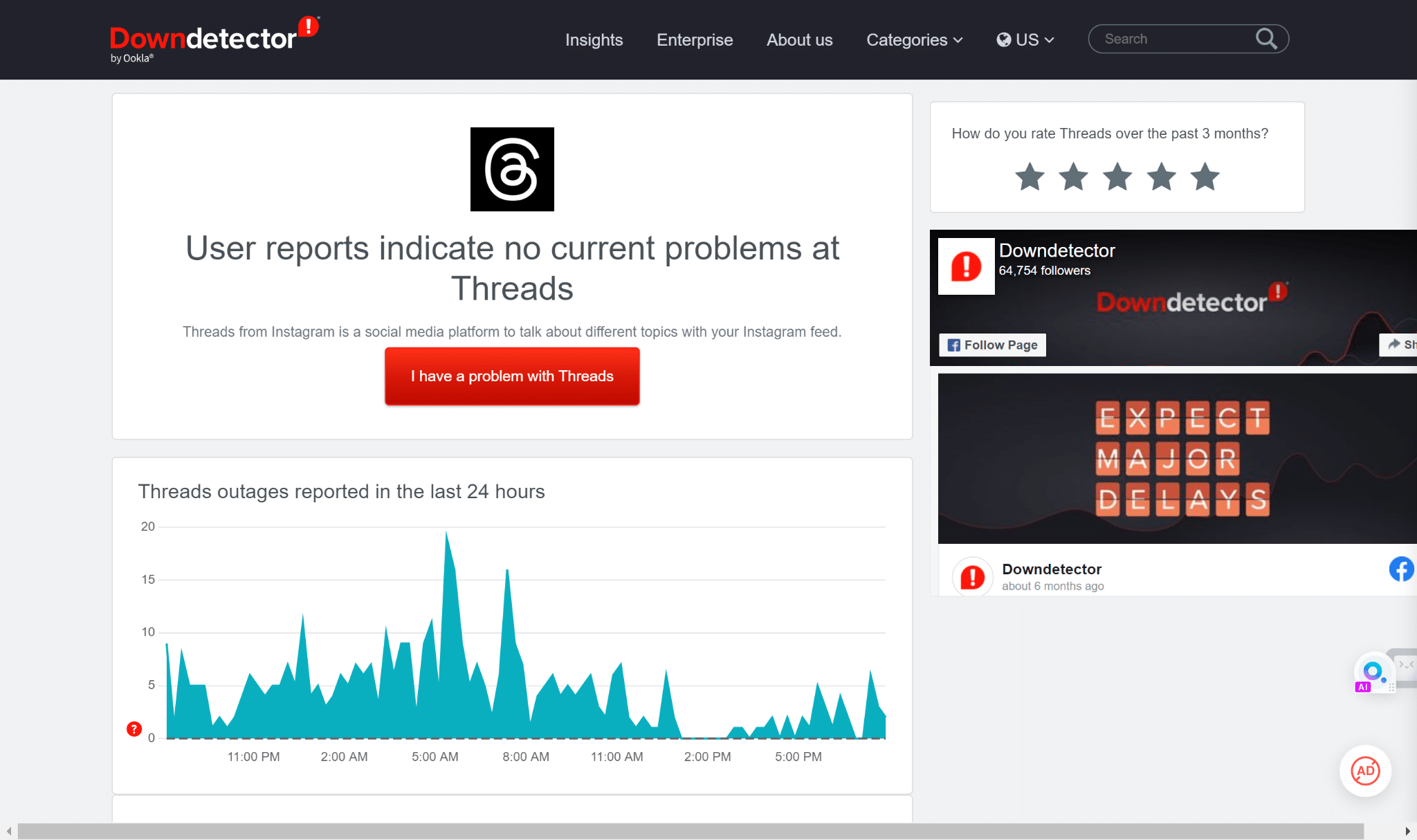 Therefore, on this page, you can refer to the outage graph, live map, and comments section to determine where and how the platform issues appear.
Besides that, you can refer to Twitter, and search for terms such as #ThreadsDown, to see if users report issues with the service.
5. Reinstall the Threads app
Reinstalling the Threads app can resolve various app-related issues and provide a fresh installation for optimal performance. It's a common solution for solving miscellaneous app issues like being unable to reply to a thread.
Generally, most devices have similar steps to reinstall the Threads app.
First, long-press for the selection menu or head over to Settings to uninstall Threads.
Then, select Uninstall or Remove App.
For iOS devices, to uninstall the Threads app through settings is through General > iPhone Storage > Threads > Delete app.
You can also choose Offload App to clear the app files, but keep the installation of the app on your device. Thus, reducing its storage consumption.
Next, you can restart your device or head straight to your App Store to install the Threads App.
6. Contact Instagram Support
Reporting the issue at the Instagram Help Center allows you to reach out directly to the official support channels provided by Instagram. The Help Center is designed to assist users with various problems and provides a dedicated platform to report and seek assistance for app issues.
When reporting the issue, you can provide more details about your problem, including any error messages or specific symptoms, along with screenshots. This information can help the support team understand the nature of the issue and investigate it further.
So, to report this error to Instagram Help:
First, go to your profile page by tapping your profile picture icon at the bottom right.
After that, select the menu icon at the upper right.
Next, choose Help.
Then, select Report a problem.
After that, you can select Report problem without shaking.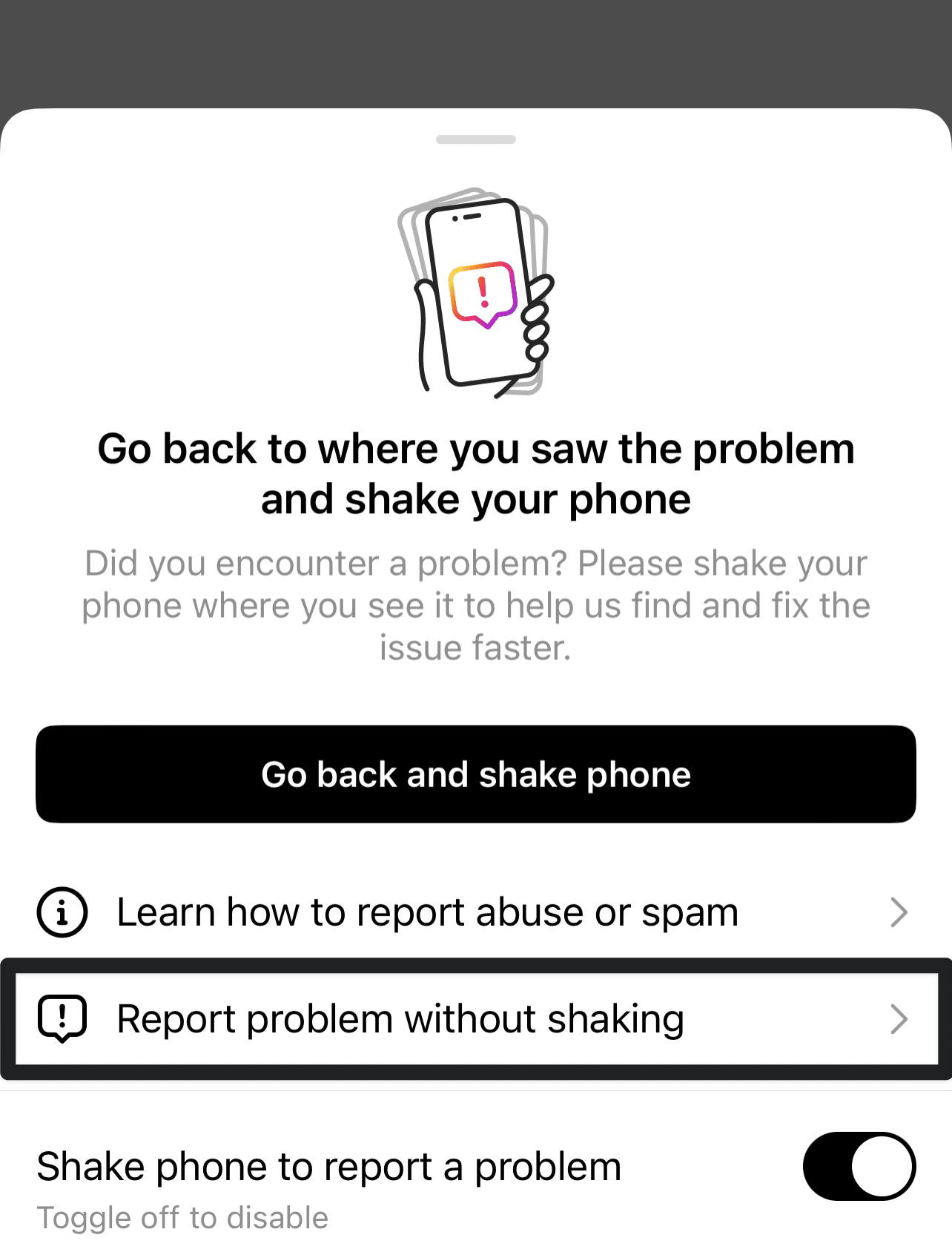 You can choose whether to include complete logs and diagnostics on the following page.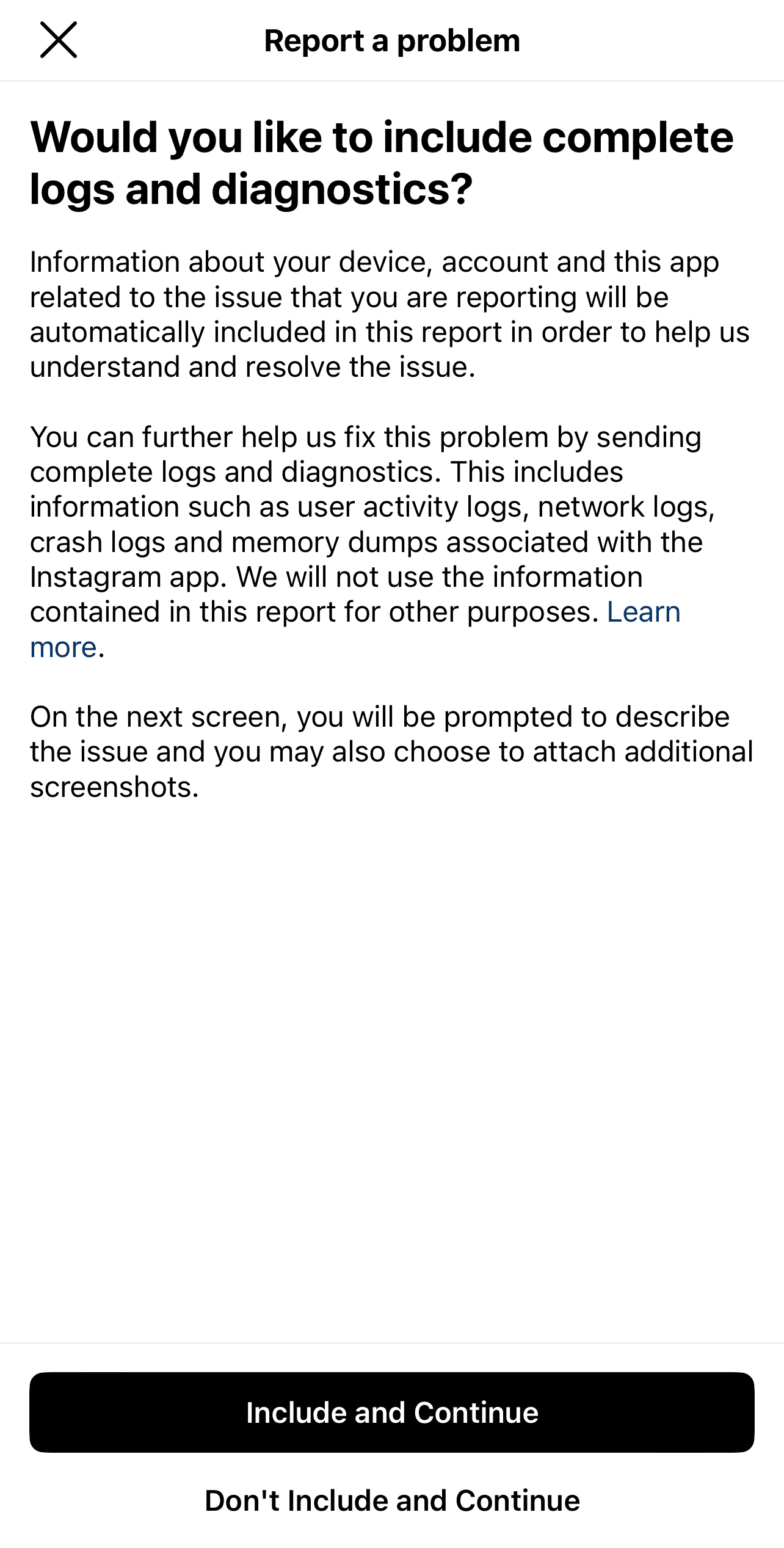 On the following page, briefly describe your problem. Including key info, like your device model, when the issue began, and a screenshot, will be helpful. Have a look at ours if you need inspiration.
Finally, tap Send.
Conclusion
In conclusion, Instagram Threads opens up a world of vibrant and engaging discussions, allowing us to connect with close friends, family, and followers like never before. However, encountering the frustrating issue of being unable to reply to these threads can dampen the experience.
Therefore, we've explored 6 fixes to help you get back on track and enjoy seamless conversations. So, next time you find yourself stuck in a "can't reply" situation, don't fret and follow the solutions and tips in this article.
Remember to share this guide with your family and friends needing help replying to threads and avoid unnecessary frustration. 😀