Are you tired of seeing the same Instagram stories repeating endlessly or that they're not going away or disappearing from your feed, even after you've viewed them multiple times?
Who doesn't love sharing life's amazing moments through Instagram stories? We all do! It's like a window into each other's worlds, bringing us closer and making the social media experience way more exciting.
Despite its revolutionary nature, Instagram Stories can sometimes encounter pesky issues, such as stories repeating persistently after being viewed.
Imagine you've created a captivating story to share with your friends and followers. It's witty, charming, and everything you want to say in one striking package. You post it, and your friends start watching – great, right? Not so much when it decides to play on an endless loop, even after they've seen it!
However, some users may encounter the issue of repeating Instagram stories and not going away after viewing them. If you are one of those, keep reading, we have 9 solutions to fix this issue on Android and iOS devices.
4 Reasons Why Instagram Stories Keep Repeating
Before we delve into the solutions, let's understand why this problem occurs in the first place. The repeating Instagram stories glitch could be due to various reasons, such as:
1. Internet Connectivity Issues
Poor internet connectivity is a common factor that leads to glitches with Instagram stories. When the app cannot establish a stable connection, it fails to receive real-time updates. (Fix 1)
2. Overloaded and Corrupted App Cache
The Instagram app stores temporary data, known as cache, to improve loading times and performance. However, a large cache can lead to unexpected behavior, including stories repeating.
3. Outdated Instagram App Version
If you're using an old or outdated version of the Instagram app, compatibility problems could lead to errors, like stories that don't disappear after being seen once or don't change to others.
4. Account or Device Specific
Sometimes, the problem may be specific to certain user accounts or devices, indicating a potential bug or configuration issue.
9 Fixes for Instagram Stories Repeating
1. Check Your Internet Connection
Like other media-sharing applications, Instagram relies on a stable and decent Internet connection to function smoothly.
If your internet speed experiences fluctuations or disruptions, it can hinder the app's ability to connect to the Instagram servers effectively. As a result, you may encounter problems like Instagram stories getting stuck in an endless loop, repeatedly playing, and not progressing as expected.
To tackle this specific problem, ensuring a reliable and consistent internet connection is paramount while using Instagram. Maintaining a steady internet speed can mitigate the chances of facing the repeating stories glitch.
Therefore, checking your internet connection is suggested to ensure it is stable and operational.
Here's what you can do:
Disconnect from your current Wi-Fi network or cellular data.
Reconnect to the network or switch to a different network.
Test the internet speed using a speed testing app or website. Make sure you have a strong and stable connection.
Moreover, to verify the status of your internet connection, you can use commercially available speed checkers like SpeedTest.net or Fast.com.
If your internet connection and speed are reliable, and the app is still not working, move on to the next step.
On the other hand, if your Internet is currently experiencing low speeds or high Ping and latency, you can try the below-mentioned tips to improve your Internet speed:
Turn on and turn off Airplane mode ✈️
Reboot the device 🔁
Re-enable the Wi-Fi 📶
Restart or power-cycle the Wi-Fi router
Stop all downloads 🚫
Contact the ISP provider ☎️
Perhaps your Internet connection has improved, but you still face the issue with stories. You can try more fixes, and we'll give thorough guides for you to follow.
2. Log Out and Log In to the Instagram App
Re-signing in to your Instagram account is one of the first solutions you can try to troubleshoot miscellaneous issues with the Instagram app. In this case, it can possibly be the simple solution to Instagram Stories repeating even after viewing.
Essentially, performing this step refreshes your sign-in and account information with the app. Thus, effectively reconfiguring your Instagram settings, potentially resolving any temporary glitches or bugs causing the issue.
This solution is particularly beneficial for users who have multiple accounts logged in within their Instagram app.
To sign out of your Instagram account, follow the steps outlined below:
For Mobile (Android & iOS)
First, tap on your profile picture from the bottom right corner.
Once your profile appears, tap on the hamburger (三) menu in the top-right corner.
Then, tap on Settings at the bottom of the sidebar.


Under Settings, scroll down and tap on Log Out.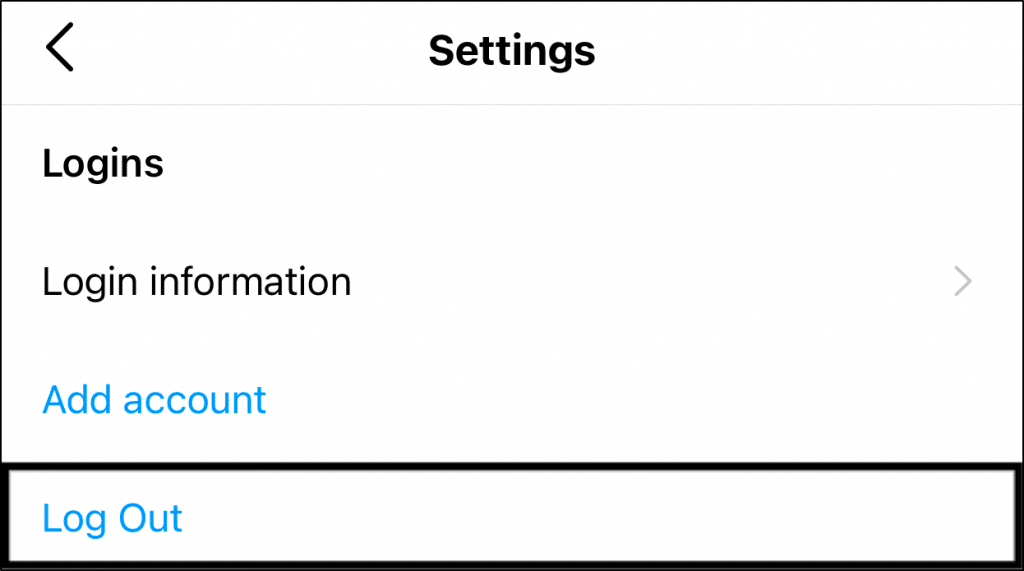 Lastly, tick your account and choose to Log Out again.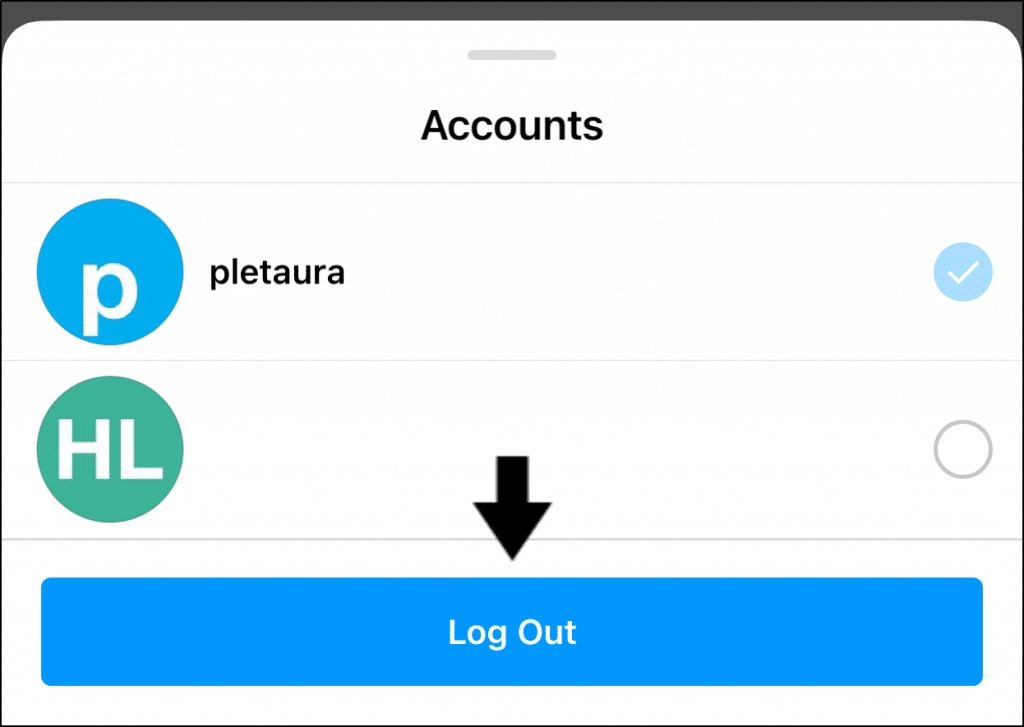 Once this is done, we suggest waiting a few minutes before logging back in to your Instagram account.
For Desktop
Click on your profile icon at the top-right and select Log out. (you should be able to find it in the last row!)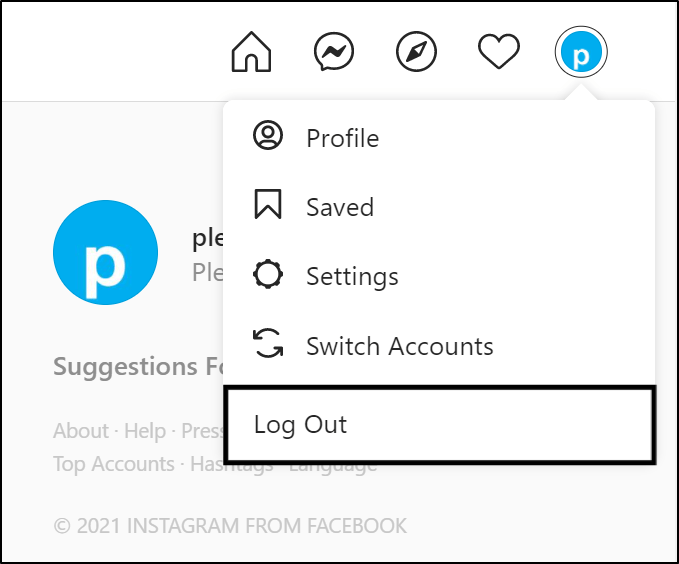 Note: To successfully sign back in to Instagram, make sure you remember your registered email or username and password.
3. Clear the Instagram App Cache and Data
The Instagram app tends to get cluttered over time. All those temporary files, images, and data snippets pile up, impacting the app's speed and responsiveness.
For Instagram, clearing the accumulated app data and cache can help address various issues, including Instagram stories repeating and not going away after viewing. The app can function more efficiently and resolve these issues by removing temporary files and corrupted data.
Here's how you can do it on an Android device:
Go to the device's settings menu.
Find the "Apps" or "Applications" section.
Look for the Instagram app from the list of installed apps.

Tap on the app and select "Storage" or "Storage & Cache".
Then, proceed to tap on the "Clear Cache" and "Clear Data" buttons.
Clearing the app's data will log you out and reset any app-specific settings. After clearing the cache and data, log in and check if Instagram stories start working properly.
Unlike Android, iOS devices have no one-click button to clear the Instagram app cache. One way to remove all the app files will be to either offload the app from the settings or reinstall Instagram on your device. In that case, you can skip to the next step (Step 9) for more.
4. Update the Instagram App
When tackling the challenge of Instagram stories repeating and not going away after viewing, it's vital to consider the impact of app versions on the issue. To avoid this glitch, one practical step is to ensure you have the latest version of the Instagram app installed on your device.
Older app versions are more susceptible to bugs and compatibility issues, leading to various problems within the app's functionality. By updating to the recent version, you can often resolve these issues and enjoy a smoother and glitch-free experience while viewing stories on Instagram.
Check if any updates are available for Instagram on your device's app store. In case an update is available, install it and restart the app to see if the problem is resolved.
Follow these general steps to update the Instagram app:
If you own an iPhone, head to the App Store, or if you have an Android device, go to the Google Play Store.
In the store, look for the Instagram app.
Press the "Update" button beside the app if an update is available.
Once the app is updated, check if the issues have been resolved. If they persist, proceed to the next steps.
5. Reinstall the Instagram App
Reinstalling an app can address miscellaneous problems and help tackle the repeating stories glitch on Instagram. It will allow you to start from zero or scratch.
Make sure to jot down or remember your Instagram username and password before uninstalling it.
Generally, most devices have similar steps to reinstall the Instagram app.
First, long-press for the selection menu, or head over to Settings to uninstall Instagram.
Then, select Uninstall or Remove App.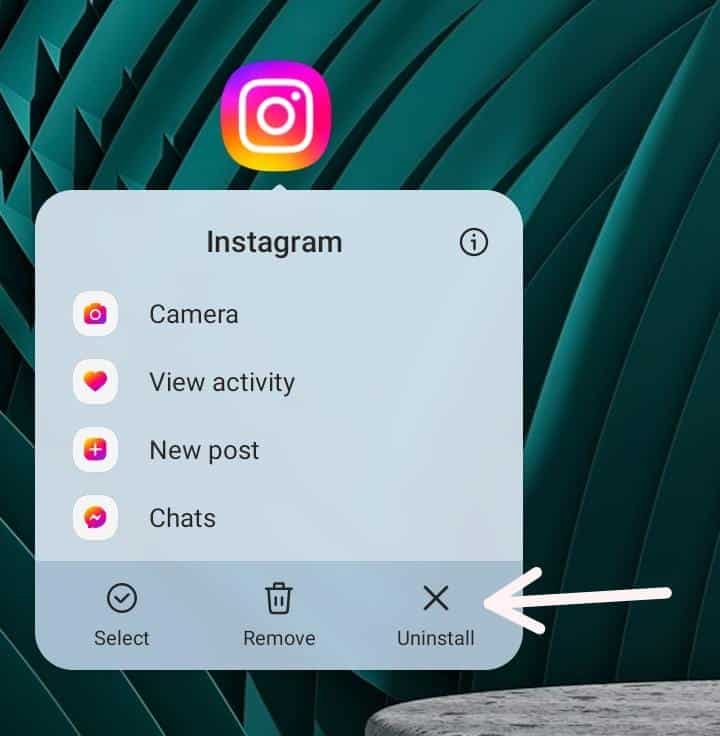 For iOS devices, to uninstall the Instagram app, long-press for the selection menu and then tap on the Delete app.
You can also choose Offload App to clear the app files, but keep installing the app on your device. Thus, reducing its storage consumption.
6. Restart Your Device
When dealing with the vexing problem of Instagram stories repeating and not going away after viewing, a simple and effective fix to consider is restarting your device. This straightforward solution can often resolve minor glitches or issues with the device's software, and it may also help users facing issues with Instagram stories.
By quickly rebooting your device, you can halt all background processes that might interfere with app performance and functions. Thus, you will notice a speed increase by freeing up RAM on your device.
For Android
Press and hold the power button until the device options menu appears.
Select the "Restart" option on the menu.
Wait for your device to shut down, and then restart automatically.
For iPhone (iOS)
Press and hold the power button until the device options menu appears.
Slide the power off switch.
Wait for your device to shut down, and then restart automatically.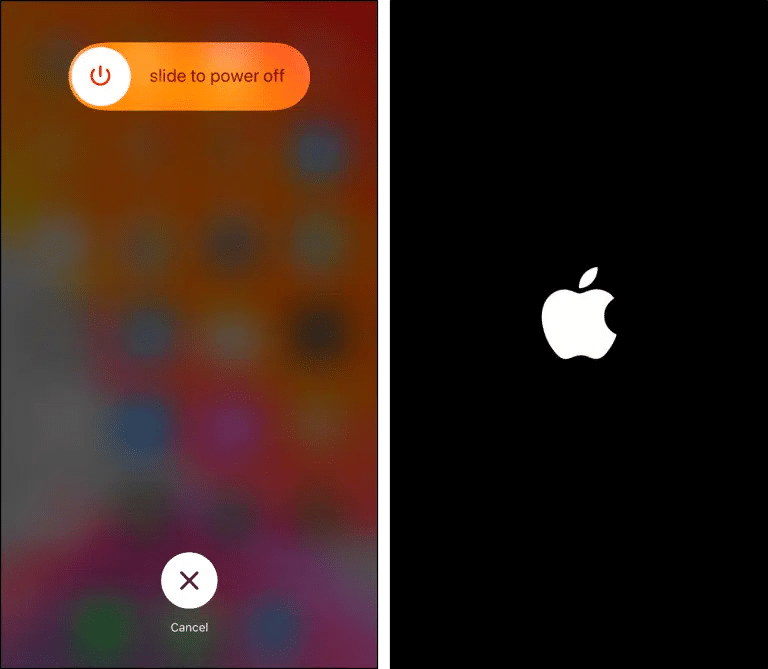 Once your device has rebooted, open the Instagram app and check if it's functioning properly.
7. Reinstall an Older Version of the Instagram App (For Android)
If the above methods are not working for you, you must yearn for the good old days of Instagram, where simplicity reigned. Therefore, an alternative fix is installing older app versions to fix the issue at hand.
To install an older version of Instagram, you'll need the APK (Android Package) file for your desired specific version. Note that this method primarily applies to Android devices only.
Remember to tread carefully and obtain APK files from trusted sources to ensure your device's security.
To install an older version of the Instagram App, simply follow these instructions:
Download the APK file of any older version from here.
To start the installation, tap on the APK file.
Review the permissions the app requires and proceed if you're comfortable with them.
Once the installation is complete, tap "Open" to launch the Instagram app.
Now you can go back to viewing stories and enjoy the moment. Remember that an older version might limit access to certain features or security updates.
8. Try Using the Web Version of Instagram or on a Different Device
One way you can troubleshoot the cause of the Instagram Story issue is to test whether the issue still occurs when you're accessing Instagram from another means. So, you can either log in and access the Instagram website from your mobile web browser or from another device.
From there, you can determine if that particular Instagram Story that wasn't going away from before, is still repeating or appearing in the list of pending stories.
If it isn't repeating anymore, then it's likely an issue with the app on your initial device, whether it's a cache, installation or inherent temporary issue.
9. Contact Instagram Support
While we've explored various potential fixes in our quest to resolve the repeating stories glitch, some issues might require the expertise of professionals who know the app inside out.
Reporting the issue at the Instagram Help Center allows you to reach out directly to the official support channels provided by Instagram. The Help Center is designed to assist users with various problems and provides a dedicated platform to report and seek assistance for issues like the one we are trying to solve through this guide.
When reporting the issue, you can provide more details about your problem, including any error messages or specific symptoms, along with screenshots. This information can help the support team understand the nature of the issue and investigate it further.
So, to report this error to Instagram Help:
First, go to your profile page by tapping your profile picture icon at the bottom right.
After that, select the menu icon at the upper-right, and at the menu, select Settings ⚙️.

Next, choose Help, and then select Report a problem.
After that, you can select Report problem without shaking.
You can choose whether to include complete logs and diagnostics on the following page.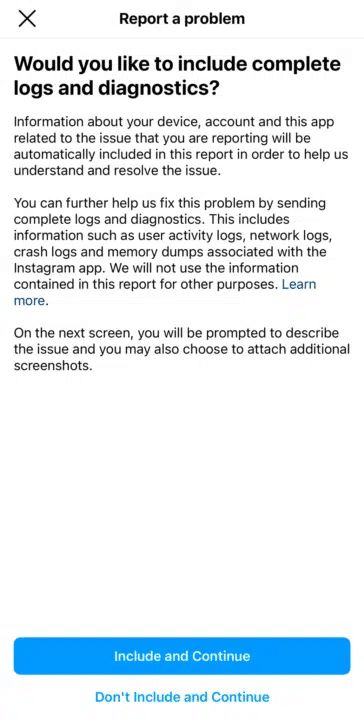 On the following page, briefly describe your problem. Including key info, like your device model, when the issue began, and a screenshot, will be helpful. Have a look at ours if you need inspiration.
Finally, tap Send.
Conclusion
Instagram Stories have undeniably transformed how we share moments and connect with others on social media. However, the pesky issue of stories repeating and not going away after viewing can frustrate users.
So, if you face the annoying repetition of Instagram Stories, don't lose heart! Follow our step-by-step guide, and you'll be back to enjoying your moments without interruptions.
With this glitch out of the way, nothing stops you from spreading joy, inspiration, and creativity through your Insta-stories.
Share this guide with anyone facing the problem of Instagram stories repeating and not going away, so they can fix it and get back to enjoying stories! 😀