Are you having issues with slow or lag when scrolling through Facebook on Android and iOS devices? Don't worry. You landed in the right place 😇! In this article, we will provide you with 10 solutions for how to fix Facebook scrolling lag issues on Android and iOS. 😉
Do you know what the scrolling lag issue means? Before going into the solution, let's discuss scrolling lag. Scrolling lag basically means when we are exploring an application and we scroll up or down, we face a delay in loading content while using some application. If we talk about the Facebook app, there are around 2.8 billion people across the globe who use Facebook on their Android or iOS devices. As we already know, Facebook has a lot of registered users, and people post content on it daily. While using Facebook applications, sometimes there comes a time that the app operates extremely slow on our ios and Android devices. 
That being said, let's look into the 10 different ways to fix Facebook scrolling slow or lag issues on your Android and iOS devices.
Note: For your convenience, the steps in this guide will cater to the Facebook mobile app accessible on Android and iOS devices.  
Why Does the Facebook Scrolling Lag Issue Occur on Android and iOS?
1. Overloaded Device, Background Apps, or Affected Phone Performance
When the user scrolls content on Facebook, a number of events are called at the same time. The main significant operation is to load a new post or content on the user's news feed. This process updates and adds widgets in the side panel and provides the user with new content. This process is known to be CPU-intensive. Now you might be wondering what CPU-intensive events are; they are basically complex user functions that consume a lot of space in the system's Random Access Memory (RAM). So we can say that the slower the device, the slower the content loading process will be.
That being said, a phone with weak hardware or outdated software might not be able to handle the app's performance demand which can cause lag issues. Additionally, if the device is running multiple heavy apps, or have multiple tabs opened on a browser, it can cause scrolling lag, as the device's RAM is overloaded, leading to lesser memory allocated for the Facebook app, causing this scolling lag issue.
Thus, you can try restarting the Facebook app to reinitiate its state, starting with a brand new session with the app. Otherwise you can reboot your device (Fix 2) to close running background apps, and get a better performance when you reopen or are browsing or scrolling through Facebook.
2. Weak or Unstable Internet connection
Slow internet is also the cause of slow Facebook operations. Due to this, scrolling lag issues are seen to occur on iOS and Android devices. Therefore, you should check to see if the network you're connected to is working and is not experiencing low speeds or high ping. If you aren't sure about the internet speed, you can check it using the Speedtest.net tool by Ookla.
From there, if you find that your internet isn't at an optimal level, as you're usually used to, you can try the following steps to improve your connection:
Close All Unnecessary Apps From the Background
Enable & Then Disable the Airplane Mode ✈️
Restart or Power-Cycle Your Internet Router (For Wi-Fi connection)
3. Facebook Server-Side Problems
Apart from that, when many users log in at the same time, the server becomes slow, which results in scrolling lag. Thu, for this, you can refer to DownDetector and check the status of the Facebook servers to know if other people reported the same problem with Facebook in the last 24 hours. If the servers are facing some technical difficulties, there's no way other than waiting for the servers to come back to a working state.
4. Outdated Facebook App
If you're using an older version of the Facebook app, it may not be optimized for your device's operating system, which can cause scrolling lag issues. Therefore, you can check if there are any pending updates for the Facebook app (Fix 5).
5. App Bugs
Sometimes the app itself might contain bugs that causes scrolling lag, the issue can be fixed by updating the app or waiting for the next update. To combat this problem, you can clear the Facebook app cache (Fix 4) or even try completely uninstalling and reinstalling the app.
6. Low Device Storage
Having low storage on your device can cause the app to run slowly and cause scrolling lag, as there is less space to store the Facebook app cache. Thus, resulting in technical issues when downloading new content from the Facebook app, which is necessary when you're scolling through the app. So, ensure that your device has sufficient free internal storage space (Fix 10)
10 Fixes For The "Facebook Scrolling Lag Issue" on Android And iOS
There are various ways to fix the scrolling lag issue on Android and iOS devices. Let's discuss 7 fixes below in detail to fix your Facebook scrolling issue;
1. Disable Data Saver in Your Facebook App 
You might already know that Facebook comes with a data saver option which helps when we are low on mobile data. But this feature has a drawback: it doesn't allow users to use the application freely. 
So when you face a scrolling lag issue on your Android or iOS phone, you can disable the data saver option from your Facebook application by following the below steps:
First, to visit the app menu, tap on the three lines on the top-right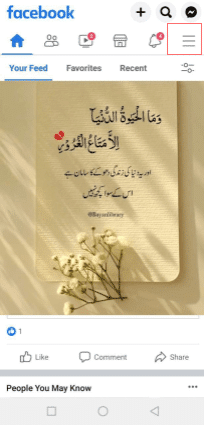 Then, go to settings and privacy and then choose the settings option again.
When you select settings, a screen will open again. Here you have to choose Media under Preferences. 
Under Media, you will see the Data Saver option and an Optimized option. Set it according to your requirement.
2. Reboot Your Device
Sometimes, a simple restart of your device can help to fix scrolling lag issues. This can help to clear any temporary files or processes that may be causing the issue.
Therefore, to perform a basic restart on your phone:
For Android devices: press and hold the power button for a few seconds, then choose Restart when prompted.
For IOS or iPhones: press and hold the power button, slide the power off switch, then wait a few seconds before turning it on again.
3. Enable Your Facebook App Background Refresh
By allowing the background app refresh feature on your phone, you can get rid of the scrolling lag issue as well. This feature will help the app in preloading the app content. So, when you use it, your content will be ready to use, and you will not face scrolling lag issues. 
Follow the below steps to fix this issue on your Android and iOS phone:
For Android
Hold the Facebook app icon for a second, and a popup will open with a few options. Here you have to select App info.
Select Mobile data and Wi-Fi it will take you to another screen. Here, you have to turn off the toggles.
Move back to the previous screen, and select the Battery option.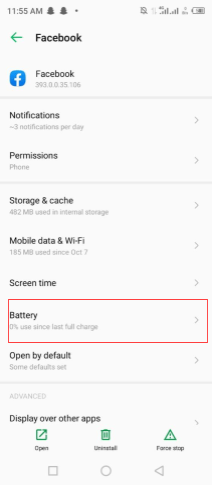 Now you will see background restriction; if it is enabled, remove it.
For iOS
Open the settings of your iOS device, and select the Facebook app.
Turn on the toggle for Background App Refresh.
4. Clear Facebook Application Cache
You may already know that when we continue to use the Facebook app on our phone, our phone creates some cache storage which helps the app load faster. But then there comes a time when cache storage becomes old, which then slows down the application and causes scrolling lag issues on your application. So, if you are an Android user, try clearing the cache to fix the scrolling lag issue. Follow the below steps to clear the cache on your Android phone:
First, go to Settings.
Then, search for Apps and notifications.
After this, search and tap on Facebook.
Next, open Storage and cache, and then simply Clear cache.
5. Update Your Facebook Application
If you have tried every solution but still you are facing a scrolling lag issue, try updating the Facebook app. Sometimes, there are a lot of updates that cause lag issues on your application. As you know, Facebook releases new features constantly for its iOS and Android issues, or sometimes they simply enhance the app performance or remove bugs. In such cases, your app needs to be updated.
Android users can update the app using the play store and iOS users can update the app using the apple store.
To do this, open the Apple App Store on your iPhone or Google Play Store on your Android, search for the Facebook app, and wait for the search results.
Next, select the Facebook app from the search results, and then tap on the Update button next to the Facebook app to update it.

6. Leave The Beta Program
Some users enroll themselves in Facebook beta programs just to take updates about its new features. This is another cause that could result in the Facebook app lagging and crashing sometimes. So it is better to use the stable version of your Facebook app whether you are an Android or iOS user. 
Apart from lagging and crashing the Facebook app on your phone, it will also affect the performance of the application, which will result in an exhausting experience for users. 
If you have enrolled yourself in such beta programs, you can simply leave it by following the below steps:
For Android 
Open the Play store on your phone, and search for the Facebook application. 
After this, look for the Leave button below, under the You're a beta tester section.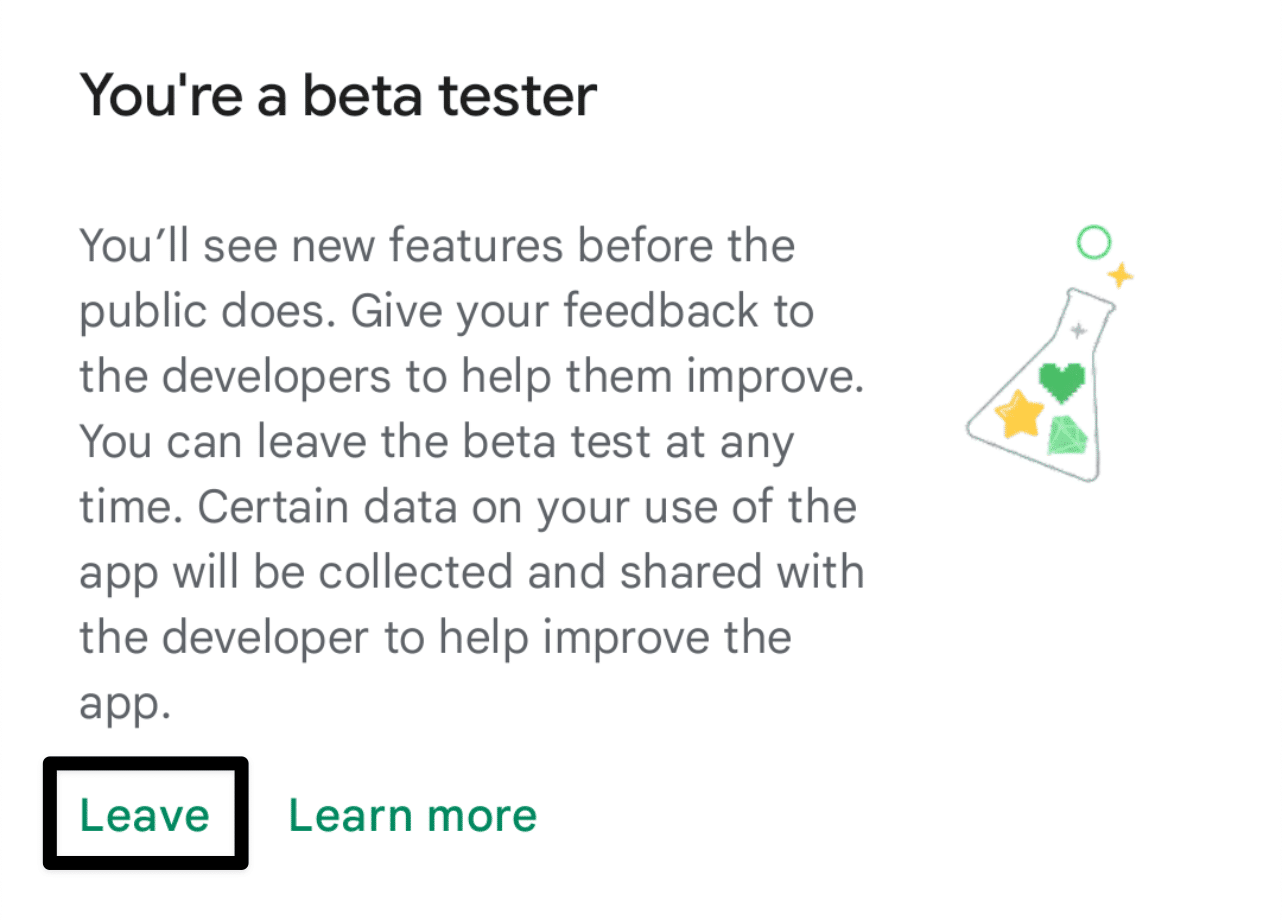 On the following confirmation prompt, tap on Leave.
By doing this, you can simply remove yourself from this enrollment.
For iOS
To remove the beta program on your iOS device, launch the test flight app on your phone and redirect to the Facebook application. Once you navigate here, tap on stop testing. It will help you in leaving the beta program. 
To get rid of such kinds of issues, one should avoid using iOS, and Android beta program builds. 
7. Install and Try Using the Facebook Lite App (For Android)
To avoid Facebook scrolling lag issues, it is better to install Facebook lite on your phone. Facebook lite is the lighter version of the Facebook application. The reason behind developing facebook lite was to support low-end devices. Therefore, it is known as the toned-down version of the actual Facebook application. 
It doesn't provide the facility of using all the features, but it does provide the main features, so one can use it for low-end phones. So, if you are facing lagging issues during scrolling, using Facebook lite would be considered the best option. 
Facebook is still working on improving Facebook lite. They are adding new features to make it the same as facebook's actual app. Install Facebook Lite from the play store.
8. Use the Facebook Website
Although you might be used to accessing Facebook through its mobile app, you can also try scrolling through your feed through the Facebook website. This serves as a great troubleshooting measure to determine whether there were any app issues initially that was affecting your experience or serve as a temporary alternative for you to view your feed and use Facebook on your mobile device.
Plus, by using the Facebook website, you can be sure to be accessing the most recent and optimised version, unlike the mobile app, which you'll need to manually install updates to get the best experience. 
Therefore, you can click here to access the web version of Facebook through your mobile web browser.
9. Turn Off Video Autoplay
To get rid of lagging issues while using Facebook on your android or iOS device you can simply turn off video autoplay. You might be interested in knowing that the Facebook app auto-plays all the videos in your feed by default. It is a very demanding feature, but it can also become the reason behind Facebook operating slowly, and users can face scrolling lag issues due to this. 
So it is better to turn off the video autoplay option in the Facebook app settings by following these steps:
To visit the app settings menu, tap on the three lines on the top right.
Go to Settings & privacy and then choose the Settings option again.
Next, you have to choose Media under Preferences. 
Under Media, you will see autoplay videos. Turn it on simply.
10. Free Up Storage Space on Your Device
As mentioned earlier, your device needs to have available storage space in order to support the storage of app cache, ensuring apps can function correctly and as expected. Thus, low storage space is a potential cause for this Facebook scrolling lag issue.
In 
light 
of 
that, 
the 
following 
advice 
will 
help 
you 
assess 
whether 
your 
mobile 
device 
has 
enough 
storage 
space:
Check 

your 

device's 

storage 

usage: 

By 

going 

to 

Settings 

> 

Storage 

on 

most 

mobile devices,

you 

can 

see 

how 

much 

storage 

is 

available 

and 

how 

much 

is 

being 

used.

Remove 

unnecessary 

apps 

and 

data: 

If 

your 

storage 

is 

running 

low, 

consider 

deleting 

outdated 

files, 

uninstalling 

unnecessary 

programmes, 

and 

uninstalling 

music, 

videos, 

and 

images.

Upload 

files 

to 

the 

cloud: 

If 

you 

utilise 

a 

cloud-based

storage

service,

you

can

upload

huge

files

to

the 

cloud 

and 

then 

delete 

them 

from 

your 

device 

(Google 

Drive, 

iCloud, 

Dropbox, 

etc.).

External 

storage: 

You 

can 

use 

an 

external 

storage 

device, 

such 

as 

an 

SD 

card, 

to 

expand 

the 

storage 

on 

your 

device 

if 

the 

internal 

storage 

is 

still 

insufficient.

Users

of

Android

mobile

devices

with

expandable

or

external

storage

via

SD

card

are

often

eligible

for

this

advice.
Conclusion
By identifying the cause of the scrolling lag issue, you can take the appropriate steps to fix the issue. It's important to keep in mind that the cause of the scrolling lag issue may be a combination of factors, so it may be necessary to try a few different solutions to fix the problem.
To summarize the article, we have explained scrolling lag and why scrolling lag issues occur while using Facebook on Android and iOS devices. In addition to that, we have provided 10 solutions on how to fix Facebook scrolling lag issues on Android and iOS. 
Finally, let us know in the comments:
Which device are you using to access Facebook?
How did you resolve this Facebook scrolling lag issue?
Do these fixes work for you?
Is there any other fix you would like to suggest?
Hope you found this article thoughtful 💡 do share it with your friends and let us know in the comment section below 👇 which solution has worked for you.
Keep scrolling. 😄