Are you unable to add music to your Instagram Story or do you find that Instagram Music just isn't playing or working correctly?
Instagram Stories have become a popular way of sharing photos or videos on the platform. After all, they bring forth various features, such as stickers, polls, and now, its latest addition — music. 🎶
But, what if you cannot add or play music in your Instagram Story as the Music sticker isn't showing up? Or if you run into problems when viewing the story and there's no sound playing? 😒
Several users have encountered this problem with the added music to their Instagram story not playing or working correctly. Some have even encountered the "Instagram Music Isn't Available In Your Region" error message 🌎. At times, Instagram users could insert the music in their story, but it won't play when they check the story.
That being said, this guide will address the reasons why Instagram Music isn't working on your Story and 9 fixes to try out. If you need fixes for when Instagram Stories aren't uploading or posting correctly, check out our other guide here.
So, without further ado, let's get into it! ⌨️
Note: This guide provides pictures and steps taken from the Instagram app or website on Windows, macOS, Android, iPhone and iPad. However, the steps work effectively and similarly for other devices as well.
---
Table of Contents
9 Fixes for Instagram Music on Story Not Playing or Working
---
9 Fixes for Instagram Music on Story Not Playing or Working
1. Update the Instagram App
Instagram heavily relies on app updates for incorporating new features and app improvements. Therefore, if you haven't updated the app, there is a high possibility that you may encounter bugs and app crashes. Thus, leading to errors like the Instagram Music not working or playing on your Story.
Moreover, app updates come with several fixes. So, if there were a bug in the previous version due to which you couldn't add music to your Stories, an app update would help resolve this issue.
Now, let's see how you can update the Instagram app on your Android/iOS device:
First, go to

the

Play Store

or

App Store

.

Next, search

Instagram

and visit the app page.

Finally, select the Update option if you see any available updates.

Note: If you want to update Instagram immediately when a new update is out, you can turn on automatic updates on both the Play Store and App Store.
2. Try to Reinstall the Instagram App
Reinstalling Instagram only takes about a few minutes and is one of the ultimate fixes if the Instagram music on your story isn't working or playing.
This fix helps as by uninstalling and reinstalling Instagram, you can remove bugs/crashes ⚠️ that are causing the Instagram story music issue. You can also remove any errors during the previous installation time and clear app data.
Now, here's how you can reinstall Instagram:
First, uninstall Instagram on your device.

For iOS users, long-press the Instagram icon and tap on

Delete App

. As for Android users, the

Uninstall

option depends on the phone model.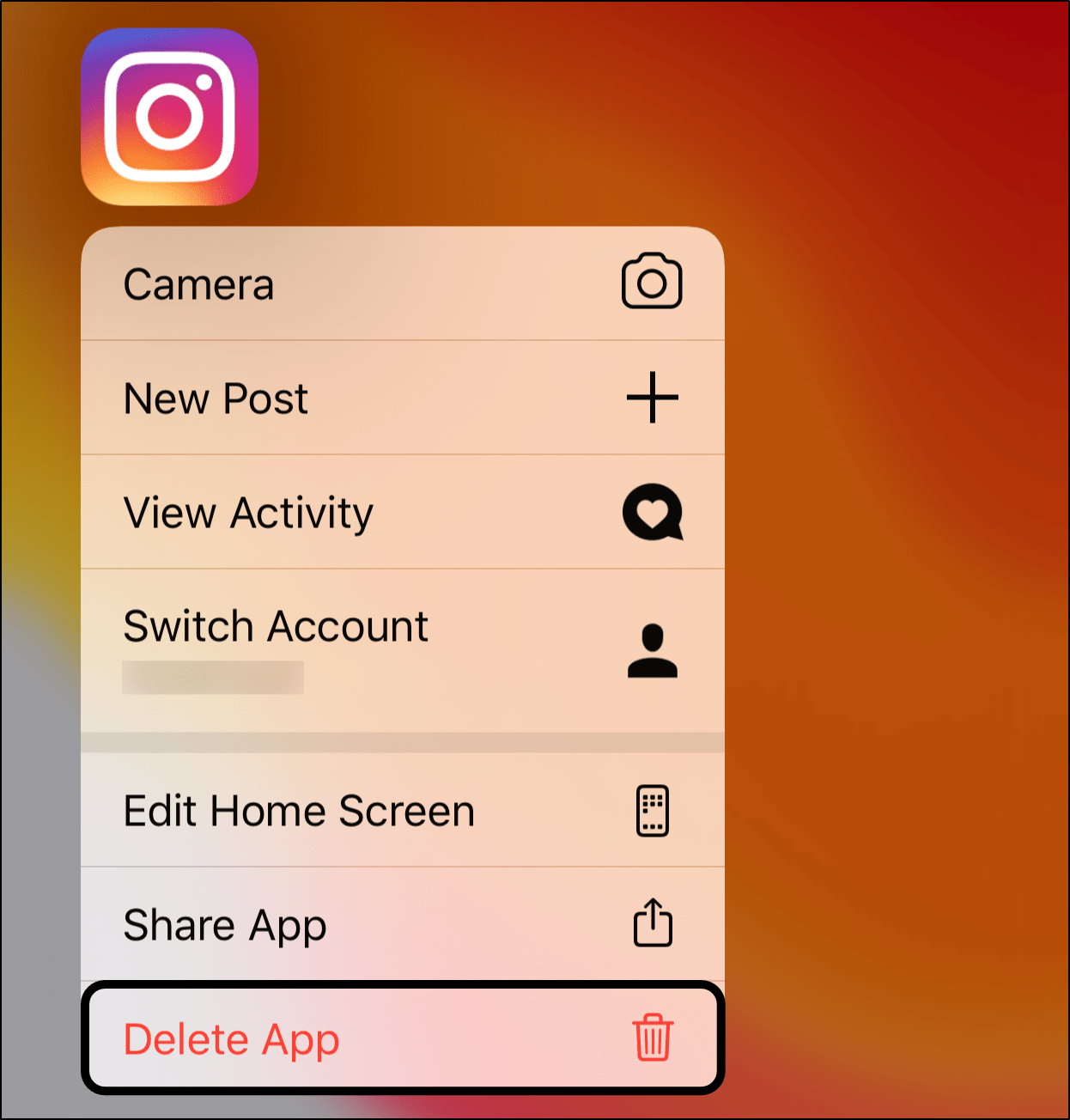 Next, go to Play Store or App Store.
Then, search for Instagram and tap on Install.
Once done, log into your account and check if you can add Instagram music to your stories successfully.
3. Consider Re-Logging In to Instagram
Sometimes, you don't need to delve in too deep to resolve Instagram issues. Simply logging out of your profile and then logging back in can solve various minor glitches.
So, if you're unable to add music to your Instagram Story, try refreshing your account's information by re-logging into Instagram.
Here's what you need to do:
On Mobile Devices
First, tap on your profile picture at the bottom-right corner of the app.

Next, tap on the

three lines

≡

on the app's

top-right corner

.

After that, select the

Settings

option.

Finally, scroll to the bottom and tap on the Log Out option.
Once you're logged out, log in again with your Instagram credentials.
On PC
First, go to

Instagram.com

.

In your profile, click on the profile icon, present in the

top-right corner.

Next, select

Log Out

.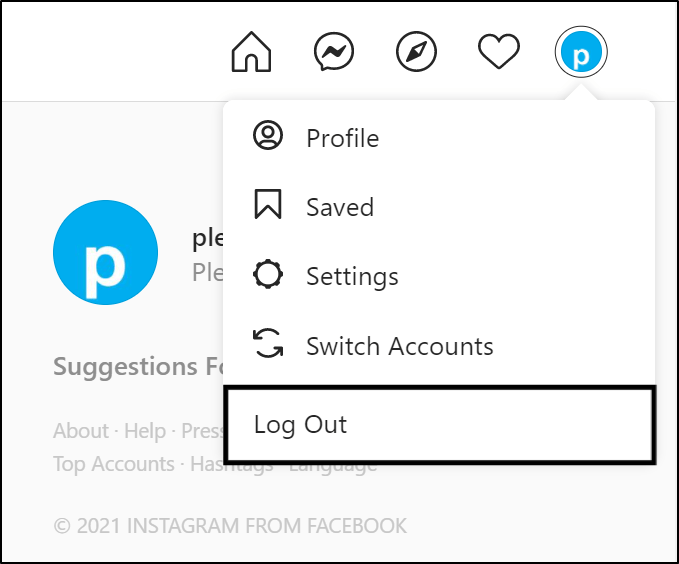 At last, log into your account again and check if you can add music to your Story correctly.
4. Change the Account Type
Instagram offers mainly three types of accounts – personal or individual, business, and creator accounts.
At times, you might face issues with Instagram Music due to the type of account you're using. In fact, several users, especially with a business account, have experienced this Instagram Music problem. So, they were able to resolve it by simply changing the account type.
Therefore, the following are steps to change your account type:
First, go to

Instagram Settings

.

Next, tap the

Account

option.

Then, select the option

Switch to Personal Account

or

Switch to Creator Account

.
Finally, select any one of the account types.
After switching the account type, log out of your account, and log into it back again (Step 3).
5. Check for Service Outages
Has your Instagram Music stopped working suddenly? Was it working properly before? Well, the problem might not be with your account, but rather Instagram itself.
Sometimes, Instagram may have an outage, in which certain services may not work. So, if Instagram music is not working on any of your devices, there might be an overall outage.
Luckily, there are easy ways to check for an outage. For this, we recommend referring to any third-party server status checking websites, such as our go-to option, DownDetector.
First, go to

DownDetector's page for Instagram

.

Then, look out for some possible issues in the past hours. Feel free to check out the comment section and live map to see if other users are reporting similar Instagram Story issues, especially ones in your area.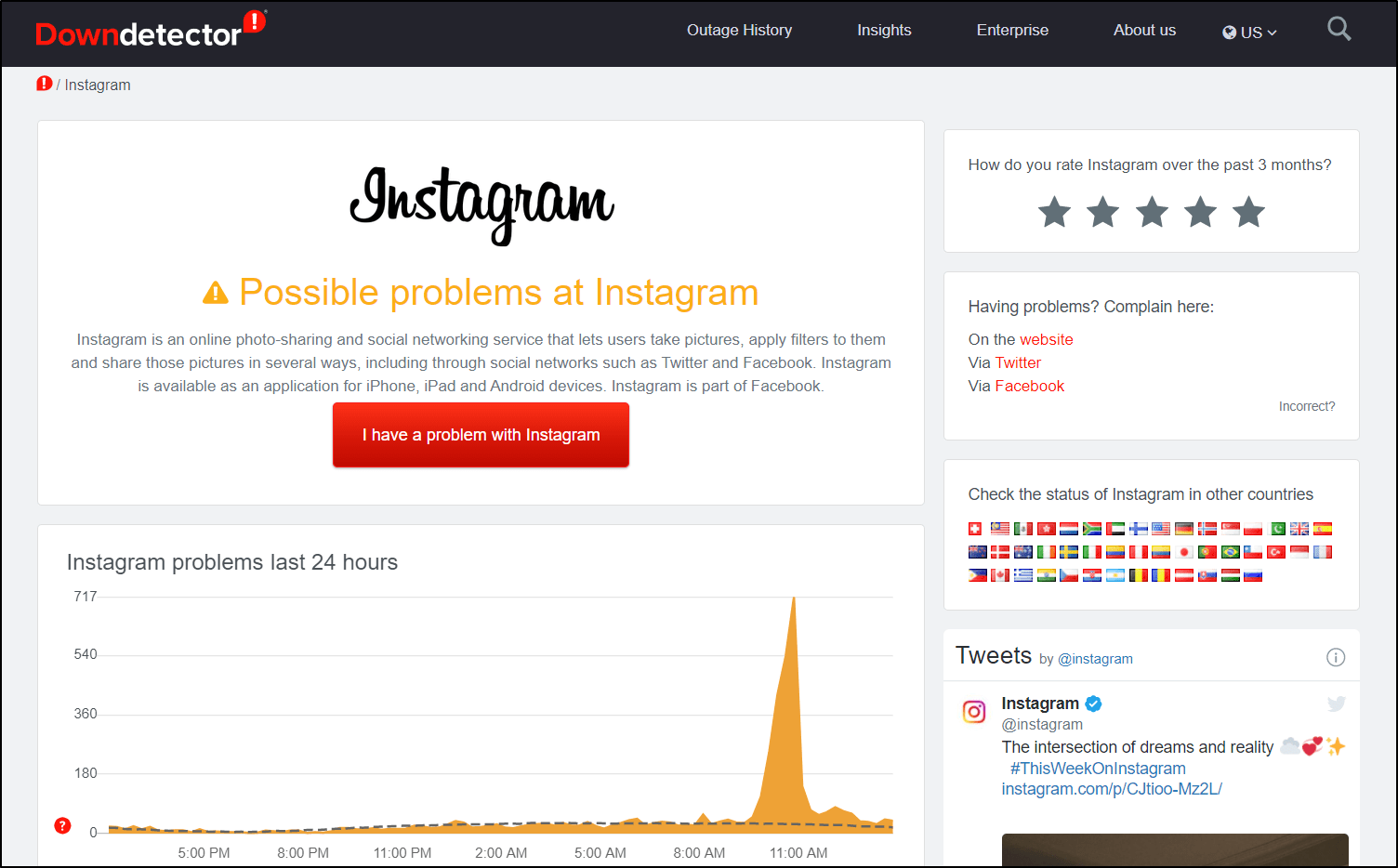 You can also keep an eye out for the official @Instagram handle on Twitter. They usually post announcements, regarding outages and service problems.
6. Try a VPN
Have you ever come across the "Instagram Music Isn't Available In Your Region" error message? In this situation, the problem lies with your geographical location and not your device or Instagram servers. Therefore, trying any of the above fixes won't work.
As of writing this post, Instagram Music is available in some of the following countries 🌎:
US

UK

Canada

New Zealand

Sweden

Denmark

Finland

France

Netherlands

Norway

Romania

Slovakia

Australia

Iceland

India

Indonesia

Malaysia

UAE
It might also be available in other countries as Facebook and Instagram keep on updating their features for users all over the world. However, if it still isn't available in your region, you can try using a VPN instead to access a different region's servers.
Essentially, a VPN lets you hide your IP address, but simultaneously, you can change your IP address to another country's IP address. This way, you can access Instagram Music even if it's not available in your location.
Here's what you have to do:
First,

sign up

for a free or paid VPN service.

Next,

select the IP address

of the location, where Instagram Music is available.

Finally, turn on the VPN and access Instagram.
You should be able to add music to your stories without any geographical restrictions.
Need a Top-Notch VPN for Browsing Instagram Securely? Try our Top-Pick, NordVPN!
We found NordVPN works perfectly with Instagram, giving you no compromises in speed and being easy-to-connect. It's literally just a tap of a button.
That being said, it should do the trick in circumventing geo-restrictions, allowing you to utilise Instagram Music easily.
Besides that, it's useful to gain access to more content on Netflix, Hulu, and other streaming services as well as to safely surf the net.
---
Get NordVPN with up to 68% OFF today!
---
7. Delete the Instagram Cache Data
Apps store information in the form of cache data, so when you open them, they can load everything faster. Similarly, Instagram has its own cache, where images' data is stored for faster loading.
Therefore, you can imagine the huge amount of cache data Instagram stores in your phone 💽. Now, this excess data may be responsible for certain issues with your Instagram app, such as Instagram Music not working on your Stories.
Here, the solution is to clear out the cache data of the Instagram app. This may allow the app to work faster and reduce any crashes/errors.
Here's how you can delete Instagram's cache data on an Android device:
First, go to

Settings

.

Next, choose the Apps & Notifications option.
Then, select the Instagram app from the list.
Finally, tap on the

Clear Cache

option to delete cache data from Instagram.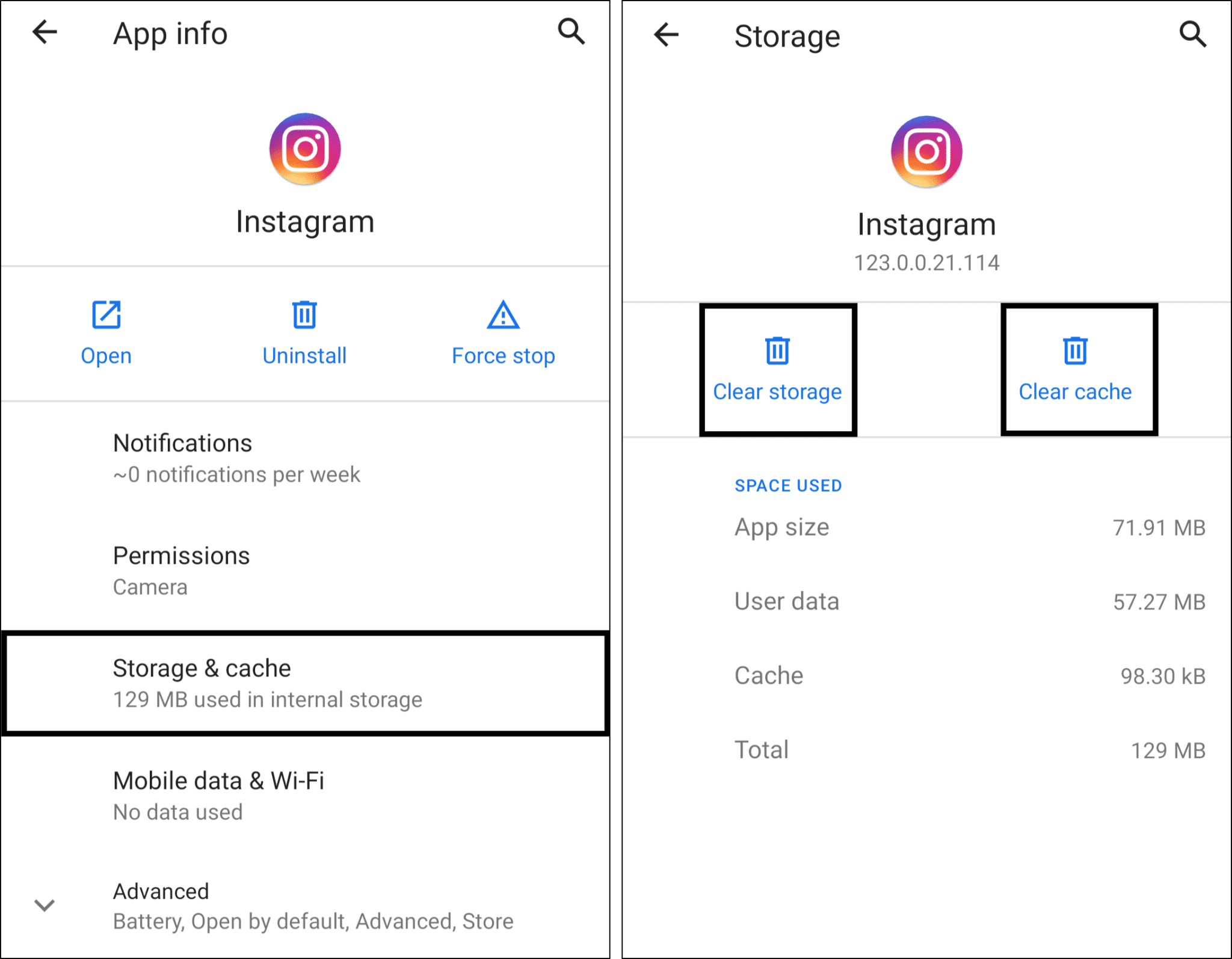 You can also select the Clear Storage option present right beside the Clear Cache option. Note that you will have to re-enter your login credentials after you have cleared the cache from the Instagram app.
For iOS users, the only option to clear cache is by directly uninstalling and reinstalling the app.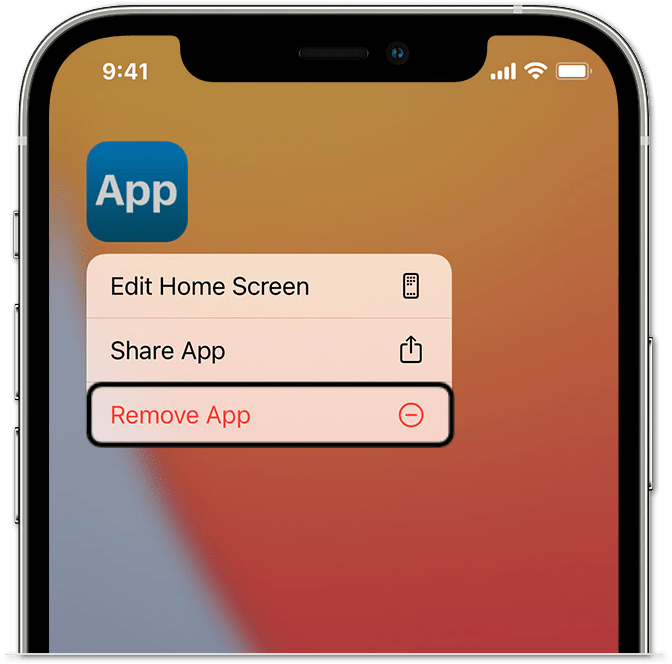 8. Try Adding Music From Other Device
If none of the fixes seems to work on your device, you should try adding music using a different device. You will probably be able to add music from another device if there is some hardware-related issue or a settings configuration error with the initial device.
If so, you can try updating the OS of the initial device or factory resetting it.
9. Contact Instagram Support
Lastly, you can try contacting the Instagram support team if you cannot add music to your stories for long.
They may look into the matter from the backend, and help you resolve it or identify the true cause for the Instagram Music issue. However, this fix might take more time as they have to cater to numerous other users, so you will have to stay patient.
Given below is the best way to reach out to Instagram support:
First, go to your

Profile

and tap on the

≡

icon.

Next, tap on the

Settings

option.

Then, tap on

Help and select Report a problem.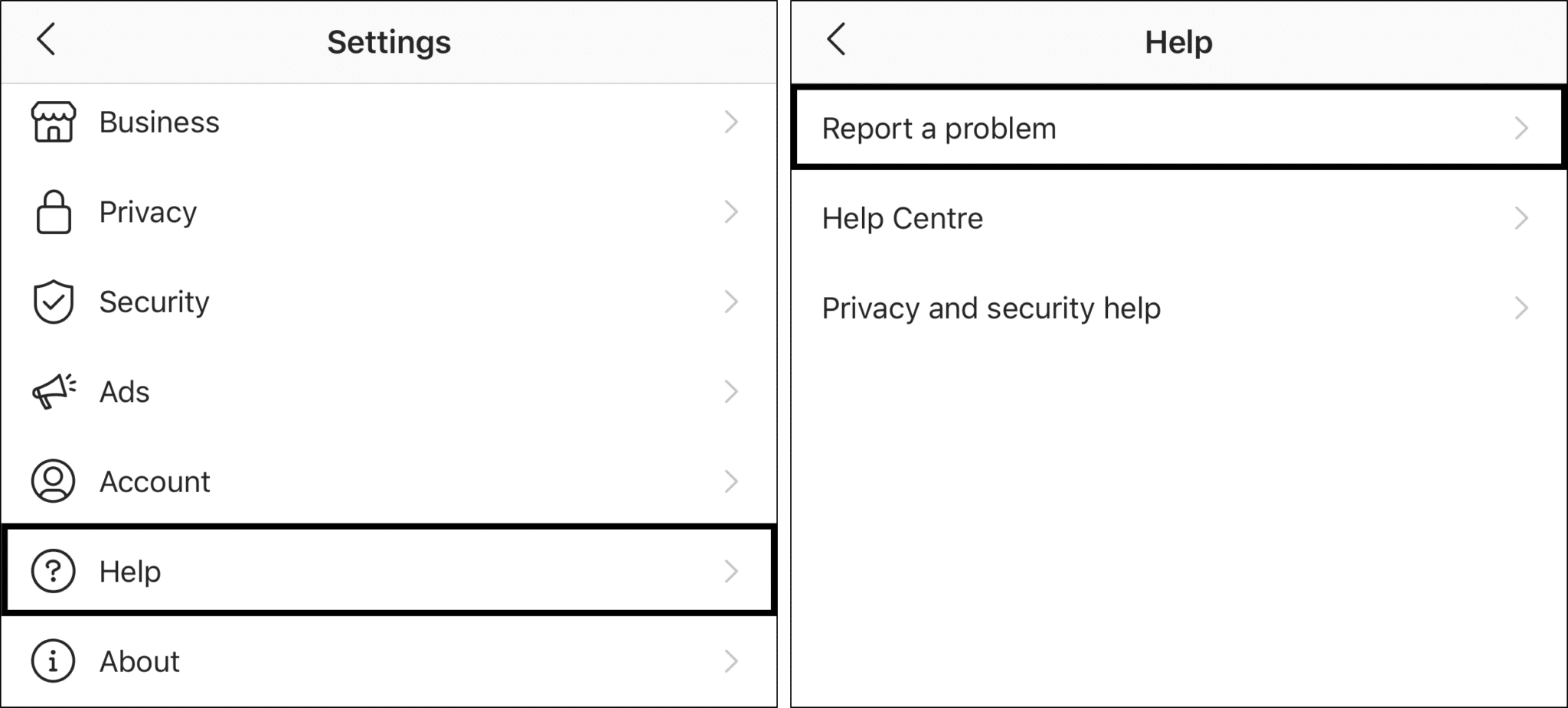 Let them know regarding the problem you're facing.
Finally, click on Submit.
As per the company, it may take up to 24 hours for Instagram to revert back to you.
Conclusion
Instagram Music is the perfect way to ✨ spice up ✨ your stories. Therefore, don't allow any bugs to stop you from uploading entertaining stories! After all, we've all been there before.
Hence, we decided to prepare this guide with 9 amazing solutions to fix Instagram Music 🎶 on not working or playing on your Story. We hope it helps you out!
Do you have other issues regarding Instagram? Visit Pletaura.com for our variety of articles on Instagram issues and fixes.
Till then, do let us know in the comments:
Are you unable to use Instagram music on your story?

Has any of the fixes above helped you solve the Instagram music story problem?

Are there any other fixes that have helped you put Instagram Music back on your Stories?
Don't forget to share this post if anyone else around you is also unable to add Instagram Music on their Story 😊