Find that your TikTok liked videos haved disappeared or are not showing, saving, updating or working correctly? Here's what you can do!
A scroll of happiness, TikTok is currently one of the largest social media platforms that serves as a source of free endless entertainment for its 1 billion monthly users. There is no denying the type of content you can see on TikTok, varying from funny clips, motivational quotes or even cinema-worthy content. 🎥
So, when you Like the type of videos you find that are up to your alley, you'll get an array of them on your For You page.
To like a video, you can tap on the heart at the right side of the video or double-tap anywhere on the video.
Other than as a way to show your love for the video, a like on TikTok goes a long way. Many users use it as a save button; videos you've liked are saved in a tab on your TikTok profile page.
But, this feature has its flaws as TikTok users have reported that their liked videos have disappeared or don't show up.
Therefore, we've compiled the reasons to understand why this issue happens and solutions to help you regain access to your liked videos on TikTok. This article will guide you through 3 main causes for your liked videos on TikTok disappearing, as well as 7 possible fixes. Additionally, if you find that your likes aren't showing up or updating correctly on TikTok posts, we recommend checking out our other guide here.
Note: The steps in this guide cater to whichever device you're using the TikTok app, namely iOS and Android devices.
---
Table of Contents
Why Are Your TikTok Liked Videos Disappearing?
7 Fixes When Your TikTok Liked Videos Disappeared or Aren't Showing
---
Why Are Your TikTok Liked Videos Disappearing?
1. The Liked Videos Have Violated Guidelines
Every social media platform must have a list of guidelines and they're important to follow, especially for a video-sharing app like TikTok. Thus, TikTok is strict in ensuring its guidelines are followed to prevent inappropriate, dangerous or offensive content from being uploaded.
Unfortunately, the videos that violate their guidelines are permanently removed. This explains why you'd have a few missing videos in your liked videos tab.
2. The Videos You Liked Are Now Private, Deleted or Unavailable
Similar to other social media platforms, TikTok gives the creators an option to take down their video by deleting or making it private. So, perhaps you think the videos you've liked are permanently "saved" on your profile, but no — the videos will disappear from your liked videos tab when the owners say so.
Other than that, you may also lose access to your liked videos if the owners are banned, suspended or have deactivated their accounts.
3. It's A Known Issue Among TikTok Users
TikTok is currently a leading social media platform but the app isn't exempted from some flaws. Many users have reported the issue of their liked videos disappearing but TikTok has never addressed this issue.
Hence, this birthed a theory where TikTok might've put a limit on the liked videos you can have on your profile. Although no one from TikTok has ever confirmed this, it seems to be the case for most people.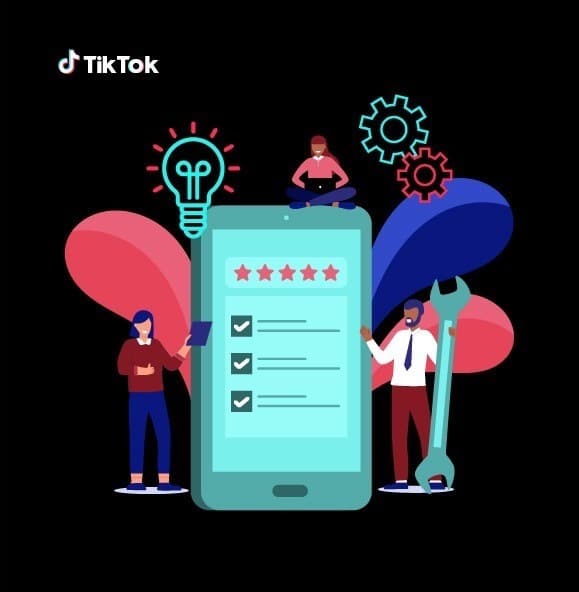 7 Fixes When Your Liked Videos on Tiktok Have Disappeared or Aren't Showing
1. Check the TikTok Server Status
As mentioned earlier, when you encounter that your liked videos are nowhere to be found, you don't need to panic as TikTok is known to have occasional server issues.
This means that the TikTok servers may have caused the issue of liked videos not appearing or showing up on your profile page. We recommend that you go to DownDetector's page for TikTok for further information.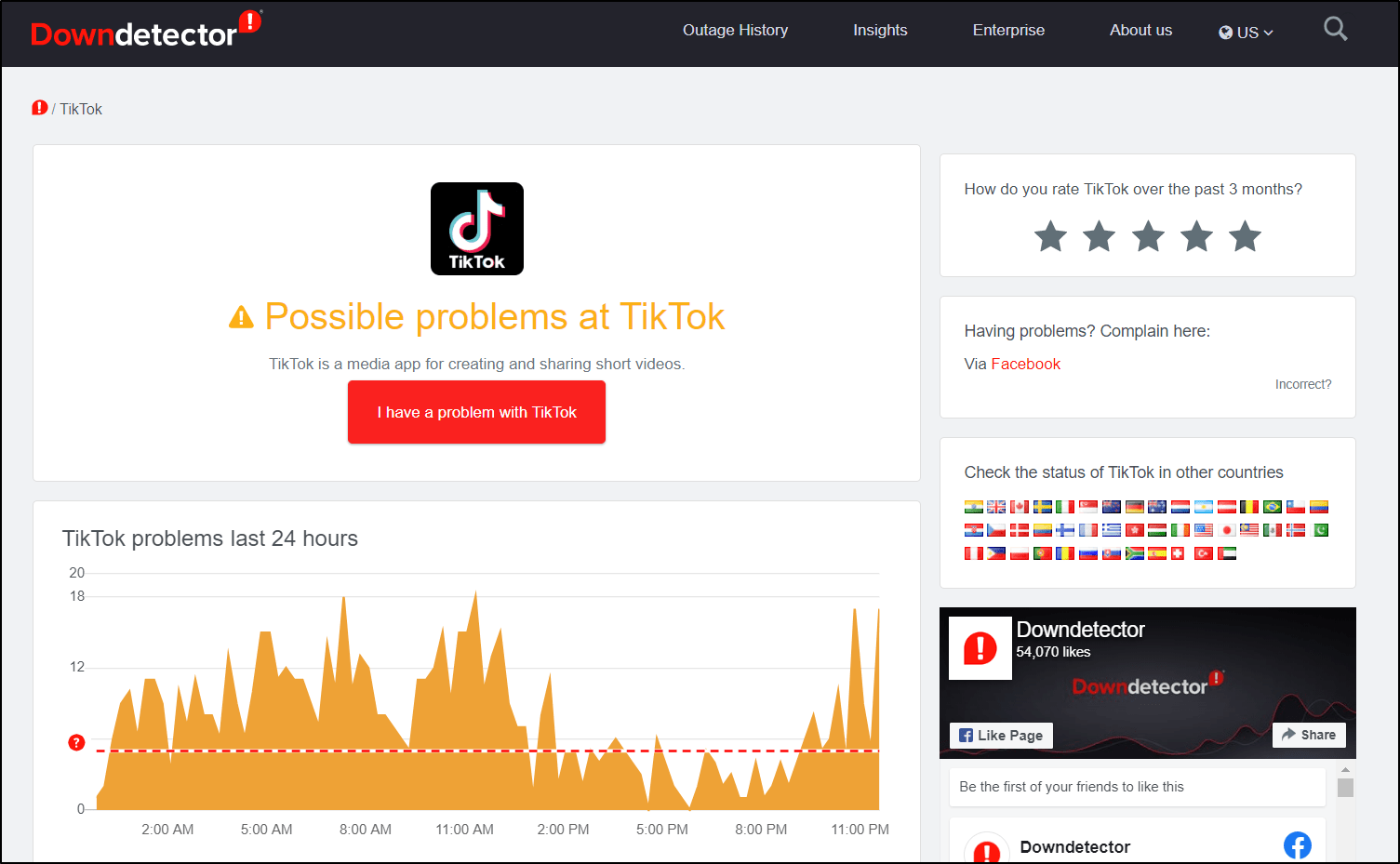 View the impacted regions and app features in the comments section and on the live map. If you observe a large number of complaints about the same problem you're having, it's possible that it's beyond your control.
As this could be a temporary server issue, the only thing you can do is to give it a while before going on TikTok as they try to resolve the issue.
Fortunately, TikTok has been proactive in resolving server issues. So, you might not have to wait for long before you can view your liked videos again.
2. Allow Others to See Your Liked Videos
Perhaps you received complaints from other users or your followers, saying they weren't able to view or watch any of your Liked Videos on TikTok. So, to them, your list of Liked Videos appears empty and shows the "This user's liked videos are private" message.
This is most likely because the account owner has configured their privacy settings for their Liked Videos to "Only Me". Thus, only they are able to watch their Liked Videos on TikTok.
Therefore, this can be useful if you would like to make this section your own personal list of TikToks for you to keep rewatching or to watch later.
However, if you would like to make this Liked Videos list public, you can do so by following these steps:
To begin, open the app and choose

Me from the menu in the lower-right corner of the screen.


Then, tap the three dots symbol or the menu button in the upper-right corner to access your

Settings and Privacy

options.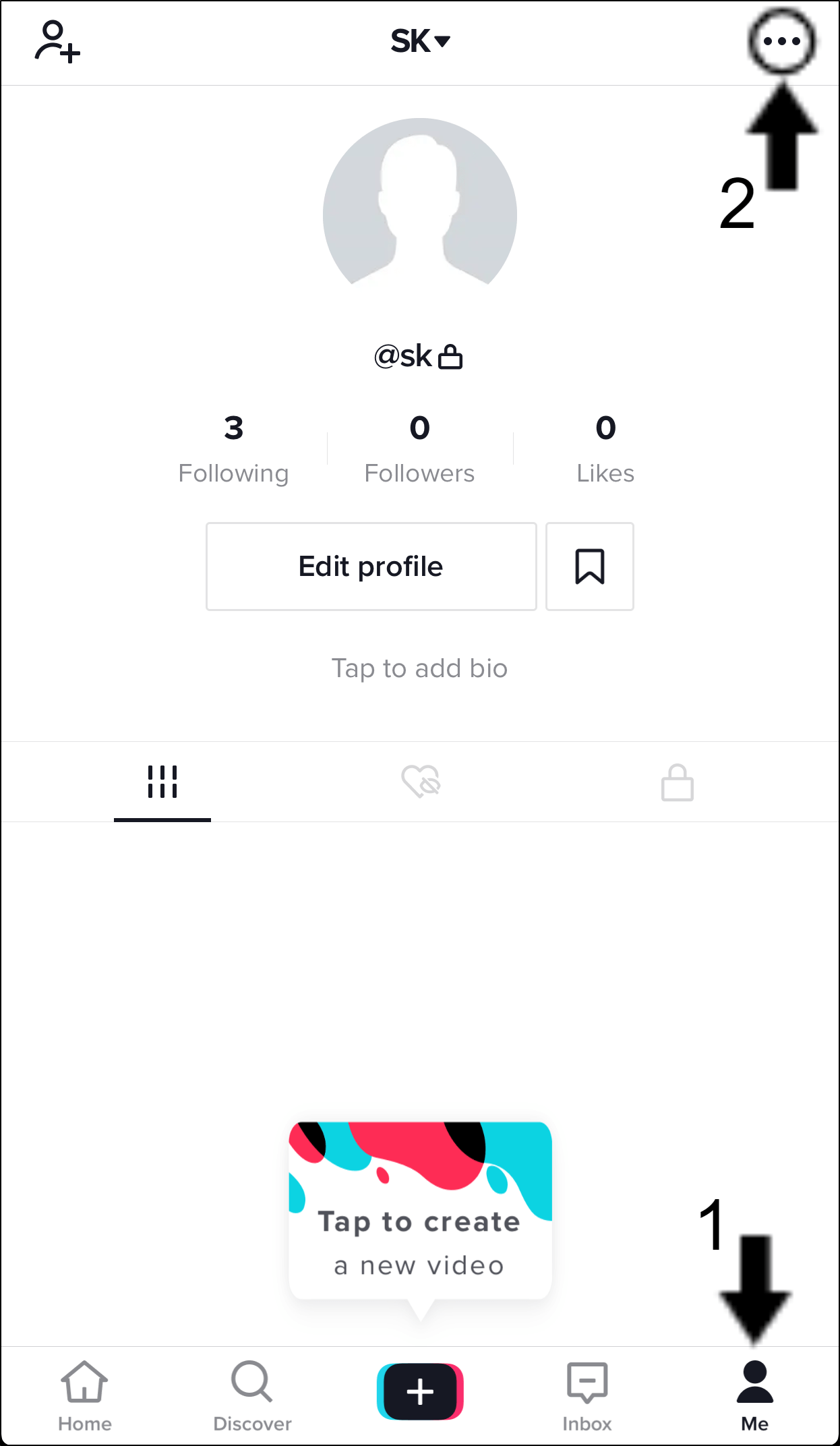 After that, select Privacy.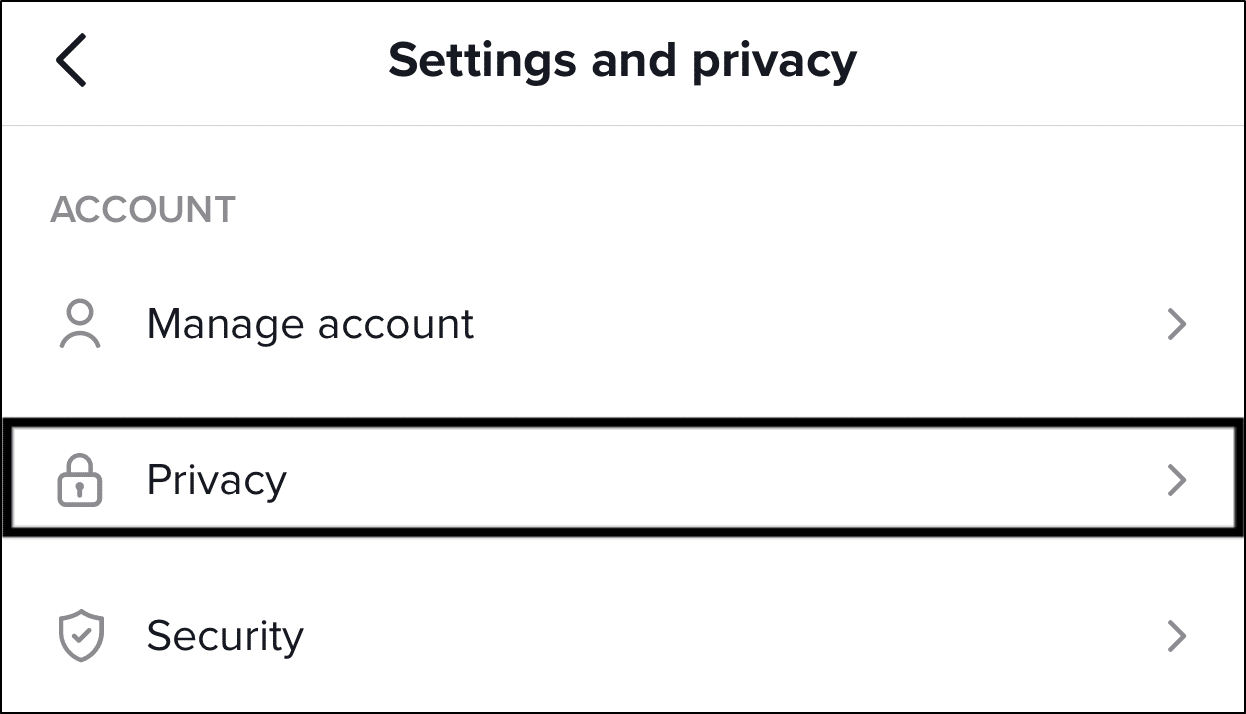 Then, under Safety, select Liked Videos.
Finally, tick the circle next to Everyone to make sure that your Liked Videos on TikTok are public.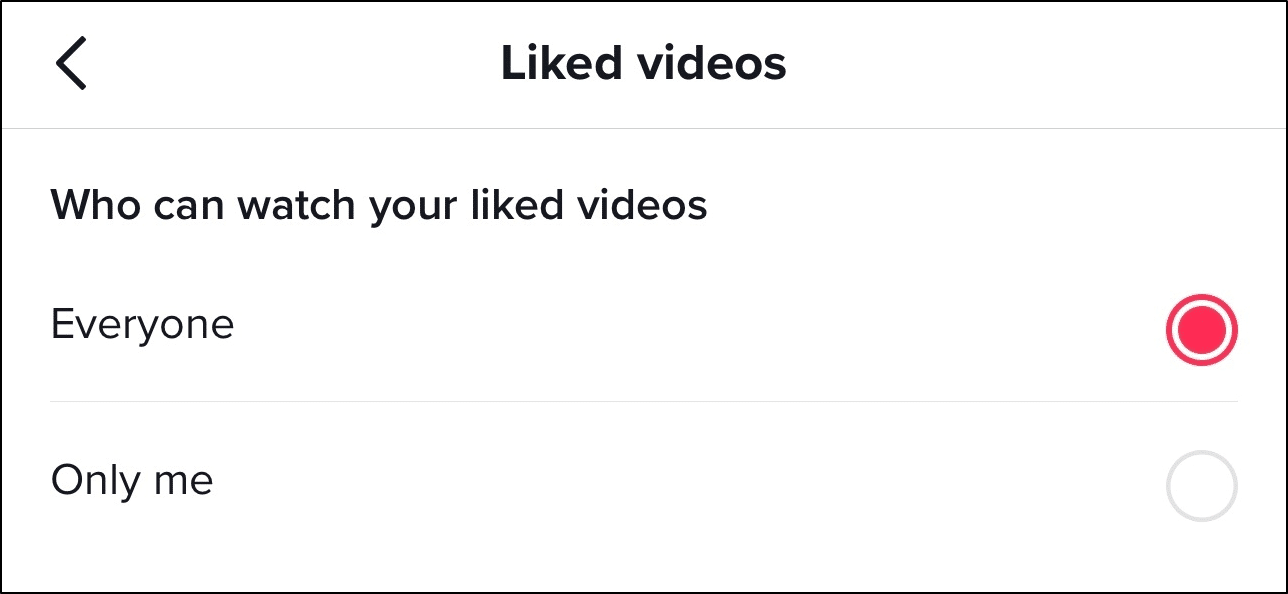 3. Test Your Internet Connection
TikTok, as one of the world's top video-sharing applications, requires a strong Internet connection in order to work properly. Therefore, low speed or latency may interrupt the data retrieval process which may result in the liked videos tab not loading or showing a white screen instead.
For this, we recommend that you visit Fast.com to test your Internet connection and determine if this is the source of the problem.
If your Internet connection is not performing as expected, there are steps you may do to enhance it. You may improve your cellular Internet by performing the following:
Turn on Airplane Mode ✈, then turn it off.

Alter the link between mobile data and Wi-Fi.

Forget your Wi-Fi connection and reconnect to it.
However, you may proceed with the following fixes if you still can't see your liked videos on TikTok.
4. Clear the TikTok In-App Cache
The TikTok app utilizes cache data to help its algorithm tailor to each user's preferences. However, a build-up of cache might cause problems since it can damage the app's data and lead them to become defunct.
Having said that, the following are 2 ways you can remove this TikTok cache:
Through the TikTok App Settings
TikTok has a cache cleaning feature built in to help with this problem. Here's how to get the most of this feature:
To begin, open the app and choose

Me from the menu in the lower-right corner of the screen.


Then, tap the three dots symbol or the menu button in the upper-right corner to access your

Settings and Privacy options.


Finally, select

Clear cache

from the

Cache and Cellular Data

area.
Through the Device's System Settings (For Android)
If you're using an Android device, you can delete even more app cache and data within the system settings. To navigate to this option:
First, open the Settings app, and select Apps & notification.
Then, select TikTok from the list of apps.

After that, choose Storage & cache.
Next, start by tapping Clear Cache, and then you can also select Clear Data.
5. Reinstall the TikTok App
There are a number of factors that can lead to app malfunctions and limit the full capabilities of its features. If the previous steps appear to be ineffective in your case, perhaps your TikTok app needs a total clean-up of outdated and corrupted data.
That being said, we suggest that you try reinstalling the TikTok app, to do so:
From your

home screen

or

app list

, locate the

TikTok

app.




Next, tap and long-press it to access the selection menu.




Then, select

Uninstall

or

Delete App

.





Finally, go to the

App Store

(iOS) or

Play Store

(Android), and then

install

the TikTok app from the TikTok app page.
This step will help you acquire the latest version of the TikTok app and achieve full clearance of piled-up data from the previously installed TikTok app files.
6. Check Through a Mobile or Desktop Web Browser
Whether it's something to do with the TikTok app installed on your mobile device or the TikTok server itself, there's an alternative method to access TikTok and view your liked videos.
When your TikTok liked videos disappeared on the app, we recommend that you try searching TikTok.com on a native browser app or a desktop web browser to visit TikTok instead of using its app.
So, you can try logging in to your TikTok account on mobile by using a web browser app on your phone. All the TikTok app features should still be accessible via a native browser app, like Safari or Chrome.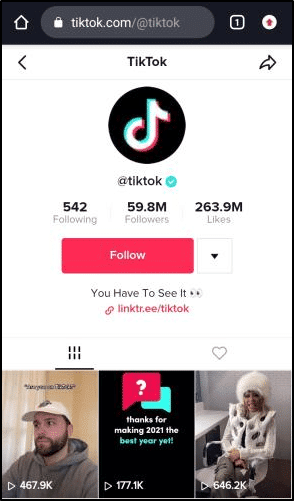 Although TikTok is most optimized for the mobile experience, you can also try accessing TikTok from a different device, such as the web browser on your desktop device.
Everything's in sync between the TikTok app and its web version, but there might be some app glitches that you can escape by using the latter.
7. Try Adding to Favorites
Previously, users only had two options in order to have their favorite videos ready to be accessed at any time they want — by liking the video or directly downloading it if available.
Evidently, downloading your favorite videos on TikTok can take up a lot of storage, making it a less favorable option. This explains the significance of the liked videos tab. Hence, downloading the video will cause you to lose storage and the liked videos tab seems to be non-functional at times.
So, what can you do to have your favorite videos easily accessible?
TikTok heard you and we're here to deliver the good news, the official save button is here!
Compared to other social media platforms such as Instagram and Facebook, which have long implemented their own save button, TikTok is a little late but has arrived to the party. 🥳
Whether it's funny videos you'd like to revisit, informational videos for future references or clips for a bad day, save them all in one place on TikTok by using the Add to Favorites feature!
You can use this feature by clicking on the share button and selecting the Add to Favorites button.
Then, you can access your saved videos by going to your TikTok profile page and clicking on the bookmark icon.
Conclusion
To sum it up, the issue of liked videos disappearing or not showing on TikTok has been going on for a while. Some users have reported it as a server issue, but an unstable Internet connection, actions done or taken against the videos' creators and in-app problems can also contribute to the issue.
Thus, we've compiled this guide of 3 main causes and 7 fixes you can try when you can't find the videos you've liked on TikTok. These fixes apply to the TikTok app on Android and iOS devices.
Finally, we hope that this article has presented you with comprehensive information to resolve the said issue.
If you have any other technical problems, please visit Pletaura.com to find a solution from our extensive library of articles. Do you require more? Please leave a remark, and we will gladly assist you. 👼
Lastly, let us know in the comments:
Are you finding that your TikTok liked videos have disappeared or aren't showing up? Feel free to share your experience.

Which device are you using for TikTok?

Did any of the above fixes work for you?

Is there another fix that you think we should add to the list?
Don't save it for yourself, share this guide with those struggling with a similar issue! 😃