Suddenly finding your TikTok feed, Following or For You page (FYP) not updating, refreshing, loading up videos, or generally working properly at all despite refreshing it?
TikTok is one of the many social media platforms out there that has been growing in popularity over time. The platform offers a unique experience akin to earlier social media sites while also giving you endless hours of content that you can easily sit through with hours of watching.
The short video-sharing format that TikTok follows easily makes it easy for anyone to start getting into the platform as well as interacting with other users as they can add to your own content. Like many social media platforms, TikTok offers you the ability to follow someone as well as gain some of your own so that you can easily get updated with the latest content that gets dropped.
Followers are probably one of the most important things in TikTok as it offers you insight into how well you are performing as a creator and even give you access to new features such as going live and even monetization.
Despite the importance of keeping track of your followers, several users have been encountering problems with the feature and keeping track of their follower count as they can suddenly find the count disappearing or not updating at all, with the TikTok following page not updating at all.
---
Types of TikTok FYP, Following Page, Feed Problems
Following accounts in TikTok is a considerably easy process as you simply need to tap on the "Follow" button when viewing their account, and you will immediately be listed as their follower.
Despite this, however, several users have been finding it difficult to keep track of their total follower count as the TikTok following page not working will often cause issues along the way.
This problem usually results in the page itself remaining the same despite several hours passing or TikTok giving you a message stating "No More Videos" or something similar. This issue can be incredibly annoying when it happens, especially if you are someone keeping track of their count for a milestone, such as being able to use TikTok LIVE.
---
With this problem coming into the light, we have prepared for the situation as we have this guide here, which covers the 4 reasons why you might be encountering this problem as well as 7 fixes that you can try out to fix the issue.
TikTok is mainly available to Android and iOS devices while still being accessible in various internet browsers, albeit with several limitations. Our guide and fixes will cover mainly the mobile app version of TikTok.
With everything said and done, let's get started with this guide and fixing!
Why is the TikTok FYP, Following Page, Feed Not Refreshing, Updating or Loading?
1. The TikTok Servers Experiencing Issues, or are they Down
One of the most common reasons why you and several other TikTok users might be having problems with getting their feed to load properly might come as a result of the TikTok servers. While a solid internet connection is needed to use TikTok without any issues, it is very likely that you might be running into problems if there is an issue with the TikTok servers.
The TikTok servers working properly and are free from any issues are, and trying to use the app with these present will most likely cause problems on your end. Trying to use TikTok while the servers are down will usually cause certain features to stop working, which includes your TikTok Feed and Follower page.
The best thing you can do is to check the status of TikTok's servers and check whether or not it is online or completely down (Step 1). We recommend that you keep track of the server's status if you are sure the issue isn't caused by a weak internet connection.
2. Having an Outdated TikTok App
One of the most important things when it comes to using TikTok without any issues is to always ensure that you are running the latest version possible. While it is still possible to use and access your TikTok account without any issues while being a version or two down, you become very prone to encountering issues in older versions or find yourself completely unable to use the app in the case of a severely outdated version.
In situations like this, the best action you can take and should practice is updating and keeping your TikTok app updated to the latest version possible (Step 2). It is very likely that TikTok might've updated without your knowledge and that you are using an old version of the app.
3. A Bug/Glitch in the TikTok App
The next reason why you might be having problems with getting your TikTok to work properly and your TikTok feed not refreshing properly might be due to bugs and glitches with the app. Bugs and glitches in TikTok aren't an uncommon occurrence, but it is indeed unwelcome one when it happens.
There can be many reasons why you might be running into these bugs and how they affect your ability to view your follower count, which can make it difficult to properly solve. A fix that has been found to work with several users is to simply unfollow and then refollow someone in TikTok (Step 4), as it basically allows the feature to refresh. Besides this, sending a report ticket to TikTok (Step 5) is another way to fix the problem, as you can be redirected on how to solve this issue.
4. Corrupted Files for your TikTok App
The last reason why you might be having problems with your TikTok app might come from the app itself and the files under it. As with many apps, the files that make up the TikTok app are important to be able to use it without any issues going forward. Trying to use TikTok while certain files are corrupted will often cause problems such as your Follower Page not loading up properly.
In situations where this happens, one of the best things you can try to clean out any corrupted files is to clear out your TikTok Cache and Data (Step 6) or, in the worst case scenarios, attempt to completely reinstall TikTok (Step 7) cleanly.
7 Fixes for When the TikTok Feed, For You Page (FYP), or Following Page Are Not Refreshing, Updating or Loading
1. Check the Status and Health of TikTok's Servers
We mentioned early that a stable internet connection is a requirement to access TikTok and all of the content you can find on the site. While this remains true, it can be difficult to use TikTok if there are any issues with the servers, as you will find it impossible to navigate, let alone open it for the matter until the servers are fixed and back online.
As of right now, there currently isn't an official server status tracker for TikTok; however, there are several great alternatives that provide accurate information regarding TikTok's servers.
Visiting Downdetector is a great place to check for TikTok's server status and health while also giving you better insight into the specific problem other users are having, making it easier to pinpoint the exact problem and how it is affecting the app.
Here, you can check the comments section and the live map to see which regions and app features are affected.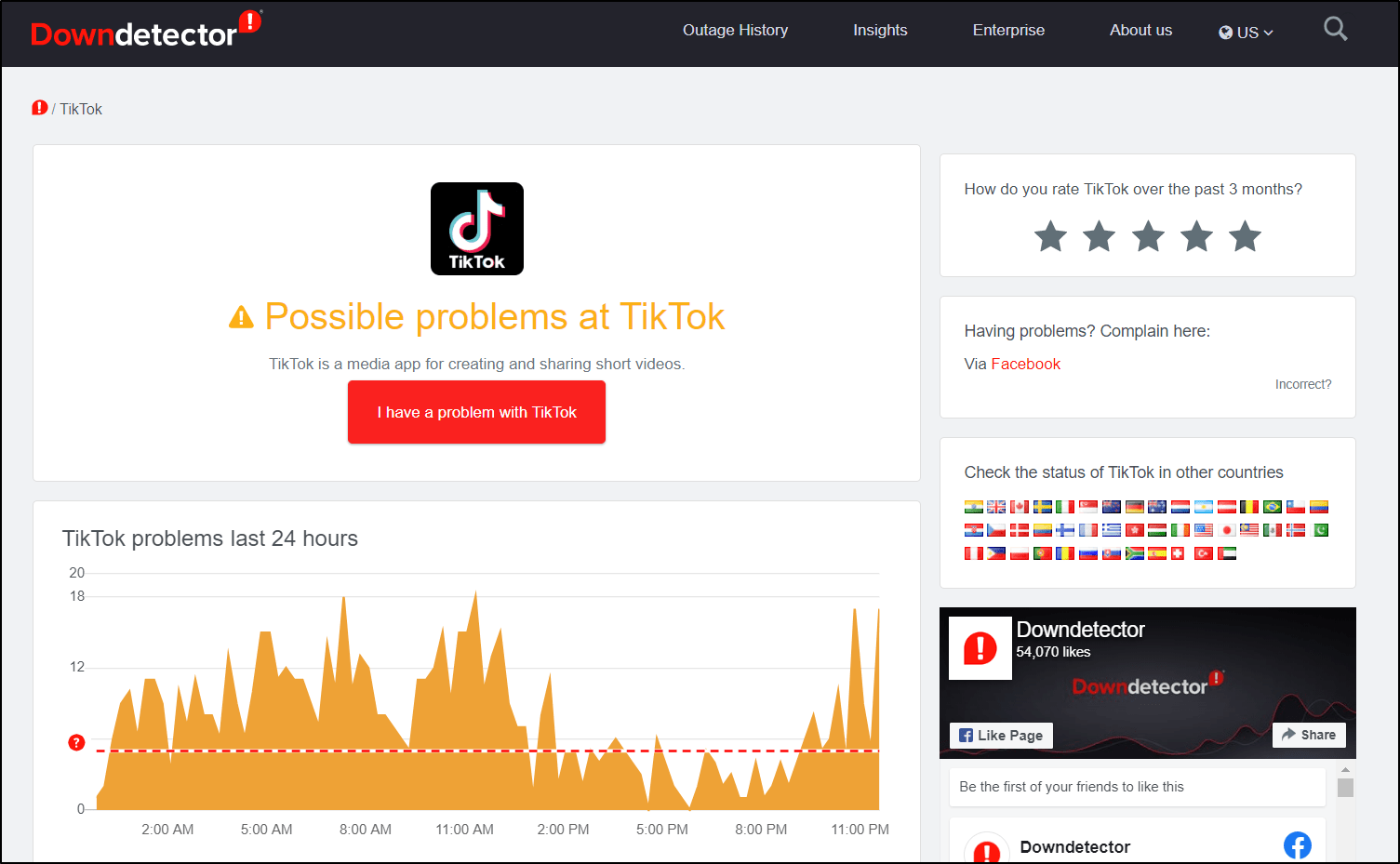 ServicesDown Is another great website that offers you to track the live server status of TikTok, which is great if you want to monitor when TikTok gets back online and when you can quickly log in. Both websites we mentioned are only some of the few sites you can check out but ones that we highly recommend due to their accuracy and features.
2. Update Your TikTok App
It is always a good habit and practice to keep your most frequently used apps constantly updated rather than updating them when you suddenly find an issue. This is especially true with TikTok, as the app frequently receives updates not only to improve your quality of life and experience but also to push for new features to make using the app better.
Updating your TikTok app helps you avoid running into issues that were present in previous versions while also giving you access to newer features if the update implements them. It helps with avoiding common problems, such as things not loading up properly in the app, as your follower count.
To update your TikTok app, all you need to do is to access the Play Store/App Store on your phone and navigate to the TikTok app page. In there, an "Update" button will be available if a new update is detected. Otherwise, you'll instead have "Open", which indicates you are in the latest version possible.
On that note, the steps to update the TikTok app on both Android and iOS devices are generally similar:
To begin, go to the Google Play Store (Android) or the App Store (iOS).
Next, search for the TikTok app from there.
Then, from the search results, find the app and go to the TikTok app page.
Finally, if an update is available, tap on the Update button.

3. Log Out and Log Back In to the TikTok App
Occasionally, signing out and back in to the TikTok platform can alleviate issues with the app, including FYP, following page, and feed not refreshing, updating, or loading. This is because through this fix you're essentially refreshing your account sign-in information and refreshing your session with the application. So, in your next session the bug with the TikTok feed will likely not be present.
So, to log out of your account on the TikTok app:
First, select Me from the bottom bar, and tap the menu icon at the upper-right to access the Settings.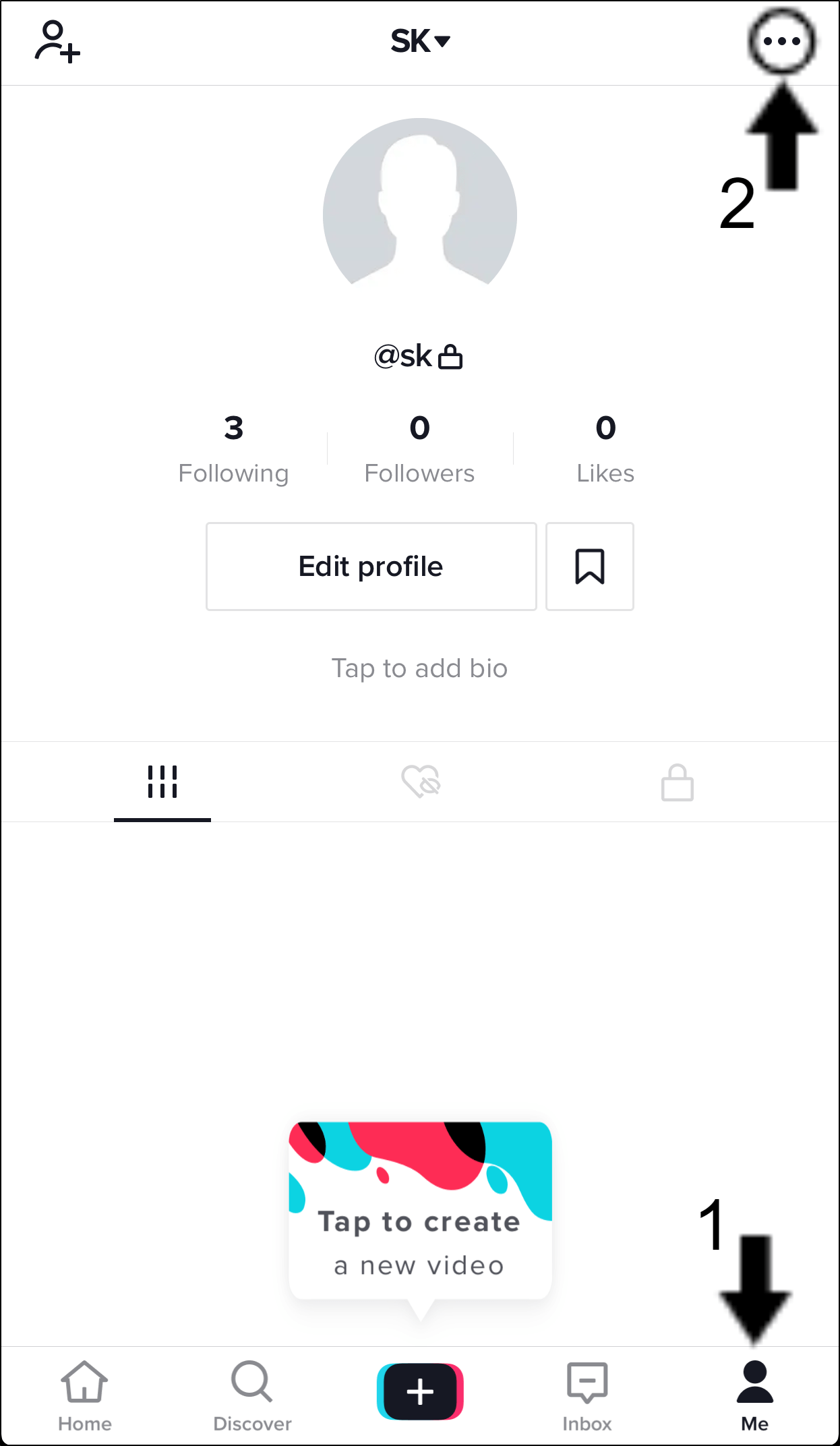 After that, scroll down and select Log out.
At the following pop-up, select Confirm.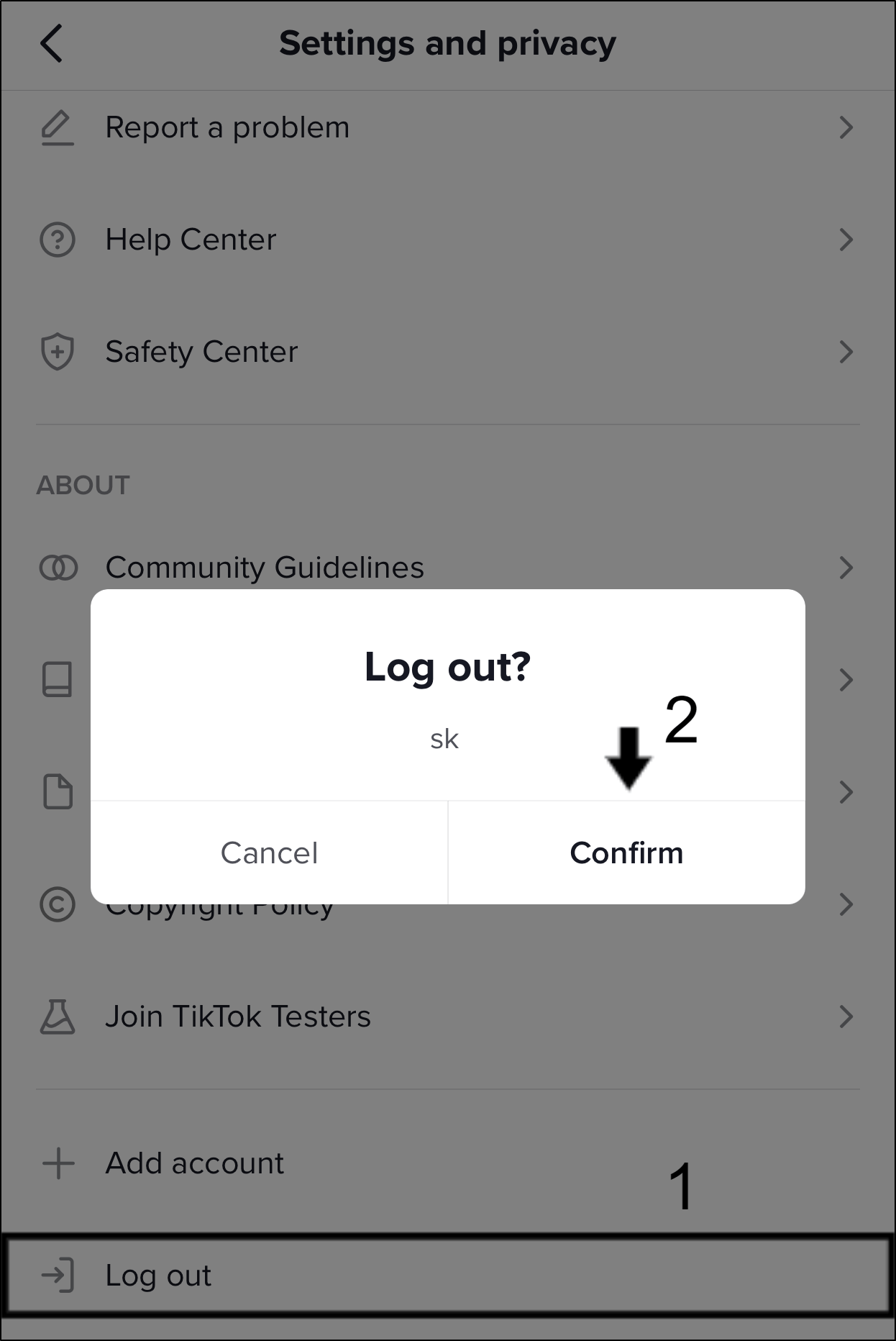 After doing that, you're completely signed out from TikTok, and you can try restarting the app. To do this, simply exit the app, remove it from your Recent Apps or App Switcher, and re-open it.
Lastly, log into your same TikTok account.
4. Try Unfollowing and Re-Following Someone
A solution that several TikTok users have been trying to fix the problem with their Following page not updating with a particular TikToker's posts or the page not showing up is simply trying the feature again in an attempt to refresh it and reload. This usually involves you going to your Following list (or any TikTok account you followed) and unfollowing them only to refollow them afterwards once the option becomes available again.
If you are still confused about how to do this particular fix, you can follow these steps below that'll give you a general guide through the process:
In your TikTok account, tap on the "Profile" portion in the bottom menu.
In your TikTok Profile, tap on the "Following" portion below your profile.
Choose any TikTok account in your Following Tab and then tap on "Following".
After the following changes to "Follow", tap on it to refollow the account.
Return to your TikTok profile and drag the page down to reload it.
Following the steps above will allow you to quickly unfollow and refollow any account your account has followed previously. There are other ways and methods that you can do, but we highly recommend the one above since it's easier to follow through and use.
5. Clear Your TikTok Cache and Data
When you are having problems with the TikTok app, the most common culprits behind any issues usually have something to do with your files getting corrupted. Internal files getting corrupted is not an uncommon thing to happen, as it can happen at any time due to various reasons.
It is very likely that your TikTok files might've gotten corrupted and caused issues in the process, such as your follower page not loading up properly. Clearing out your cache allows you to easily delete these files without having to completely uninstall the app; here's how you can do it:
Method 1: Through the TikTok App Settings
In your TikTok account, tap on the "Profile" portion in the bottom menu.
After tapping on your TikTok Profile, tap on the three lines in the upper right portions of your app.
In your TikTok settings, tap on "Free Up Space" in the options under the Cache & Cellular category.
Tap on the "Clear" option on both the Cache and Downloads categories. Once the data becomes 0.0 MB, the data has been cleared.
Following the steps above will allow you to go through TikTok's in-app feature of clearing out cache and data. This will also include any downloaded content you had in TikTok, which you will need to re-download. We recommend restarting your app before proceeding to ensure that everything is wiped clean.
Method 2: Through the Device's System Settings (For Android)
If you're using an Android device, you can delete even more app cache and data within the system settings. To navigate to this option:
First, open the Settings app, and select Apps & notification.
Then, select TikTok from the list of apps.

After that, choose Storage & cache.
Next, start by tapping Clear Cache, and then you can also select Clear Data.
6. Reinstall TikTok Completely
Sometimes if any problems you had in TikTok keep on coming back despite clearing out your files and cache, then the problem might be deeper and might be something with the app itself. The TikTok app not working properly and loading things up completely are common experiences to have when the app isn't up to shape, and certain issues are causing this.
If you happen to come across this situation, the best solution usually involves uninstalling TikTok and doing a fresh installation so that you get a newer app that is free from any of the issues you had beforehand. Here's how you can do it:
Open your Phone's Settings ⚙️ app.
Open your Phone's App List by tapping on "Apps" or something similar.
Find "TikTok" from among your App List and tap on it to open it.
On the TikTok app page, tap on "Force Stop" and then tap on "Clear Data".
Once both steps above have been finished, tap on the "Uninstall" option and
wait for the TikTok to be uninstalled.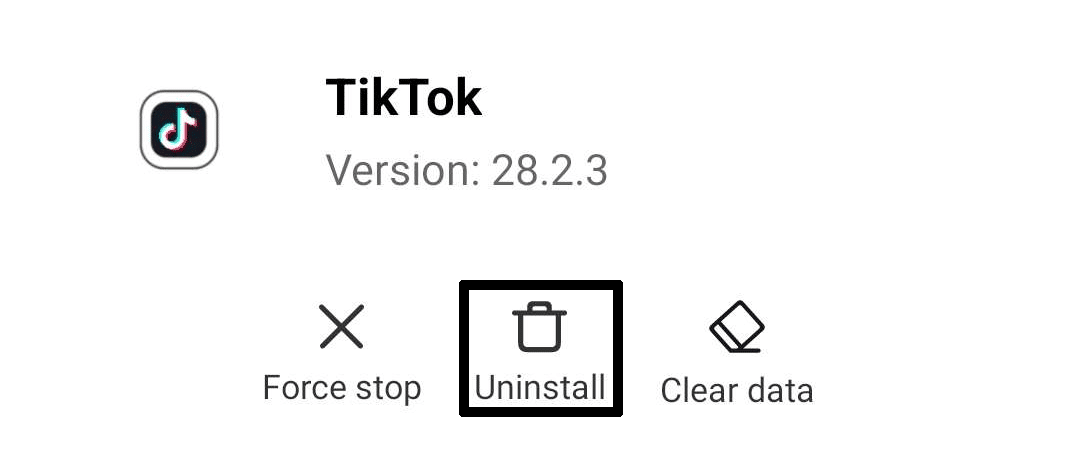 Once TikTok has been uninstalled, open your Play Store/App Store, then navigate to the TikTok app page to re-download it.
7. Send a Report/Feedback to TikTok
When you run into any bugs and glitches that are preventing you from using TikTok properly, such as a bug stopping you from properly viewing your follower count or even accessing certain aspects of TikTok, sending a bug report is one of the best things you can do.
Sending in a report and feedback to the TikTok team will allow you the opportunity to get connected with someone from the support team to be updated on the problem. This will also help you get more specialized help in the case that your problem is a unique case.
Fortunately, TikTok simplifies this process to a great degree as you can easily send a report using the app as well as keep track of its status through it. Here's how you can do it through these easy steps below.
In your TikTok account, tap on the "Profile" portion in the bottom menu.
After opening your TikTok App's settings, scroll down and tap on "Report a problem" under the Report & About category of the app.
After tapping on the previous option, scroll down to the bottom portion until you find the option that says "Submit a Report," and tap on it.
After tapping on the previous option, scroll down to the bottom portion until you find the option that says "Submit a Report", and tap on it.
After tapping on the option to submit a report, type in your issue with TikTok as well as any screenshots you can provide. Tap on "Submit" once you finish adding everything.
Following the steps above will allow you to send a report to TikTok support about any problems you might encounter. We recommend providing as many details about the problem as possible and explaining it in depth while also providing video and proof if possible.
Conclusion
TikTok is an incredibly nifty app when you want to view quick short video content while also having access to a wide variety of them to go through. Your follower count is one of the most important things to keep track of, especially if you are looking to make consistent content.
It can be understandably frustrating when you can't check your follower count when the situation comes around, which is why we have prepared this guide.
All in all, let us know down 👇below in the comments if:
Do you find this guide helpful, and which of the tips worked best for you?
Any additional fixes we missed out on and should add?
Anything you want to share about TikTok?
What do you like the best about TikTok compared to other platforms?
Feel free to share this guide with anyone you find is getting problems with their Follower Page not loading up.