Find that you can't log in to the TikTok app or website at all? Or do you keep getting the "Too many attempts. Try again later." error message? In that case, this is the perfect guide for you!
Without a doubt, TikTok is one of the most popular social networking apps in the market. So, if your TikTok account is locked 🔒 or lost, you may be bummed when missing out on all of the hottest trends.
For some, TikTok has even become a career choice and a source of income. Therefore it gets concerning when content creators themselves are locked out of their TikTok accounts. For others, TikTok is used to relieve stress by enjoying short comedic videos and many more.
Let's not forget all the dance tutorials 💃 that we love and are obsessed with too!
That being said, your account could be locked or you might be unable to sign in for a variety of reasons. Hence, we went over a handful of them, as well as fixes to help you recover the TikTok account, so you can get back to scrolling through your feed!
---
Types of TikTok Login Errors
Before getting into the specific fixes, we'll go through the types of login errors that TikTok users tend to encounter:
First off, after getting logged out of TikTok and when reattempting to sign in, users tend to stumble on a vague "Couldn't log in" error message.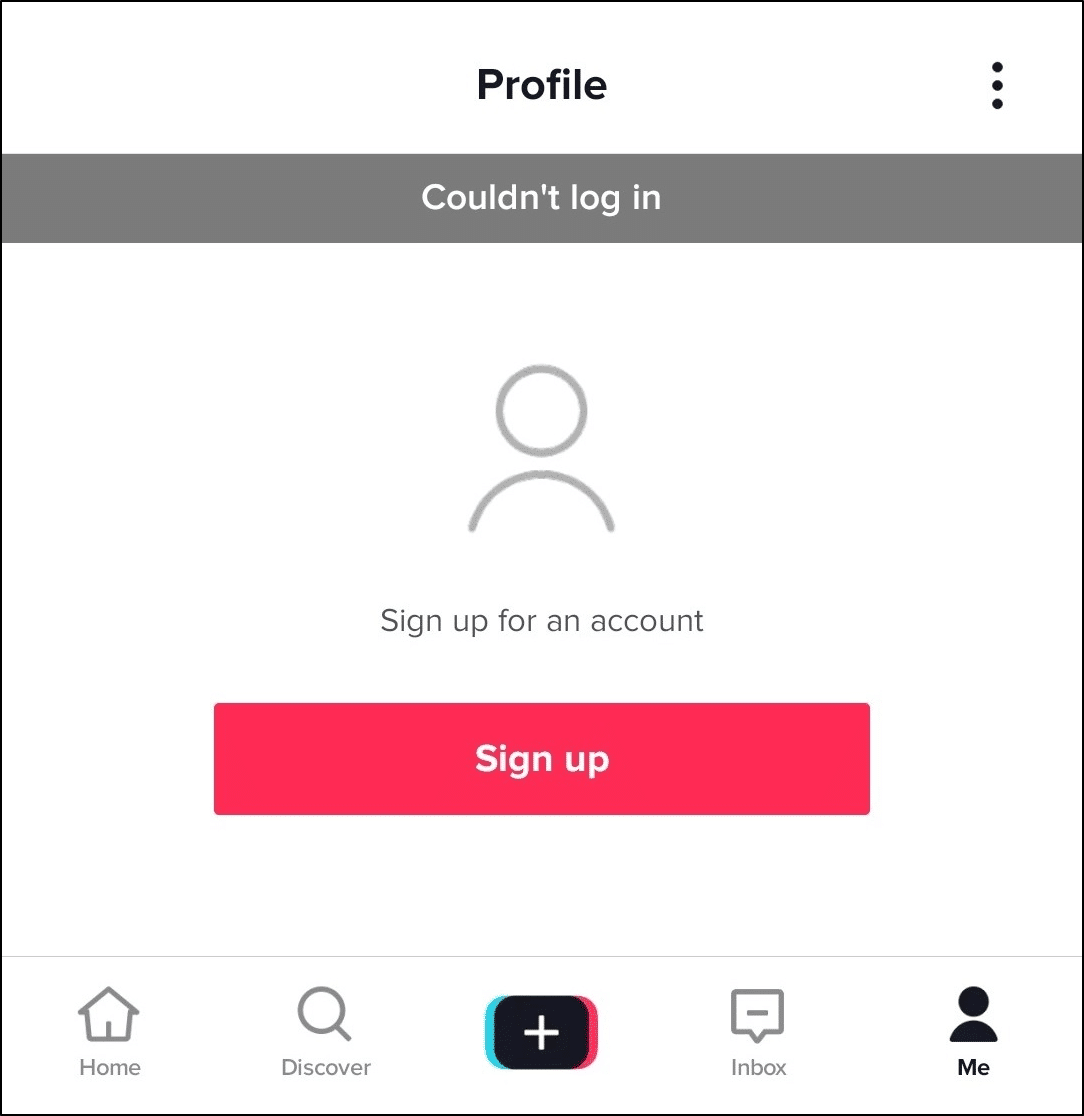 While attempting to re-login, the TikTok platform may even wrongly identify you as a bot 🤖 or spam. Hence, for the next 5 minutes or so, you could keep getting the "Too many attempts. Try again later." error message when trying to sign in to TikTok.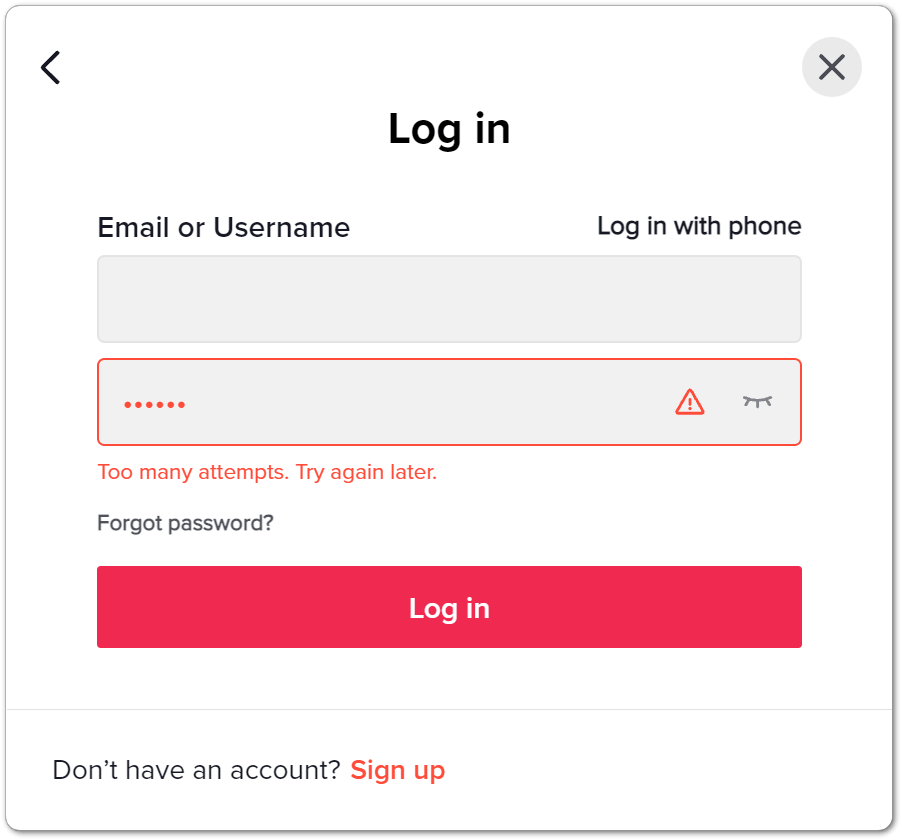 Another common error message users report is the "Incorrect account or password" error. This usually arises due to wrongly entered login credentials, so we recommend double-checking to make sure (Step 3).
Besides that, some users report receiving the "Time out. Please try again" error message. This indicates a temporary error with your session of the TikTok app. So, we recommend trying to refresh your session by restarting the app (Step 6) or even your device (Step 7).
Some TikTok login error messages may be more indicative of their cause. This is the case for the following "There is a small problem with the server, fixing it now." error. So understandably, this means there's an ongoing issue on TikTok's end preventing you from logging in. For this, we recommend verifying if there are indeed server problems by checking the TikTok server status (Step 8).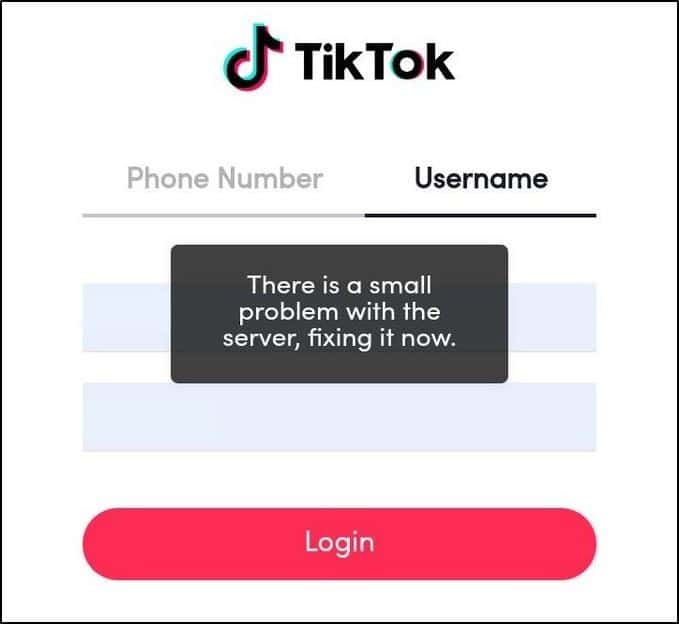 Another reason you can't log in to TikTok is if your account is banned 🚫, disabled, or locked. In that case, you may receive the below error message when attempting to sign in. Therefore, we recommend reaching out to TikTok support (Step 21), to identify and fix any account problems, especially if you've been wrongly flagged.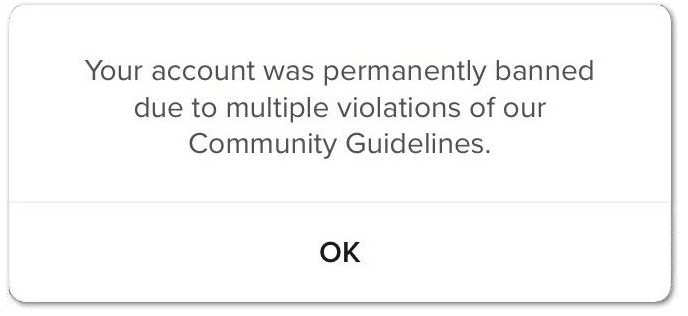 Like in step 5, some users try recovering their TikTok account using their username. However, they may end up getting either of the following errors instead: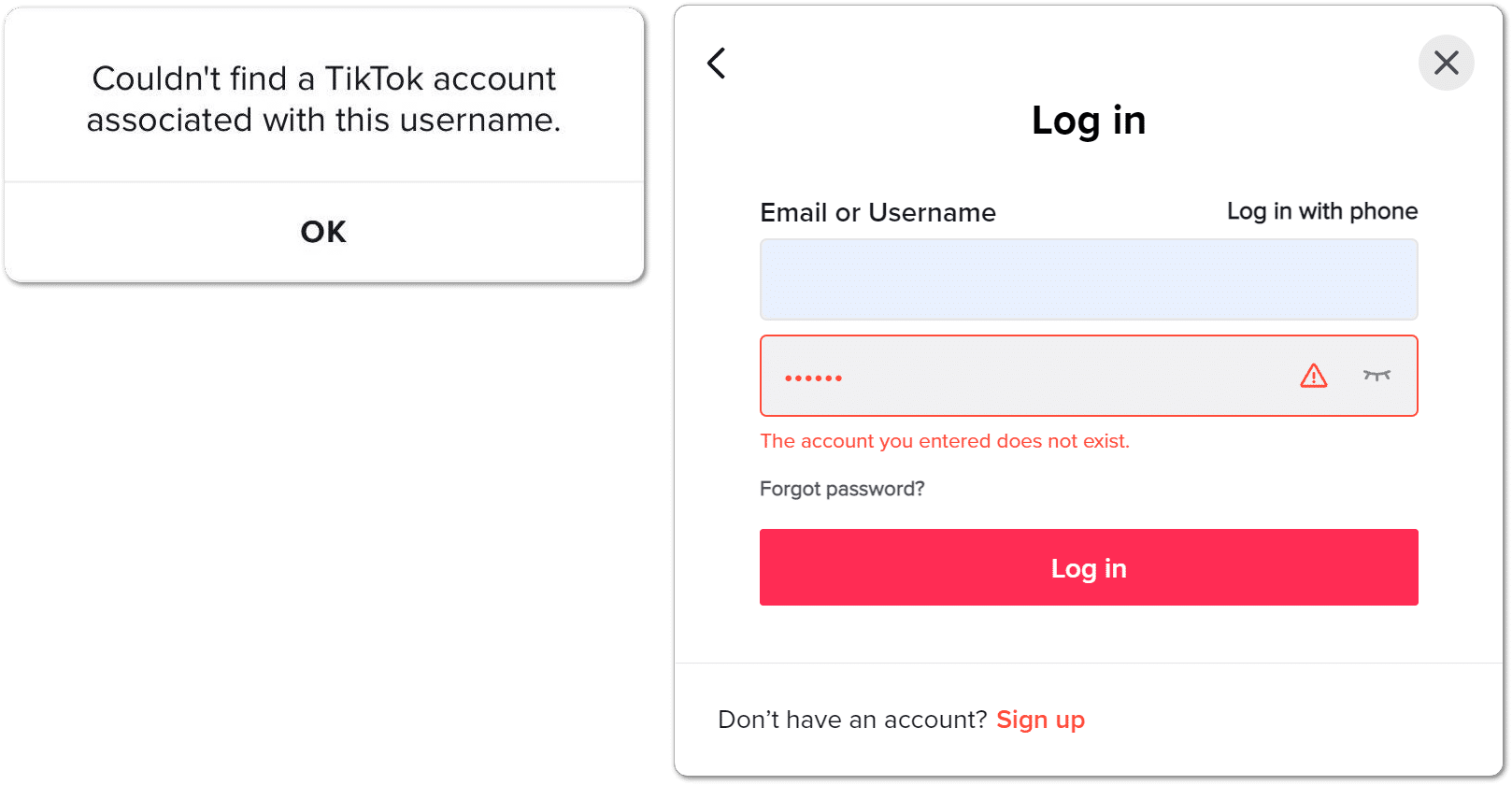 A similar error may pop up when logging in to TikTok using your Instagram account or other social media: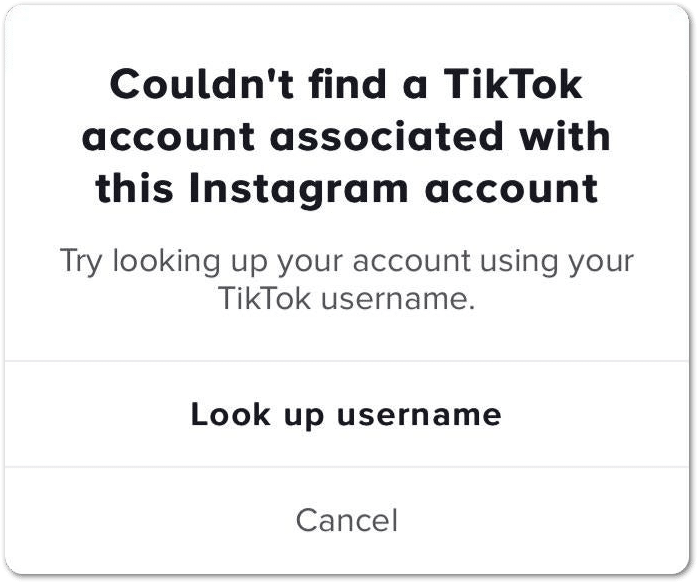 Moving on, it can be really frustrating at times when the 'Login Failed' error keeps showing up every time you attempt to sign in to your TikTok Account. Overall, even famous content creators on TikTok have also claimed that they frequently have such issues when logging into their TikTok accounts. 
So, did you stumble across a similar error when logging in on TikTok? Feel free to share your troubling experience down in the comments! 🤗
---
That being said, whatever the issue is, know that we've got your back!
We've prepared this thorough guide with 21 fixes to help you easily log in to your TikTok accounts again. 
Note: The steps in this guide cater to whichever device you're using to log into the TikTok app or website, namely on iOS, Android, or for web browsers on macOS or Windows.
21 Fixes for When You Can't Log In to TikTok
1. Try Logging In Using a Different Method
From the TikTok login page, you'll notice that there are multiple ways for you to sign in to your account. Apart from the traditional way of entering your account's username and password, you could try the other methods as well, such as with a social media account (e.g. Facebook, Instagram, Twitter, etc.) or even your phone number.
Especially if you initially registered or created your account using another platform, such as your Google, Apple, or Facebook account, you may only be able to sign in using that particular option.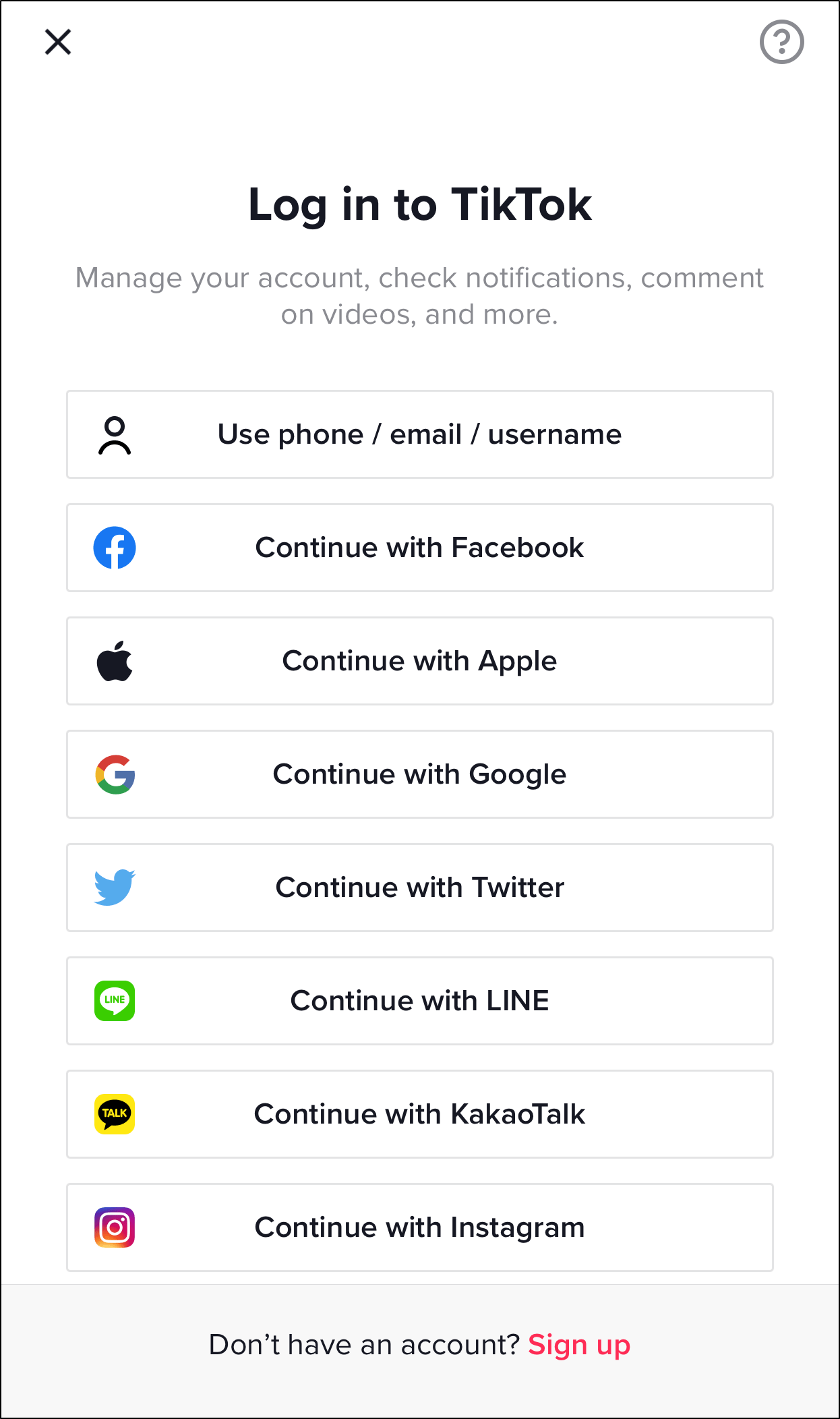 Plus, suppose you have connected your TikTok account with your phone number or other social media account. This can come in very handy the next time you forget your account password.
To do so, go to your Settings, Manage Account, and then choose either Phone Number or Link Account.
Alternatively, from your Profile page, select Edit profile. Then, on this next page, you can see social media options to link with (Instagram, YouTube, Twitter).
2. Log In to the TikTok Website Using QR Code
For users struggling with signing in on the TikTok website, this is an alternative route for you to log in. Many users have found this to be a great substitute or temporary solution, whenever the traditional way of logging in to TikTok just isn't working.
To do this, at the TikTok site, simply select the Log in button and choose the Use QR code option. Afterwards, you'll see a QR code along with a set of steps guiding you through the entire process, which will be conducted through the TikTok app on your mobile device.
To put it simply, open the TikTok app on your mobile device and go to the Discover tab. Then, select the Scan icon at the top-right and proceed to scan the QR code.
3. Verify Your Login Information
Although this step may appear to be self-evident, yet it's very common for such login errors to occur by chance or on accident. Understandably, this is one of the main causes for the "Incorrect account or password" error message. 
Therefore it's of utmost importance that you start by double-checking that you've entered your username and password correctly before going onto any technical fixes. 
So, when entering your TikTok username or password, keep the following points in mind:
Remove the "@" symbol from your username
Although TikTok usernames begin with an @ symbol, you do not have to type it out when entering your username. Instead, type out your username without the alias symbol (@) when logging into your account.
Be aware of CapsLock or any extra space
Moving on, you may have accidentally written an extra space or left the CapsLock on when entering your password. So, before you type your password, make sure you check for these two conditions. This is especially troublesome considering your password is concealed while you type as a security measure.
Therefore it's also a good idea to type it out first and then paste it into the password box.
Check your Username for typos
The most crucial step is to ensure that there are no spelling errors or typos in your username or password. As this is one of the most common errors people make, it's important to be aware of your handle by double-checking everything you've typed out is correct and accurate. Keep in mind that TikTok passwords are case sensitive, and remember to avoid using CapsLock.
Nevertheless, if this, unfortunately, isn't the case for you, don't worry. We still have many fixes that might be the one!
4. Reset Your TikTok Account Password
Assuming that the issue isn't from your misspelt username or password, maybe you have simply forgotten your password. It's understandable if you can't remember your TikTok account password in today's world of plentiful social media platforms and subscription services.
In that situation, you can reset your password by following the steps below. The following methods apply to both Android and iOS devices:
Resetting your TikTok account password while logged in
First, go to your profile by tapping

Me

.

Then, tap

…

, located on the top right corner.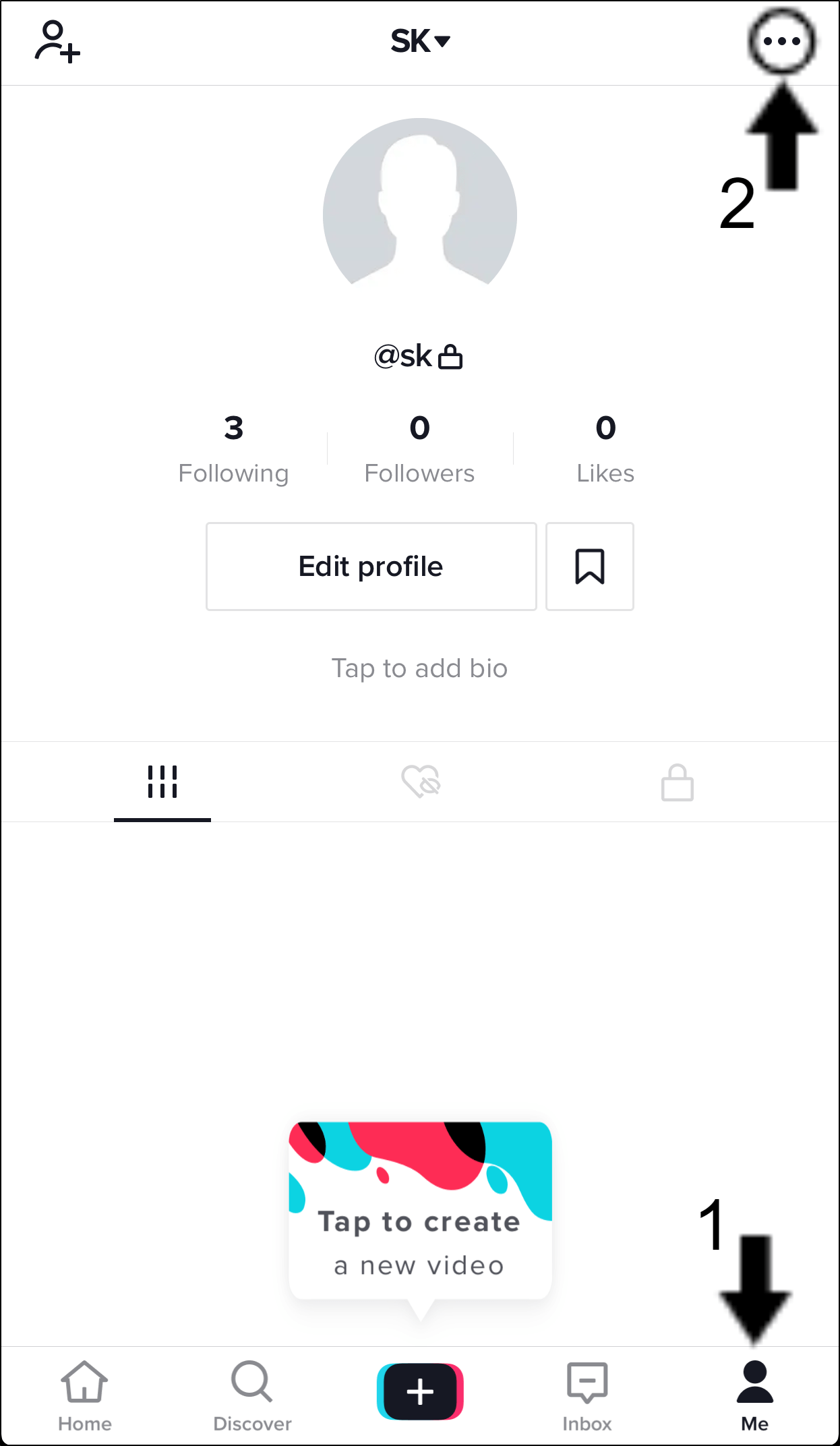 Next, tap

Manage Account

and

Password

.
After that, follow the instructions to

reset your password

.
Reset your TikTok account password when you are not logged in
First, tap

Sign up

.

Then, tap

Log in

at the bottom of the page.
Next, select

Use phone / email / username.
After that, choose

Email / Username.
Here, tap "Forgot password?".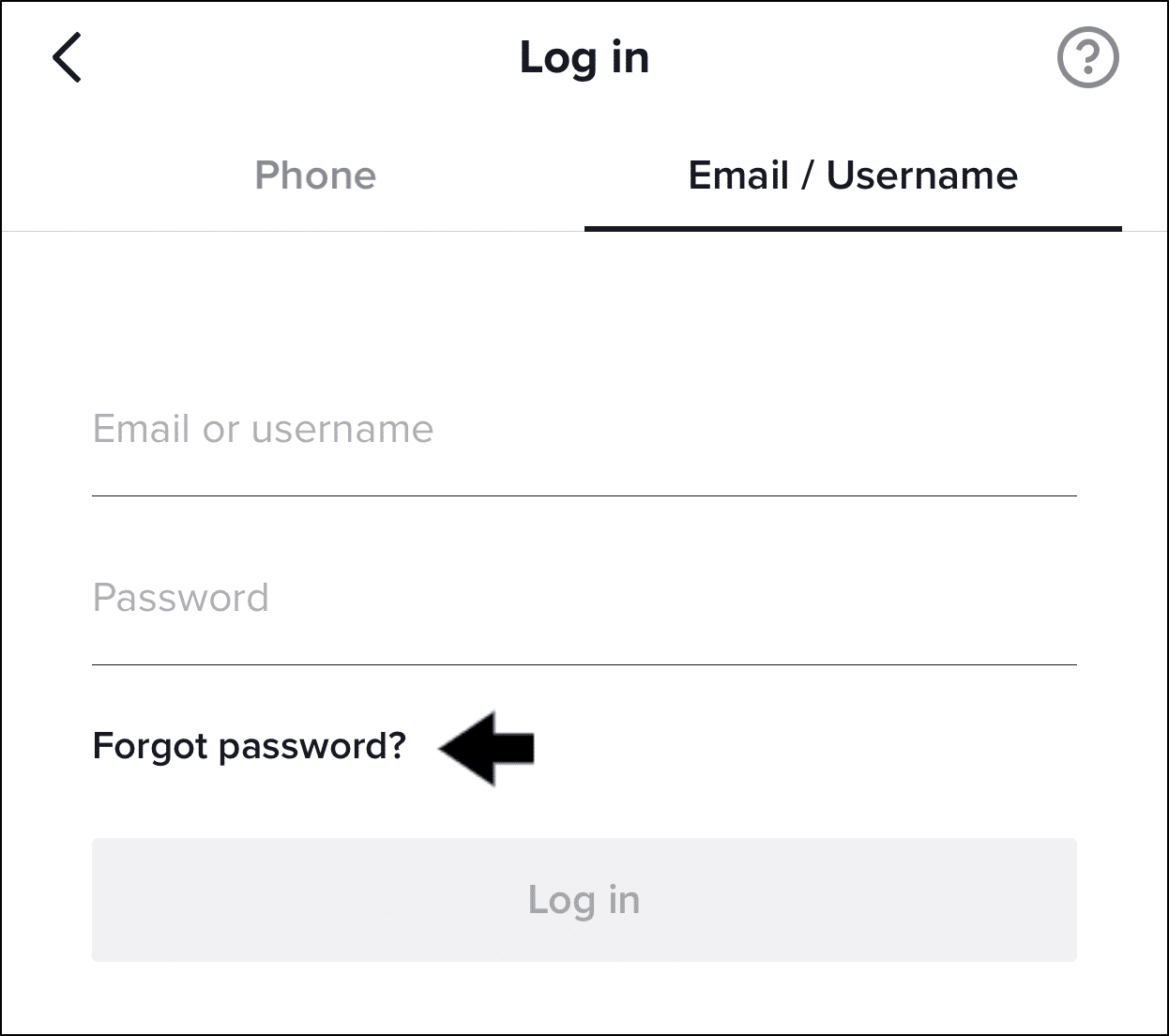 Finally, choose to

reset the password with your Phone number or Email. Then, follow the subsequent steps which include retrieving the confirmation code either through an SMS or email.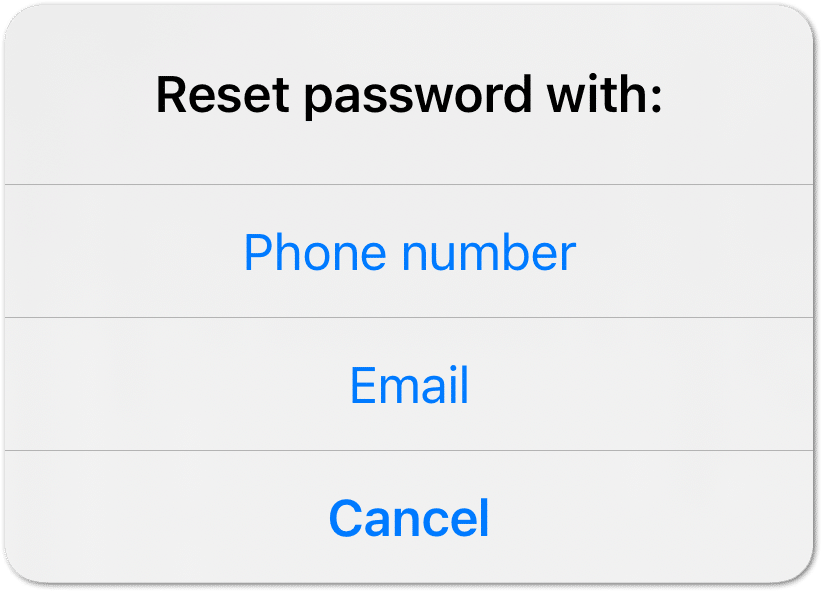 Note: Users who joined TikTok using another social media account will need to reset their passwords on that network/platform.
5. Recover Your TikTok Account
This is an option for you to consider whenever you've lost access to a TikTok account, and especially if you don't wish to change your password. Basically through this, you're using either your phone number, email address or another linked account to verify your identity, in order for you to log in again.
Method 1: Using Your Linked Email or Phone Number
First, at the Sign Up page, select the question mark icon at the top-right to visit the Help menu.
After that, select the Logging In option.
Here, you can either recover your account either using your phone number, email, username or another linked account. So, select your desired tab, enter your credentials and tap Next.

Afterwards, follow the subsequent on-screen instructions to recover access to your account.
Method 2: Contacting TikTok Support (Without an Email or Phone Number)
Suppose you don't remember the email address you used or you haven't connected a phone number before. What then?
In that case, another way to recover your account is to reach out to TikTok support through their Feedback Form. For this, we recommend checking step 21, with detailed steps to navigate to this form, else you can visit the Feedback Form page on their website by clicking here. From there, you can express to TikTok that you can't log in and that you've lost access to the email and phone number.
Once you've sent the form, you'll have to wait up to a few days for a response from TikTok. If all goes well, TikTok will send you an email with instructions to recover your account.
6. Restart the TikTok App
To begin, we recommend rebooting the TikTok app as a general solution. Temporary problems that arose during the app's operation can be resolved with a simple restart. As a result, these app bugs could be to blame for your issues with logging into your TikTok account. Plus, this is a great step to try after other fixes to begin a brand new session of the TikTok platform.
To restart your TikTok app:
First, close the TikTok app completely by removing it from your Recent Apps or App Switcher. 
Then, from your homepage, reopen the TikTok app.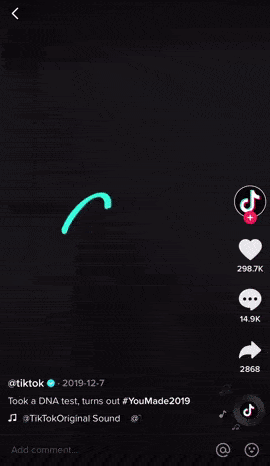 Note: If you're trying to access TikTok to its website, you can reload the page for a similar effect.
7. Reboot Your Device
Restarting your device is a quick and easy way to release system resources. You might be wondering where all the system resources have gone now that TikTok isn't running correctly. Assuming you rarely reboot your device, processes can accumulate in the background after your device has been functioning for a long time.
These background processes will unwittingly consume system resources. As a result, restarting your device is required to ensure that you have sufficient system resources for the TikTok app to function correctly.
Both Android and iOS devices can be rebooted using the instructions below:
For iOS
To begin, tap and hold the Power button until you get the "

Slide to Power Off

" option on your screen.

Then drag the slider to the right until the screen on your iPhone or iPad turns black. 📴

Wait at least 10 seconds after turning off your iPhone before pressing and holding the Power button until the Apple logo

displays on the screen.

Finally, wait for your device to fully boot up before attempting to log in to your TikTok account to see whether the TikTok login issue has been addressed.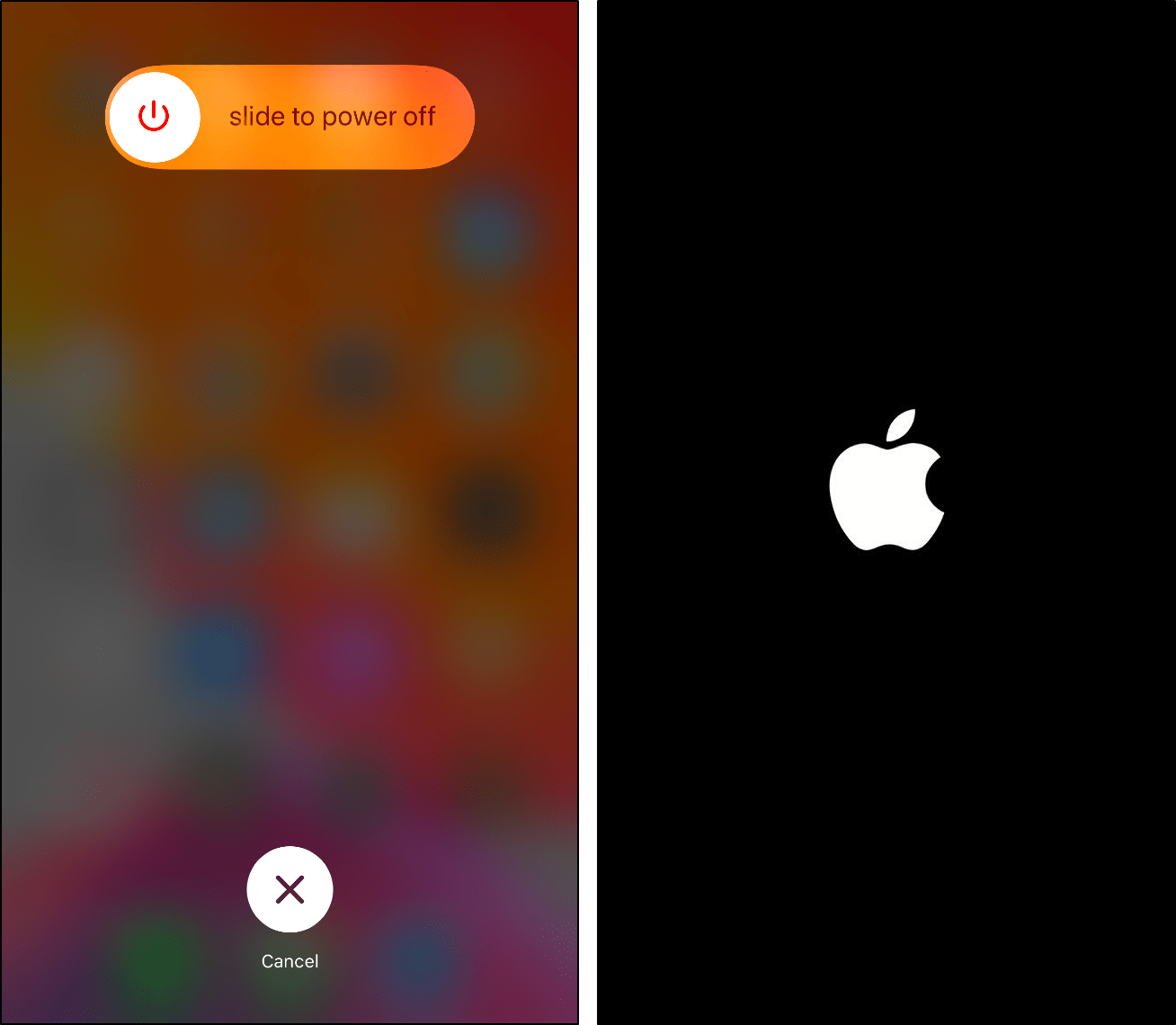 For Android
Firstly, locate the

Power button

on your device.

Then hold down the power button until the

Power Options

menu shows on the screen.

After that, press the

Restart

button and wait for your device's screen to turn off entirely.

Finally, wait for your gadget to boot up fully. This step may take several minutes to finish.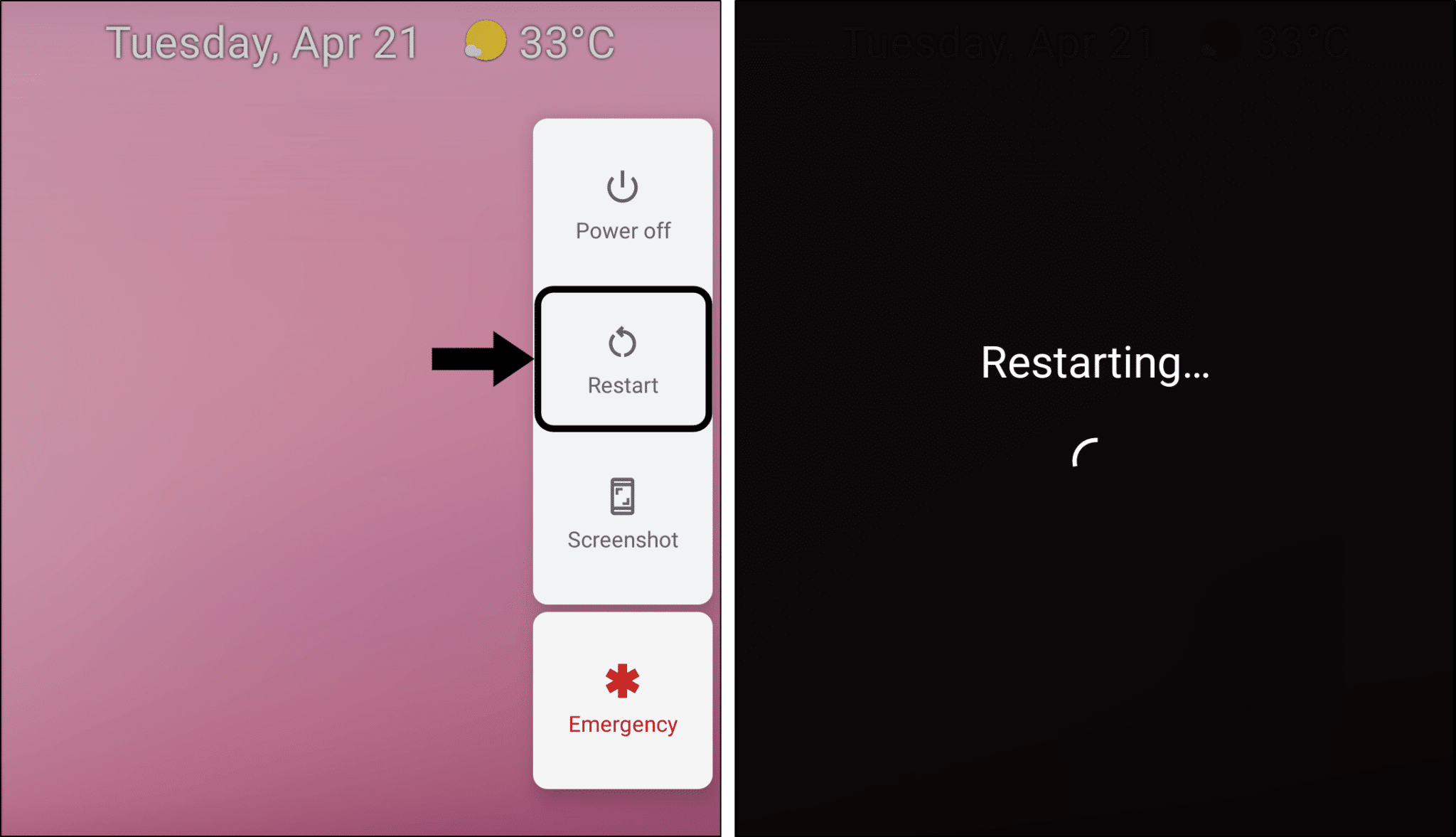 8. Check the TikTok Server Status
If you're unable to log in to your TikTok account, it may also be due to a server-side issue. Therefore, we highly recommend that you check to see whether other TikTok users are experiencing similar login problems on Tiktok.
For this, we suggest visiting Downdetector's page for TikTok.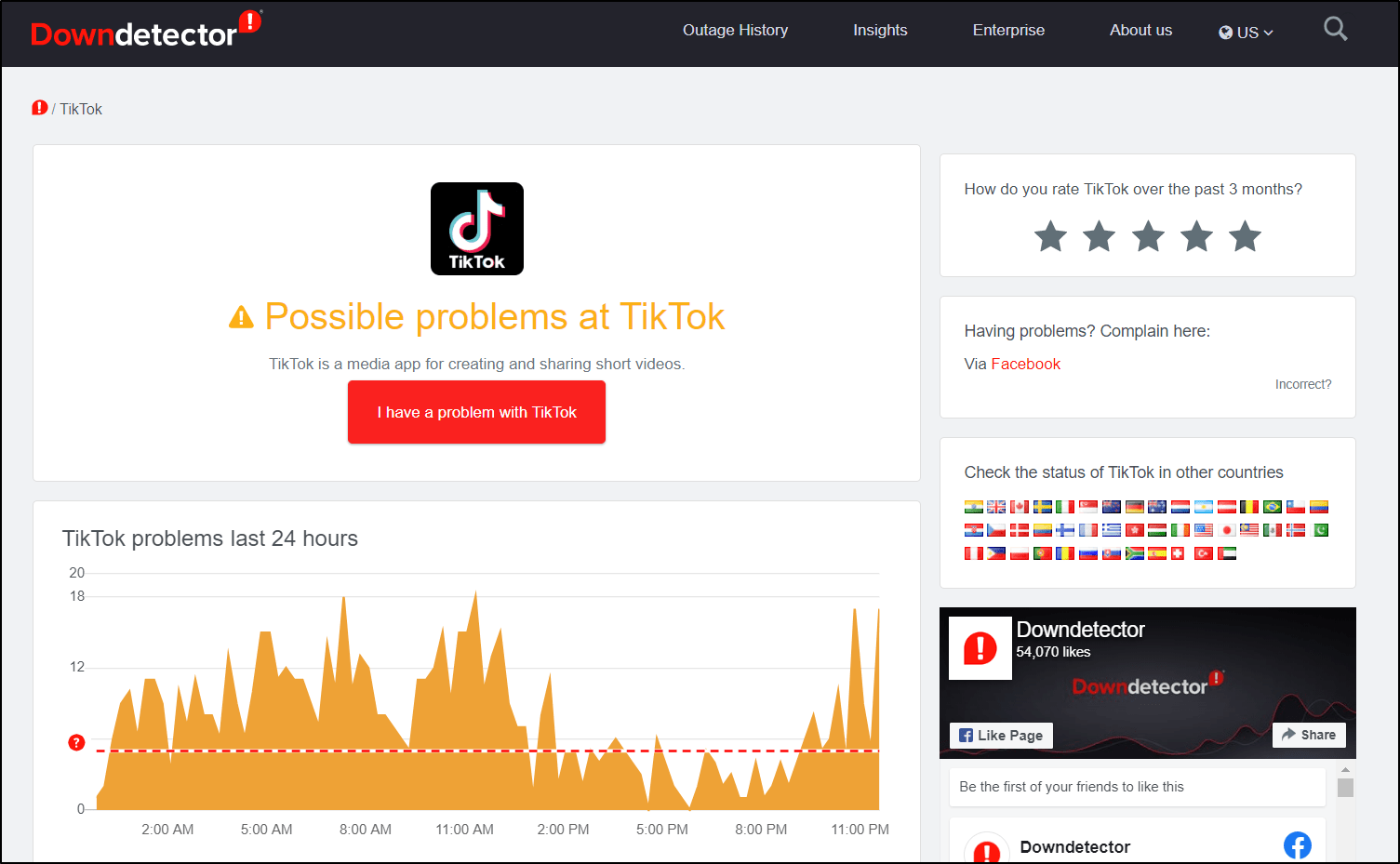 Here, you can check the comments section and the live map to see which regions and app features are affected. TikTok probably is to blame if you observe a dramatic surge in reported problems in your region. 
In such cases, you can choose to wait it out. As TikTok is a vast social media giant, TikTok routinely addresses such platform issues within a few hours to a day at most. So, you can take a step back for now, and try again in a few hours.
You can also consider using a VPN (Step 14) to connect to a server of a different region if you need to log into your TikTok Account urgently. On the live map, you can see which areas are less affected and work towards connecting to a server in those areas.
9. Update the TikTok App
TikTok has released various updates over the years to enhance and resolve many small and big bugs 👾 that have arisen. As a result, the source of the issue could probably be an out-of-date TikTok version. So, if you're having trouble logging in, it's possible that your TikTok isn't running the latest updates and bug fixes.
Hence, we strongly advise you to update your TikTok app to the most recent version to integrate the most up-to-date bug fixes.
On that note, the steps to update the TikTok app on both Android and iOS devices are generally similar:
To begin, go to the

Google Play Store

(Android) or the

App Store

(iOS).

Next, search for the

TikTok

app from there.

Then, from the search results, find the app and go to the

TikTok app page.

Finally, if an update is available, tap on the

Update button.

  

10. Install and Use an Older Version of the TikTok App
Perhaps you began receiving the TikTok login error just after recently updating it. This might sound strange considering newer updates should fix such functionalities, but these things can certainly happen. Therefore, while awaiting a new update from the TikTok developers, you can opt to downgrade your TikTok app version instead.
For this step, you'll need to download and install an APK file of the older TikTok app from the Internet.
Therefore, this method is only applicable to Android users as it isn't as easy to install apps from sources outside of the App Store on iOS. Also, it's worth noting that applications downloaded through this method won't receive updates through the Play Store. Hence, this step is overall a temporary solution until the issue with the original app is fixed with an update.
That being said, the following are steps to install an older version of TikTok on your Android device:
First, uninstall any existing TikTok app installed on your device. You can do this by long-pressing the app icon and selecting the 'X' button or through Settings.
After that, using your mobile device's web browser you'll need to search for an APK file of the TikTok app. You can also navigate to the following APK Mirror Website.
On this page, you may download any older iteration of TikTok as you like.
Next, run or open the APK file. A simpler way of doing this is through your mobile browser's Downloads history and tapping the APK file.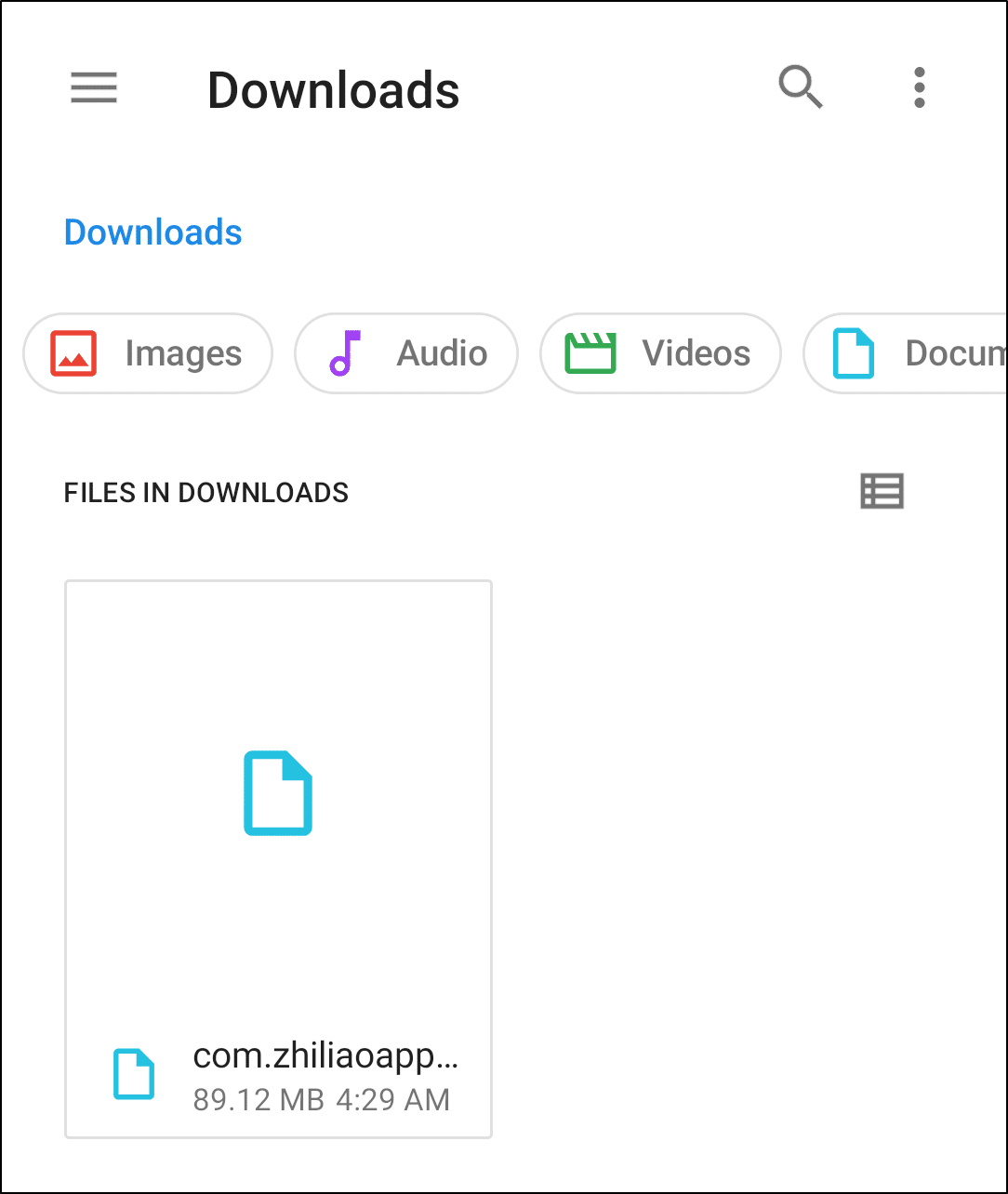 Alternatively, you may install it through the File Manager app. Normally, the APK file will be in Phone Storage > Download. Simply tap on the file to start the installation process.
However, by default, you can't install APK files without providing permissions. Therefore, at the prompt, tap Settings to go to the Install Unknown Apps page.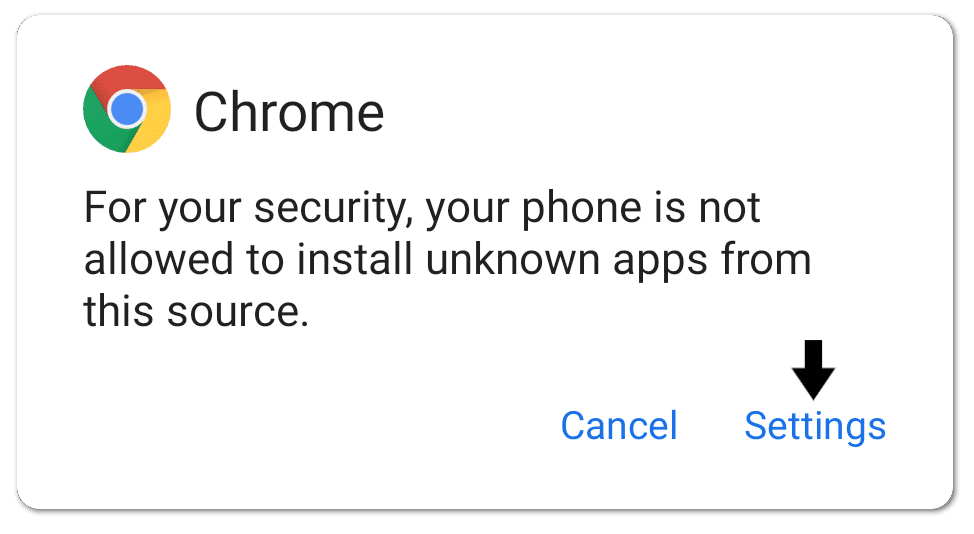 Here, turn on the switch next to "Allow from this source".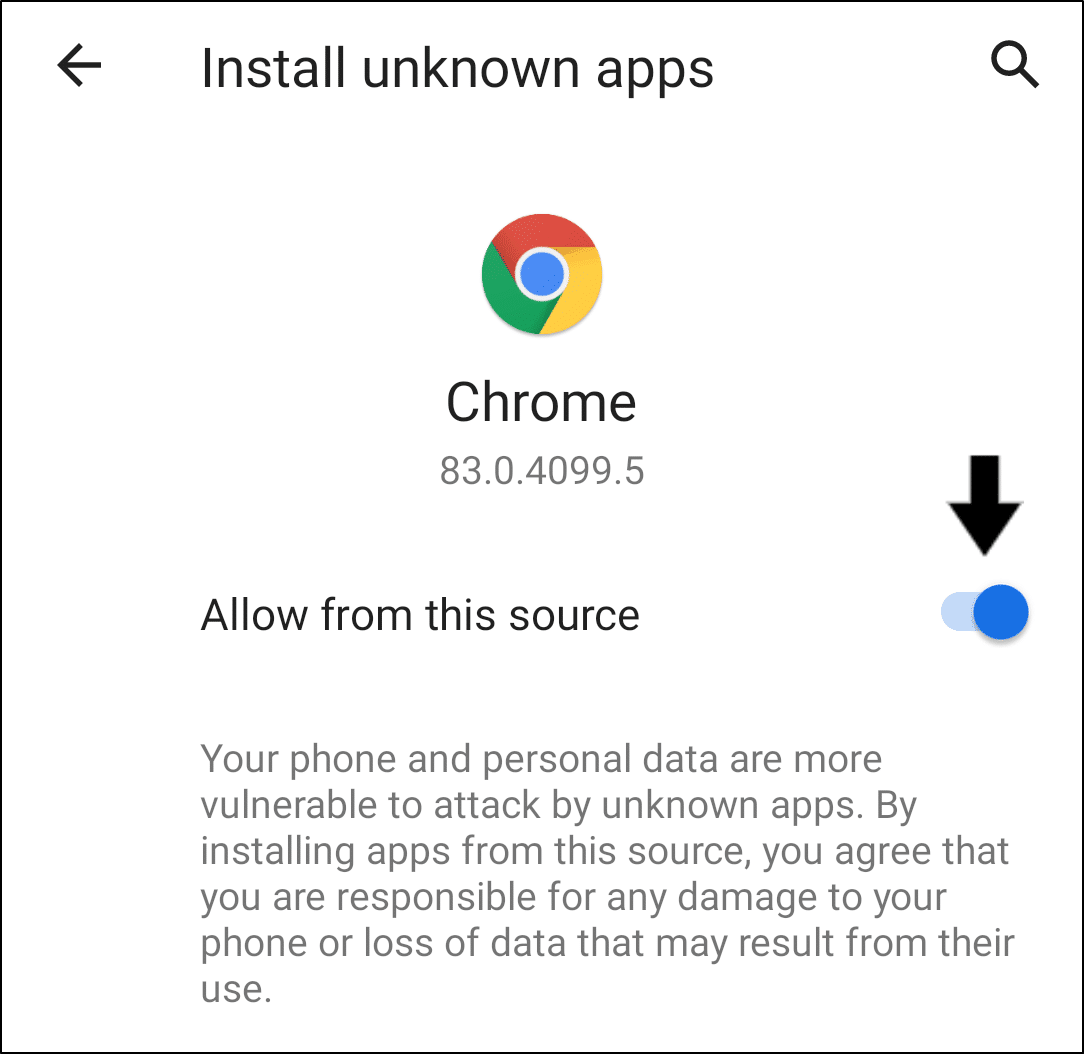 Finally, head back and open the APK file again to install the older TikTok app.
11. Check Your Network Connection
It's possible that your device isn't connected to the Internet or having a weak network connection if you can't log in to your TikTok account.
Needless to say, TikTok cannot function without an Internet connection. Essentially, when the TikTok app doesn't have access to a consistent Internet connection, it will not be able to communicate with its servers effectively. In this case, the app won't be able to submit your login request correctly, potentially resulting in these login issues.
Therefore, to verify that your connection is up and not experiencing any low speeds, we recommend performing a quick Internet speed test. For instant results, we strongly suggest visiting Fast.com.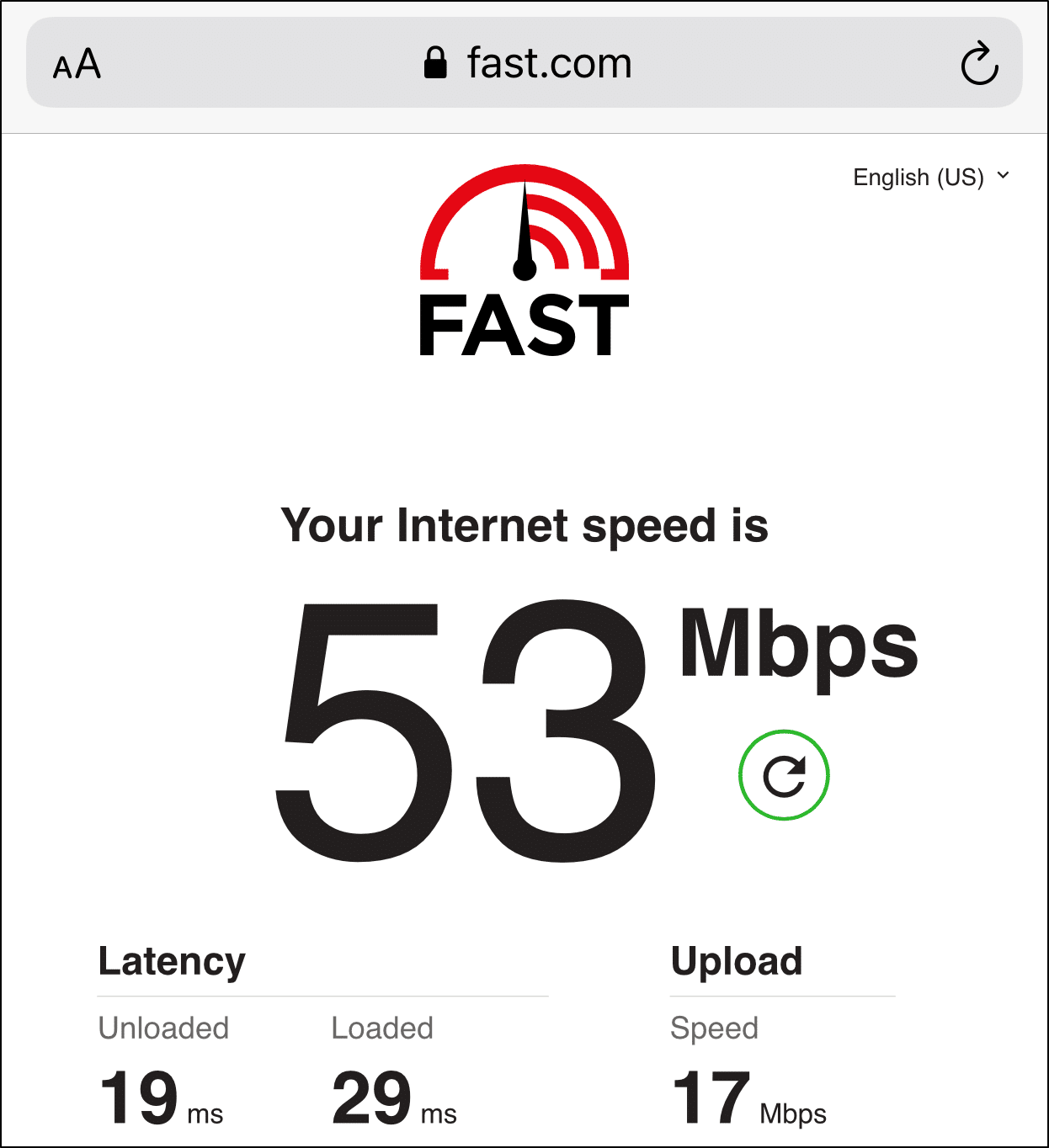 From there, suppose you notice a drop in your Internet speed. In that case, the following are a few steps to try and improve your Internet connection:
Switch from Wi-Fi to Mobile Data
This step is to troubleshoot whether the source of your Internet connection is the cause of your TikTok login errors. Plus, if you find there are temporary ongoing issues with your Wi-Fi you can opt to use your cellular internet for the time being instead.
That being said, you can do this through the Control Centre (iOS) or the Status Bar (Android).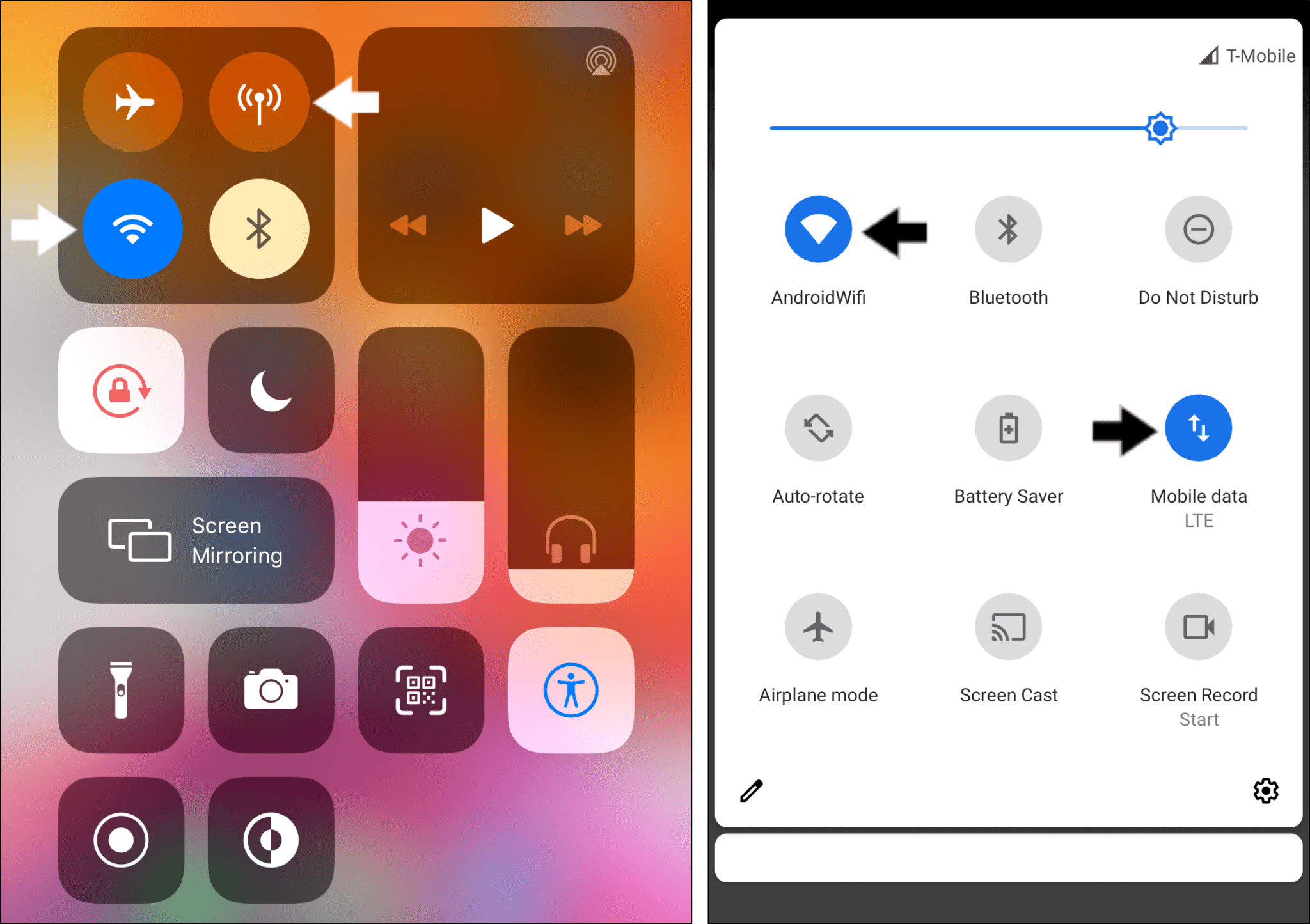 Forget Your Wi-Fi Network
Moving on, this step is performed to remove all the information about the particular network that's stored on your device, such as custom configurations, DNS, ports, etc. Therefore, ensuring a complete reconnection with the network.
To start, launch the

Settings ap

p.

After that, go to the

Wi-Fi tab

.

Next, see if your IOS device is connected to the internet via a wireless connection. If that's the case, tap the

(i)

icon to the right of the Wi-Fi network's name.

Then, tap on

Forget This Network

.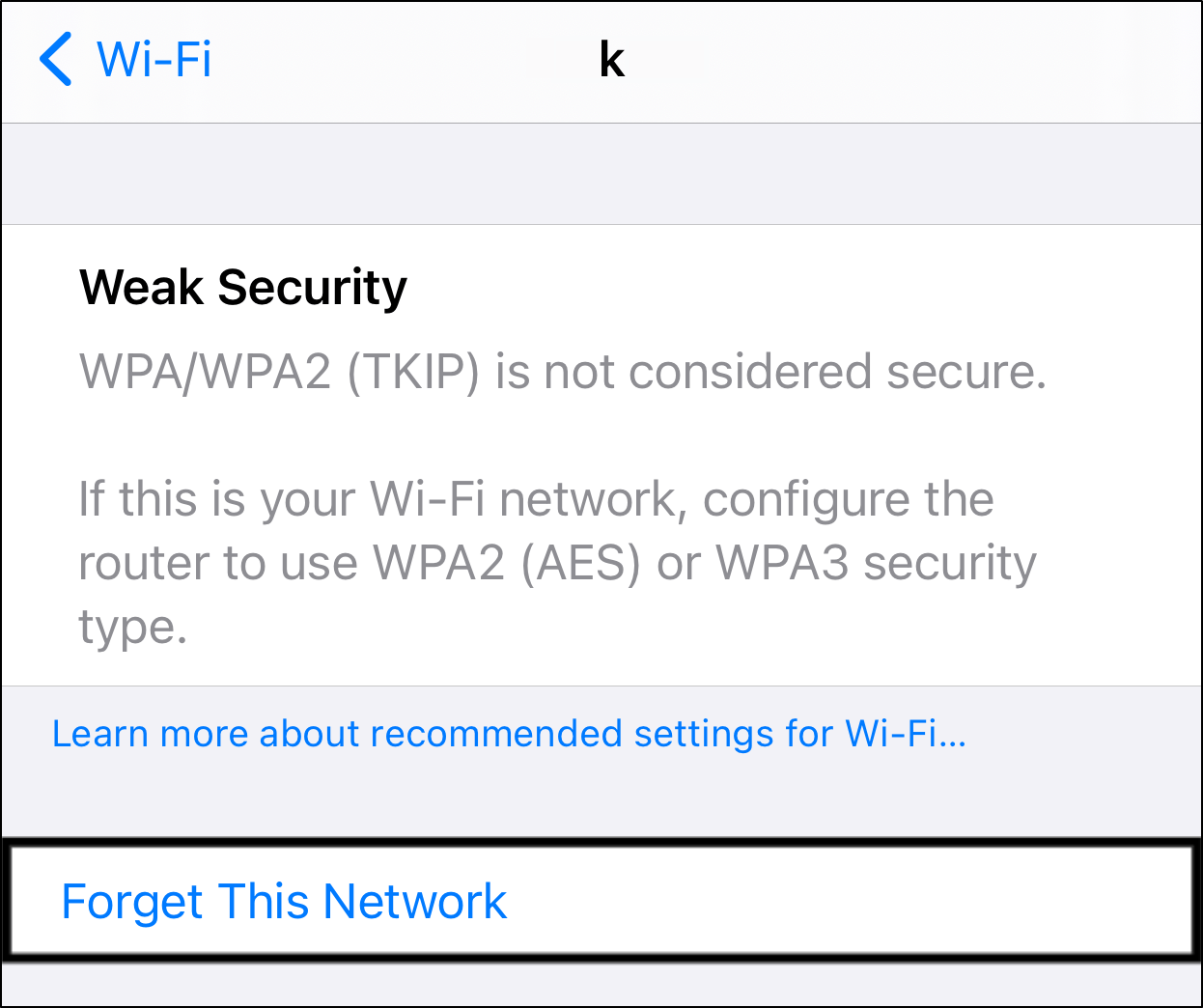 Finally, re-enter your

Wi-Fi password

and reconnect to your network.
After confirming your device's network connection, try relaunching the TikTok app and logging in to your account. If you're still having trouble accessing your TikTok account, consider resetting your router as well.
12. Change or Restore Your DNS Address
Some users have found that using a custom DNS (Domain Name System) address turned out to cause their issue with logging in to TikTok. Whereas others found that using Google's DNS (8.8.8.8) fixed the issue for them.
Overall, the purpose of the DNS is to translate domain names to IP addresses. To put it simply, this ensures that the TikTok app on your device can connect and retrieve information from its servers correctly without any restrictive or halting DNS configurations.
Therefore, the steps below will guide you in changing the DNS configurations for a particular Wi-Fi connection on your mobile device:
For Android
First, go to Settings > Wi-Fi or tap the Wi-Fi icon in the notification shade.
After that, tap on the type of connection consisting of your Wi-Fi.
Next, tap on the Wi-Fi you are connected to and select Advanced Options.
Following that, under IP Settings, change DHCP to Static.
Then, for DNS 1, erase the previous IP and enter 8.8.8.8
Repeat for DNS 2 but replace the IP with 8.8.4.4, which stands for Google DNS
Save the changes
For iOS
Go to Settings > Wi-Fi or tap the Wi-fi icon in the notification shade
Choose the Wi-Fi connection you're using to access its settings. You may have to select Advanced Options to access these settings.
(Optional) Under IP Settings, change DHCP to static.
After that, select Configure DNS to edit the DNS address.
Then, on the following page, under DNS Servers, tick Manual, erase the previous IP, and enter 8.8.8.8.
(Optional) Repeat for DNS 2 and add 8.8.4.4 which stands for Google's DNS.
Finally, tap Save at the upper-right. 
Note: Suppose using a custom DNS doesn't fix your TikTok login issue or instead only further slows down your Internet connection. In that case, you can follow the same steps to remove the custom DNS address and stick with the defaults. Else you can reset these network configurations through the following fix (Step 13).
13. Reset the Network Settings
As mentioned earlier, a network connection error might be affecting your login process on TikTok. Hence, some users have found that after a quick reset of their device's network settings they managed to log in again. Some others found that this reset should be followed by a reinstallation of the TikTok app (Step 20) for it to work.
All in all, through this step, we're essentially clearing all the network information stored on your device. This ensures that all this data can be collected and reconfigured again for a clean and error-free connection. Plus, this step is crucial to restoring the default DNS address configurations (Step 12), which can also cause your TikTok login errors.
Hence, afterwards, you'll notice that your saved Wi-Fi connections, passwords, any configured VPNs, ports or other custom-set network settings are erased. All this ensures that you can start off with a clean slate on a certain network.
Therefore, to reset network settings on your device:
For Android
For starters, from the Settings app, scroll down and select System.
Next, choose Reset options and select Reset Wi-Fi, mobile & Bluetooth.
For iOS
First, from the Settings app, select General, scroll down, and select Reset.
Next, choose Reset Network Settings.
14. Reconnect or Disable Any VPN Services
Sometimes, even using a VPN or proxy server, can leave you with login issues on the TikTok app. However, on the other hand, using a VPN could be a useful fix as well! The key is to use a premium VPN service, and avoid "free" or low-quality services that'll only backfire by making TikTok flag you and block your connection.
If you ask us, we recommend using NordVPN, which is perfect for all your VPN needs!
Overall, VPN services are extremely helpful in protecting your online privacy 🕵️‍♂️ when visiting various websites. Nevertheless, a misconfigured one could cause your device's network connection to become unstable.
As you might know, every device connected to the internet is given a unique IP address, which is a numerical label. A VPN conceals your IP address with one from its own proxy servers to keep your data secure online. However, if your VPN hides your IP address, your device may have trouble talking with TikTok's servers.
Therefore, simply reconnecting your VPN may configure it correctly again. For this, whether you're using a premium service or have manually configured it, try disconnecting and enabling the VPN connection again.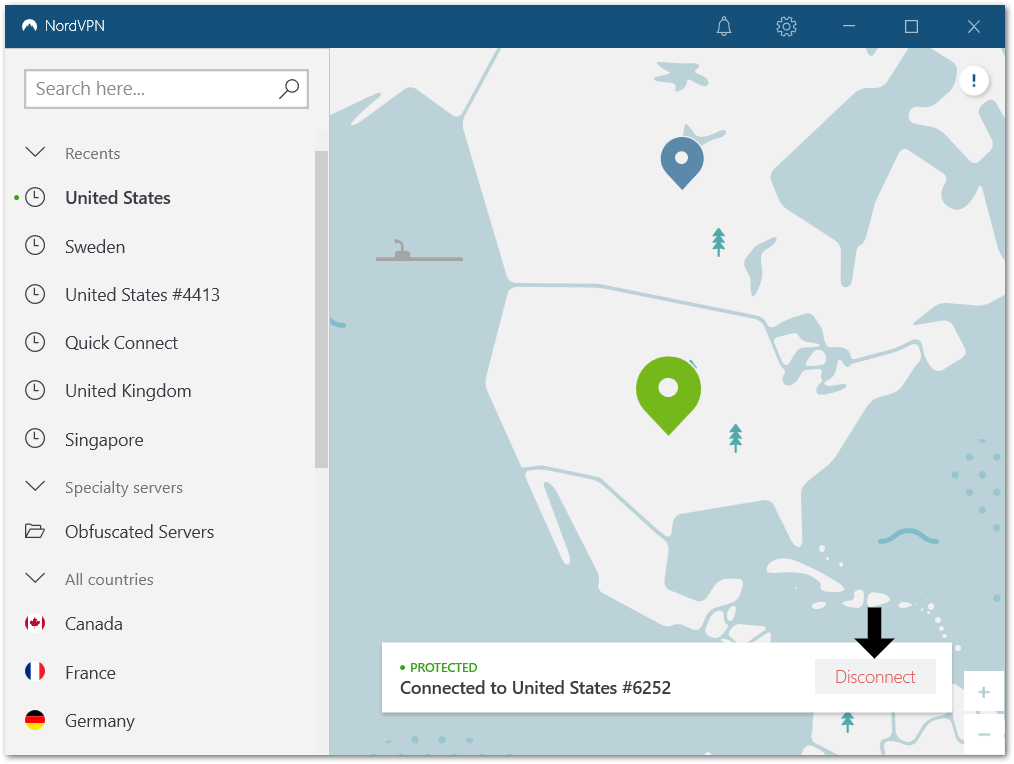 Besides that, you can also try connecting to a different server or even one that's in a different region.
Want to try a Top-Notch VPN for TikTok and Other Stuff? Try NordVPN!
We personally use NordVPN almost daily to surf through social media and the web securely and to even watch a wider range of shows on Netflix and other streaming services. It's safe to say, we found it works error-free when browsing scrolling through TikTok.
Plus, it's surely one of the more affordable VPN options out there.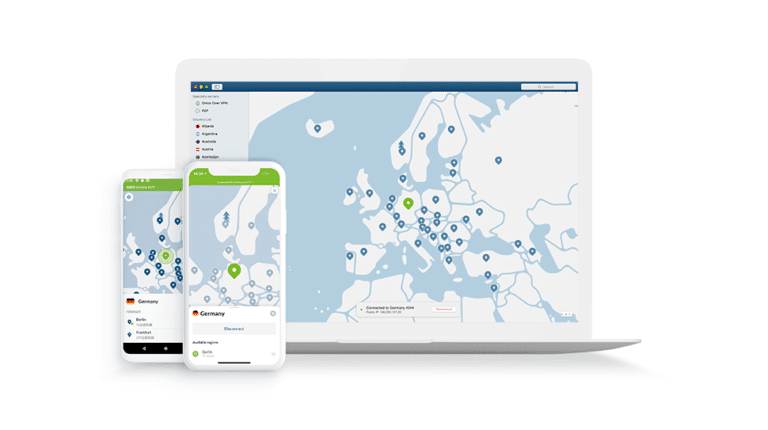 ---
Get NordVPN with up to 68% OFF today!
---
15. Log In to the TikTok Website on a Mobile or PC Web Browser
Moving on, there could be an issue or bug with your installation of the TikTok app. So, another way to access the platform is through the TikTok website which you can access either through your mobile device or PC web browser.
To make the transition smoother, even the layout of the TikTok site and its login pages is similar to that of the app.
Typically, there's a higher chance of you being able to log in successfully through the TikTok website since it's always running the latest updates. So, even when there are app issues, using the website can be a helpful temporary solution.
Additionally, using a different web browser can be effective as well. Typically, the TikTok platform should be functional regardless of whichever major web browser you opt for.
This can work vice versa as well. So, if you initially couldn't log in to the TikTok website, perhaps using the mobile app should do the trick. In the meantime, we have more fixes for you to try if you're encountering this login issue on the TikTok website.
16. Visit the TikTok Website in Incognito Mode
Perhaps you keep getting the "Too many attempts. Try again later." error message when trying to log in to TikTok through your web browser. So, this is likely to happen after trying each fix and reattempting to log in. This is because based on your session with the TikTok platform and your repeated attempts at signing in, TikTok may have identified you as a bot 🤖 that's maliciously brute-forcing its way to access an account.
Hence, in incognito mode, the site is no longer affected by cache or cookies stored on your web browser or other plugins and extensions. These could interfere with the login process or show TikTok that the same user is trying to repeatedly submit login requests.
Therefore, if you can't log in to TikTok through your web browser we certainly recommend trying in incognito mode. Here's what to press on your keyboard to open an incognito window on Chrome, Firefox and Safari:
Google Chrome
Shortcut keys
Windows: Ctrl + Shift + N
macOS: Command (⌘) + Shift + N
First, click on the kebab menu  on the top-right corner of the browser.
Then, select New incognito window.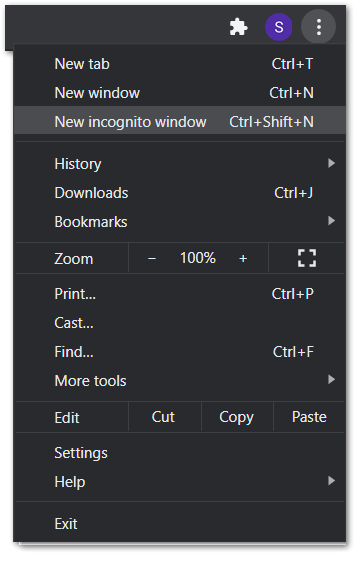 Mozilla Firefox
Shortcut key
Windows: Ctrl + Shift + P
macOS: Command (⌘) + Shift + P
First, click on the hamburger menu (三) on the top-right corner of the browser.
Then, select New Private Window.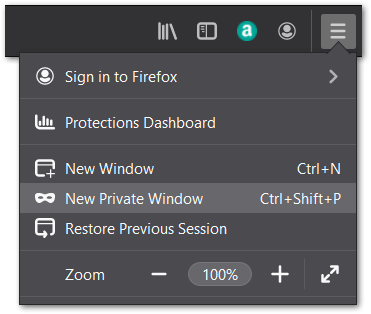 Microsoft Edge
Shortcut key
Windows: Ctrl + Shift + N
macOS: Command (⌘) + Shift + N
First, click on the meatball menu icon  on the top-right corner of the browser.
Then, select New InPrivate window.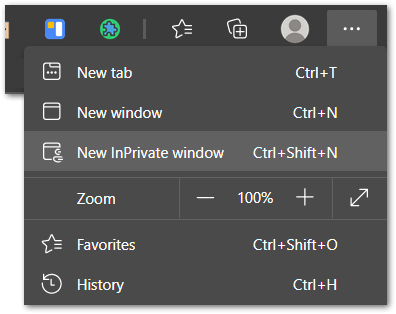 Safari (macOS)
Shortcut key
macOS: Command (⌘) + Shift + N
First, click on File. It is on the top-left corner of the browser.
Then, from the drop-down menu, select New Private Window.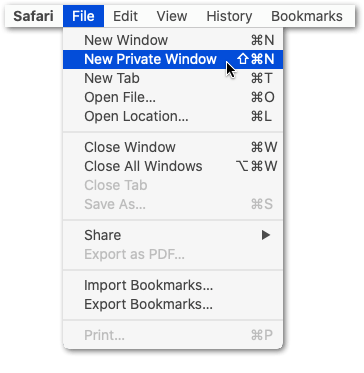 If this fixes your TikTok login issue, you can try clearing the web browser cache (Step 19) or disabling your potentially conflicting browser extensions.
17. Try Using TikTok on a Different Device
Plus, you can even try using a different device to log in to TikTok. This can be either another mobile device 📱 you can access or a PC 💻. That way, you can identify any problems native to your original device and its configurations that could result in your login errors.
If so, you may have to consider reinstalling the TikTok app (Step 20) or even factory resetting your device settings.
18. Clear the TikTok App Cache
Furthermore, there might be an excessive TikTok app cache that's causing these app bugs and resulting in these login errors. Hence, clearing the TikTok cache is necessary since it frees up storage space on your device and helps resolve small difficulties with the app.
On TikTok, the "Clear Cache" option means removing inessential data that are stored by the app. So, these cache data saves the details of your profile and the videos you've watched on TikTok so that the program loads faster the next time you request it.
That being said, follow these steps to clear the TikTok app cache:
Through the TikTok App Settings
Within the TikTok app settings, there's an easy one-click button for you to clear all of its app cache. Plus this setting is available regardless of whichever mobile device you're using.
So, to navigate to this option:
First, open the app and proceed to click the "

Me

" option in the menu at the lower-right corner of the screen.

Then tap

the three dots

in the upper-right to reveal your

Settings and Privacy

options.

Finally, tap the

"Clear cache"

option under the

Cache and Cellular Data

heading.
Through the Device's System Settings (For Android)
If you're using an Android device, you can delete even more app cache and data within the system settings. To navigate to this option:
First, open the Settings app, and select Apps & notification.
Then, select TikTok from the list of apps.

After that, choose Storage & cache.
Next, start by tapping Clear Cache, and then you can also select Clear Data.
19. Delete the Web Browser Cache and Cookies
Similarly, if you're trying to access TikTok through their website, there are data stored on your web browser as well. This is also known as web browser data and it includes cache, cookies 🍪, and other site settings.
They function similarly to the TikTok app cache where they store site assets ensuring they can be loaded up quickly the next time you request it. On the other hand, cookies are used to identify you on the site to give you a more personalised experience. A great example of the use of cookies on the TikTok website is to keep you logged in.
However, they can also backfire and affect certain functionalities on the site, in this case, the logging in process. Besides that, if you keep getting the "Too many attempts" error message when trying to log in, this can potentially be fixed by retrying after clearing the site cache and reloading. This ensures you're having access to the latest version of the site and it has no past memory of your login attempts.
Therefore, we certainly recommend retrying after clearing your web browser cache through the steps below:
On Windows (Google Chrome)
The following steps are for Google Chrome. However, if you're using a different web browser on Windows (Firefox, Edge), the steps are still similar:
First, access your browsing history by pressing Ctrl + H keys together. Or click the menu button at the top-right and choose History at the drop-down.
On the following page, click the Clear Browsing Data button. For Google Chrome, that'll be on the left.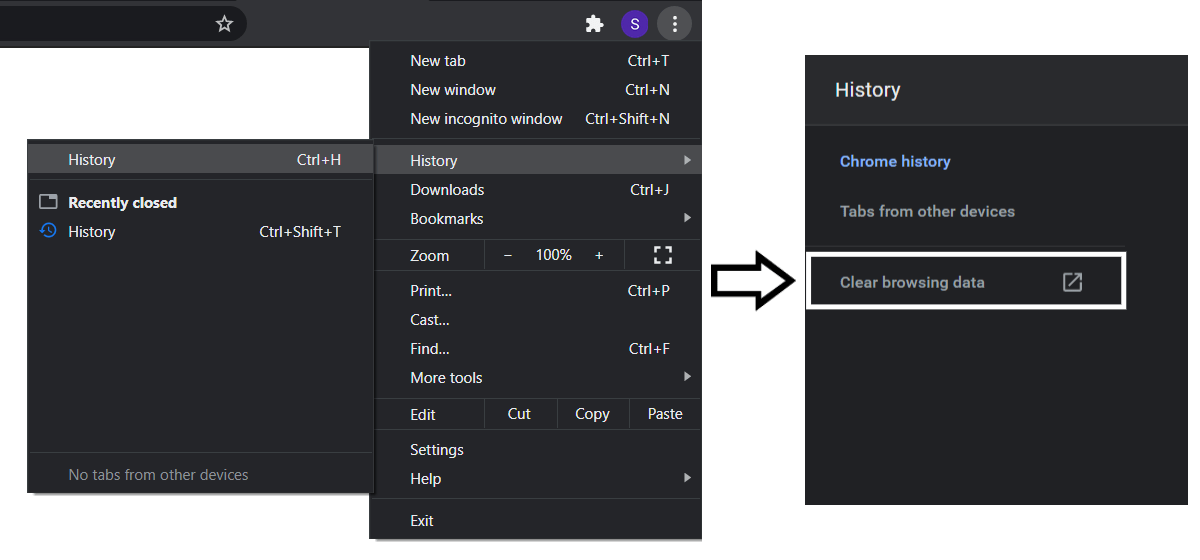 Next, under Basic, ensure that all the options are checked. Plus, you should select a time range of All time. Then, click Clear Data.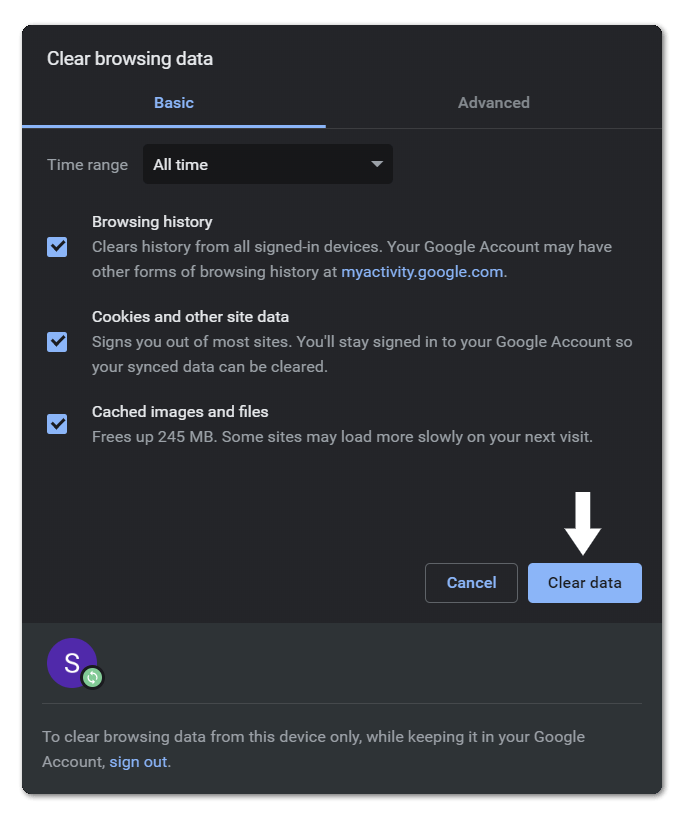 On macOS (Safari)
First, with Safari launched, from the Menu Bar, click Safari and select "Preferences…."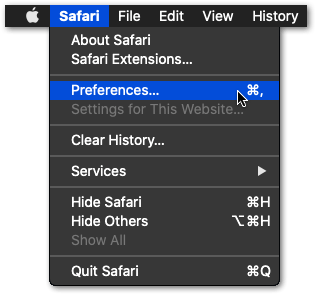 At the following window, choose Advanced from the top bar, and tick the box next to "Show Develop menu in bar".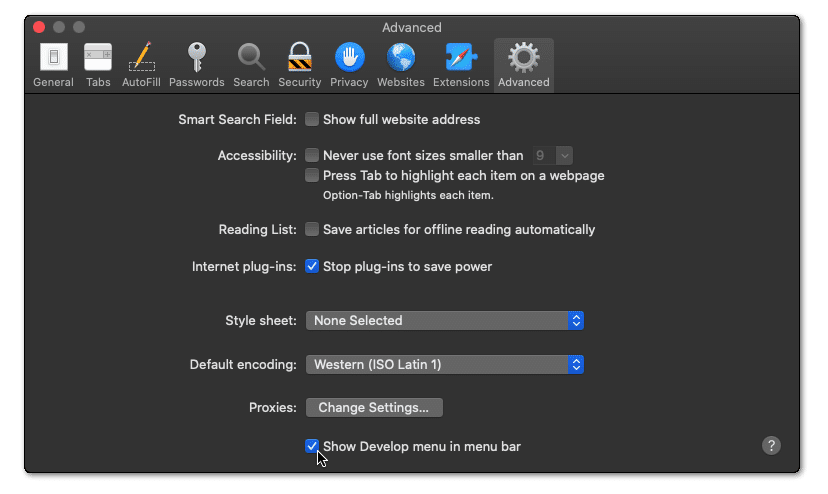 Subsequently, from the Menu Bar, click Develop, and select Empty Caches.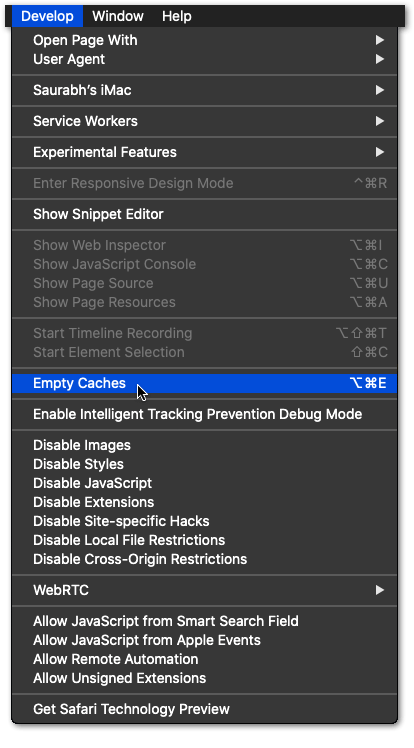 After that, you can clear your search history and even more Site Data and Cookies. To do this, from the Menu Bar, click Safari, and choose "Clear History…".
Lastly, click Clear History at the following window.

20. Reinstall the TikTok App
This is another easy yet effective tip that can make your day a lot easier and get your TikTok app up and running again! The procedure is fairly self-explanatory.
Basically, this step involves uninstalling the TikTok app completely from your device, then downloading and installing a fresh copy of the app from your native app store.
This approach may be the best option for you, especially considering that the TikTok app can be unstable at times. So, this could be a result of corrupted app files or an installation issue leading to login errors.
So, despite its simplicity, this fix may be just what you're looking for!
Having said that, the steps to reinstall TikTok is generally similar no matter which mobile device you're using:
First,

uninstall

the TikTok app, whether by long-pressing for the selection menu or through the

Settings

.

Then, select

Uninstall or Remove app

.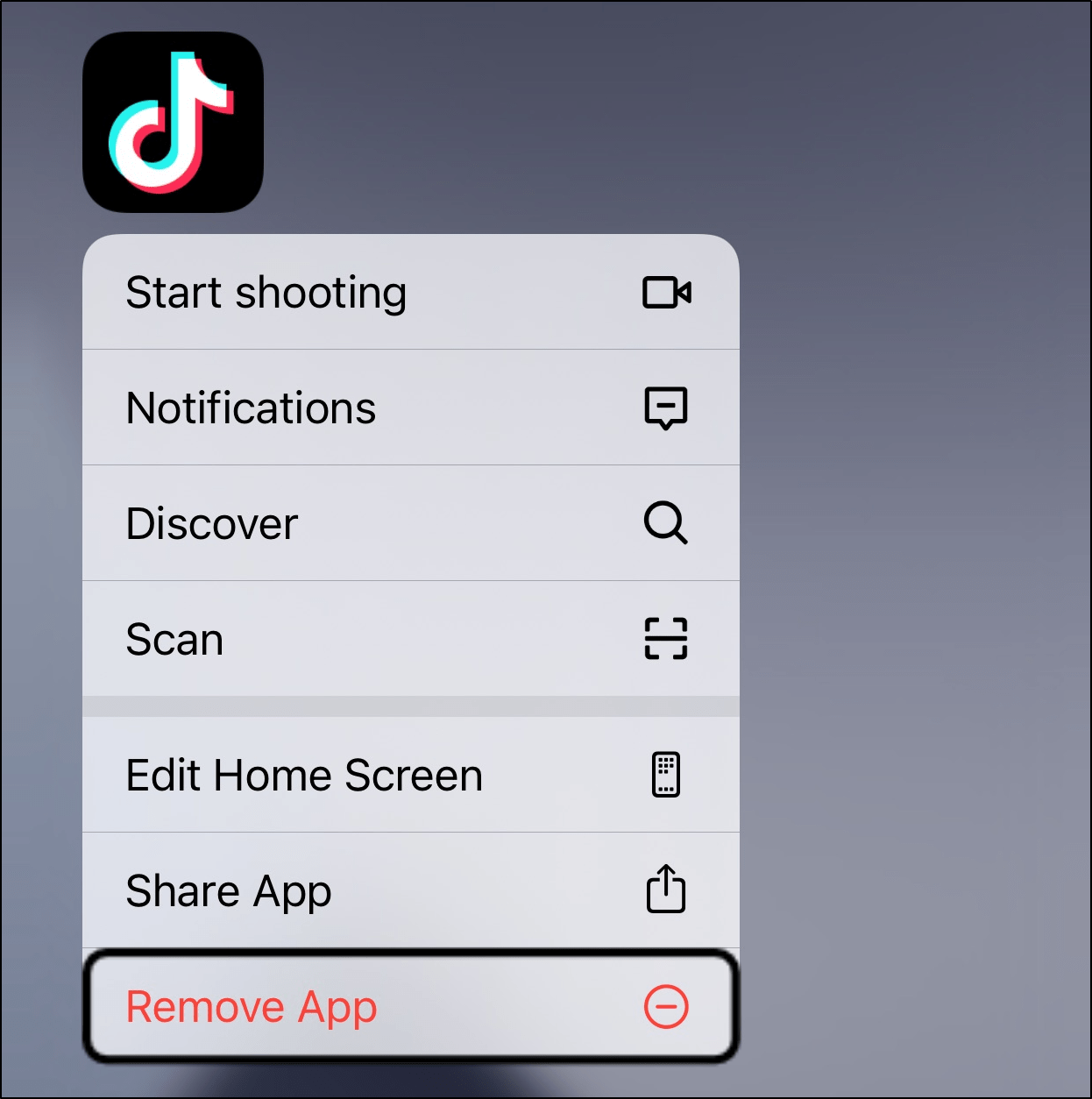 Finally, you can choose to restart your device or straight go to your

App Store

or

Play Store

to install the TikTok app.
Once the installation is complete, open the TikTok app and try to log in to your account to test it out. Fortunately, we have one more approach that might be the one for you!
21. Contact TikTok Support
If you're still having difficulty logging into your Tiktok after attempting all of the fixes above, we highly recommend raising the issue with TikTok Support. By doing this, they'll be able to provide you with a more personalised solution to your situation or device.
Especially if you receive an error message stating your account has been banned or disabled, TikTok support can help identify and resolve any account-level issues.
Aside from that, many other people may be having similar login problems. Hence, the greater the number of individuals who report it, the sooner TikTok notices it and begins working on a fix.
With that said, follow the steps below to report this login problem to TikTok Support:
First, at the Sign Up page, select the question mark icon at the top-right to visit the Help menu.
After that, select the notepad icon at the top-right to go to the feedback section.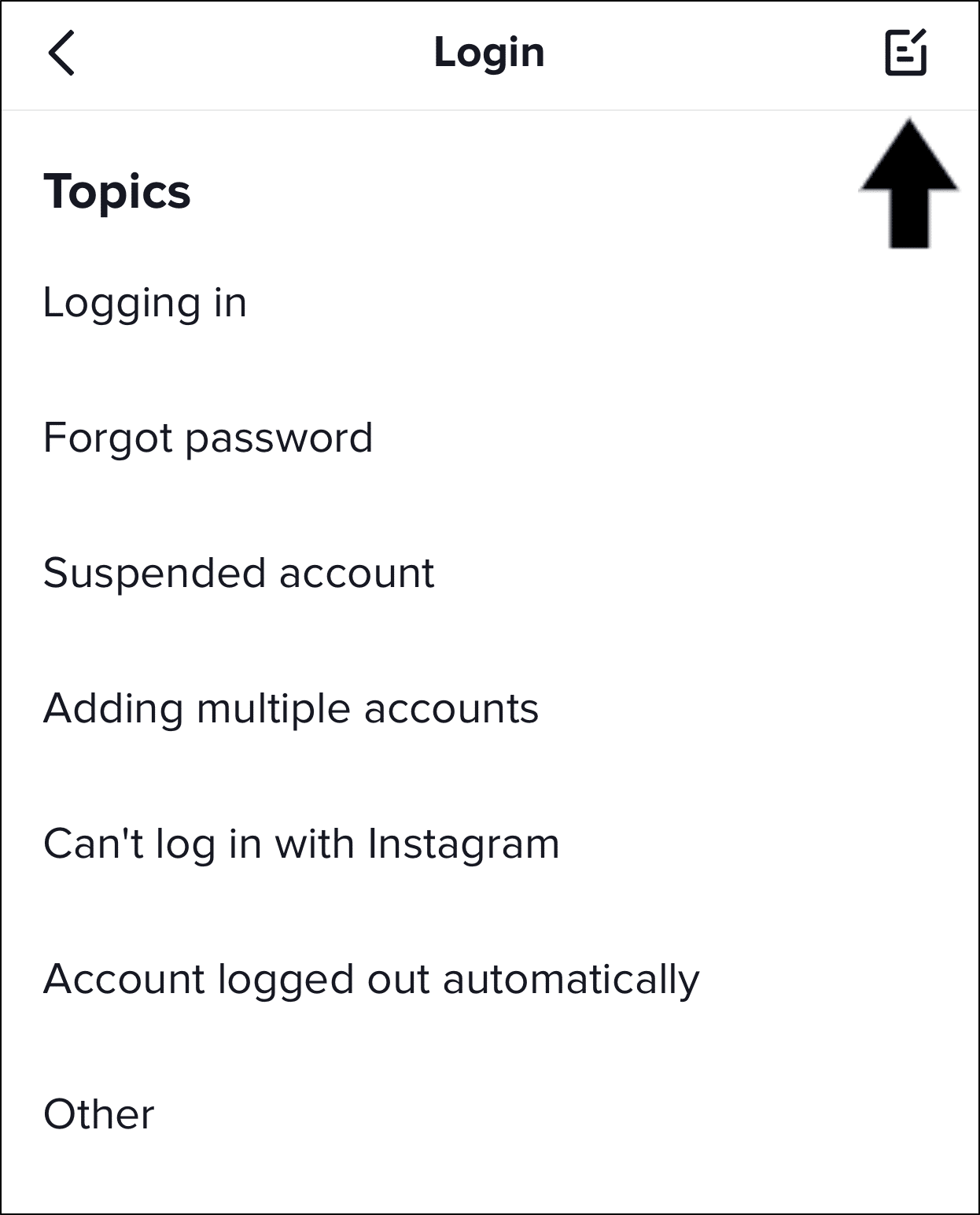 Next, select the notepad icon at the top-right again to create a new feedback form.
On this next page, briefly describe the TikTok login problem you're encountering. So, here you can mention details such as any particular error messages, when the issue began occurring, steps you've tried, etc. You can even paste a screenshot of the error to give them a better idea of the problem.
Finally, tap the Report button.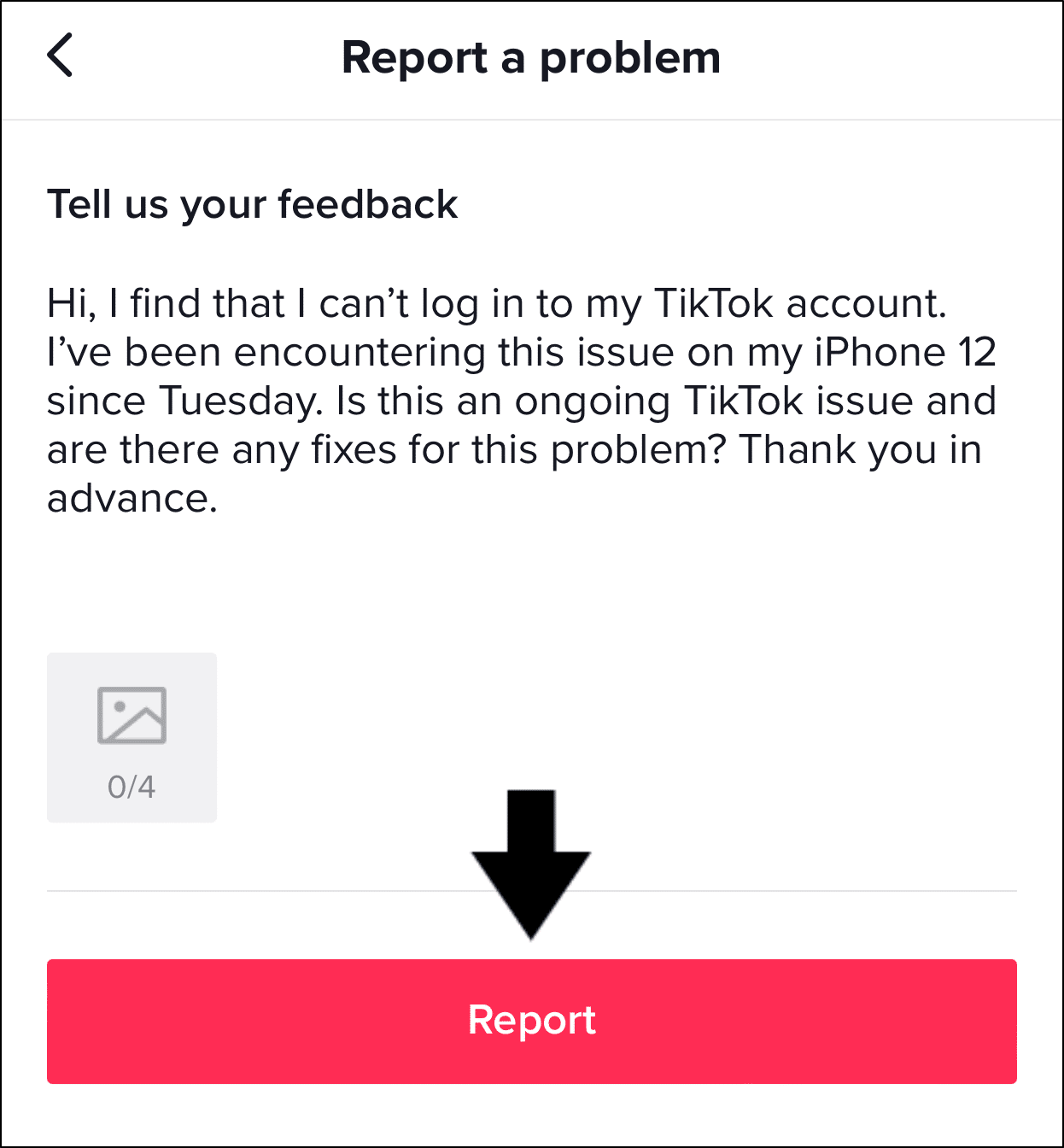 With that done, all that's left is to wait for TikTok support to get back to you. This can take up to a few days as they need to get through tonnes of other user reports. So, in the meantime, be sure to check your Inbox for any replies.
Conclusion
To sum up, we've presented you with 21 practical solutions to help you handle this TikTok login problem once and for all. With that in mind, hopefully, you'll be able to successfully log in to your TikTok account once again! 
If you find that these workarounds don't work right away, you should check to see if TikTok's servers are down (Step 8). Once TikTok is up and running, it should very likely function.
Additionally, feel free to check out our other TikTok guides to help you solve other problems you might be struggling with on the platform.
Check out our other guides covering similar issues for more fixes:
Finally, let us know in the comments:
Are you facing similar problems when logging in on TikTok? Share your experience in the comments below. 🤗

Did any of the above fixes help you solve the problem?

Have another useful fix for this TikTok

login error?

Is there anything else you believe we should address? It could be beneficial for a fellow reader.
Feel free to share this post with your friends and family who have encountered this TikTok login issue. 😊