Are you trying to open TikTok and find that the app suddenly keeps crashing, closing, not opening, responding or showing the "Stopped Working" error message?
Whether you're a content creator on TikTok or just an avid fan of the enormous library of entertainment you can find scrolling for hours on the app, we understand the hype. ✨
Impressive dance moves 💃, Creative DIY tutorials ✂, Or funny skits that you can watch for free 😆, Almost every kind of entertainment is available on TikTok, all catered to your preferences.
The video-sharing app has conquered the social media industry with an estimate of 2 billion downloads worldwide. You wouldn't want the fun to stop, right?
Unfortunately, TikTok has faced several technical issues including users occasionally reporting their TikTok app crashing, freezing or stopped working properly.
---
Types of TikTok App Crashing Issues
A common occurrence is the TikTok app crashing where users are forced to close the app abruptly. This often happens while users are trying to record a video causing them to lose the unsaved progress.

Other than that, users have reported that their TikTok app would have slow performance and freezes.
Have you experienced such issues? Let us know in the comments below!
---
Whether you're a content creator or just a viewer, we believe you wouldn't want to go a day without TikTok. We've got your back!
In this article, we've researched and compiled 3 major causes as well as 10 fixes you can try if you're experiencing the TikTok app crashing, closing, not opening or has stopped working properly.
Note: The steps in this guide cater to whichever device you're using to run the TikTok mobile app, mainly focusing on Android and iOS. You'll also find info regarding the TikTok web app for Windows and macOS.
---
Table of Contents
Why is Your TikTok App Crashing, Closing, Stopped Working or Not Opening?
10 Fixes for TikTok App Crashing, Closing, Stopped Working or Not Opening
---
Why is Your TikTok App Crashing, Closing, Stopped Working or Not Opening?
1. There is an Ongoing TikTok Server Outage
No app or software can escape technical issues such as the app not working as initially coded or bugs littering the app. If you find that you can't open TikTok without the app closing on its own or crashing, it could be an ongoing issue over on TikTok's end.
TikTok has a history of issues within its app.
This is evident when the hashtag #TikTokDown became a trend on Twitter in 2021. The trend was triggered by the TikTok app not working properly for the majority of users, which is why we recommend starting by checking the TikTok server status (Step 4).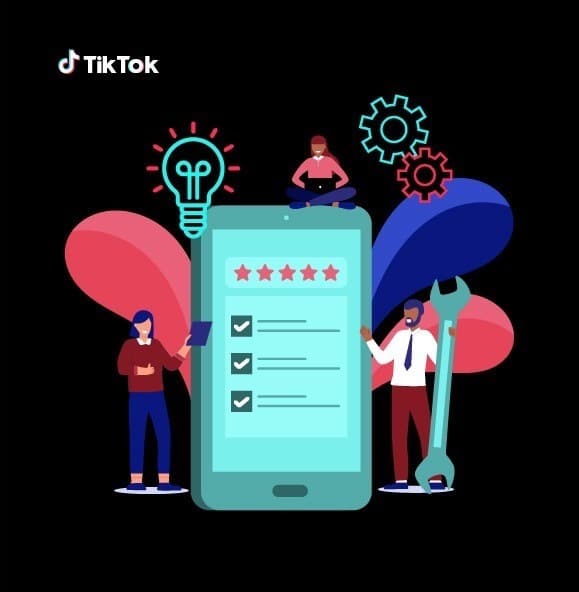 2. Your Device Has Insufficient Storage Space
An endless page filled with videos tailored to your preferences can take up a lot of your memory space to store cache and app data. Additionally, a device with insufficient storage space 💾 can disrupt and jeopardize other apps performance, not just TikTok.
Therefore, if your TikTok app suddenly keeps crashing or freezing, check your device storage and if you've received any notification that indicates your device is running out of storage. In such cases, you might be seeing the Storage Almost Full error message indicating that certain processes or system functions might be affected due to the lack of memory and storage space.


Therefore, it's important to free up internal storage space on your device, to allow the TikTok app to be allotted more storage space. For this, you can try to clear your device's storage by deleting unnecessary files and apps or clearing apps' cache and data (Step 7).
3. Your Device Has a Hard Time Running TikTok
TikTok, being an innovative video-sharing platform, demands a significant amount of resources from your device to function properly. As a result, older and lower-end smartphones may struggle to run the TikTok app smoothly.
In addition to limited storage, low memory (RAM) capacity might cause your smartphone to have trouble launching the TikTok app and keeping it running.
So, what can you do to use TikTok with limited resources to avoid the TikTok crashing or freezing issue?
You can look into a few solutions, including stopping other apps from running in the background when using the TikTok app (Step 5) or using the web version of TikTok (Step 9) as an alternative.
Also, you can opt to use the TikTok Lite app which is its mini version that demands way lesser resources.
This less demanding TikTok version requires minimal storage and memory (RAM) to run while maintaining the core features. Available only for Android devices, you can get the latest version of TikTok Lite via the Google Play Store.
10 Fixes for TikTok App Crashing, Closing, Stopped Working or Not Opening
1. Restart the TikTok App
First and foremost, we suggest restarting your TikTok app when it crashes, freezes or is not functioning and working properly. We understand the initial instinct when that happens is to close the app by rapidly tapping your back or home button.
However, it's important to restart the app or force stopping your TikTok app properly. By doing so, it'll help to refresh the app session and eliminate temporary glitches or app bugs.
The following steps are how you can restart and force stop your TikTok app, the methods are similar for Android and iOS devices.
Steps to Restart the TikTok App
First, go to your

Recent Apps

tab or

App Switcher

and remove TikTok.

Afterwards, you can

relaunch the TikTok app and see if the app is running without any issue.

Steps to Force Stop the TikTok App (For Android)
Start by long-pressing on the TikTok icon and select

App info.


In Teams' app info, simply select

Force stop.



Then,

relaunch

the TikTok app.
Note: Restarting your TikTok app is also crucial after every fix you try to implement changes and updates.
2. Reboot Your Device
Aside from the TikTok app, you can also try restarting your device. Essentially, this step ensures that all background processes that are running on your device is halted, thus, allocating more system resources, such as memory and computing power, for launching and running the TikTok app.
This also ensures the TikTok app progresses and runs smoothly, so that its operation isn't affected or stopped midway through, leading to crashing or freezing issues.
That being said, the steps to reboot your device is generally similar regardless of whichever device you're using, and this involves turning off and turning on your device again. Nonetheless, you can follow the steps below for specific steps for your device:
For Android
Press and hold the power button until the restart or power off option appears. Tap the Restart option, and you are all set!
For iOS
Press and hold the volume up and side button until the power off slider appears. Then, drag the slider and wait 30 seconds for your device to turn off. To turn your device back on, press and hold the side button (on the right side of your iPhone) until you see the Apple logo.
3. Test Your Internet Connection
The TikTok app requires a stable Internet connection as multiple videos on your FYP are pre-loaded. This allows you to scroll through endlessly while the TikTok app is concurrently loading its features, so the videos are less likely to appear as if its buffering or freezing.
Low speed and high latency isn't the combination you would want to surf on TikTok as interrupted data retrieval results in the TikTok app crashing, freezing, or not working properly.
Therefore, we recommend doing a quick Internet speed test to determine whether it's the cause of the issue. We highly suggest visiting Fast.com which will swiftly provide a detailed result of your Internet connection analytics.
If you notice that your Internet connection isn't performing at its usual speed, here are some ways to optimize your mobile device's Internet:
Turn on Airplane Mode ✈ and then disable it

Switch between a mobile data and Wi-Fi connection

Forget and reconnect to your Wi-Fi connection
Alternatively, you can install the TikTok Lite app that's available on the Google Play Store for lesser data usage.
4. Check the TikTok Server Status
As we've mentioned before, TikTok has its own fair share of server outages and downtimes. So, the issue of the TikTok app crashing, freezing or stopped working properly could possibly be attributed to a problem on their end. In such cases, multiple users may be experiencing and reporting similar problems with their TikTok app that keeps crashing on launch.

On that note, a good way to check the server status of TikTok is by visiting Downdetector's page for TikTok.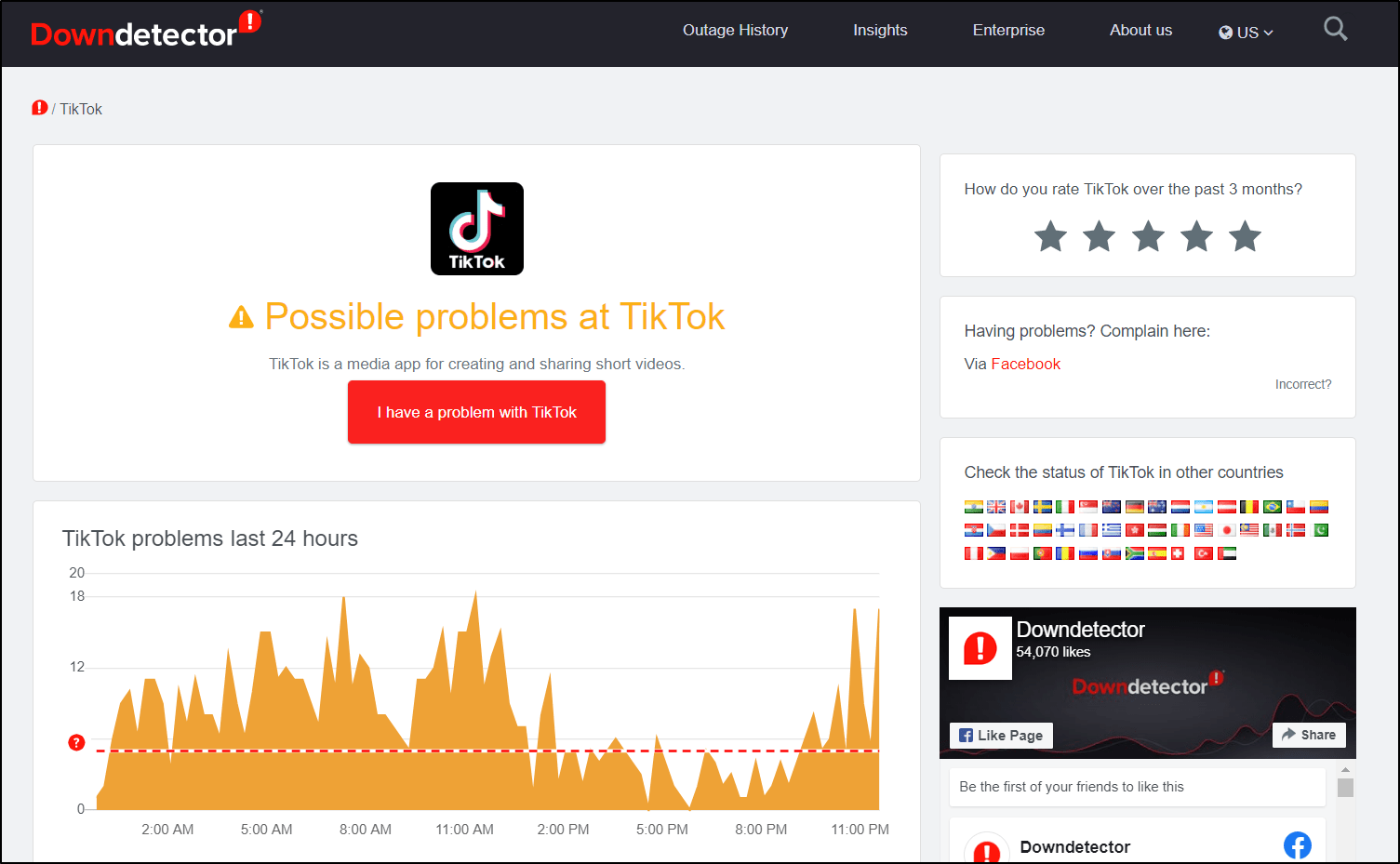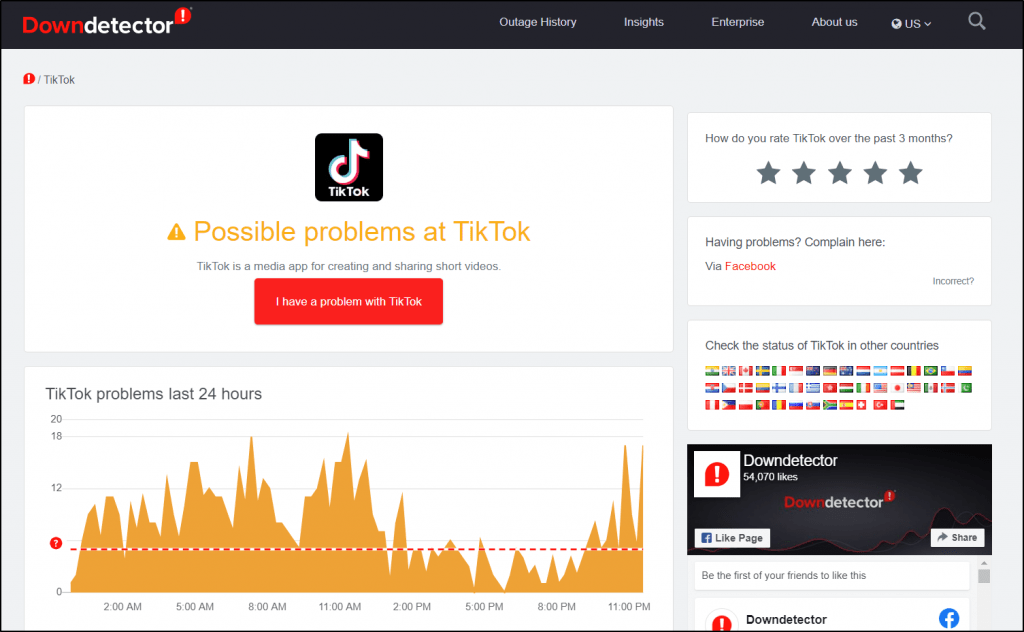 Apart from the huge display of TikTok's server status, you can also view the comments section and live map tools to investigate if other users, especially those in your area, are experiencing the same problem.
If the TikTok server is confirmed to be at fault, you can either wait it out or submit your own report to the TikTok support team (Step 10).
Although this is a rare case, we recommend that you ensure the server status first before proceeding with other fixes that are more device and app-related.
5. Close Running Background Apps
We've laid out a few possible reasons that could make your TikTok app crash, freeze or not work properly and this time, your device could be at fault. Earlier, we've mentioned how low storage and memory (RAM) can affect the TikTok app's performance, especially with new features and updates rolling in.
As you may know, every app requires occupying a certain amount of memory (RAM) to run smoothly and the TikTok app is reported to demand more memory (RAM) compared to other apps.
If you believe that's the case, we recommend closing other running background apps by deleting them from your Recent Apps or App Switcher. This way, there'll be more room on your device's memory (RAM) that's allocated for the TikTok app. 😎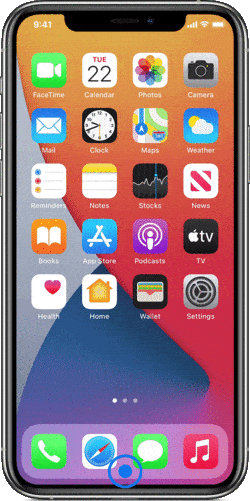 6. Update the TikTok App
App updates are significant to improving app performance, adding new features and most importantly, bug patches 👾.
Hence, if you notice your TikTok app crashing, freezing or stopped working properly, you might need to update your TikTok app version. By doing so, you'll get the latest version of the app and the issue could've been solved in a recent patch.
On that note, you can follow these steps on either Android or iOS devices to check and install pending updates for the TikTok app:
Firstly, navigate to the

Play Store

(Android) or

App Store

(iOS) and search 🔎 for TikTok.

Next, click on the installed TikTok app to go to its

app info page

.

From here, you can see if there are updates available and tap on

Update to proceed.

Once the update is installed, launch your TikTok app and see if the app is finally back to functioning normally again. If not, we still have a few fixes you can try, so don't give up or you'll miss all the fun stuff on TikTok. 💪
7. Clear the TikTok App Cache and Data
Moving on, your TikTok app crashing issue could be due to inherent app glitches. The major culprit for app glitches is overloaded and misconfigured cache data 🗃. Like for other apps, TikTok saves cache data to enhance app performance as well as fueling its algorithm in choosing content best suited to what you've shown interest for.
But, this cached data would accumulate and become outdated over time. The solution for such a matter is to clear the TikTok app cache 🗑 and data files.
There are 2 methods to clear the TikTok app cache that you can perform by following these steps:
Through the TikTok App Settings
TikTok has made it simple to clear the cache within the app settings. To take advantage of this feature:
First, click on your profile icon or the

Me

tab from the bottom bar.

Then, enter the app's

Settings

by pressing the three-dotted

menu

icon in the upper-right corner.

Finally, at the very bottom, select

Clear cache.

Through the Device's System Settings (Android)
For Android devices, you can also thoroughly erase the TikTok app cache and data through your device's settings:
To begin, open the

Settings

app and select

Apps & notifications

.

From the applications list, choose

TikTok.



Next, select

Storage & cache.


Finally, proceed to

Clear Cache

, followed by

Clear Data.

8. Reinstall the TikTok App
Furthermore, you can opt to reinstall the TikTok app to wipe its cache and data entirely. Besides that, by doing so you'll get to thoroughly clear junk data files and retrieve a fresh new updated copy of the app. The process implicates uninstalling the app from your device and proceeding to install it again.
For most Android or iOS devices, here are the simple steps you can follow to reinstall the TikTok app:
First, navigate to your device's

selections menu and

long-press

the TikTok app to

uninstall

it or do so via

Settings

.

Now, click on

Uninstall

or

Remove app.



Afterwards, you may choose to restart your device, then go to your

App Store

or

Play Store

to

reinstall

the TikTok app.
Essentially, this is the final feasible device-related fix you can try when you have the TikTok app crashing, freezing or stopped working issue.
However, if none of the fixes has worked, we suggest you proceed to try the web version of TikTok (Step 9) or immediately contact TikTok Support (Step 10).
9. Use the Web Version of TikTok
Several aspects are considered when it comes to issues with the TikTok app. Needless to say, it might be frustrating to learn that nothing you tried has worked 😢. Whether the TikTok app is having an unresolved bug or your device isn't running the TikTok app as it should for several reasons, there's another alternative you should try.
Therefore, if you're experiencing problems with the TikTok app, in this case, where it keeps crashing or freezing, we recommend substituting to the web version 🌐 of TikTok. For this, you may search for TikTok.com via a native browser app 📱 or a desktop web browser 💻.
Escape the limitations your phone may have in running TikTok by using a native web browser app to log in and access the platform. Don't worry, all the features on the TikTok app will also be available.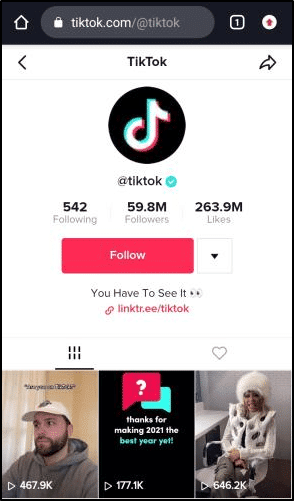 Of course, TikTok is best suited for mobile use. Nevertheless, you might want to try using another device or a desktop web browser to visit TikTok.
The TikTok app and its web version are in sync, however, there may be occasional app issues or device limitations that you may avoid by using the latter. Also, any new updates or bug patches are automatically integrated into the web version.
10. Contact TikTok Support
Suppose you've determined that your app is up-to-date and there's nothing wrong with your device but the issue of the TikTok app crashing or freezing persists. You might feel like giving up at this point. 🏳
However, fret not, the TikTok developers team 👩‍💻 have got your back!
In the end, you may be trapped in the same position and require a comprehensive solution from the TikTok team themselves.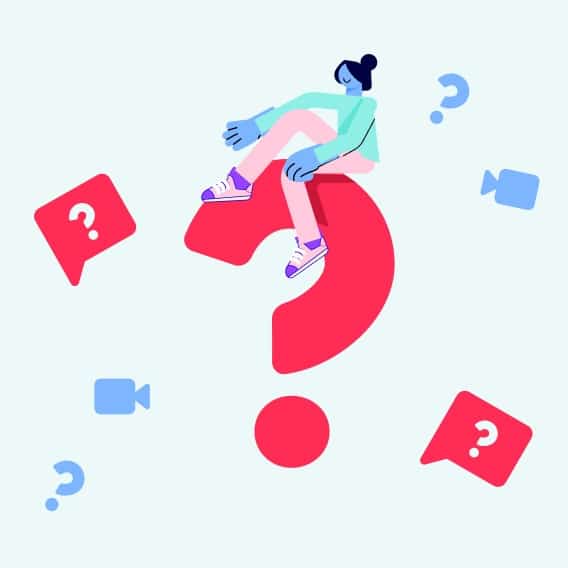 So, you may get in touch with them by following these steps:
To begin, click on

Me

from the bottom bar followed by the

menu

icon in the upper-right corner to enter the

Settings.



Next, under

Support

, select

Report a problem.



From here, click on the

feedback form icon to submit your TikTok app issues.



Finally,

describe the issue

you're having in the given box before pressing

Submit

.
Once the report is submitted, it should be sufficient to wait for a few days before you can expect a reply.
Let's say you found that other users are reporting similar issues after following step 4, then you don't have much to worry about and simply wait for new updates from TikTok Support via their official Twitter page.
Conclusion
Overall, there are several reasons that could result in the TikTok app crashing, freezing or stopping. In this article, we've discussed how it could be a server-side issue, an ongoing app bug or a device-related problem.
No matter which one is the culprit, we understand your frustration when the only thing you want to do is watch your favorite content creator or perhaps your TikTok followers are waiting for new posts from you. 😕
In order to get you back into the entertaining TikTok world, we've done some research 👨‍🔬 and dug around for the best answers to this issue. As a result, you'll find our compilation of 3 major causes and 10 possible fixes for when your TikTok app keeps crashing, closing or not working properly.
Similarly, feel free to check our other TikTok articles to help you with any other problems you may be currently experiencing with the app.
Don't let the issue dishearten you, there's always a way to get you back to TikTok-ing! 🤳
Finally, feel free to share with us in the comments:
Are you facing similar problems with the TikTok app?

Did any of the above fixes help you solve the problem?

Have another useful fix for issues running the TikTok app?

Is another TikTok problem or question that you need help with?
Don't keep the fun to yourself, share this guide with those who are encountering a similar issue! 📫