Are you stuck with the Instagram "Something Went Wrong" or "Try Again Later" error messages?
Are you trying to show off your OOTD or life updates on the gram 📸, but some error message boxes keep coming in your way?
Unfortunately, there are some issues you may encounter while using Instagram and they could halt you from interacting with others and posting your content.
One of the major issues users have reported is a couple of error messages that wouldn't settle even after refreshing their Instagram app. Plus, these errors may not always be due to their Internet connection.
That being said, there are a couple of major error issues that have reportedly prevented many users from accessing Instagram's full features:
---
Types of Instagram Error Problems
"Something Went Wrong" is a common error message reported by Instagram users.
This issue usually occurs when users log in, make changes to their profile or publish new posts.
a) "We're sorry, but something went wrong. Please try again" error when logging in to Instagram. For more fixes to resolve the login problems on Instagram, check out our other guide here.
b) "Something went wrong. Please try again" error when publishing posts or stories on Instagram. Feel free to check out our other guide to solving Instagram story upload problems here.
c) "We're sorry, but something went wrong. Please try again." error when viewing Instagram Reels. For a more comprehensive guide in fixing Instagram Reels problems, check out our other guide here.
d) "We're sorry, but something went wrong. Please try again." error when refreshing feed and loading posts.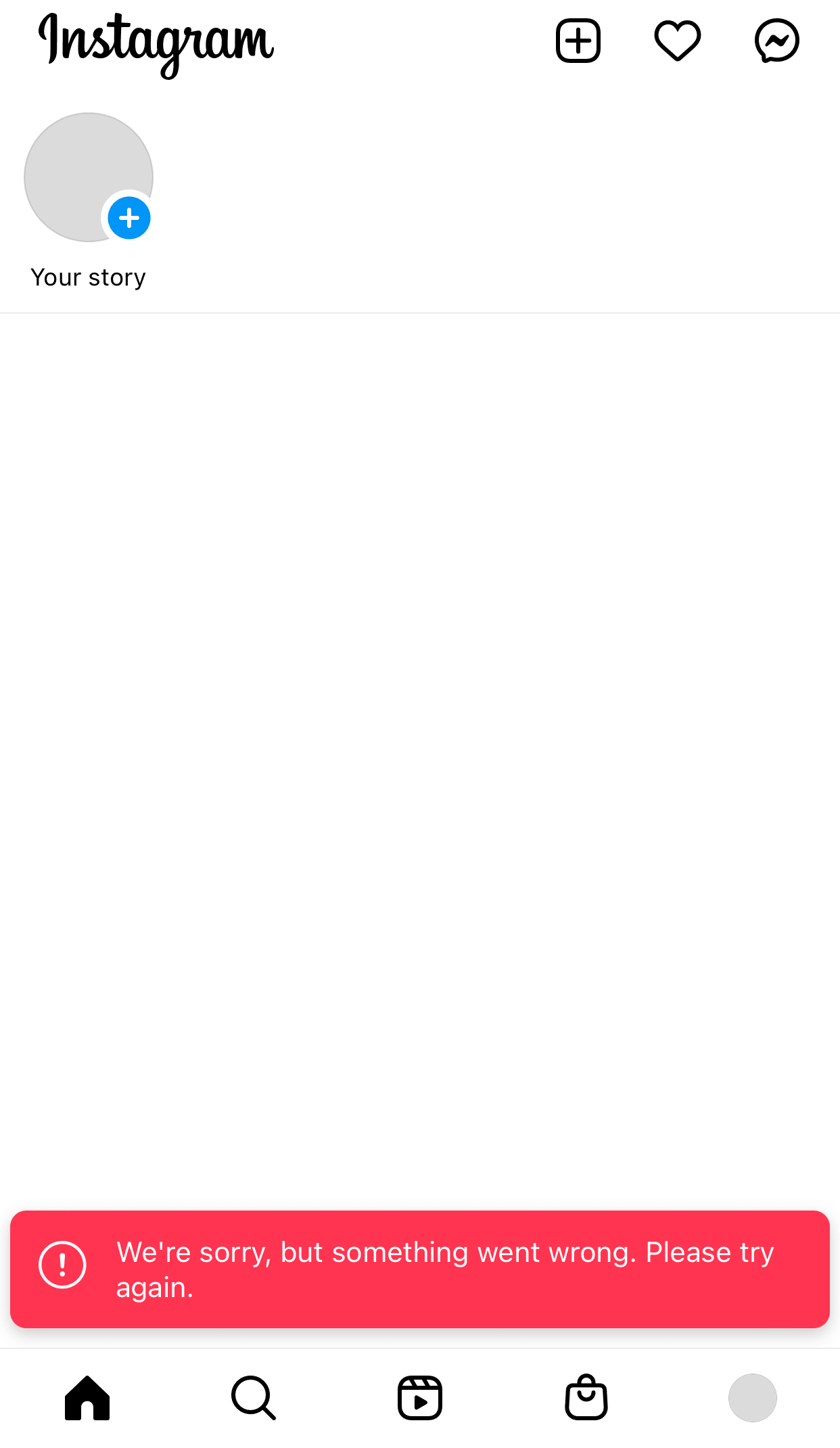 e) "We're sorry, but something went wrong. Please try again." error when viewing the Explore page or using the search function.
f) "We're sorry, but something went wrong. Please try again." error when viewing the Shop page on Instagram.
Unfortunately, this error is often caused by the Instagram app's technical problems while occasionally caused by Instagram server issues.
Other than that, the "Try Again Later" error message is often associated with the activities and interactions you've made on your Instagram account.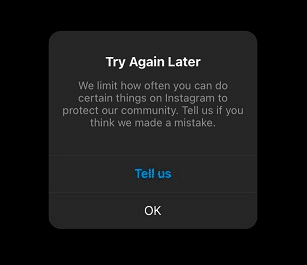 So, if Instagram finds that you've either violated their set of guidelines or associated your account with suspicious activities, this error would be something you should expect to see.
That being said, did you spot a similar error when using Instagram? Feel free to share your experience in the comments!
---
On any platform on the Internet, bots 🤖 and users who use harmful tools to their advantage are like uninvited guests that just won't stop. With over 1 billion active users, Instagram is not an exception to this issue.
As a way to conquer this problem, Instagram has implemented multiple types of blocks to eliminate these kinds of users. But, this system may mistakenly take effects on you even though you're not a bot or some fake account asking for credit card credentials.
To eliminate these threats, Instagram has been implementing updates that introduce more types of blocks. The "Try Again Later" error message shows that they've possibly taken actions against your account. With that said, these error messages haven't been thoroughly explained as users can still get them even if they haven't done anything wrong.
Nonetheless, we've gathered the 12 best fixes that can help you combat these errors and get back to posting as soon as possible. 😎
Don't keep your followers waiting, let's get to fixing!
Note: This guide provides pictures and steps taken from the Instagram app or website on Windows, macOS, Android, iPhone and iPad.
---
Table of Content
12 Fixes for the Instagram "Something Went Wrong" or "Try Again Later" Errors
---
12 Fixes for the Instagram "Something Went Wrong" or "Try Again Later" Errors
1. Check the Instagram Server Status
The most crucial factor to check when error messages such as "Something Went Wrong" or "Try Again Later" keep popping up on Instagram is the social media platform's server status.
A major social media platform like Instagram has its own occasional downtime which causes the app's features to stop working and get the said error messages. Therefore, checking the Instagram server status is important to determine whether the issue needs fixing on your end or the opposite.
To do so, we recommend that you visit DownDetector's page for Instagram to monitor its current server status.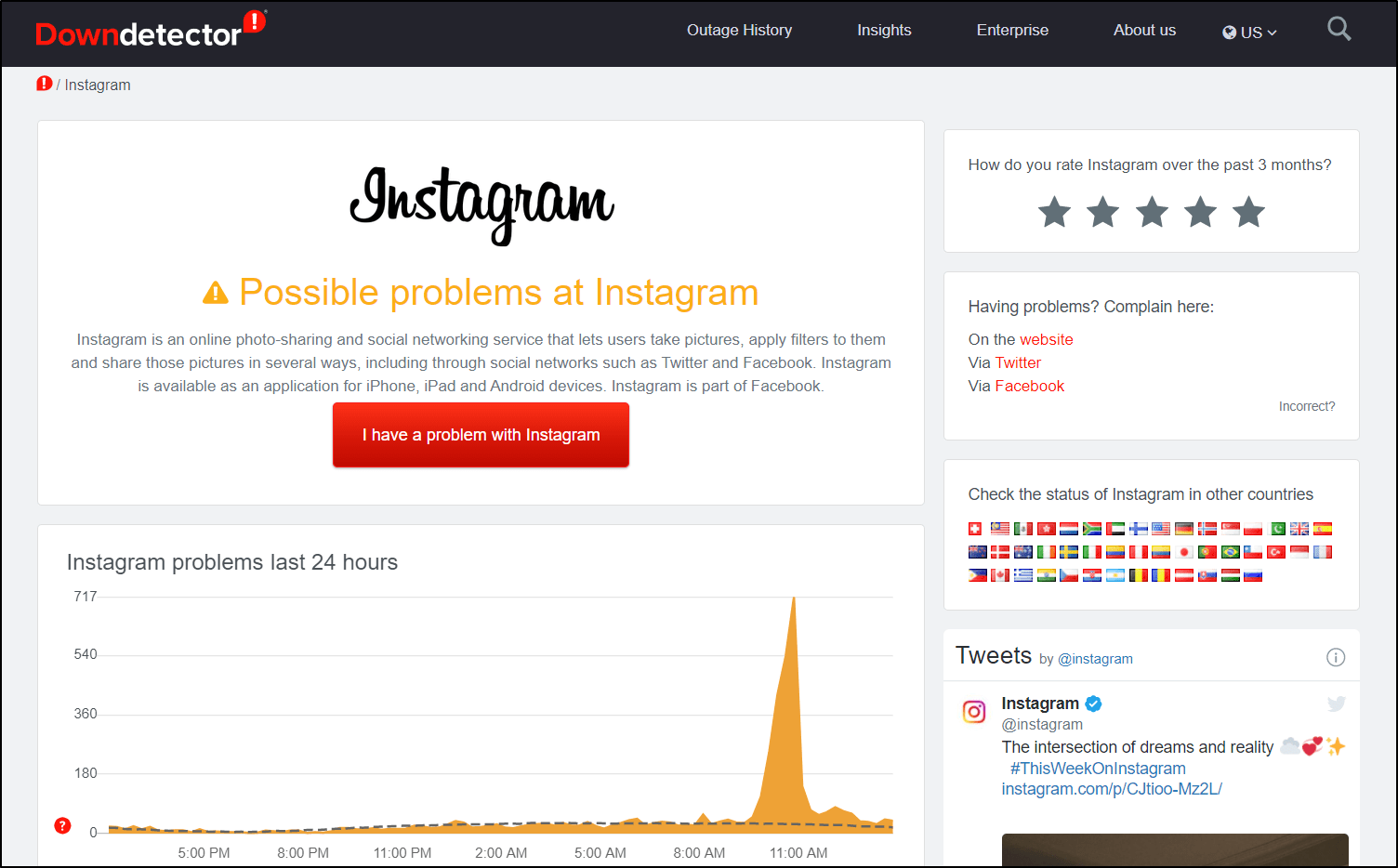 Not only will you get to check if the Instagram server is experiencing downtime, but you can also use the comments section and live map tools on DownDetector to check on issues faced by other users as well as the regions affected.
Let's say there's a server outage reported for Instagram, the only solution is to wait it out while the Instagram developers team 👩‍💻 work to bring the server back up.
You may proceed with the next fixes if it's not a server issue.
2. Restart the Instagram App or Refresh Your Web Browser
Moving on, it's crucial that you refresh the Instagram app or its web page so the fixes you've done will be properly applied. Plus, it ensures to refresh your session with the Instagram platform, so you can resolve any temporary issues or internal errors that were present in the previous session. Hence these errors could be a result of an issue with your previous session with the Instagram platform.
Restart the Instagram App
At first, you might've tried this as it's a simple step to do when you encounter an app bug or glitch, but there's a more effective way to force stop the Instagram app.
The following is a simple two-step procedure for restarting the Instagram app on your mobile device:
First, completely

close

the Instagram app. Remove it from your

Recent Apps

or

App Switcher

to accomplish this.

If you're using Android devices, you can

Force Stop

the Instagram app through your

Settings

app.

Then, from your homepage,

reopen

the Instagram app.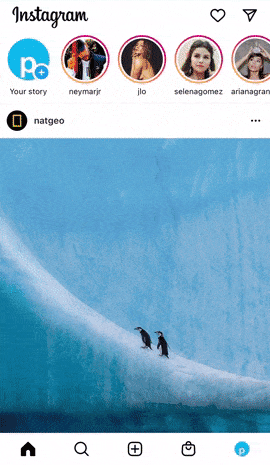 Refresh Your Web Browser
Similarly, we suggest that you hard refresh your web browser when you're using Instagram on a desktop device to properly apply the previous fixes. Additionally, refreshing your web browser also helps to clear minor cache and overloaded data on the Instagram page.
To perform a hard refresh on Windows, press the Ctrl + F5 keys simultaneously at the Instagram page. Most online browsers, including Google Chrome, Mozilla Firefox, Opera, and Microsoft Edge, recognise this key combination or hotkey.

For Safari and other web browsers on macOS, hold down the Command + Option + R keys at the same time.

3. Check Your Internet Connection
Apart from making sure the Instagram server is not having any issues on their end, it's important to check your Internet connection.
An unstable Internet connection can halt app operations as the Instagram app needs to connect to its server and download the necessary data.
Subsequently, this will lead to the Instagram app not connecting and showing Instagram "Something Went Wrong" and "Try Again Later" errors.
Therefore, we suggest testing your Internet connection to determine its speed and latency, which you can do so via Fast.com.
Presumably, there's an apparent fluctuation in your Internet connection with poor speeds or latency. What can you do to quickly fix this?
Well, here are 3 methods you can do to reset your Internet if you're using Instagram on its mobile app:
Turn on Airplane Mode ✈ and then disable it

Switch between a mobile data and Wi-Fi connection

Forget and reconnect to your Wi-Fi connection
Generally, if an unstable or weak mobile internet connection is causing this issue, these solutions should fix it. If the problem persists, you can go on to the next fixes in this post.
4. Try Logging in Via Facebook
As we've said before, these error messages on Instagram are rather vague and leave you wondering what exactly is wrong. Well, if you get an error message while trying to log in to your Instagram account that says "Something Went Wrong", you might want to try another log in alternative.
Apart from logging in using your Instagram credentials, you can also try to log in to your Instagram account via Facebook.
If you have linked your Instagram account to Facebook before, this should fix the error and let you sign in immediately. However, if this isn't the case, you can try Step 4 if you still can't get past the login page.
5. Reset Your Instagram Account Password
It's understandably frustrating when you simply can't log in to your Instagram account. 😓
Perhaps you believe you've typed in the right username and password and the error is purely on Instagram's end, but it could be an error within your account.
Thus, we suggest that you reset your Instagram account password, as many users have reported this method to resolve the said issue successfully.
For this, you can follow these steps to request a password reset:
Firstly, click on the

Forgot Password button at the bottom of the login page.

Then, enter the username, email or phone number that you used to register your Instagram account.


Afterwards, check your

email inbox

and you should see an email from Instagram with a verification link that'll lead to a password reset page.
Now, you can try logging in to your Instagram account and see if you still get the same error. In case you do, we still have other fixes for you to try.
6. Remove the Link on Your Profile Bio
Instagram has a clear set of guidelines to protect users from dangerous, discriminative and inappropriate content.
From there, those who violate the guidelines risk losing access to their account either temporarily or permanently. This rule applies to every feature on Instagram, including your profile bio and website link.
As Instagram is expected to hit 2 billion active users by 2023, the system is littered with spammers, bot accounts 🤖 and those who try to go the extra length for attention. Furthermore, Instagram prohibits certain third-party websites, especially those that help you gain followers or boost your posts with bot accounts.
Hence, you might get Instagram "Something Went Wrong" and "Try Again Later" error messages when your account is found unsafe and possibly taking advantage of said websites.
Therefore, we recommend that you determine whether the link you've attached to your profile bio is safe and trusted.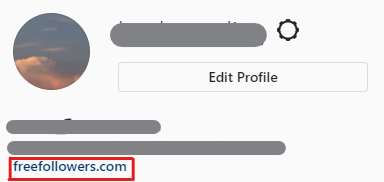 If you believe so, it's still worth trying to remove the link on your profile as the website may have been reported to Instagram as violating its guidelines.
7. Delete the Draft of Your Post and Recreate
As stated previously, the "something went wrong" error often comes up when users try to make a new post. While there's no clear explanation as to why this happens, it's best not to waste your time trying to repeatedly click the "Post" button if you keep getting the same error.
We understand the amount of time and effort put in crafting the perfect Instagram post, but sometimes it's better to delete the draft and recreate it than waiting for Instagram to tell you what's wrong.
Don't worry, keep the immaculate captions on your Notes app to use after you've done recreating the post! 😉
8. Clear the Instagram App Cache and Data
Error popups that indicate "something went wrong" or "try again later" might well be caused by the Instagram app's bugs or glitches 👾. So, the major factor that could malfunction an app is outdated or misconfigured cache data.
Essentially, cache data aids Instagram's algorithm to identify your preferences as well as to improve the app for lower loading and processing time.
However, as the cache data piles up over time, they're prone to become corrupted, leading to app bugs that prevent the app from working properly. 🤕
Therefore, we suggest that you clear the Instagram app cache and data and, which you can do so through the following steps for Android devices:
First, launch the

Settings

app.

Then, tap on

Apps & Notifications

.

Afterwards, select

Instagram from the app list.


On the Instagram

App info

page, tap on

Storage & Cache

.

Finally, select

Clear Cache

followed by

Clear Storage.

9. Reinstall the Instagram App
In continuation to the previous fix, reinstalling the Instagram app is considered to be more effective as it'll wipe out the app of its entirety from your device. This includes leftover cache and junk data files.
Also, the option to clear app cache is not available for every device, namely iOS devices that only allow you to uninstall the app you intend to clear its data of.
Hence, we suggest that you try reinstalling the Instagram app if the error messages keep bothering you. You can do so by uninstalling the app and installing it once again as you can see below:
To begin,

long-press

on the Instagram app for the selection menu or go to

Settings

.

Then, choose

Uninstall

or

Remove app.


After that, you can either

restart your device

or directly go to your device's

App Store

to install the Instagram app.
Additionally, reinstalling the Instagram app will help to retrieve the latest updates that you haven't acquired before.
This is the final step that you can do if you think the issue is related to your Instagram app. If you still encounter the same error after trying all the fixes, we suggest that you try to use other ways to go on Instagram without using the app (Step 9).
10. Try Using Instagram on Another Device or Web Browser
Another way to get around the issue of error messages popping up on Instagram is to hop on another device or use its web platform.
The web version of Instagram has no apparent difference from its mobile app and you can access the same features on both platforms. However, the web version is usually free of errors that you might find on the app as updates are directly integrated without having to manually install any. Moreover, the web version of Instagram wouldn't be directly involved with corrupted data or outdated software.
This further makes it a good alternative when you need that daily dose of Instagram but are bombarded with error messages.
Hence, we recommend that you visit Instagram on its web platform by searching for instagram.com on a native browser app (Google Chrome, Safari).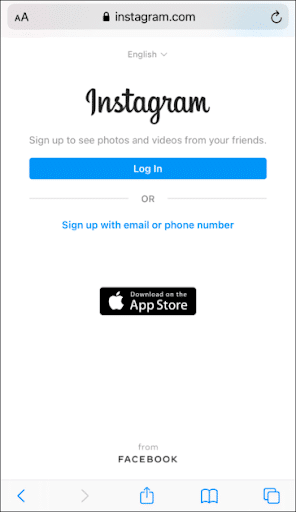 Besides that, you can also switch to a desktop device 💻 to visit the same link via a web browser of your choice. Most web browsers such as Google Chrome, Firefox and Edge are support access to Instagram's web platform.
Previously, there were some limits to the functions of Instagram on its web platform but good news, you can now make Instagram posts from your desktop as well! 🥳
11. Temporarily Deactivate Your Instagram Account
If you've tried all the fixes we compiled, this is yet another solution that's left that could help you to resolve the issue. Although it's rare, Instagram users have reported that temporarily deactivating their Instagram accounts has helped in fixing various issues on the social media platform.
We consider this as one of the final solutions, you can try to deactivate your account temporarily. It may sound like a huge deal but your account will remain the way it was.
Hence, we suggest that you do this by following these steps:
First, go to the Instagram website on your web browser.
Then, head to your profile page, by tapping your profile picture icon at the bottom-right.
Here, select Edit Profile.

At the bottom, select Temporarily disable my account.

Next, answer the following questions and click the Temporarily Disable Account button.
Finally, wait a few hours or a day, then try logging back into your Instagram account. Doing this will reactivate your account, and it'll become visible again.
Your Instagram account is now out of reach from the public but every data remains. From here, you can choose to wait or straight ahead reactivate your Instagram account to check if you still get the same error messages.
Note: You can only temporarily disable or deactivate your Instagram account via a mobile or desktop web browser.
12. Report the Error to Instagram Support
Maybe you've tried every fix under the sun and you've given up 🏳 because you're still stuck with the same errors, preventing you from posting your content, viewing others' or even logging in to your account!
Well, Instagram is a leading platform and they care about you. So, don't feel discouraged yet as you can always directly reach out to them through Instagram Support.
For this, you can proceed by submitting a report to Instagram Support regarding the errors bothering you. To do this:
First, go to your Instagram profile and click on the

Settings

icon for more options.
Then, select

Report a Problem

from the list of options.
Finally, briefly

describe the issue

you're facing and click

Send Report

. You may attach screenshots of the error messages you've been getting.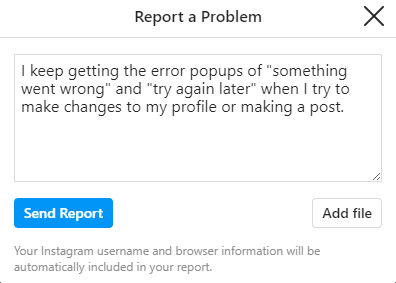 The final thing you can do is to wait for a response from the Instagram Support team. While their reply might not be prompt as they cater to numerous issues, we recommend that you occasionally try all the previous fixes again, just in case. 😉
Conclusion
Instagram is the leading social media platform for sharing updates among friends and as a business platform and creative outlet. You wouldn't want to miss out on the updates from your favorite Instagram accounts as well as posting your own content.
For that reason, we understand why it could be such a mess when the Instagram "Something Went Wrong" and "Try Again Later" error messages just won't disappear. 😞
That's the reason why we've compiled 12 fixes for you to try when you're faced with these errors as we don't want anything to hold you back from enjoying the Instagram world!
If you encounter any other technical issue, visit Pletaura.com to find the perfect fix from our array of articles. Need more? Kindly leave a comment, and we will be happy to assist you. 👼
Lastly, let us know in the comments:
Are you seeing the same Instagram "Something Went Wrong" and "Try Again Later" errors?

Which device are you using for Instagram?

Did any of the above fixes work for you?

Is there another fix that you think we should add to the list?
Share this guide with your followers so they don't struggle with the same errors! 😃