Are you on TikTok and find that there's no sound even though the video is playing perfectly or the audio seems out-of-sync? Maybe you're trying to record a TikTok video but the sound isn't working or TikTok isn't detecting your microphone? 
TikTok is undeniably a phenomenal video-sharing platform, with over 2 billion downloads worldwide!📈
TikTok is currently the ultimate video-sharing social network that allows you to create and share short videos, now with up to a 3-minute limit. The app caters to your preferences in serving the kind of videos you like, from impressive dance moves 💃 to artistic clips. 🎨
As the famous saying goes, the TikTok algorithm knows best. ✨
As TikTok is a video-sharing app, one of the most crucial aspects of its content is the audio. 🔊
Imagine watching your favorite TikToker's dancing videos but you can't hear the audio, or even worse, the video and audio aren't in sync! It sounds like a disaster, we understand the frustration if you're facing this issue. 😣
Also, some content creators have reported that the video they've spent hours editing doesn't produce any sound or the TikTok app simply doesn't detect the audio from their microphone when recording. 
These are a few of the annoying audio-related issues you might've encountered on the TikTok app. However, we're not going to let the fun stop as there are 14 fixes you can try to tackle them. 
So, let's get into it!
Note: The steps in this guide cater to the TikTok app for Android and iOS devices.
---
Table of Contents
Why Do TikTok Videos Have No Sound, or the Audio or Microphone Aren't Working?
14 Fixes for TikTok Videos Having No Sound, or the Audio or Microphone Not Working
---
Why Do TikTok Videos Have No Sound, or the Audio or Microphone Aren't Working?
1. The Audio or Sound is Copyrighted
TikTok doesn't offer music streaming services but it sure is a place to share your immaculate music taste. 🎶
You can choose and use any audio from the Sound library — a library of music that ranges from classics to newly released bops. But, what if you're using another video editor to create your TikTop videos, which means you're using songs from an outside source?
Here's the downside, TikTok detects copyrighted ⚖ songs or audio when they're not authorized for use in TikTok's video creator studio. Hence, if you've inserted a copyrighted song or audio in your video, there's a huge chance you're not going to hear it even though the video is published. Similarly, this could be why you can't hear the audio on some TikTok videos.
It's best to use the audio in the TikTok Sound Library to avoid copyrighted media, which otherwise will not only defect your content but also risk your account getting suspended or shadowbanned. 👻 
2. Problems With Your Output And Input Audio Device
A few major factors could lead to the audio issues you encounter on TikTok. With that said, it's crucial to ensure that your hardware audio devices don't have any issues as it plays a vital role in determining the root of your TikTok sound problems.
Firstly, if you can't hear any audio on TikTok although the videos are playing perfectly, we suggest you check on your output audio device. 
We recommend that you test the functionality of your output audio device 🎧 or speakers by opening other apps, such as YouTube and seeing if you have the same audio issues.
Other than that, you might have trouble hearing audio on TikTok because your device is connected to another output audio device. So, we suggest taking a look at your list of connected Bluetooth devices. You might've even forgotten about the connected pair of earbuds! It happens. 😋
Nonetheless, the issue with TikTok not recording your voice could also be caused by a hardware problem. We recommend testing your microphone using another camera or voice recorder app to ensure it's not faulty.
14 Fixes for TikTok Videos Having No Sound, or the Audio or Microphone Not Working
1. Test Your Internet Connection
A stable Internet connection is compulsory for a smooth experience on TikTok as it requires a significant amount of data and download speed to load the reel of videos on your For You page. 
Therefore, audio issues potentially caused by a fluctuating Internet connection can occur to both the viewer and creator. 
For instance, you might find that the video you're watching has loaded without its audio or it's too laggy that the audio isn't in-sync with the video anymore.
Meanwhile, an unstable Internet connection is certainly a TikTok creator's biggest enemy as it can cause errors in finding and choosing a Sound. Other than that, the Duet feature especially requires an uninterrupted connection to load the original video without any error in the process. 
Hence, we suggest that you take the first step in fixing the audio-related issues you encounter on TikTok by testing and improving your Internet connection. 
To do so, we recommend Fast.com for comprehensive analytics of your Internet connection.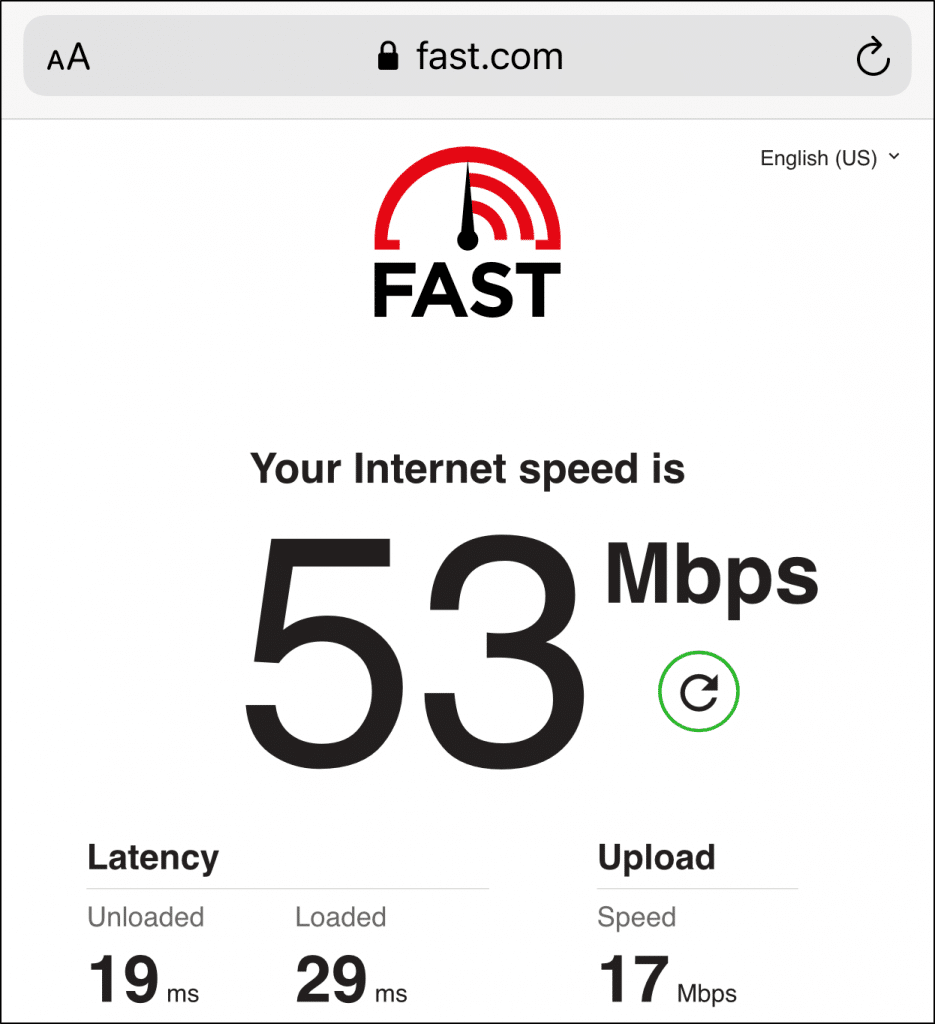 If the result shows that your Internet connection is currently fluctuating, there are a few steps you can take to improve it:
Turn on Airplane Mode ✈ and then disable it

Switch between a mobile data and Wi-Fi connection

Forget and reconnect to your Wi-Fi connection
So, do you find that a weak Internet connection doesn't cause the problem you're facing or it has improved, but the audio issues remain? There are still more fixes you can try, and we'll provide detailed guides for you to follow.
2. Restart the TikTok App
Perhaps there's nothing wrong with your Internet connection. In that case, next we suggest a few hardware fixes and we'll start with rebooting the TikTok app.
We believe this is the first thing you'd do as an attempt to combat app glitches. It's easy, just relaunch your TikTok app, by removing it from your Recent Apps or App Switcher.
However, to eliminate all background processes of the app, there's a way to force stop the app for Android devices. This action helps to hard restart the TikTok app especially when you're facing major app glitches which lead to audio-related problems. 
If you're using Android devices, you can

Force Stop

the Instagram app through your

Settings

app.
Then, from your home page,

reopen

the TikTok app.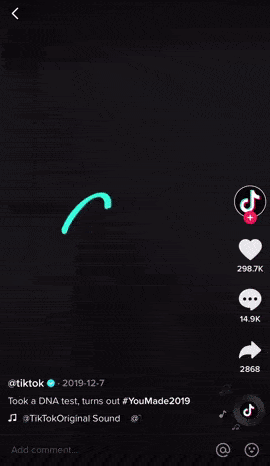 3. Disconnect Any Wireless or Wired Headphones and Switch Off Bluetooth
This is one overlooked cause that could give you the impression of the sound or audio from the TikTok app not playing or working correctly on your device. Therefore, whether you have connected to an external audio device through a wired or wireless connection, we suggest disconnecting it temporarily, to troubleshoot whether that is the point of error. 
Better yet, you can disable Bluetooth on your device, before playing any videos on TikTok or other apps to avoid your device from unknowingly connecting to an unused Bluetooth speaker or headset. 🎧
Even if you plan on using the Bluetooth speakers or headset for streaming TikTok videos, by reconfiguring your Bluetooth connection, you can re-establish the connection.
On that note, to turn off the Bluetooth connection on your mobile device, you can follow these general steps:
First, open the notification shade (Android) or control center (iOS).
Then, locate the Bluetooth icon in the notification shade.
Lastly, tap on the Bluetooth switch to turn it off. Bluetooth is turned off if the Bluetooth icon isn't colored.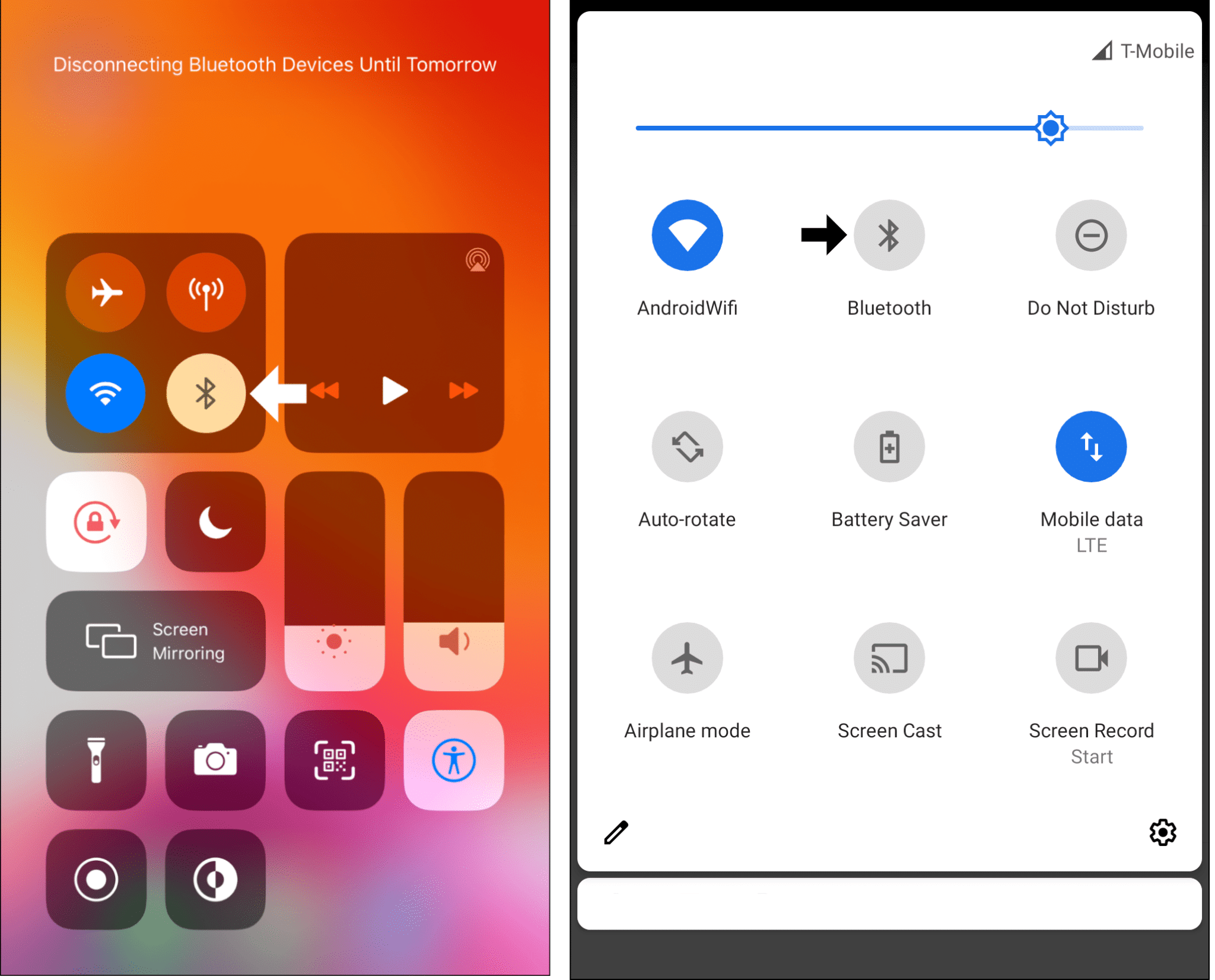 4. Restart Your Device
Rebooting your device is a quick and simple way to relieve many device-related issues that might be the root cause of the TikTok audio problem you're encountering. Through a quick reboot can end all the background processes and apps that are running which might be occupying, utilizing or affecting the microphone or speakers, thus, giving you the impression that your audio or microphone on the TikTok app isn't working correctly. 
Similarly, rebooting can also free up other system resources to be used by the TikTok app. Especially if your device has been running for long periods of time, large amounts of the device memory will be used. Thus, this temporary memory storage or the random access memory (RAM) will get filled up with loaded programs being utilized on the system or device.
Hence, a quick reboot can help clear this device memory, allowing for more memory and resources to be allocated for the TikTok app to run smoothly.
Simple Restart
Press and hold the power button, slide the power off switch 📴. Then, wait a few seconds before turning it on again.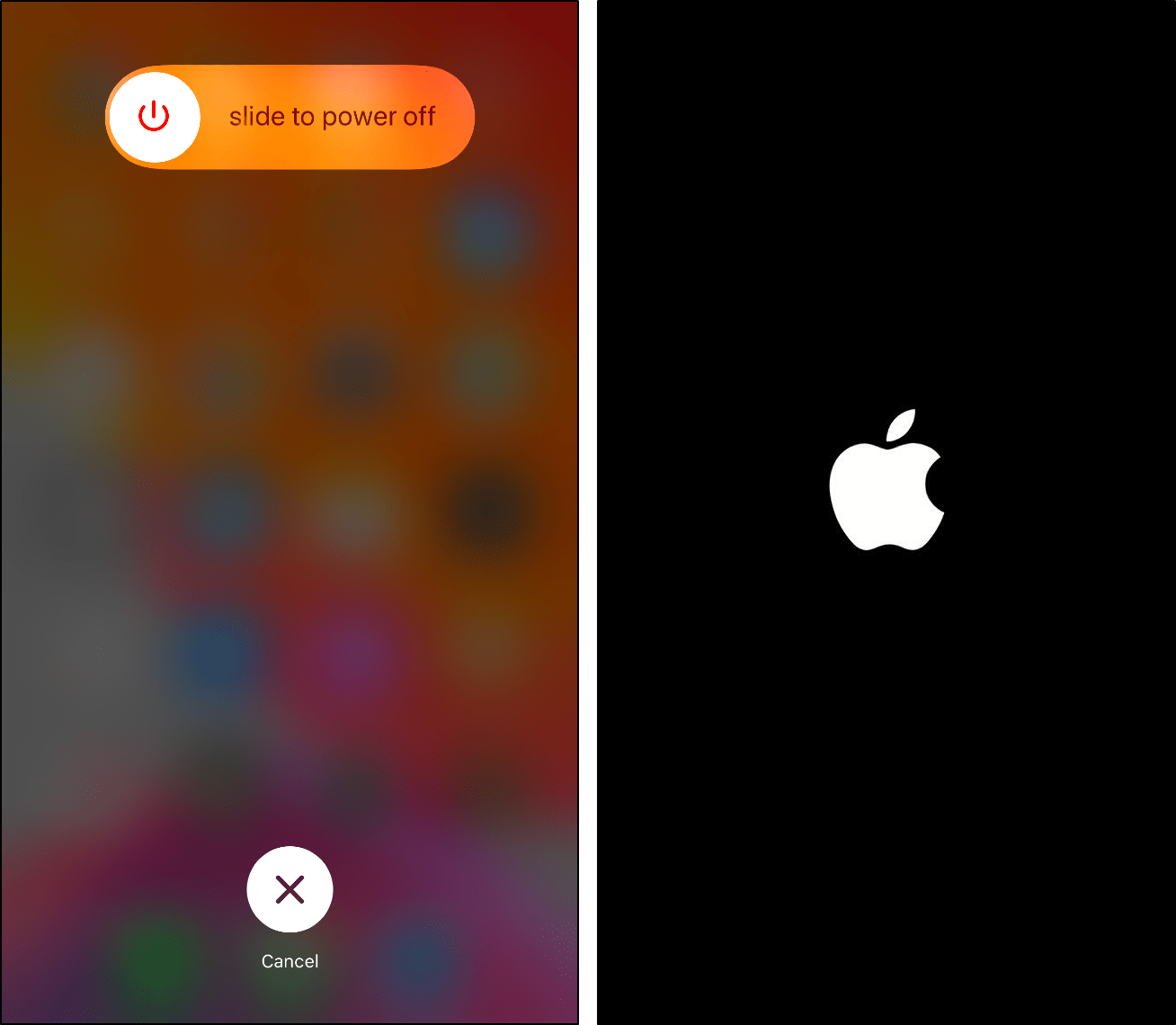 Soft Reset
Some users find the force or soft reset of their iOS device is effective as well. Usually, it has the same effect as a simple restart.
So, if you want to give it a go, here are the steps for each iPhone model:
iPhone 6s, iPhone 6s+, and iPhone SE: Press and hold the Home button + Power button until you see the Apple logo.
iPhone 7 and iPhone 7+: Press and hold the Volume Down + Power button until you see the Apple logo.
iPhone 8, iPhone 8+, and iPhone X or newer: Press Volume Up once, then press Volume Down once, and press and hold the Power button until you see the Apple logo.
5. Check the TikTok Server Status
As you're frustrated with the audio-related issues on TikTok, it's important to determine whether there are ongoing server issues faced by other users.
TikTok has its history of server issues, therefore, we suggest that you verify if TikTok has ongoing server maintenance, outage or downtime. After all, you might not be the only one who has to save the dancing masterpiece or true crimes talk. 🙄
In order to find out the current status of the TikTok server, we recommend visiting DownDetector's page for TikTok for real-time analytics.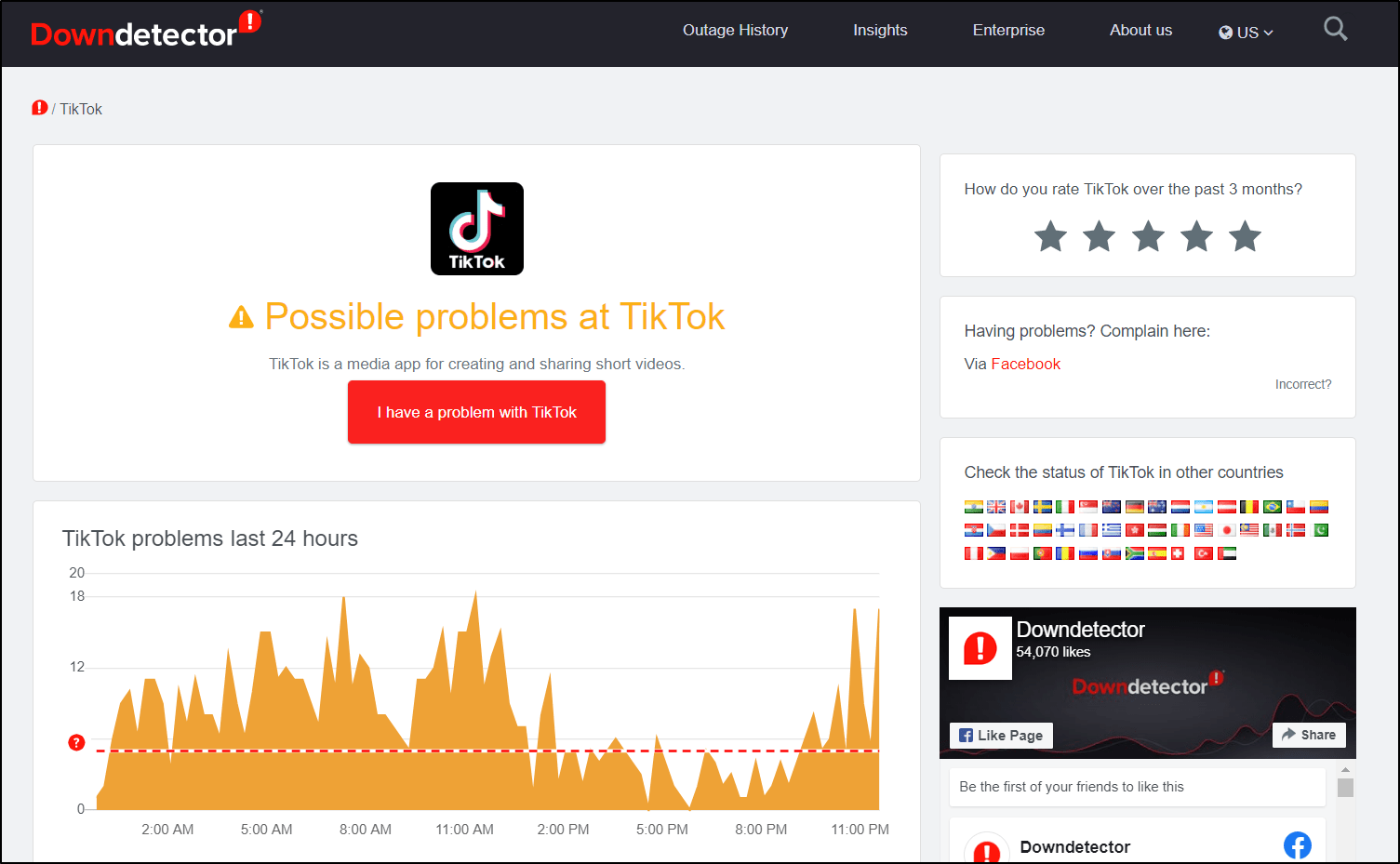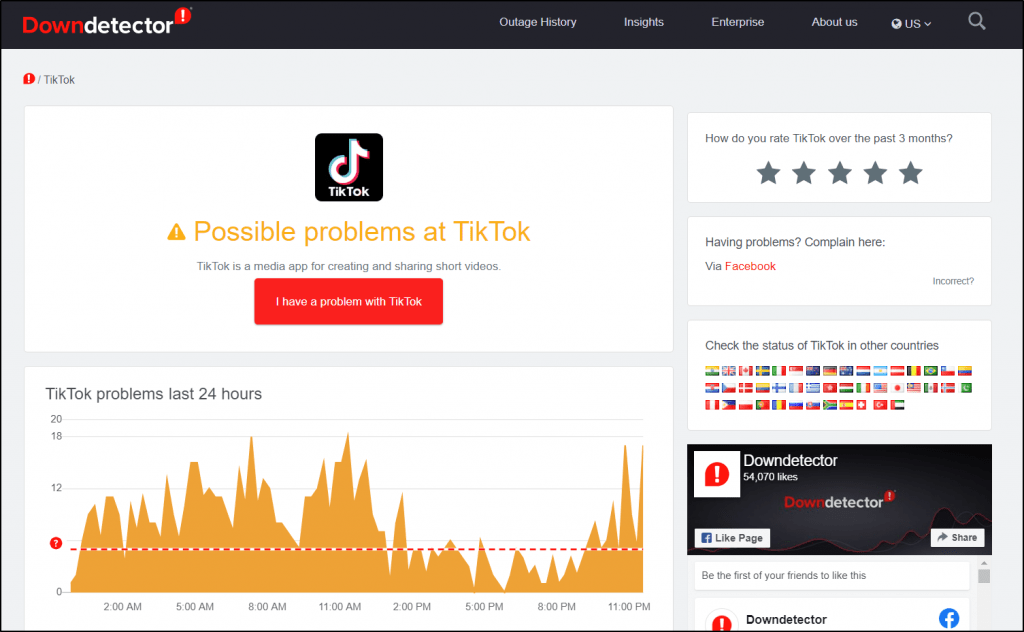 Besides, you can also view the comments section and live map tools for a better observation of the issues as well as open discussions by other users. 
Other than that, you can opt for a more interactive solution which is to search 🔎 for a trending topic that involves TikTok on another social media platform. For example, our favorite is to go on Twitter and check on the Trends list if there's any talk regarding TikTok audio issues. Remember #TikTokDown? 😉
Alternatively, you can try checking for the latest updates from TikTok's official Twitter account, @TikTokSupport.
6. Update the TikTok App
In continuation to that, TikTok may have already addressed the audio bugs and released bug patches 👾 to tackle the audio-related issues you're facing. Apart from that, you don't want to miss out on any new features and app enhancements you'll acquire when you update the TikTok app.
Therefore, installing the pending updates and having your TikTok app stay up-to-date is important so you're not stuck with audio issues that could've already been solved. 
Here's how you can check and install pending TikTok app updates on both Android and iOS devices: 
To begin, navigate to the

Play Store

(Android) or

App Store

(iOS).




Then, search for the

TikTok

app.




Next, look for the installed TikTok app and go to the

TikTok app page

.




Finally, if an update is available, select the

Update

button.

7. Check for Pending OS Updates
Additionally, implementing the latest operating system software updates can be an optimal fix. This can be because these updates contain vital driver updates for your device's various input/output (I/O) components, in this case, possibly for your device's microphone or speakers. Thus, this ensures that the software for those devices are kept optimized, fixing connection and integration issues as well as allowing for them to function correctly and smoothly for your latest apps, including TikTok.
Overall, installing the latest OS updates can ensure that your device is kept optimized, free from software-related risks and working perfectly for any of the latest apps and services you might be attempting to run.
For Android
First, open the Settings app, scroll down, and select System.
After that, choose System Update.
Then, on this page, you can tap Check for update to search for pending updates.
Note: These steps may differ between Android devices depending on your phone's model and current OS version. However, you should find the steps are generally like the above.
For iPhones (iOS)
First, open the Settings app and tap General.
Next, select Software Update to search for pending updates.

8. Enable Microphone Access for the TikTok App in the Privacy Settings
As we've mentioned earlier, the TikTok app not detecting audio from your microphone 🎤 as you're creating your videos, is among the most common audio-related issues TikTok users tend to struggle with. 
Firstly, we suggest that you ensure the microphone you're using is functional as it could be a hardware problem. Be it an external mic or if you're using earphones, you can try to record audio using other apps like your phone's camera app or voice recorder. 
If the audio turns out fine, it might have something to do with your settings for TikTok. That being said, many people discovered that enabling your microphone for the TikTok app to access is the answer.
Therefore, the steps to enable your microphone for the TikTok app are similar for both Android and iOS devices, to do so:
First, go to

Settings

and select

Apps & Notifications.


Then, tap on

TikTok

on the app list to enter its

App info

page.

After that, tap on

Permissions

and enable the switch next to

Microphone

.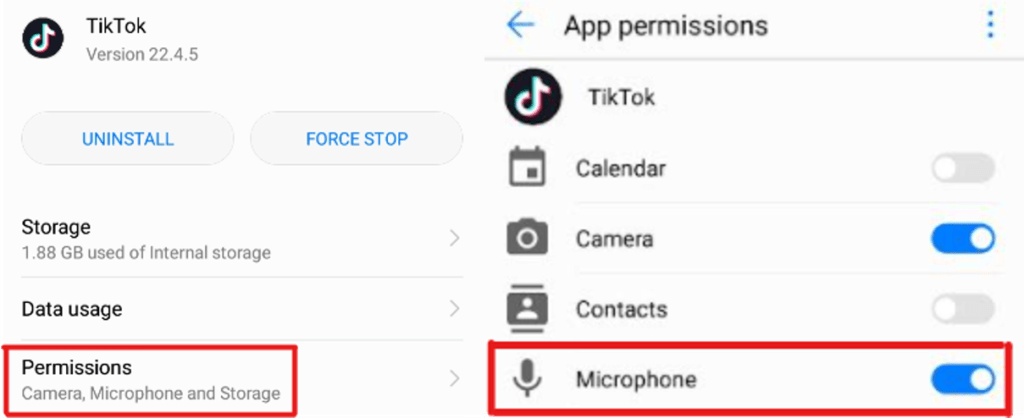 Now that you've made sure that your microphone is enabled for the TikTok app, you should try and record a video or Duet and see if your voice is being recorded.
9. Test Your Microphone on Other Apps
This is a simple troubleshooting step where you can try to identify any hardware problems with your device's microphone, that may be the potential cause for your problem with recording audio on the TikTok app. Hence, in such cases, your microphone could be the culprit behind the recorded audio for your TikTok videos, appearing muted, muffled or generally not playing correctly.
Therefore, you can start by verifying if your microphone is working correctly and clearly for any of your other apps that rely on microphone-usage.
For this, you may try using the default voice recorder app on your mobile device, for example, on an iOS device that would be the Voice Memos app. So, you can use this app to record your voice (or any audio for that matter) and play it back to identify any signs of low quality, breaks, or disruptions.
Besides that, you can also try performing Internet calls, such as with Whatsapp, Facebook Messenger, or any other app of your choice.
From there, if you find that your device's built-in microphone is not cutting it or is the cause for the audio recording problem on TikTok, you may try using an external one temporarily (Step _) or visit a repair shop for hardware repairs.
10. Use an External Microphone
From the previous step, suppose you find that your device's built-in default microphone is the cause for your recorded videos to appear muted or not playing any audio or sounds. In that case, you may resort to using an external earphone or headphone 🎧, that comes with a built-in microphone. You may even find one lying around your house!
Even the default earphones that come with your iPhone have a microphone and should do the trick perfectly. Therefore, just about any earphones you can find should serve as a nifty temporary replacement for your phone's microphone. You might be surprised to find out the new earphones provide a cleaner and crisper audio stream.
Therefore, once you've gotten a pair of earphones, test them out with the Voice Memos app and for your TikTok videos. See which works for you best!
11. Close Running Background Apps
Aside from that, your microphone could be in use by other apps that would prevent TikTok from recording audio. 
If you have other apps running in the background with access to your microphone, it could be the culprit for TikTok not detecting your voice. Basically, the other app is blocking TikTok from accessing your device's microphone.
Moreover, the TikTok app might be blocked from accessing your microphone if you're on a call, either a phone call or audio call using apps such as Discord and WhatsApp Messenger.
If that's the case, we suggest that you end the call. You can also close other running background apps for TikTok to regain microphone access by removing them from your Recent Apps or App Switcher.
12. Clear the TikTok App Cache and Data
The audio-related issues on TikTok could be a result of app glitches. One of the main causes of app glitches is overloaded and misconfigured cache data. 🤕
So, as cache data is collected through your interactions within the TikTok app for better content selections and app performance, it could backfire once the data is piled up. 
With that said, there are 2 ways for you to clear the TikTok app cache, here's how:
Through the TikTok App Settings
As a matter of fact, TikTok has made it simple to remove the cache via the app settings. To use this feature:
To begin, choose

Me

from the bottom bar and then press the

menu

icon in the upper-right corner to enter

Settings

.

Then, scroll to the bottom and select

Clear cache

.
Through the Device's System Settings (Android)
Moreover, for Android devices, you can choose to clear the TikTok app cache and data from your device's settings by following these steps:
First, launch the

Settings

app and navigate to

Apps & notifications

.




Then, from the list of applications, select

TikTok

.

Next, click on

Storage & cache

.

Finally, start by selecting

Clear Cache,

followed by

Clear Data

if necessary.
13. Reinstall the TikTok App
Additionally, you can choose to reinstall the TikTok app to delete its cache and data completely. Reinstalling the TikTok app also helps to replace the old corrupted app files with new ones and to resolve corrupted installations.
This process entails entirely removing the TikTok app from your device, followed by installing the app from your app store.
So, whether you're using an Android, iPhone, or iPad, the steps to reinstall the TikTok app are similar:
To begin,

uninstall

the TikTok app, either by

long-pressing

for the selection menu or via

Settings

.




Next, select

Uninstall

or

Remove app

.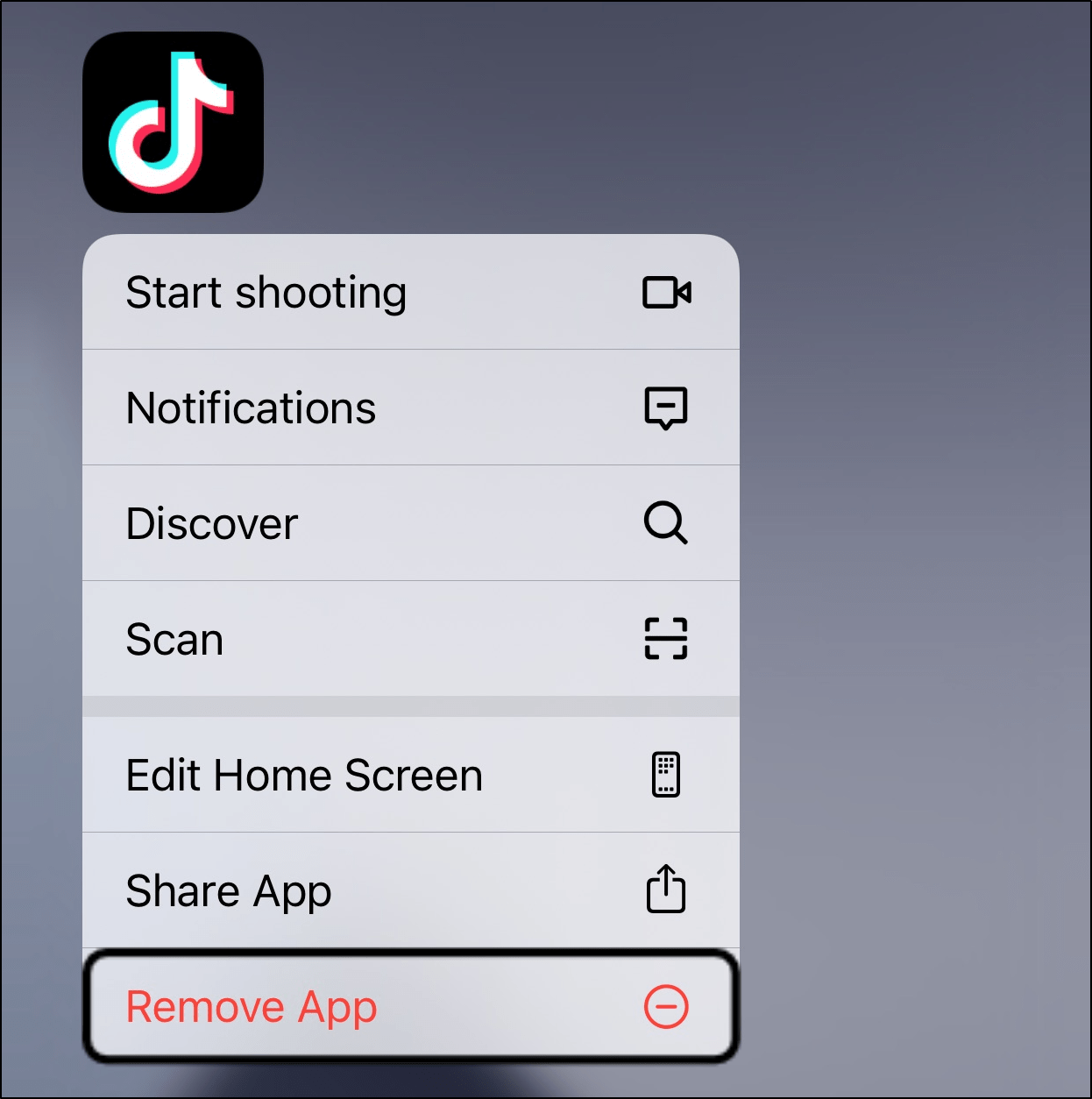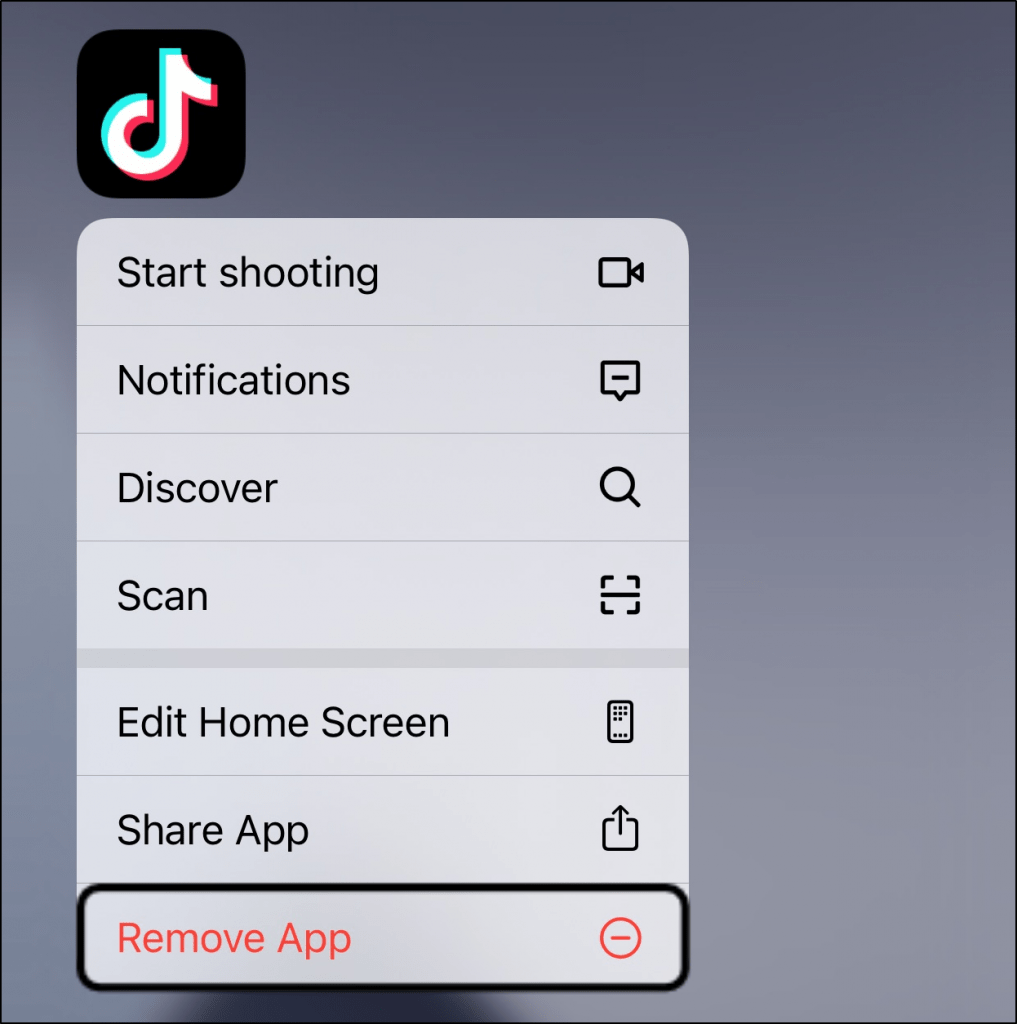 Finally, you have the option of restarting your device or going directly to the

App Store

or

Play Store

to

install

the TikTok app.
While this would be the final possible solution that we can offer to fix the TikTok audio issues if app glitches cause them, you can still try one final solution. 
14. Contact TikTok Support
Suppose there's nothing wrong with your device or hardware, and you've tried every fix to reconfigure your TikTok app but you still can't hear audio on TikTok, they're not in sync with the video, you have problems adding Sounds or the app doesn't detect your microphone.
What else can you do?
Well, we strongly recommend contacting TikTok Support. They will be able to present you with a more personalized solution by using their in-app feedback feature. 
After all, you might be stuck in the same place and need a definitive fix from the TikTok team. So, you can contact them by following these steps:
To begin, click on

Me

from the bottom bar followed by the

menu

icon in the upper-right corner to enter the

Settings

.




Next, under

Support

, select

Report a problem

.
From here, click on the

feedback form

icon to submit your audio issues.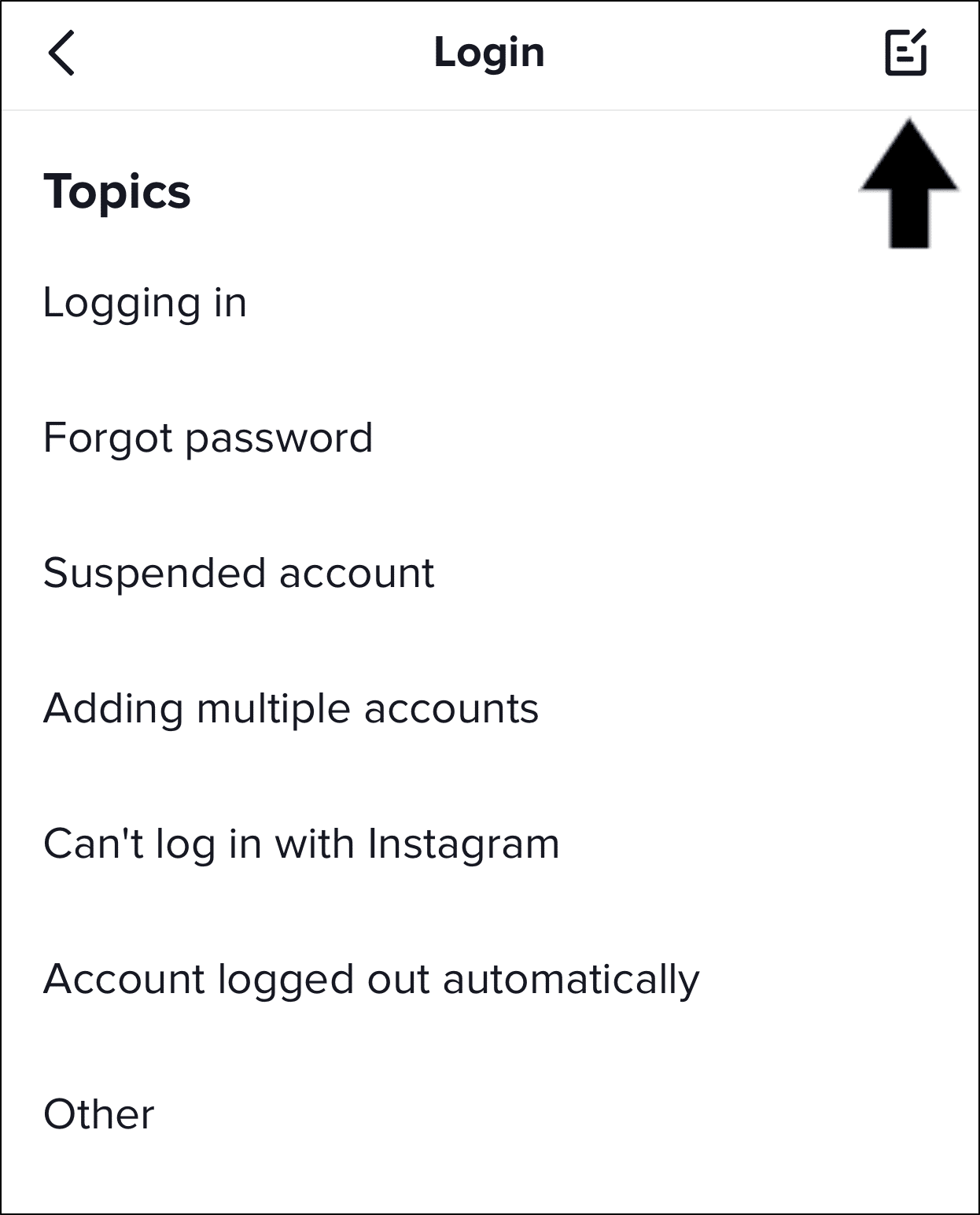 Finally,

describe the issue

you're having in the given box before pressing

Submit

.
Once the report is submitted and sent to the TikTok servers, it should be sufficient to wait for a few days before you can expect a reply. 
Suppose many users have submitted their reports regarding the same issues. In that case, you don't have anything to worry about as the TikTok developers team 👩‍💻 are giving their best to combat these problems. 
It might be sooner than you think!
Conclusion
To summarise, we understand the frustration when you encounter audio issues on TikTok that could result from many factors you might find hard to pinpoint. Know you're not alone, many users have reported similar audio issues but it's not impossible to fix.
Thus, we've compiled 2 possible reasons and 14 fixes for you to get back to viewing or creating when confronted with audio issues on TikTok. That being said, the fixes apply to the TikTok app on your Android or iOS devices.
Likewise, feel free to browse our other TikTok articles to assist you in resolving any other issues you may be experiencing on the app.
No room for issues, it's time to watch your favorite TikTok creators or be the next TikTok star! 🕺
Finally, let us know in the comments:
Are you facing similar problems with the TikTok app?

Did any of the above fixes help you solve the problem?

Have another useful fix for audio issues on TikTok?

Is there anything else you think we should add?
Share the joy. Someone could use the fixes to get dancing again! 🕵️‍♀️