Find that Direct Messages (DMs) on Instagram aren't sending, loading, showing up, or working at all? Or do you keep getting the "Failed to Send" error message?
Instagram Direct Messages 📬 is quickly establishing itself as one of the best and most-used features on the platform. The average user finds DMs to be the ideal solution to interact with friends and engage with followers 💬. Whereas for businesses, it's a revolutionary way to handle customer support and brand/sponsorship outreach.
However, it's almost customary for users to encounter occasional issues with Instagram direct messaging.
---
Types of Instagram Direct Messaging Problems
By identifying the kinds of problems users face with Instagram DMs, we have a better idea of the causes and the ideal fixes.
Starting with the most common ones, users usually find that their messages aren't being sent 📤. You may not be able to send videos, images, Instagram posts, or even just a simple text, like "Hello". Instead, you might get the "Failed to send" error. Sometimes this may happen when you're sending a message in an Instagram group too.
Conversely, at times, users also find they're not receiving incoming Instagram messages 📩. Even if they eventually do, the Instagram messages load with substantial delay.
Simultaneously, when they're trying to load or view incoming Instagram messages, they're stuck on an endless loop or get the "try again later" error.
Other problems include disappearing Instagram message requests and infamous errors like "Couldn't Create Thread".
So, do you face a similar error? Share your experience in our comments below. We'll love to hear your thoughts. 😄
---
Whatever the error is, we got your back!
This complete guide details 8 reasons why these Instagram direct messaging problems occur, along with 14 fixes when your messages aren't sending, loading, showing, or working.
Additionally, suppose you find that voice messages aren't sending or playing on Instagram. For this, we highly recommend checking our other guide for fixing microphone or voice messaging issues.
Note: This guide is for whichever device you're using, mainly the Instagram app on an iPhone (iOS), iPad, or Android device. Also, if you're using Instagram through their web platform, you may find relevant info or fixes as well.
Enough said, let's jump in.
Why Are Your Instagram Direct Messages (DMs) Not Sending, Loading, Showing or Working?
1. Instagram Server-Side Issues
Often, when Instagram servers are experiencing temporary downtime, a key feature that gets affected is direct messaging. As your messages need to pass through the servers to reach the receiver's inbox, any backend problems will halt those messages from being sent. 
Also, in order to load and receive Instagram DMs, you'll need to establish an error-free connection with the Instagram servers.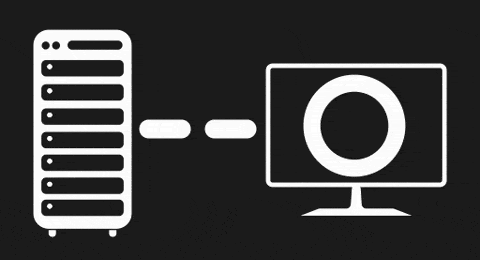 So, chances are, you're not the only one unable to send or receive Instagram DMs. Therefore, in step 13, we'll show how you can check if other users are experiencing similar Instagram messaging problems.
In the event of a server issue, you can either wait it out or use a VPN (Fix 8).
2. Instagram App Bug
Conversely, perhaps the Instagram messaging issue could be on your end. Thus, this can happen if an app bug 👾 affects the messaging feature, delaying your outgoing and incoming messages 📨.
In that case, you can perform general troubleshooting steps like: 
Restarting the Instagram app

Checking for Instagram app updates

(Fix 3)

Restarting your device

Clearing the Instagram app cache

(Fix 9)
3. You're Action Blocked or have Sent Too Many Messages in a Short Timespan
Another likely reason your message isn't being sent is because Instagram temporarily banned you. This can happen depending on your recent behavior on the platform.
Typically, there are 2 ways they could've done this, either an account or IP ban. Basically if you've been IP banned, you're blocked from messaging through any account as long as you're using that particular device.
So, what makes Instagram ban you?
This block may happen when you're too active on the platform. Especially if you're mass-messaging numerous accounts in a short time, this can raise a few eyebrows 🤨. Hence, the Instagram algorithm may label you as a bot 🤖 and declare a temporary ban. Simultaneously, if the receiver has reported your DMs, this can further affect your messaging privileges. Instagram reviews such messages in case there's abusive or spammy content.
Plus, there are daily limits of the number of Instagram DMs you can send, and accounts you can message. 
From there, your subsequent interactions on Instagram, like sending messages, may be followed by the Action Blocked error message.
Therefore, the best way to tackle such a ban is to wait it out, taking up to 48 hours.
Besides that, you can use a high-quality VPN (Step 8). Using a VPN, you can hide your IP address and continue using Instagram normally.
Also, we suggest avoiding automation tools for Instagram, like an auto-liker and auto-follower. This can give a wrong impression to the Instagram algorithm.
4. The Receiver Blocked You
Besides bans from Instagram's end, you may have been blocked 🚫 by the actual user as well. Thus, no matter what you do, you're stopped from sending messages to them. Of course, you could try talking to them on another platform to lift the ban.
However, to check if you've been blocked, try searching for their profile. Then, if the follower list is blank, you see the "User not found" error, or you can't follow them, chances are you're blocked.
5. Other Instagram Account Problems
Some users found this messaging error somehow ties to the account they were using. This is because although they have multiple Instagram accounts, they're only encountering issues with messaging on 1 or 2 of them.
Therefore, if you have a second account, try switching to that account to test the messaging feature. If that works, you may have to use that as a "messaging" account temporarily. In the meantime, try contacting Instagram Help (Step 13) to get to the bottom of this messaging problem.
To switch Instagram accounts:
First, you can long-press your

profile

at the bottom-left. Alternatively, go to your

profile page

, and tap your

username

at the upper-left.

Next, choose an account to switch to from the pop-up menu.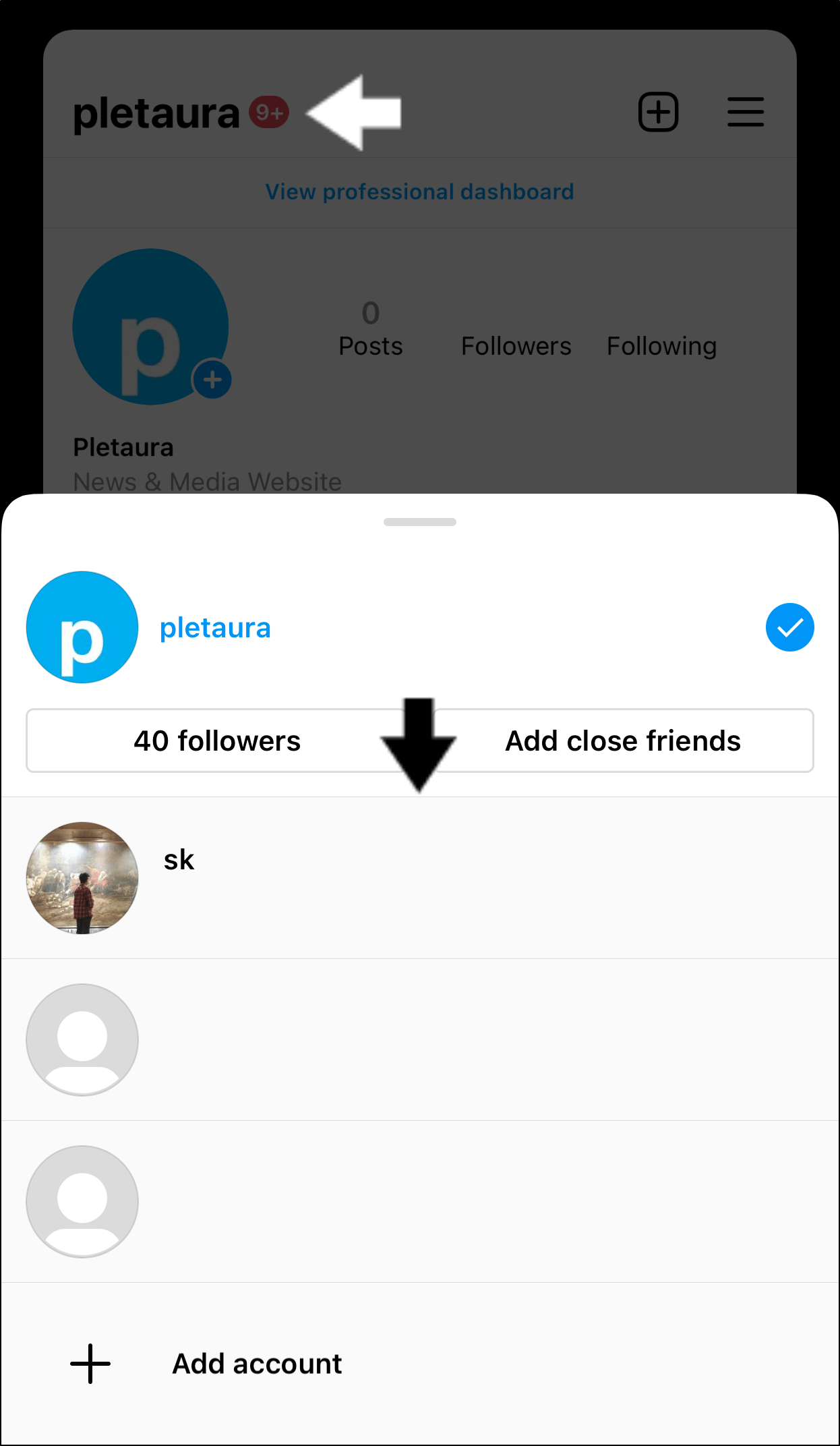 If you're encountering the Action Blocked error, it's better to use the 2nd account on a different device.
Sure, this may not seem like a definitive fix. However, you can do this in the meantime you're awaiting an upcoming update (Step 3) or response from Instagram Help (Step 13).
6. You're Messaging Someone that You're Not Following
Within the Privacy Settings, the sender (you) and receiver (maybe your friend) can control who can send them messages. So, by default, if you receive a DM from someone on Instagram who's not following you, it'll appear as a Message Request. The same goes for them if you're trying to send a message to them.
That being said, check your Message requests to check if any missing Instagram messages wound up there.
If you don't want this Message Requests feature, you can turn it off by going to Settings, Privacy, and then Messages. 
Here, you can control who's messages will land in your Message Requests list.
7. The Sender has Deleted/Unsent their Message
Suppose you get an Instagram notification saying your friend has just sent you a message. However, when you check your DMs, you find no such text. 
This could likely happen if they deleted/unsent the message. So, that's one reason your recent Instagram messages aren't loading up.
8. Other Problems on the Receiver's End
Aside from that, other minor issues on the receiver's end may prevent your Instagram message from being seen or completely sent to them. These problems include internet connection issues, or the receiver may have ignored the particular DM.
14 Fixes for When Instagram Direct Messages (DMs) Are Not Sending, Loading, Showing or Working
1. Log Out and Log Back Into Your Instagram Account
We suggest starting off simple by re-signing into your Instagram account. By doing this, you're refreshing your account information, which can sometimes reload your messages effectively.
With that said, to log out and log into Instagram:
First, go to your

profile

page by tapping your profile picture icon at the bottom-right.

After that, select the

menu

icon at the upper-right, and at the menu, select

Settings

⚙️.

Next, scroll down and choose

Log Out

.
Then tick your account and choose

Log Out

again.
Once you're logged out completely, you can also exit the app and restart your phone. Then, log back into the same Instagram account to check on your direct messages.
2. Check the Instagram Server Status
As mentioned earlier, your Instagram direct messages might not be overall working because of an ongoing backend server issue. Hence, another preliminary step should be checking if other users are reporting similar Instagram direct messaging problems.
So, where do Instagram users usually express their platform issues?
For this, we recommend checking DownDetector's page for Instagram.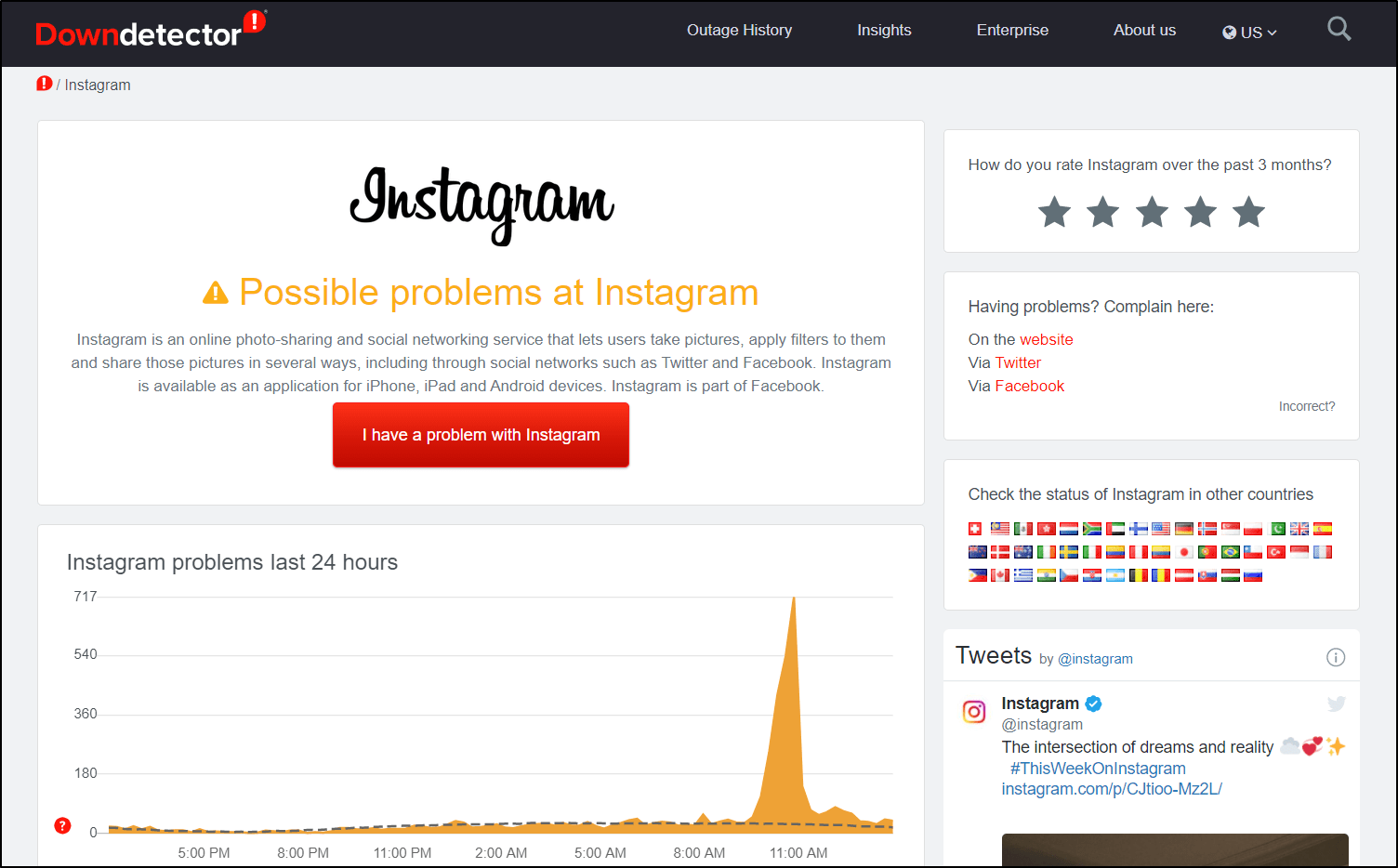 Here, you can check out the comment section and live map to see the affected features as well as regions. Later on, when using a VPN in step 8, this can help you figure out which region's server to choose.
From there, if you do find server issues, you can wait it out. This usually takes a few hours or up to a day.
Besides that, you can try using a VPN (Step 8) to connect to a different region's server as well.
3. Install Pending Instagram App Updates
Additionally, this direct messages problem could be an error with the previous Instagram app version. So, when numerous users report this issue, the Instagram dev team 👨‍💻 may release an update with bug fixes for this feature.
Overall, from time to time, it's essential to install pending Instagram app updates. Better yet, turn on auto-updates 🔁 to save the trouble of constantly checking.
Having said that, to update Instagram:
First, open your

App Store

(Apple) or

Play Store

(Android). 

From there, visit the

Instagram

app page. 

If there are updates available, tap the

Update

button.

Moreover, for Android devices, you can get the Beta version of the Instagram app to get the latest and unreleased updates. Users have found that the messaging feature tends to work better and error-free on this Beta version.
4. Use Instagram Through Your Web Browser App
Suppose your Instagram direct messages aren't sending or loading due to an issue with the app. In that case, a nifty workaround you can try is using Instagram through your native web browser app.
That's right. Instagram on your web browser has almost the same layout as the app. Plus, the website is always kept updated and optimized, regardless of which device you're using.
So, open the web browser app (Safari, Google Chrome, etc.), visit Instagram.com, and log in.
Then, try loading or sending your direct messages.
5. Try Loading or Sending Instagram Direct Messages on a Different Device
After that, you can take this a step further by using Instagram on a different device altogether, like your PC or another phone.
If you keep getting the Action Blocked error after sending a DM, you might be temporarily banned. So, by using a different device, you can dodge any IP bans from your original device.
Therefore, one way is to log into Instagram through your web browser.
Besides that, you can use the Instagram app available on the Windows Store. Some users have managed to load their Instagram DMs successfully after trying out this version.
6. Use the "Threads from Instagram" App
Besides using the original app, you can try messaging with the "Threads from Instagram" app instead. This app is sort of like an alternative client for Instagram. Hence, if you face issues where you can't send pictures, videos, or other media on Instagram, using this client may be just the right fix.
We've seen countless users report "getting their DMs back" after trying out this god-sent app 🌟. Of course, this step may only be a temporary solution while waiting for a fix from Instagram.
With that said, you can install this "Threads from Instagram" App from your App Store (iOS) or Play Store (Android).
7. Test and Improve Your Internet Connection
Sure, it's a no-brainer. Without an Internet connection, you're not going to be able to receive, send, or load Instagram direct messages. However, that doesn't mean you need blazing fast speeds ⚡ either. A stable and average speed is more than enough for the Instagram messaging feature.
That being said, an unstable or weak internet connection might be the cause for your Instagram direct messaging problem.
So, you can test your Internet speed on Fast.com to detect any speed drops. Plus, you can verify if your Internet is sufficient for Instagram.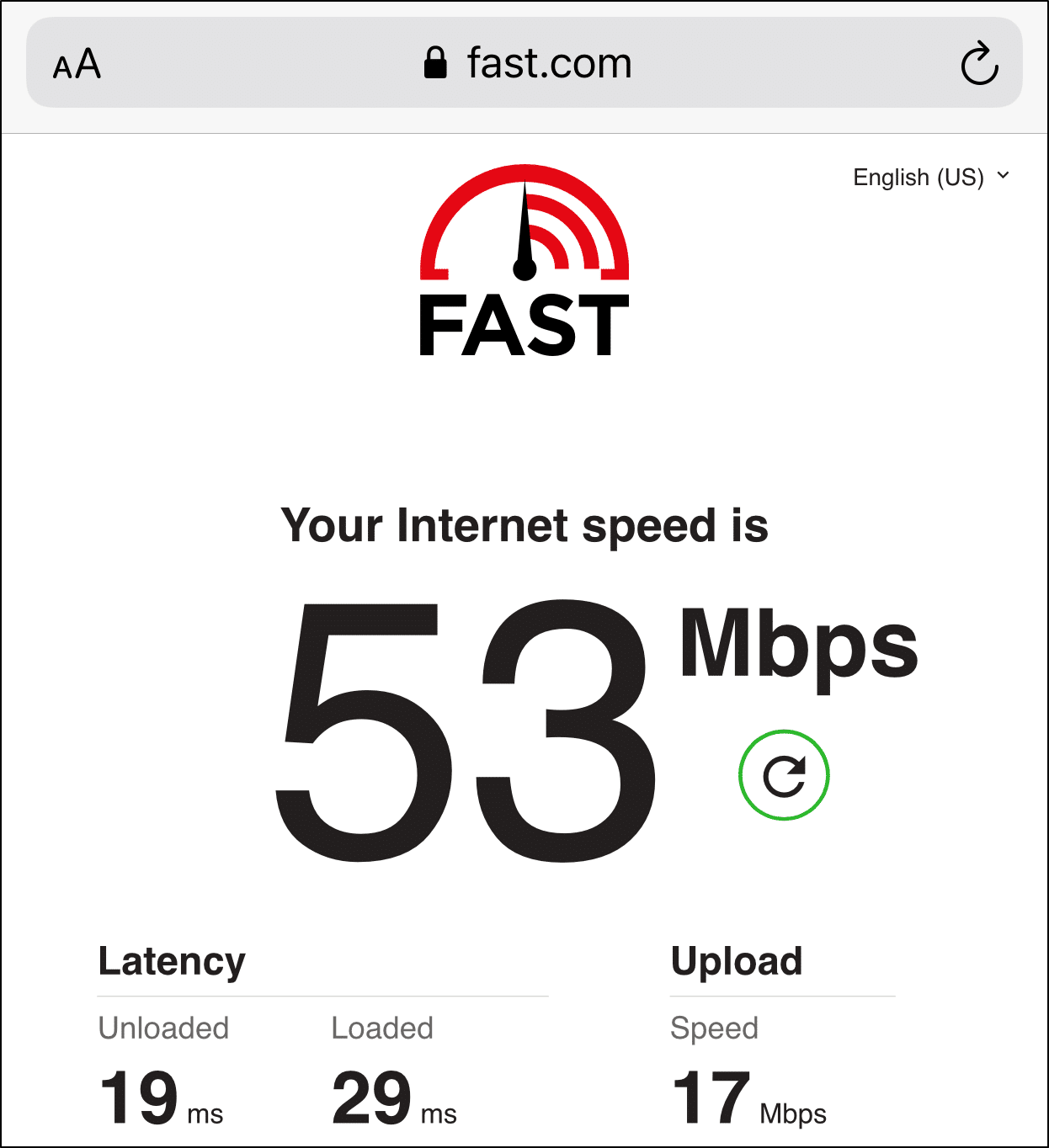 Following that, suppose you notice some low speeds or disconnections. In that case, you can try the following steps, which are perfect for Internet problems affecting Instagram messaging. Besides improving your Internet connection, performing these steps can change your IP address as well, which can be somewhat helpful if you're IP banned (Action Blocked):
Turn on

Airplane Mode

✈️ and then turn it off

Connect to a different Wi-Fi network

Switch between

Mobile Internet

and

Wi-Fi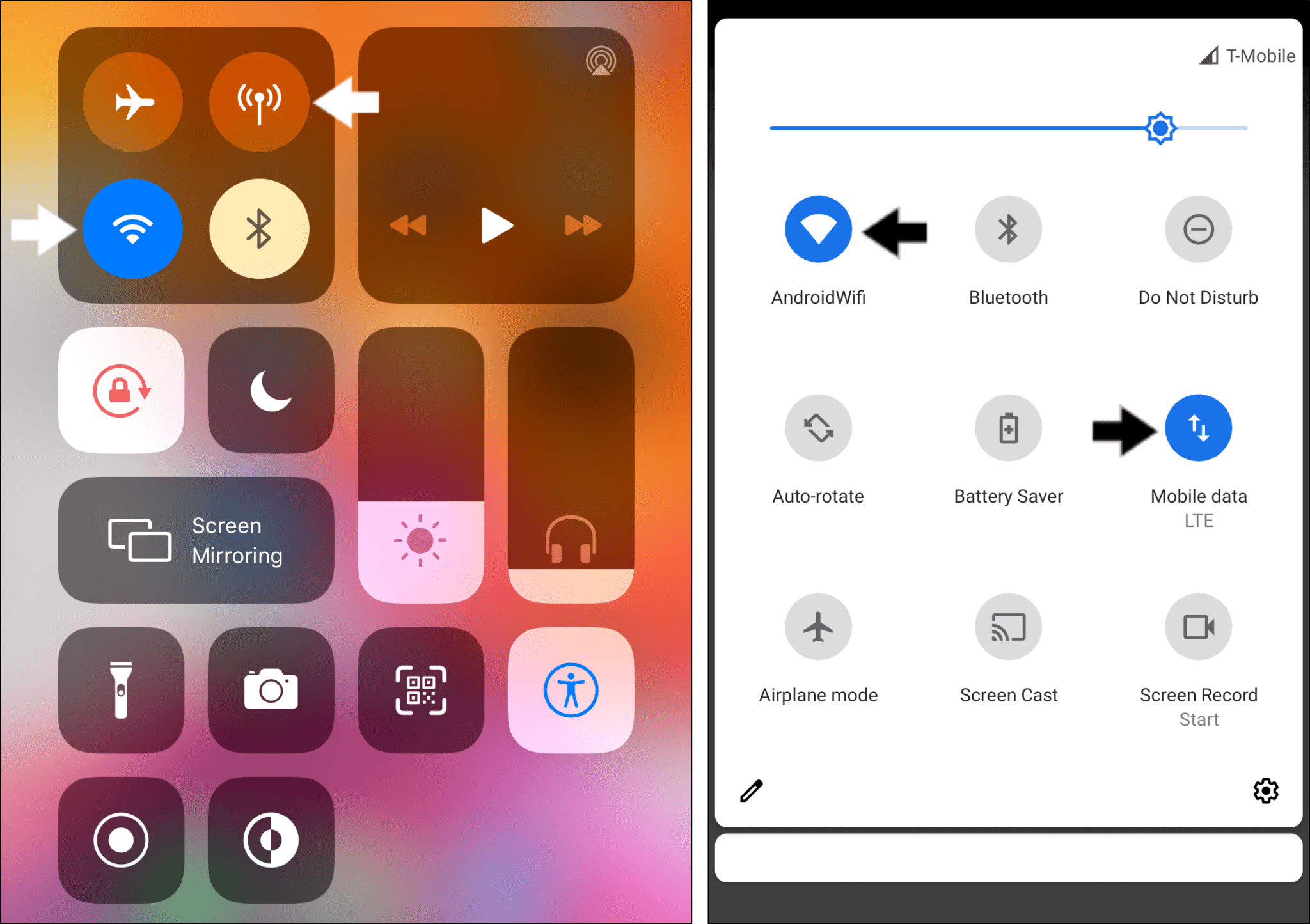 8. Use a VPN
As mentioned previously, utilizing a VPN is a quick workaround to messaging on Instagram if you keep getting stopped by the Action Blocked error. Also, sometimes you might find you can't initiate Instagram conversations or your messages get stuck while sending. Thus, with a VPN, you can ensure your messages will pass through completely.
Therefore, with a quality VPN, you can mask your IP address, circumventing any IP bans  🕵️‍♂️. So, you can freely use your secondary Instagram account for messaging.
Ensure that you completely close the Instagram app before turning on your VPN. Then, you can open Instagram and test the direct messaging feature.
For this, we recommend using NordVPN, which we've found works perfectly with Instagram. Plus, it's just a click away to activate.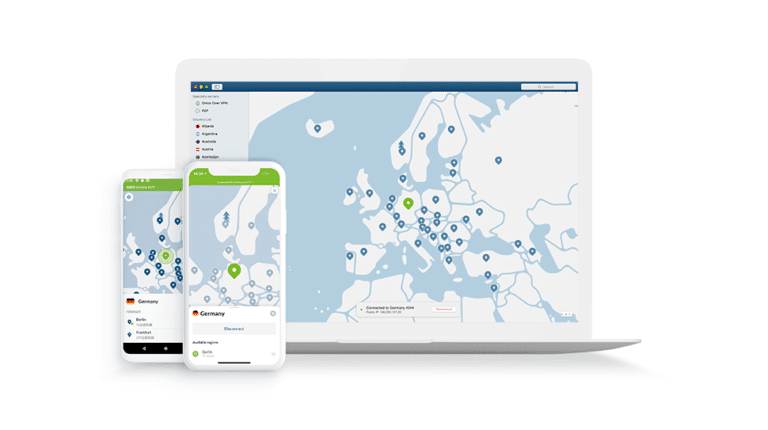 ---
Get NordVPN with up to 68% OFF today!
---
9. Clear the Instagram App Cache and Data or Reinstall the App
As you might know, the more you use Instagram, the app stores cache and data to speed up the user experience. Considering you've spent hours scrolling through your feed, loading images, and sending messages, the app creates cached versions of these pages. Hence, making the app load up faster the next time you use these features.
However, these cache files can slow down the navigations and can often cause app glitches. This includes not being able to send or load up Instagram DMs.
That's why we recommend clearing this Instagram app cache/data occasionally. So, the following are 2 ways you can do so, depending on the device you're using.
Delete the Instagram App Cache and Data Through Settings (For Android Only)
On Android devices, within your Settings app, you have a one-click button to delete all of the app's data. Thus, you don't have to go through the trouble of uninstalling and reinstalling the Instagram app.
To navigate to these settings:
Firstly, open the

Settings

app, and tap on

Apps & notifications

.

Then, select

Instagram

from the list of apps.
Next, tap

Storage & cache

.

Following that, start by tapping

Clear Cache

, and then you can choose

Clear Storage

.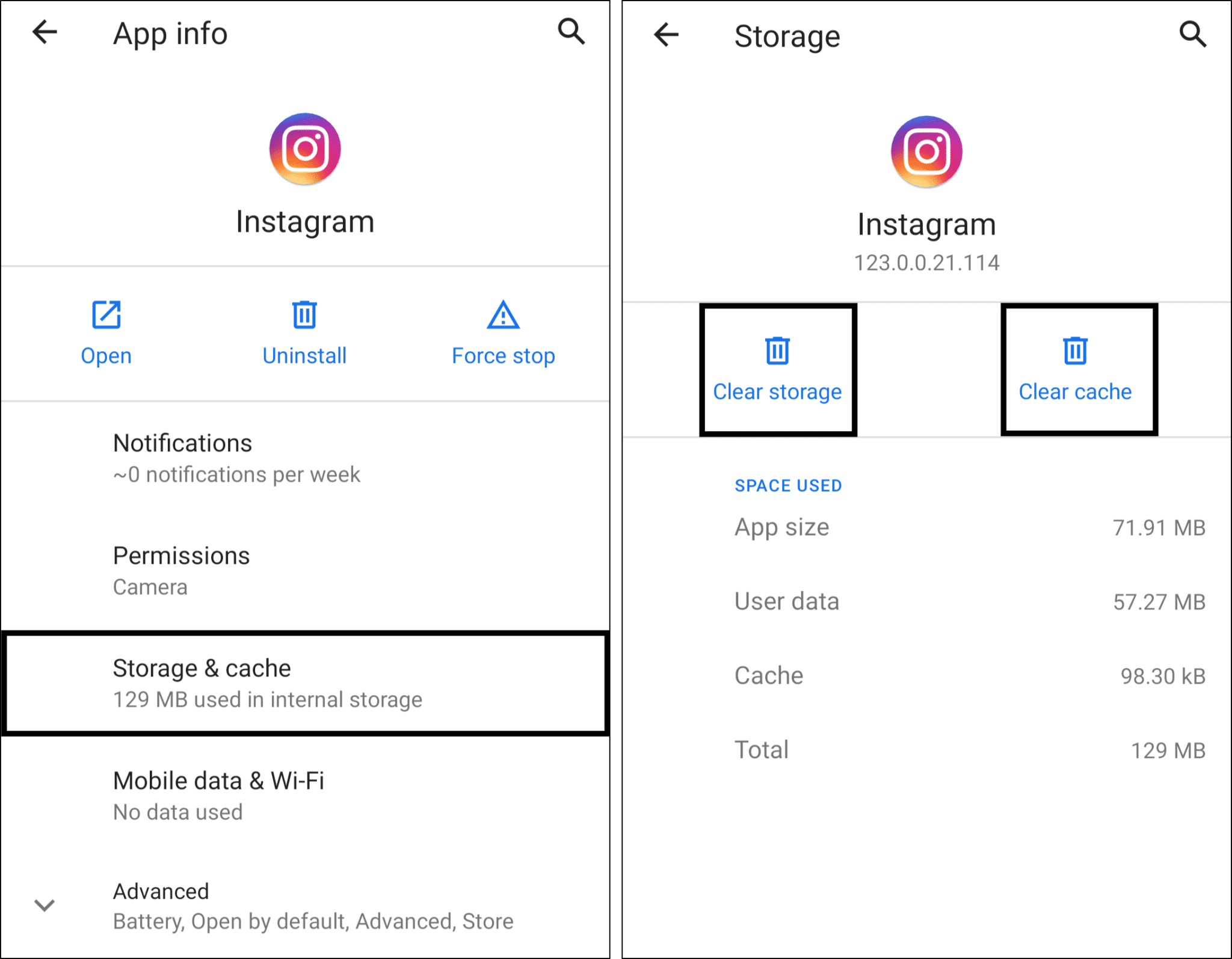 Reinstall the Instagram App (For Android, iPhone, iPad)
There could be an installation issue or corrupted files causing your Instagram messages not to send or load. Hence, through this step, we're completely removing the installation of the Instagram app from your device before installing a fresh copy.
So, we recommend this step regardless of whichever mobile device you're using.
The steps to reinstall Instagram are similar no matter which device you're using:
First, uninstall the

Instagram

app, whether by

long-pressing

for the selection menu or through the

Settings

.

Then, select

Uninstall

or

Remove App

.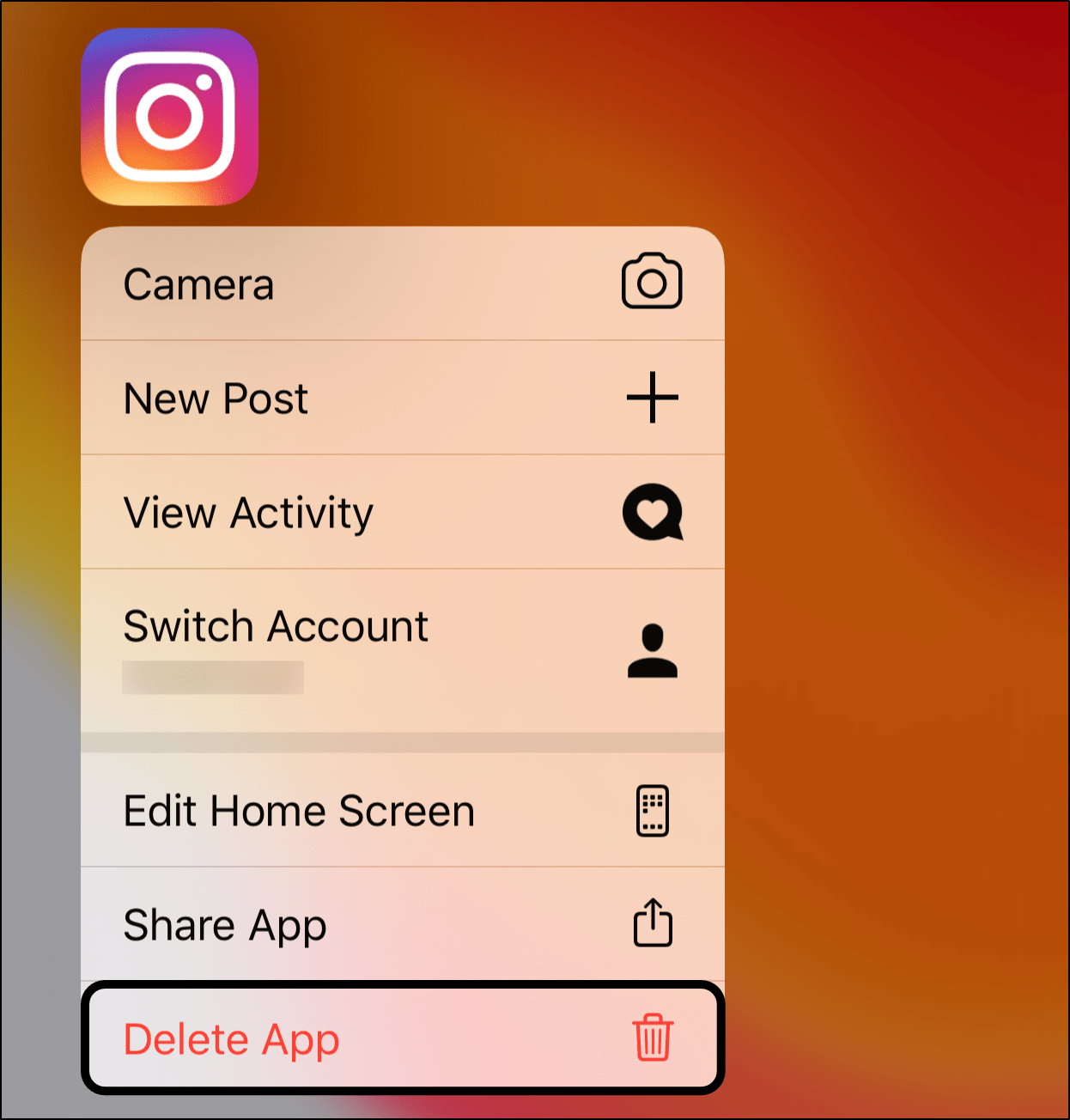 Next, you can choose to

restart your device

or straight go to your

App Store

or

Play Store

to install the Instagram app.
Once the installation is complete, open the Instagram app, log in, and test if you can receive and send direct messages again.
10. Use a Different Way to Send Messages on Instagram
Suppose you face issues starting a conversation or sending your first message to a particular Instagram account. This could be a problem where your Instagram direct message isn't sending completely, especially to a specific group chat.
Hence, you can use a different method to initiate the direct messaging function. For some users, this turned out to be the exact fix to regain control of their direct messages. So, surely we couldn't leave it out as a suggestion.
After trying any of the steps, you should see the receiver's name appear on top of the Recent/Direct Messages page. Then, you can tap it to continue your conversation.
The following are ways to send messages on Instagram:
Through your

Inbox 📫

: As you might know, you can swipe left to access your Instagram DMs. From there, you can either select a

recent conversation

from the list or start a new message by tapping the

writing

icon at the top right. This is the most common method to send Instagram DMs.
On a

Post

from your

Home

/

Explore Feed

: Under every Instagram post, you can see a

share

or

paper plane

icon to send that particular post. 
From your

Camera Upload

screen 📷: By swiping right at your Instagram home page, you'll arrive on the

Camera

screen. Here you can either capture a

new image

or use one from your

camera roll

to

send

to your friend.
11. Try Messaging Another Instagram User/Account
Sure, this step isn't exactly a fix. However, it's mainly to identify if the messaging error is due to a problem on that particular receiver's end.
So, try sending a test message to a different user, perhaps your secondary account. It'll be helpful if both accounts are following each other to save the confusion.
If you find you can't send messages to any account, this could either be an error with your account or an Instagram server issue. Therefore, we suggest reaching out to Instagram help (Step 13) to identify any account blocks or problems.
12. Direct Message a Few Random Instagram Accounts
This is an unusual trick users have found, where after messaging a few random accounts, they were able to load and send Instagram DMs again. We aren't entirely sure the sorceries 🔮 behind this step, but it can sometimes "magically" work.
For this step to work, you'll need to DM around 1 to 5 Instagram accounts you've never messaged before. So, it's best to message celebrities or accounts with a large number of followers, since they're probably not going to check your message.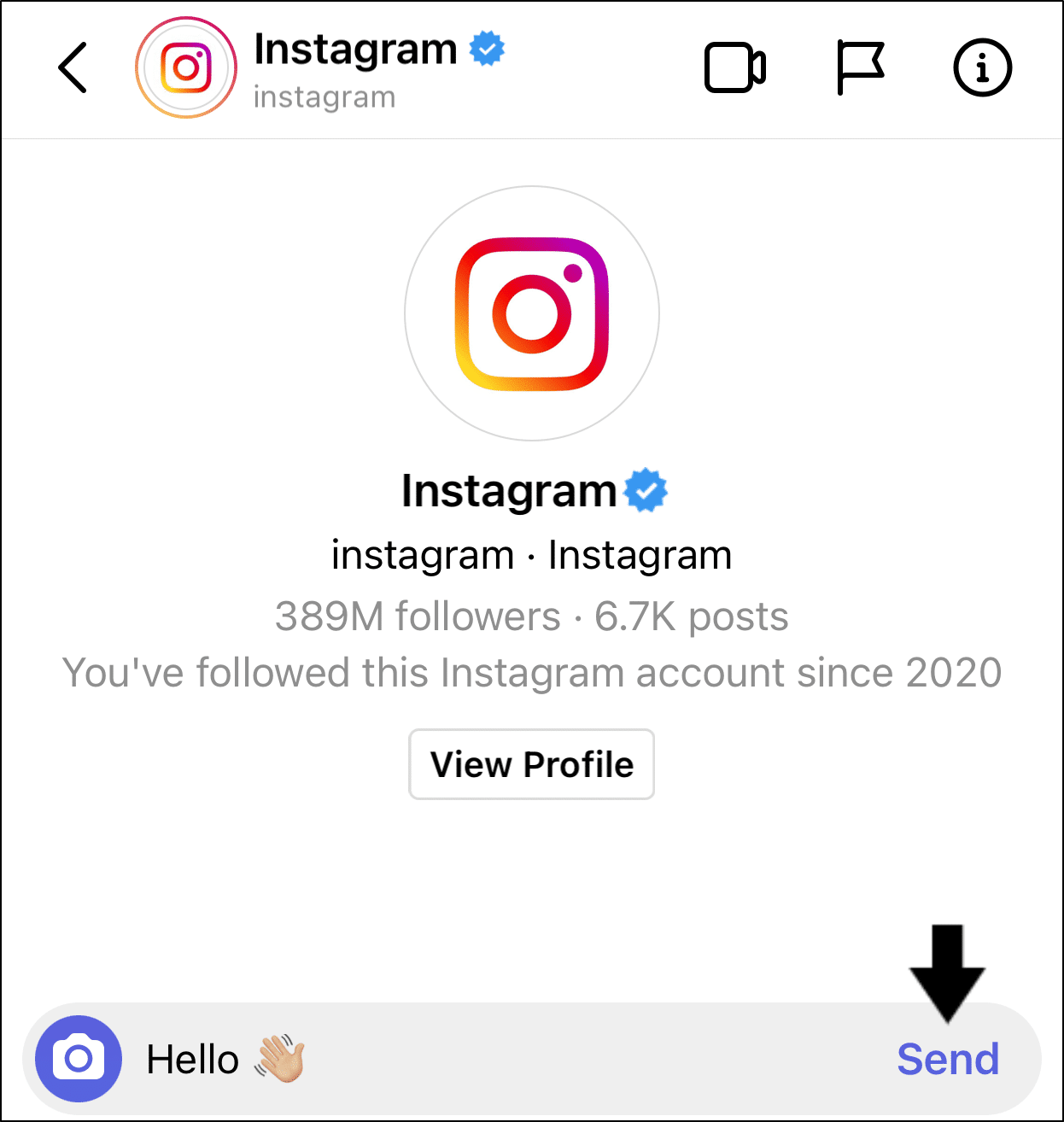 Don't worry, you can unsend these awkward messages once you've got your Instagram DMs working again.
With that done, try refreshing your Instagram DMs or sending messages again.
13. Report the Direct Messaging Issue to Instagram Help
Suppose it's been a few days, and you've tried everything, but your Instagram messages are still not sending/receiving. Don't give up just yet.
You can still try raising the issue with Instagram Help. That way, they can identify and resolve any account-related problems or bans causing this messaging hiccup.
So, to report this messaging error to Instagram Help:
First, go to your

profile

page, by tapping your profile picture icon at the bottom-right.

After that, select the

menu

icon at the upper-right, and at the menu, select

Settings

⚙️.

Next, choose

Help

, and then select

Report a problem

.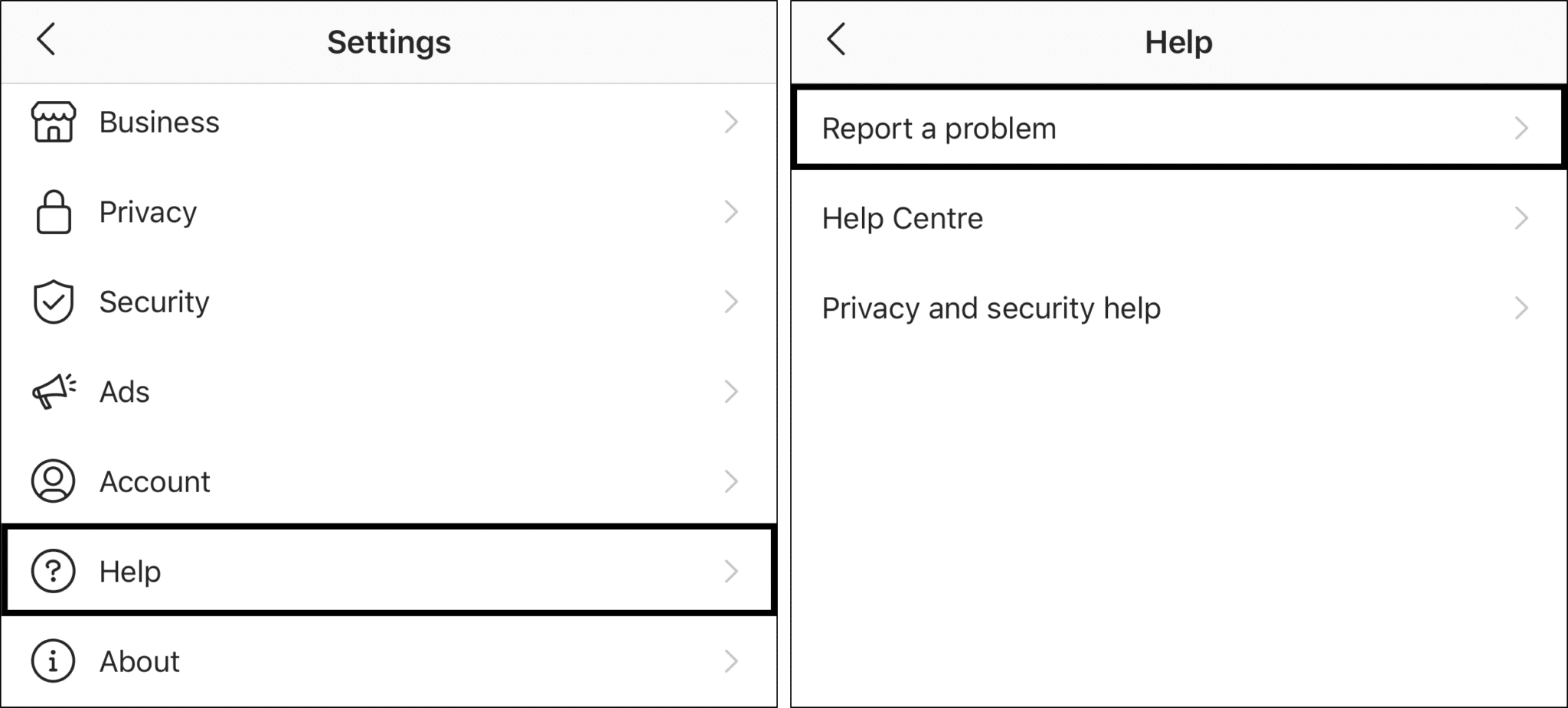 Following that, for this case, choose

Something Isn't Working

.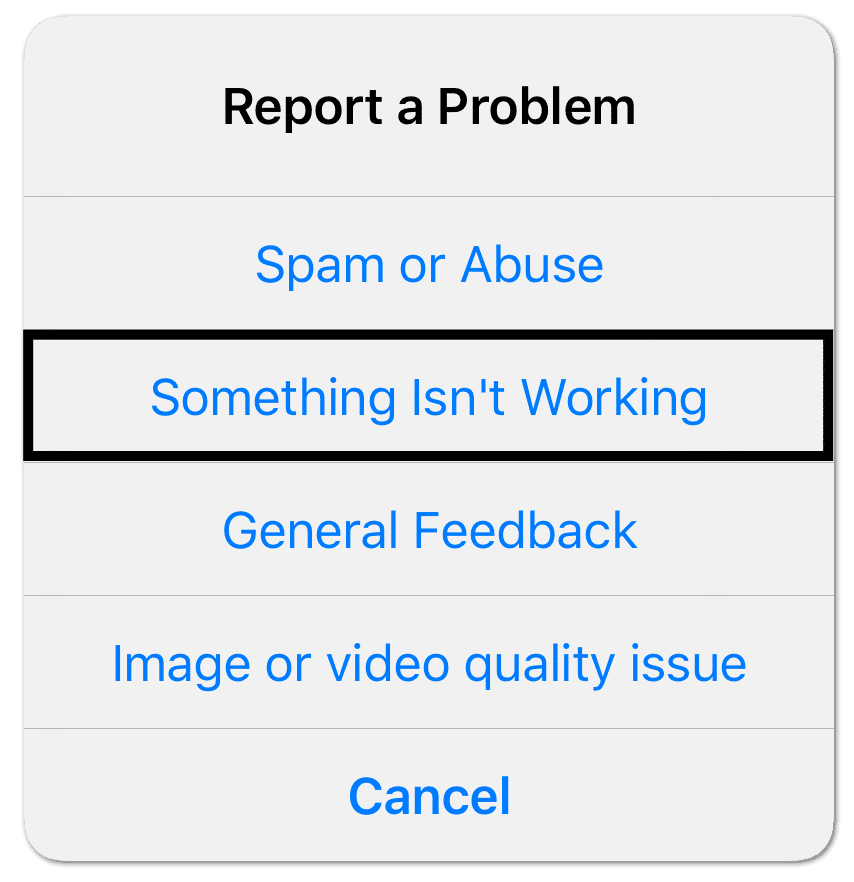 Here,

briefly describe

your Instagram direct messaging problem. It'll be helpful to include key info, like your

device model

, when the issue began, and possibly a

screenshot

. Have a look at ours if you need inspiration.

Finally, tap

Send

.
Finally, all that's left is to wait for a response from Instagram. This part may take a while since they need to cater to numerous other users. However, you may even find the messaging issue gets silently resolved by the next day.
14. Deactivate and Reactivate Your Instagram Account
As a last resort, you can also try deactivating then reactivating your account a few hours later. Don't worry, you won't lose any data, only that your profile won't be visible by anyone until you log in again.
By doing this step, we believe you're resetting your account info and status. Thus, if this messaging problem is account-related when you log in again, you should be able to send and load DMs error-free again.
Note that you can only deactivate your Instagram account through the Instagram website, either through your mobile device or PC. Currently, there isn't a way to deactivate an account through the Instagram app.
Therefore, to deactivate and reactivate an Instagram account:
Go to the

Instagram website

on your web browser.

Then, head to your

profile

page, by tapping your profile picture icon at the bottom-right.

Here, select

Edit Profile

.

At the bottom, select

Temporarily disable my account

.

Next, answer the following questions and click the

Temporarily Disable Account

button.
Finally, wait a few hours or a day, then try

logging back into

your

Instagram

account. Doing this will reactivate your account, and it'll become visible again.
Conclusion
To recap, this MEGA guide reveals 8 reasons why Instagram direct messaging problems occur, along with 14 fixes when your messages aren't sending, loading, or showing 📨.
Instagram's direct messaging feature is one that users' have experienced countless errors with. This is understandable considering it's constantly undergoing regulations and improvements, like the latest "Rooms" feature. Thus, these new additions may also be accompanied by temporary errors or glitches with the feature.
So, if you've ever tried shooting your DM and failed, don't worry, you're not alone. 😉
We hope you get the perfect fix from this guide!
On a separate note, do you find that Instagram comments aren't showing, posting, or working? Check our guide for this by clicking here.
But before you go…
Share in the comments below:
What kind of issues are you encountering with Instagram Direct Messages (DMs)?

Did any of the above fixes help you fix your Instagram messaging problem?

Do you have another fix we can add to the list? We'll give you a shout-out once we update the guide. 🙂
Feel free to share this guide with your friend, whose Instagram direct messages aren't working. 🤗
Frequently Asked Questions About Fixing Instagram Direct Messages (DM) Not Sending, Loading, Showing or Working
Why does Instagram stop me from sending direct messages?
You could be unable to send direct messages on Instagram for a number of reasons, including but not limited to:
Spam or abusive activity that violates the platform's terms of service or community standards.
Messages sent too frequently or too quickly could be interpreted as spam by the platform.
being blocked when attempting to message someone.
Instagram restricting your account due to your questionable activity on the platform.
To determine whether any of these or other factors apply to you, it is recommended to consult Instagram's help centre or community guidelines.
How long does Instagram restrict you from sending messages?
The most frequent type of action block used by Instagram is the temporary block. Generally, it can last up to 24 hours. Nonetheless, the length of time that Instagram will restrict you from sending messages will depend on the specific violation or issue that led to the restriction.
In general, restrictions are temporary and are put in place to allow the user to reflect on their actions, and to give the platform time to review any reported issues. The restriction could be lifted once you have addressed the issue and demonstrated that you will not engage in the same behavior again. It is important to note that if the violation is severe, it could lead to a permanent restriction on your account. It's best to check your account's restriction settings or contact Instagram's support team if you have any questions about the specific restriction on your account.
How do I know if Instagram blocked me from sending messages?
You won't be able to send direct messages to a user who has blocked you on Instagram if they have blocked you from messaging them. Additionally, the user's profile, stories, and posts won't be accessible to you. Additionally, you won't be able to look up a someone by their username.
When you attempt to send a direct message, you can additionally get an error notice stating that the message cannot be sent.
It's important to note that you can attempt looking up a user's profile or sending them a direct message if you think you may have been blocked by them but are unsure. It is likely that you have been blocked if you cannot view the user's profile or send them a message.
The ability to send messages and being blocked are two separate things; if you are limited, you will be able to view the user's profile but not their messages.
How to clear Instagram cache?
There are two ways to clear the Instagram app cache, where for Android users only, you can clear app cache through the system settings, for this go to Settings > Apps > Instagram > Storage & Cache > and tap the Clear Cache button. Whereas for both Android and iOS users, you can also completely clear all traces of the Instagram app including app cache, by uninstalling the app and reinstalling it from your native app store.