Find that the TikTok search bar isn't working correctly, or the feature is "Currently Unavailable"?
With a growing population of TikTokers, the amount of watch-worthy content on this platform has undoubtedly skyrocketed 🚀. It's almost like every day there's another TikTok trend you haven't even heard of or hopped on yet.
So, what better way to discover the latest trends and hashtags than through TikTok's very own search bar 🔎. Besides that, there are plenty of uses for the TikTok search bar, like browsing fellow creators/users and finding sounds for your next video.
Who knows what kind of golden content you're gonna stumble into next 🌟!
However, as handy as searching on TikTok can be, this feature does experience occasional setbacks. For instance, some users report that they don't get any TikTok search results, or get stuck on searching.
Other than that, a common TikTok search error users get is the "Sorry this feature is currently unavailable" message or a Network error.
Therefore, if you receive a Network error, there's a high chance your internet connection might be weak or problematic.
Whatever the TikTok search error is, we've got you covered.
This guide has 9 fixes to try when your TikTok search bar isn't working correctly on your iPhone/iPad or Android.
So, let's hop on to it.
---
Table of Contents
---
1. Restart the TikTok App
For starters, try this general troubleshooting step, which essentially involves rebooting the TikTok app. Through a quick restart, you can resolve temporary issues that occurred during the app runtime.
Thus, this step is important to confront any app glitches that slow down TikTok and its features, like search.
First,

close

the TikTok app completely by removing it from your

Recent Apps

or

App Switcher

.

Then, simply

reopen the TikTok app from your homepage.
2. Check the TikTok Server Status
At times, this TikTok search problem might be affecting multiple TikTokers at the same time. Hence, this is a key indicator that there's an issue or server maintenance over on TikTok's end.
Usually, if there are TikTok server issues, you'll be noticing other platform errors as well besides search-related. Therefore, it's crucial to check the TikTok server status or if other users are reporting similar search problems.
So, how can one find out if there are problems on TikTok's end🤔?
For this, there are 2 ways we propose to check TikTok's real-time server status:
a) Through DownDetector
We suggest visiting DownDetector's page for TikTok, which shows the real-time status and outages reported by fellow TikTokers. Although it's a third-party tool, we've found its results are certainly accurate and timely since it's based on actual user reports.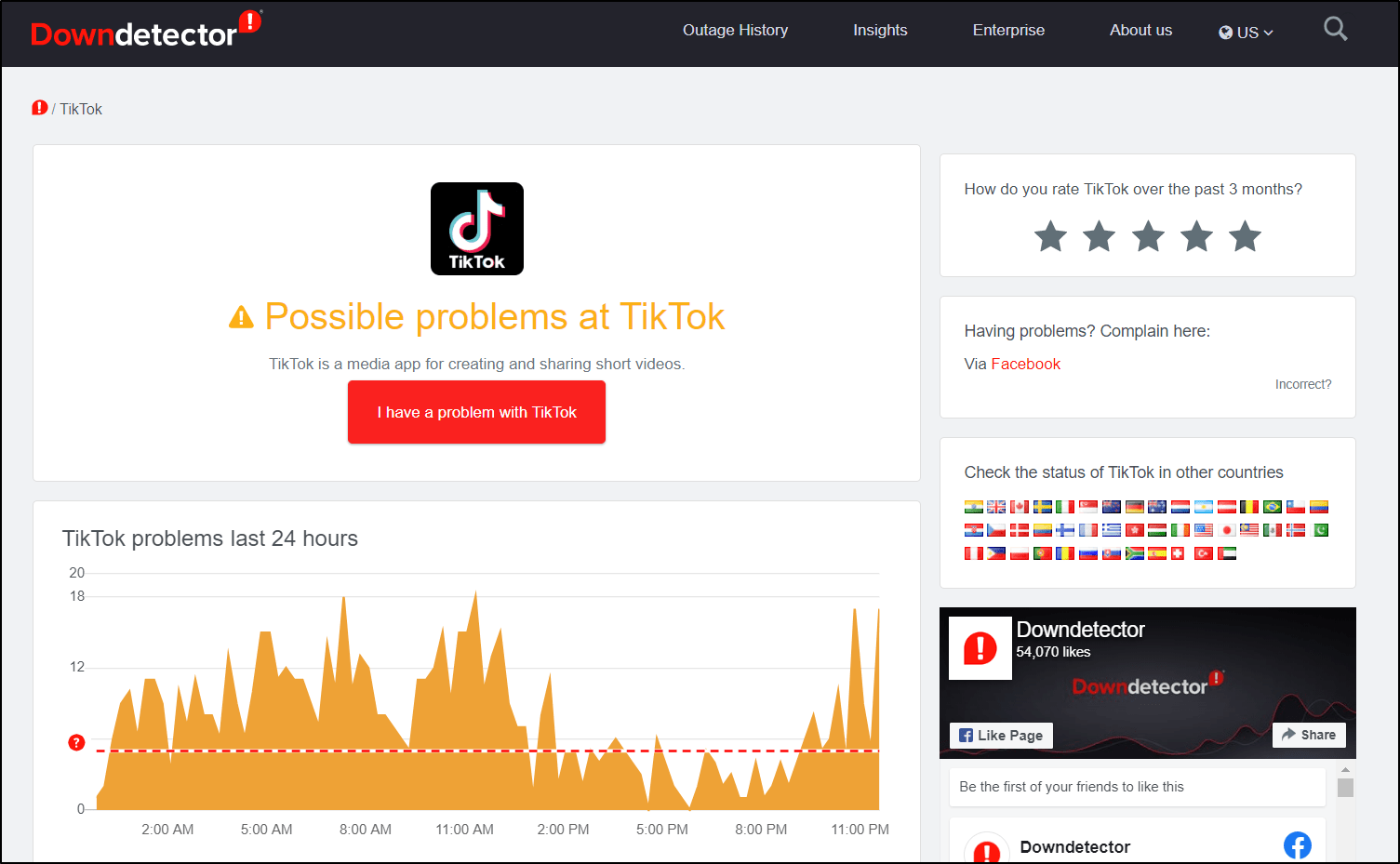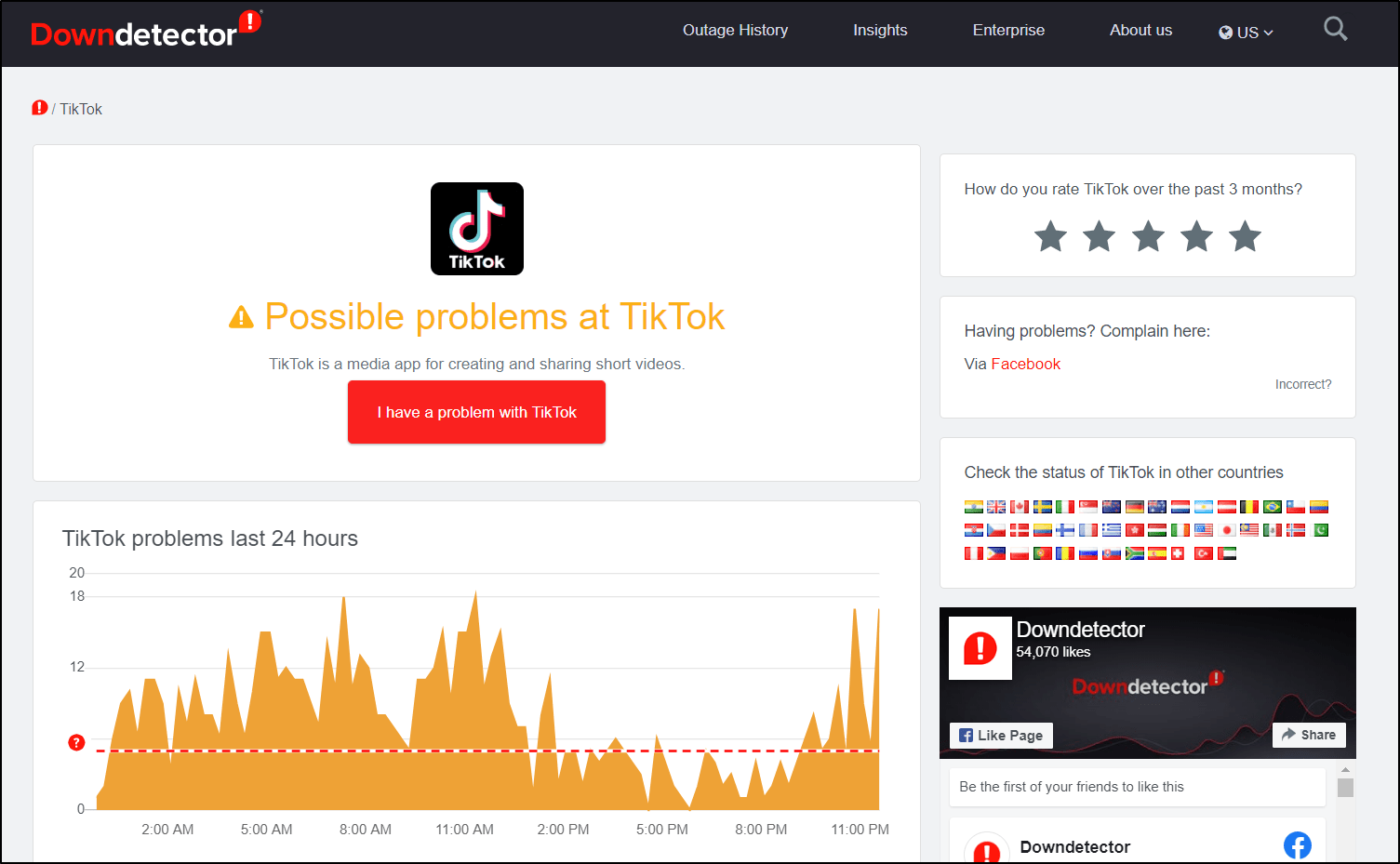 Here, we also recommend looking over the comment section and live map 🗺️ to see the number and types of problems reported.
That way, if you spot similarities with your search error, this could be an ongoing TikTok problem.
b) Through Twitter (@TikTokSupport)
Occasionally, if there are more severe or widespread platform problems, TikTok will address them on their Twitter page, @TikTokSupport. So, if they have announced a recent app issue, there's a chance the search bar may have been affected too.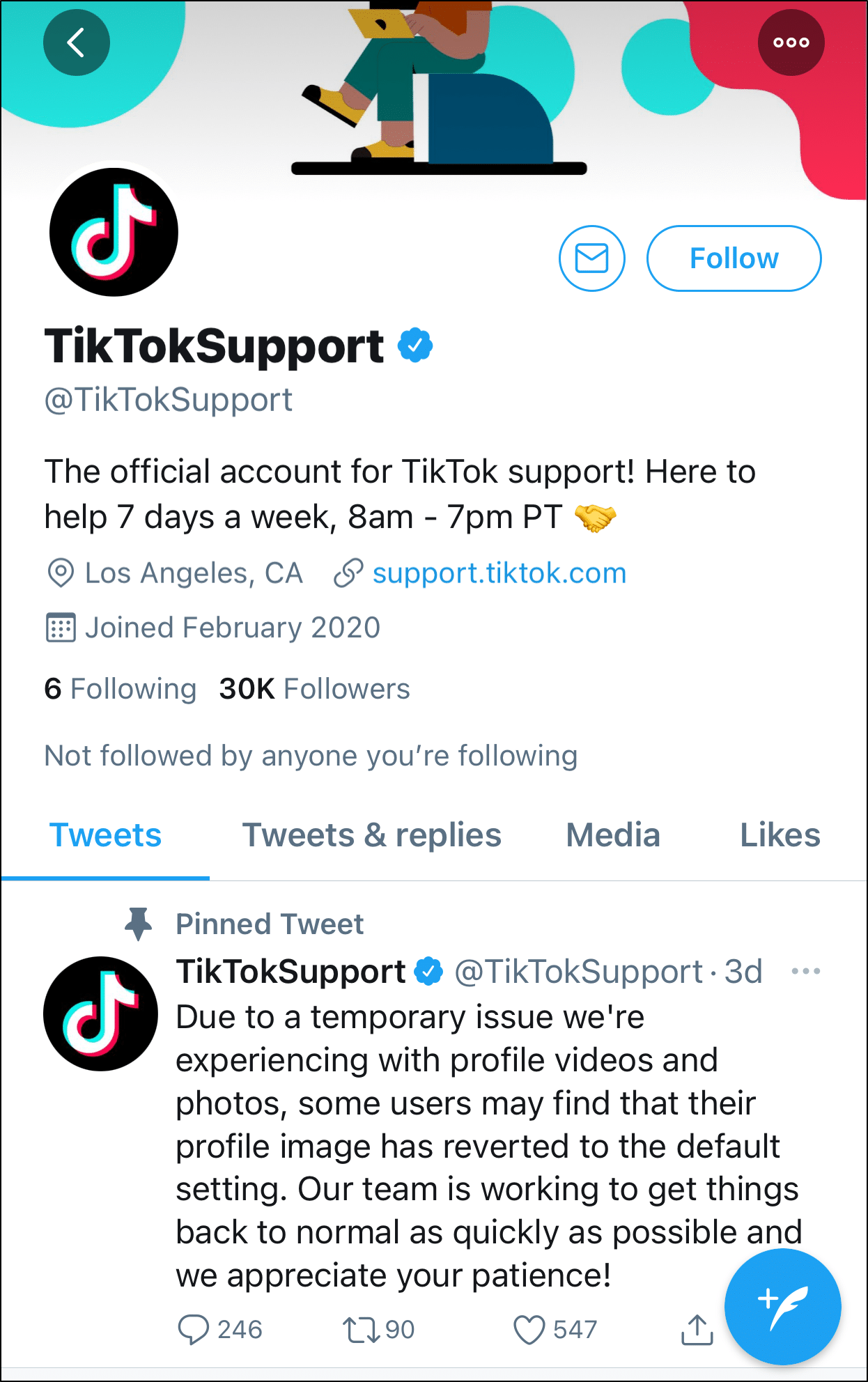 Also, this page should provide you with an alternative means of reaching out to TikTok Support.
3. Use Different TikTok Search Filters
We found that changing the TikTok search filters has a similar effect as repeating or jumpstarting the TikTok search. Thus, it's a way to refresh the search results and possibly give you different ones.
Therefore, if you wind up on the Network error page or receive incorrect TikTok results, we recommend doing this simple alteration.
So, to change the TikTok search filters:
First, tap the

settings icon

at the upper-right.

After that, from the menu, choose a different

Filter by

and/or

Sort by

setting.

Finally, tap

Apply.
4. Try Searching with a Different TikTok Account
Some users have reported that the search bar worked correctly on their secondary TikTok account. This could suggest that the TikTok search bar isn't working due to an account-related issue.
On that note, if you have a second TikTok account, try switching over. You can quickly switch TikTok accounts at the Me page by tapping your username on top.
Then, when you're at the second account, test the search bar on the Discover page.
If you don't have a second account, try asking a friend instead if their TikTok search bar is up and running. You can even ask in the comment section below, so we or any other wandering TikToker can quickly check for you.
Thus, if you find an account-related problem, we suggest getting in touch with TikTok Support (Step 9).
5. Update the TikTok App
As mentioned before, the search bar problem could be one that TikTok is actively tackling from the backend. Therefore, they may come out with an upcoming app update with essential bug fixes to address the TikTok search bar that's not working.
So, the best thing we as users can do is check if the TikTok app is updated to its latest version. Better yet, enable auto-updates for essential social media apps like these, which you use almost daily.
To check and install pending TikTok app updates:
First, open your

App Store

(Apple) or

Play Store

(Android).

Then, go to the TikTok app page, and if updates are available, tap the

Update button.
6. Enable All the Permissions for the TikTok App
Sure, it might seem like a stretch giving the TikTok app access to all resources on your phone to tackle one minor search bar problem. Also, judging from TikTok's "newcomer" status 👶, its largely publicized ban threats, and having an overall questionable background 🤨, you may not be too comfortable enabling these settings.
However, switching on these necessary permissions was the right fix for numerous users with this exact problem.
So, not to worry, you can follow the same steps below to turn off the permissions at any time. With that said, you can rest assured knowing you're always in control of your privacy when using the app.
Do note, if these TikTok permissions are already enabled, try turning it off, and then on again. Doing this can refresh these permissions and may prove to be the right fix.
For iPhone/iPad
First, open the

Settings

app, scroll down and select

TikTok.
After that, under the list of

permissions

,

switch on the available permissions, like Camera and Photos.
For Android
First, open the

Settings

app, and select

Apps & notification

.

After that, select

TikTok from the list of apps.
Next, select

Permissions

, and under

Denied, choose a permission.
Then, choose either

Allow

or

Allow only while using app.
Finally, repeat this step for the other TikTok permissions that are disabled till they're all under Allowed.
7. Clear the TikTok App Cache or Data
If you haven't cleared the TikTok app cache in a while, it could begin occupying large internal storage space. To make matters worse, this accumulated cache can slow down the app and affect its performance and features, like search.
Hence, this overlooked TikTok cache could cause app glitches – the potential culprit for your TikTok search bar that's not working.
Through the TikTok App Settings
Luckily, TikTok has provided an option to clear the cache through the app settings easily. To access this:
First, select

Me

from the bottom bar, and tap the

menu

icon at the upper-right to access the Settings.

Then, scroll down and select

Clear cache.
Through the Device's System Settings (For Android)
If you're using an Android device, you can delete even more app cache and data within the system settings. To navigate to this option:
First, open the

Settings

app, and select

Apps & notification

.

Then, select

TikTok from the list of apps.
After that, choose

Storage & cache

.

Next, start by tapping

Clear Cache

, and then you can also select

Clear Data.
8. Reinstall the TikTok App
If clearing the TikTok cache didn't do the trick, you can go a step further by completely reinstalling the app. Through this, you're not only removing the cache, but every other app file that could've been potentially corrupted. So, you can install a fresh copy of the TikTok app, free from any intruding app glitches.
So, to reinstall the TikTok app, the steps are similar whether you're using an Android, iPhone, or iPad:
First, locate the

TikTok

app on your home screen or app list.

Then, tap and long-press it to access the selection menu.

After that, select

Uninstall

or

Delete App.
Lastly, go to the

App Store

(iPhone/iPad) or

Play Store

(Android), then at the TikTok app page,

install

it.
Now, open the newly-installed TikTok app, sign in, and check if the search bar is still not working.
9. Report the Search Bar Problem to TikTok Support
Finally, if you've tried everything under the sun, but the TikTok search bar is still bugging you, try contacting TikTok themselves. For many users, after a brief message to TikTok Support, their search bar problem "magically" disappeared after a few days.
Thus, this could be a backend issue TikTok hasn't noticed yet. Else, it could be an account-related problem only TikTok can resolve by checking under the hood.
Overall, raising your issue with TikTok Support can give you a definitive fix:
First, select

Me

from the bottom bar, and tap the

menu

icon at the upper-right to access the Settings.

After that, under Support, tap

Report a problem

. Then, under Select a Topic, choose

Feed/Search/Share.
Then, select

Search

,

and choose the most fitting topic, like

Searching for content.
On the next page, to report your error, under "Is your problem resolved?" tap

No

, and then select

Still have problem.
Finally, write a brief description of your TikTok search bar problem, and tap

Report.
Now that your report is submitted, all there's left is to wait for TikTok to get back to you. So, do glance through your Inbox from time to time.
The only downside to this fix is it may take a while for TikTok to respond. Especially considering there are numerous other angry TikTokers to cater.
Conclusion
To recap, this search bar problem is yet another common TikTok error that users report. So, if you spot something odd with the feature, we only hope that you've stumbled across this guide.
This guide provides you with 9 simple fixes to try when the TikTok search bar isn't working, whether on your iOS or Android device.
With the TikTok search bar sorted out, "discover" more viral trends and top posts than your FYP has to offer. Or if you're really sneaky, go ahead and stalk a fellow TikToker or creator 🕵️‍♂️.
The amount of content to search for is truly endless 🤩!
Lastly, do share in the comments section below:
Are you facing problems with the TikTok search bar?

Did any of the above steps solve your TikTok search bar error?

Have another fix you think we should add to the list?
Feel free to share this post with your fellow TikTokers whose search bar isn't working.