Find that you can't install or update your native Microsoft Teams client app and are faced with errors such as "Failed to Extract Installer"?
As you embark on the hybrid journey of working, learning or keeping in touch with your loved ones, Teams is definitely one of the best platforms. Equipped with features that are essential for virtual meetings, file sharing and virtual communication, Teams isn't stopping yet. New features, existing feature enhancements and bug patches are delivered through client or app updates.
Did you know Teams is scheduled for an update every 2 weeks? 🤔
You may not notice it as Teams automatically installs available updates for its client when you have it running in the background.
However, there have been several occurrences where users just couldn't update their Teams client on both Windows and macOS. Other than that, some users also faced problems in trying to install Microsoft Teams on their workstation devices.
---
Types of Errors When Installing or Updating Microsoft Teams
1. Auto-update doesn't work
Microsoft Teams has long introduced the auto-update feature where the users don't have to worry about regularly checking for updates manually. Instead, the Microsoft Teams client will automatically scan and install updates as soon as they're available.
Be that as it may, users have found that the feature doesn't always work. You can find more details and how to overcome this issue in Step 1.
2. Installation has failed, failed to extract installer
Teams users have reported that they receive the "Installation has failed, Failed to extract installer" error when trying to update or install the Teams client.
3. There was an error while installing the application
Many users have reported the "installation has failed, there was an error while installing the application" error after the Microsoft Teams app installation has been completed.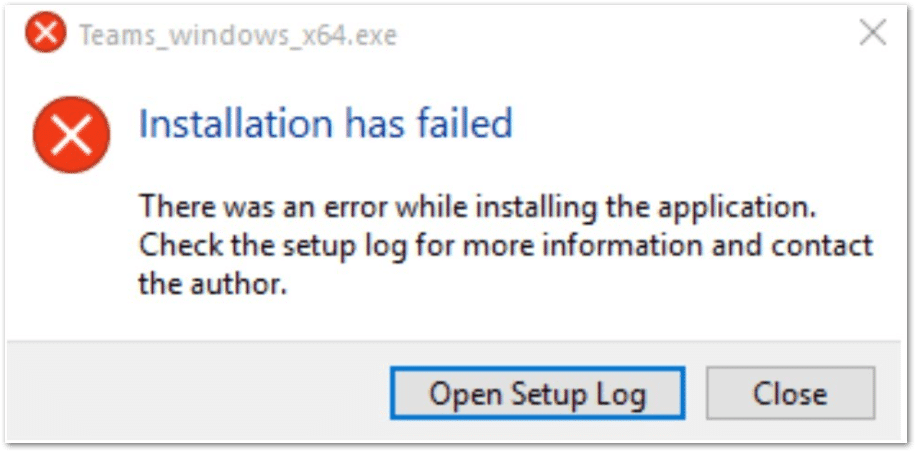 Is your Teams client showing the same error? Tell us about your experience in the comments section below!
---
While the cause of such errors and cases can be vague whether it's device or software-related, we've done thorough research to compile the best fixes when you can't download, install or update the Microsoft Teams app. 
Let's get to fixing and make it work! 👩‍🔧
---
Table of Contents
8 Fixes for Microsoft Teams Not Downloading, Installing or Updating Successfully
---
8 Fixes for Issues When Installing or Updating Microsoft Teams
1. Try Manually Updating the Teams App
Firstly, we'd like to focus on issues revolving around the Microsoft Teams client updates. In this case, users have found that their Teams client doesn't install new updates leaving them with an outdated or old version of the platform.
It's important to note that the auto-update function only does its job when users leave the Teams client on idle mode. Meaning that you have to leave the Teams client open without using any of its features for a brief moment.

So, if you've given some time and your Teams app is still running on an older version, maybe it's time to take matters into your own hands. 🙌
Luckily, Microsoft Teams has made it easy for you to manually update its desktop client by simply using the in-app feature. Here's how you can make use of the feature as we also show how you can update your Teams app on mobile:
On Desktop
The Teams app for both Windows and macOS share the same user interface which explains the similar steps you can take to check and install Teams app updates.
First, launch the

Teams

app and click the

three-dotted menu button

in the top right. 

Then, in the drop-down menu, select

Check for updates.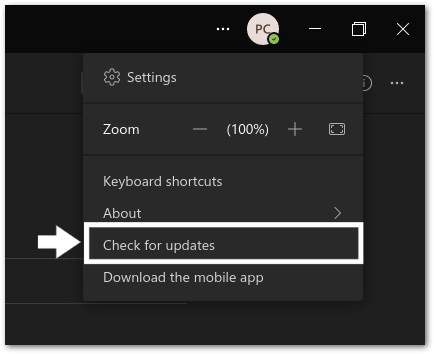 Teams will then open a window that'll notify you of the latest updates and you can choose to

download

them.
On Mobile
For mobile devices, the app itself doesn't auto-update. Nonetheless, you can configure or enable auto-updates for the Microsoft Teams app through your native app store, whether it's through the Google Play Store or Apple App Store.
Meanwhile, you can also check and install any pending Microsoft Teams app updates through the following steps:
To begin, navigate to the

Play Store

(Android) or

App Store

(iOS).

Then, search for the

Microsoft Teams

app.

Next, look for the installed Microsoft Teams app and go to its

app page.

Finally, if an update is available, select the

Update button.


Note: No further action is needed in terms of updating the Microsoft Team app if you're using its web version as new updates are automatically integrated.
2. Clear the Microsoft Teams App Cache and Data
Every information and interaction on an app is stored as cache data which is used to enhance the app's performance to best suit your preferences. It also helps to lessen the app's loading time and information retrieval. 
Sounds like cache is a core aspect of an app, so what exactly could go wrong? 🤷‍♂️
Having said that, another reason that could halt the update process for your Teams client is misconfigured and outdated data. Ultimately, it could hinder app processes including retrieving updates as you might be experiencing on your Teams client. Yes, the same data that would help you to utilize the app better could also be the culprit. 
Similarly, if you're having trouble downloading or installing a new iteration of the Teams client, there could be corrupted data from the previous installation. Hence, the steps below will help you navigate to the app files and from there, you can clear them completely to ensure that your next installation starts from scratch. So, this step is fruitful if you're eventually going to try to reinstall the app (Step 3).
Nonetheless, if you find that you have issues in installing or updating Microsoft Teams, we recommend clearing the Teams cache and data. 
The following steps will show you how to clear the Teams cache on Windows, macOS and extra steps to clear the Teams web browser data if you're using its web app instead:
On Windows
Firstly, ensure the Teams app is fully closed and not running. You can double-check by looking in the

Task Manager

(

Ctrl

+

Shift

+

Esc

). End the Teams process in there if you see it running. (

Step 1

)

Next, open up the

Run

dialogue. (

Win + R

)

Copy and paste the following address to access Teams' cache:

%appdata%/Microsoft



You should see a list of folders here like in the screenshot.

Then, simply select

Teams

and

delete it.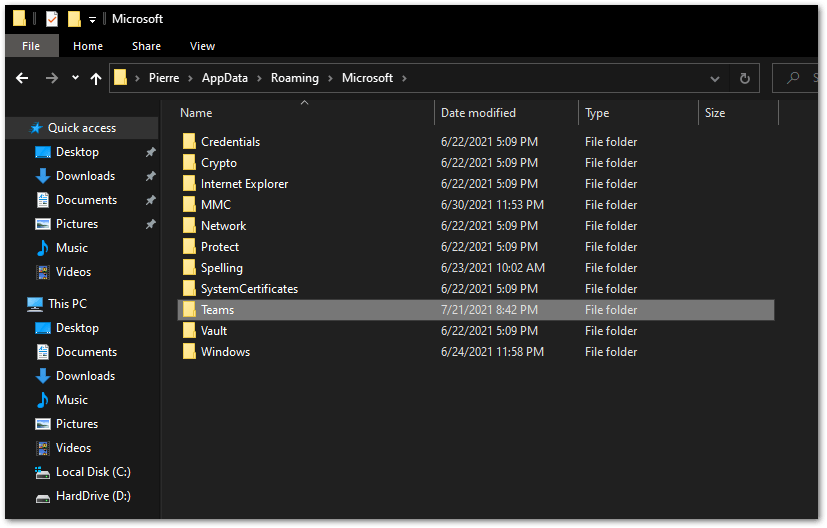 Finally, open up Teams and let it set up all the new cache.
On macOS
To start, make sure

Teams

is fully closed. We detailed how to do so in

Step 1

.

Then, hold down

Command+Shift+G

and paste the following directory:

~/Library/Application Support/Microsoft



Here, simply delete the Teams folder.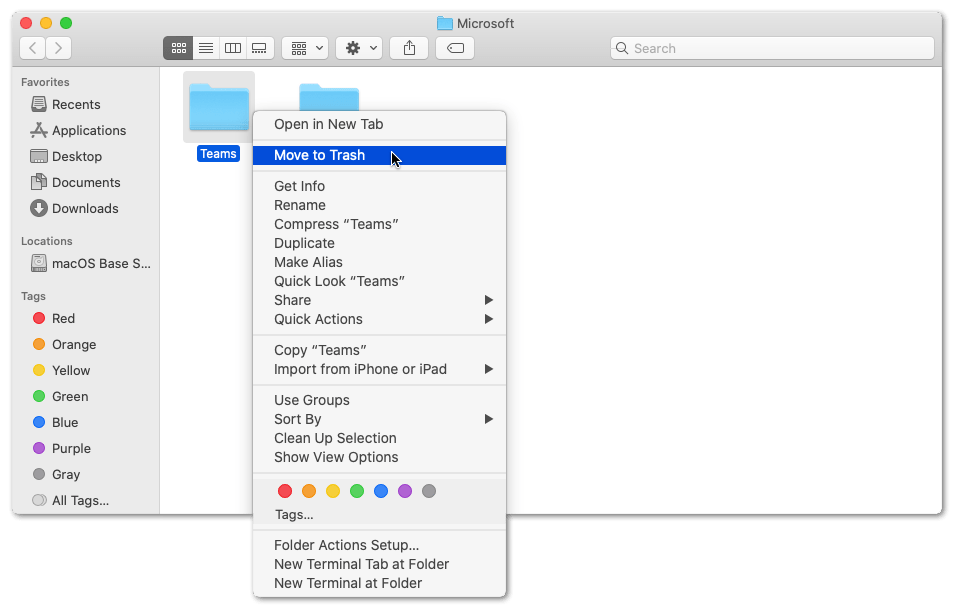 After that, open up the

Keychain Access

app through

Launchpad

.

Next, while

login

is selected in the left sidebar, delete the

Microsoft Teams listing.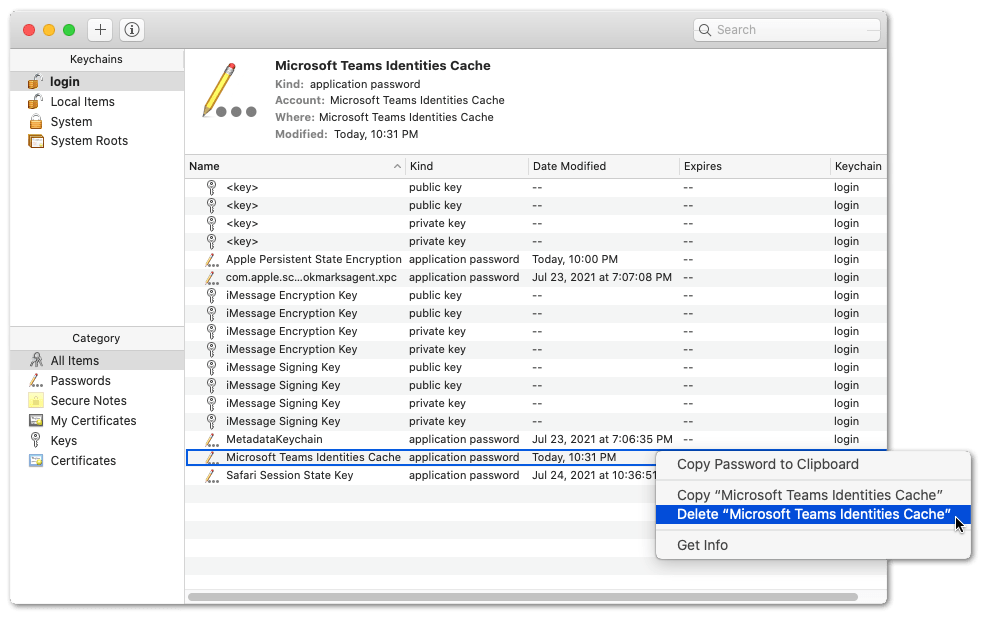 Finally, open up Teams and let it set up all the new cache.
On a Web Browser
The following steps were performed on Google Chrome, but are generally similar regardless of whichever browser you're using:
First, navigate to the

Teams web version

and log in.

On the left side of your address bar, click on the lock or similar. 

Then, click on the

Clear cookies and site data… option or similar.

Finally, in the new window, click on

Remove in the bottom right corner.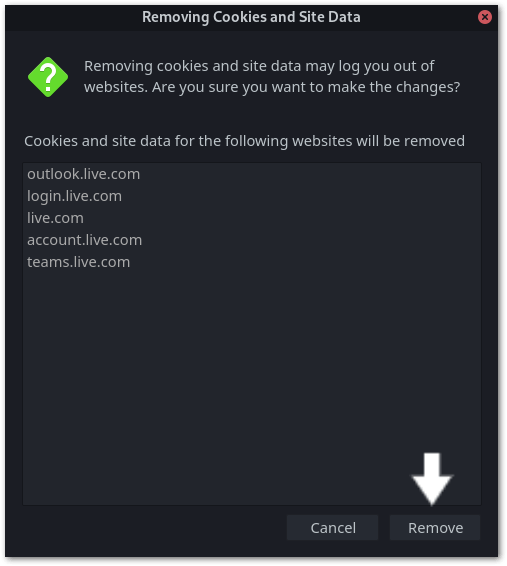 Note: Clearing cookies and site data will log you out of the website, so save everything before you perform these steps.
Other than that, you may want to try reinstalling the Teams client if manually updating or clearing the client's cache and data aren't doing the trick. Follow along as we explain this method in detail next. ⬇
3. Reinstall the Microsoft Teams App
Whether you're trying to update your Teams client but keeps failing or you're attempting to get a fresh copy of the app as a way to eliminate bugs and glitches – reinstalling the Teams client is the answer.
By far, the best answer to get the latest version of any client or app is to completely delete its files and get a fresh copy installed 🗑. The same goes for Teams when it gets littered with bugs and overloaded data. 
Therefore, if you encounter any issue in installing or updating Microsoft Teams, we suggest uninstalling and reinstalling the Teams client. 
In order to reinstall the Teams client on Windows and macOS, here are the steps to do so:
Note: For a more thorough reinstall, after uninstalling the app and before installing a brand new iteration, you can follow the previous step (Step 2) to delete the Microsoft Teams' app cache and data. Thus, cleaning the client's data storage, allowing for brand new data to be collected for a smooth operation.
On Windows
First, open the

Run

window by pressing

Windows

and

R

keys simultaneously.

Next, type in

appwiz.cpl

and press

OK

in the

Run

prompt window.
Now, from the list of apps, select

Microsoft Teams

and click

Uninstall

.
Once the uninstallation is complete, go to the

Microsoft Teams download page

and

reinstall

the app.
On macOS
First, open

Finder

and look under the

Applications

tab for Microsoft Teams.

Then, drag the Microsoft Teams app to the

Trash

or right-click it and select

Move to Trash.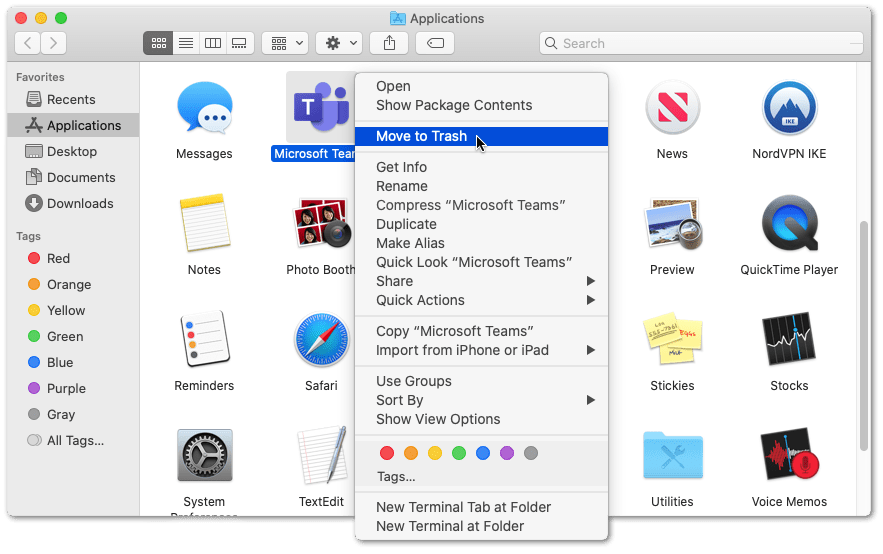 If requested, enter the credentials you use for your Mac's

administrator account

in the next window.

After that, go to the Trash and right-click on it and select

Empty Trash

.

Finally, reinstall the app by going to the

Microsoft Teams download page

.
4. Launch the Microsoft Teams Installer/Client as Administrator
Another method worth trying is to make use of the "administrator mode" which helps you to bypass some restrictions that could prevent software like Teams from being installed. In some cases, users found that they could successfully install the Teams client by launching the installer as an Administrator. 
For this, you can download Microsoft Teams from the Microsoft page.
For Windows
Then, go to the folder that contains the downloaded file and locate the Microsoft Teams installer.
Afterwards, right-click the said installer and select "Run as administrator" as shown below.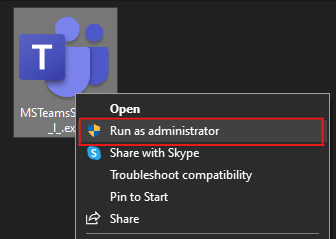 Depending on your OS, the system will confirm whether you'd like to proceed and choose "Yes". It might ask for your administrator credentials which should be the same as what you use to sign in to your device.
Additionally, you may also try running the Teams client as administrator if you have issues updating it to the latest version. Simply use the same steps above with the Teams client launcher.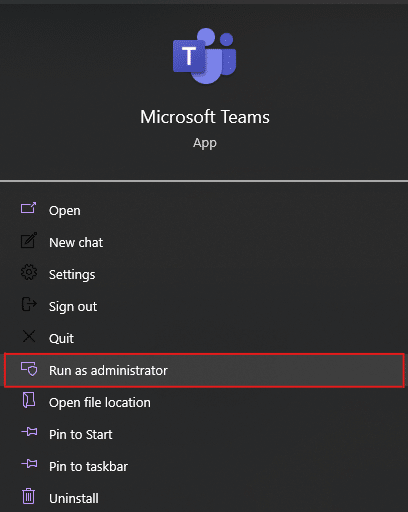 For macOS and Linux
As macOS and many Linux distros have unix-based terminals or command lines, you can open the Microsoft Teams installation file with administrator privileges using your native terminal app with the same command. In the terminal, simply type "sudo" followed by the file/app location and press Enter.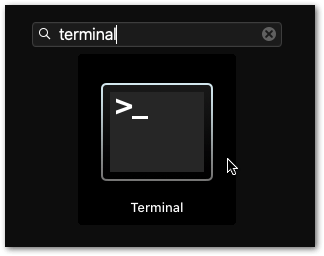 5. Turn Off Your Device's Firewall or Antivirus Temporarily
As a way to ensure your device's safety, the firewall and antivirus 🛡 are intended to protect and block your device from malicious software and unauthorized access. Some operating systems provide a built-in firewall to protect your device from online threats. 
In rare cases, this could lead to unsuccessful installation as your device's system may mistakenly believe it may be harmful. 
Hence, this brings us to the next troubleshooting method which is to turn off your device's firewall or antivirus for the Teams client installation or update. 
For that reason, you can choose to disable your device's firewall by following these steps on Windows and macOS:
On Windows
To start, press your

Windows key

and type in

Control Panel.

Next, open the Control Panel app and proceed to select

System and Security.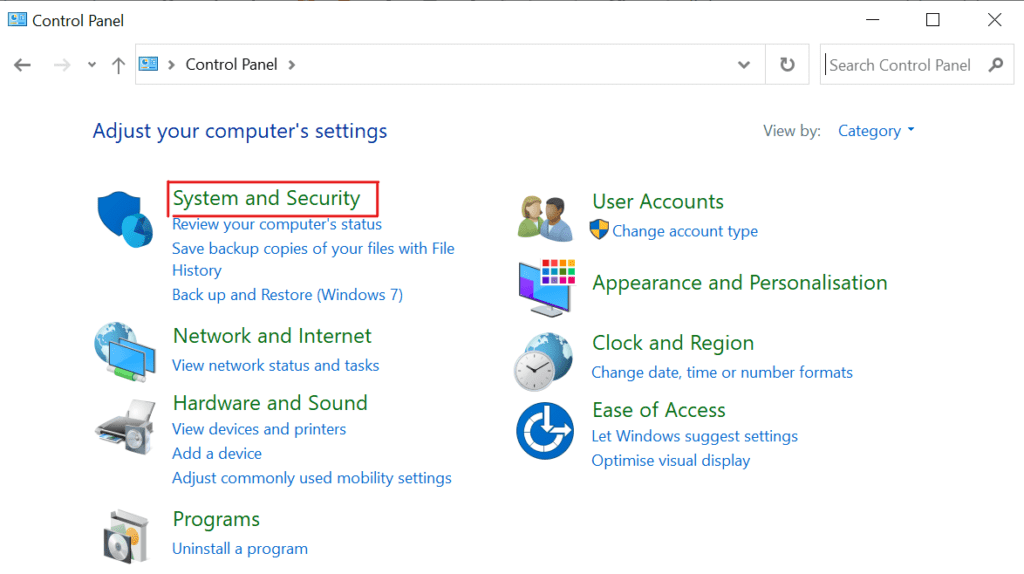 On the next window, select

Windows Defender Firewall.

Then, you'll see a list of options and select

Turn Windows Firewall on or off.

Afterwards, you'll see the

Customize Settings

window, click on the

Turn off Windows Defender Firewall

buttons. Apply the step to both

Private network settings

and

Public network settings

.

Finally, click

OK.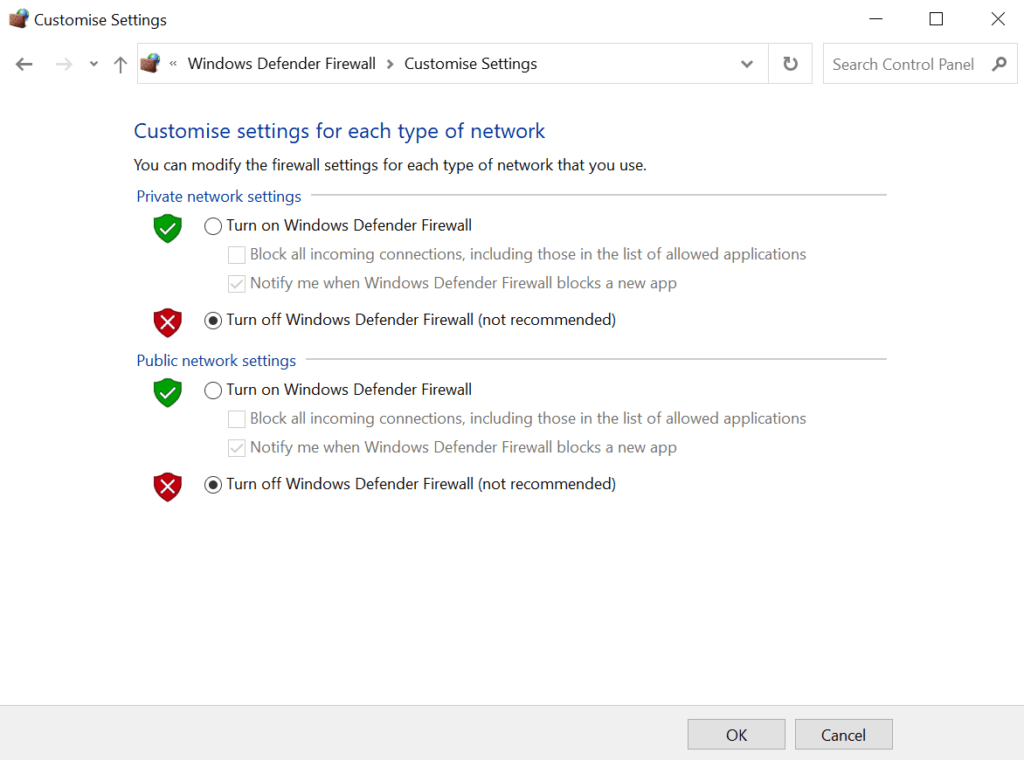 Note: It's highly advisable that you only turn off your device's firewall for a brief moment and have it back on after you've tried installing or updating Microsoft Teams. Also, you may be asked to re-enable the Windows Firewall when there are changes in your network settings.  
On macOS
Firstly, click the Apple logo in the upper-left corner to open the

Apple Menu

. From the drop-down menu, select

System Preferences

. 

Then, select

Security & Privacy

. 

On the next window, click the

Firewall tab.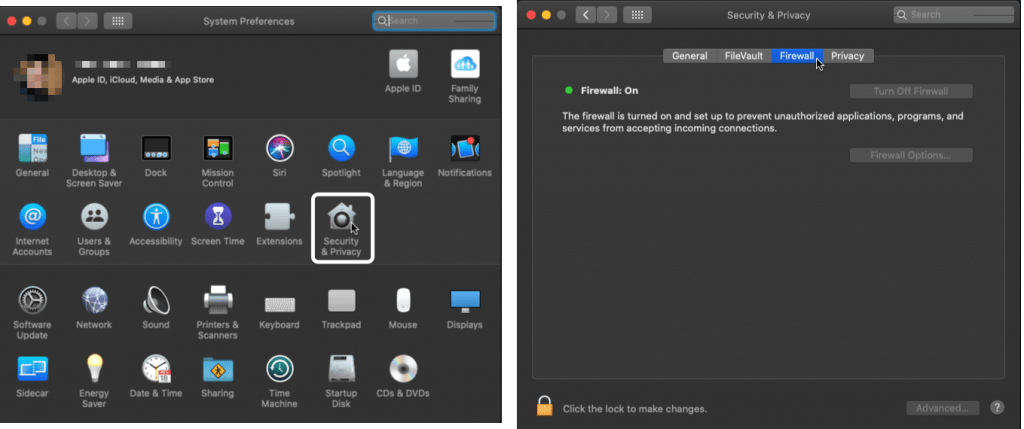 Next, click the

lock

icon that you can find at the bottom-left corner of the window.

Enter your

admin username

and

password

as requested to proceed.

Finally, you can now click the

Turn Off Firewall button.

Note: Perhaps you find that without your firewall turned on, Microsoft Teams behaves correctly. In that case, you can allow it through your firewall by following the steps as detailed in our other guide here.
After you've turned off your device's firewall, try installing or updating Microsoft Teams and see if the issue persists. Also, don't forget to turn the firewall on again after you're done as it's important to keep your device protected.
If you're using third-party antivirus software, we recommend turning it off temporarily along with your device's firewall as a troubleshooting method.
6. Install Microsoft Teams Using a File Archiver
Moving on, if you insist on using the Teams client, we get it, you don't want to miss out on the convenience and limitless features. Hence, there's an alternative to try when you have issues in installing or updating Microsoft Teams. 
This may seem confusing at first, but we're going to guide you through each step! 
For this, we'll be using a third-party file archiver app to do some tweaking to the Teams installer:
Firstly, you need to

completely uninstall

any existing instances of Microsoft Teams on your device (

Step 3

).

Next, proceed to install a

third-party file archiver

if you don't have any. We suggest that you try

7-Zip Portable

which you can download

here

.

Also,

download Microsoft Teams

and make sure to choose an easy folder location. 

Launch 7-Zip Portable and browse for the location of the Teams client. Afterwards, right-click on the Teams client and select

Extract

to which you should take note of the chosen extracted folder location. 

In the extracted Teams client folder, look for the file that ends with

.nupkg

.

Similar to step 4,

extract

the .nupkg file and take note of the extracted folder location.

Subsequently, you need to locate the appdata folder on your device under the User account folder. You may try these addresses:
C:\Users\USER\AppData\Local\Microsoft
C:\Users\AppData\Local\Microsoft
In the

Microsoft folder

, create a new folder titled

Teams

. 

For the final step, go back to the

extracted .nupkg folder

, double-click on the

lib

folder followed by

net45

. 

Finally, scroll down until you find the Teams client and you can now run the app. Additionally, you can create a shortcut for the client. 
Note: This solution is considered a temporary fix as the Teams client won't appear in your Windows Start list of apps and settings. Therefore, use this method for urgent use and give the previous fixes a try or you can reach out to Microsoft Support (Step 8) for a more definite answer.
7. Try the Web Version of Microsoft Teams
Although the issue in installing or updating Microsoft Teams isn't a stranger to many of its users, the causes may vary. Undeniably, it might as well be the result of bugs that are currently being resolved on Microsoft Teams' end. 👩‍💻
Nevertheless, a great alternative if you keep having issues with the Microsoft Teams client is to try using its web app instead. 
Primarily, the web version of Microsoft Teams will run on its best version as updates and bug patches 👾 are directly and automatically implemented. Besides, you may avoid issues that could've occurred because your device doesn't meet Teams' minimum requirements. 
Thus, you can try going on the web version of Microsoft Teams and log in to your account as usual.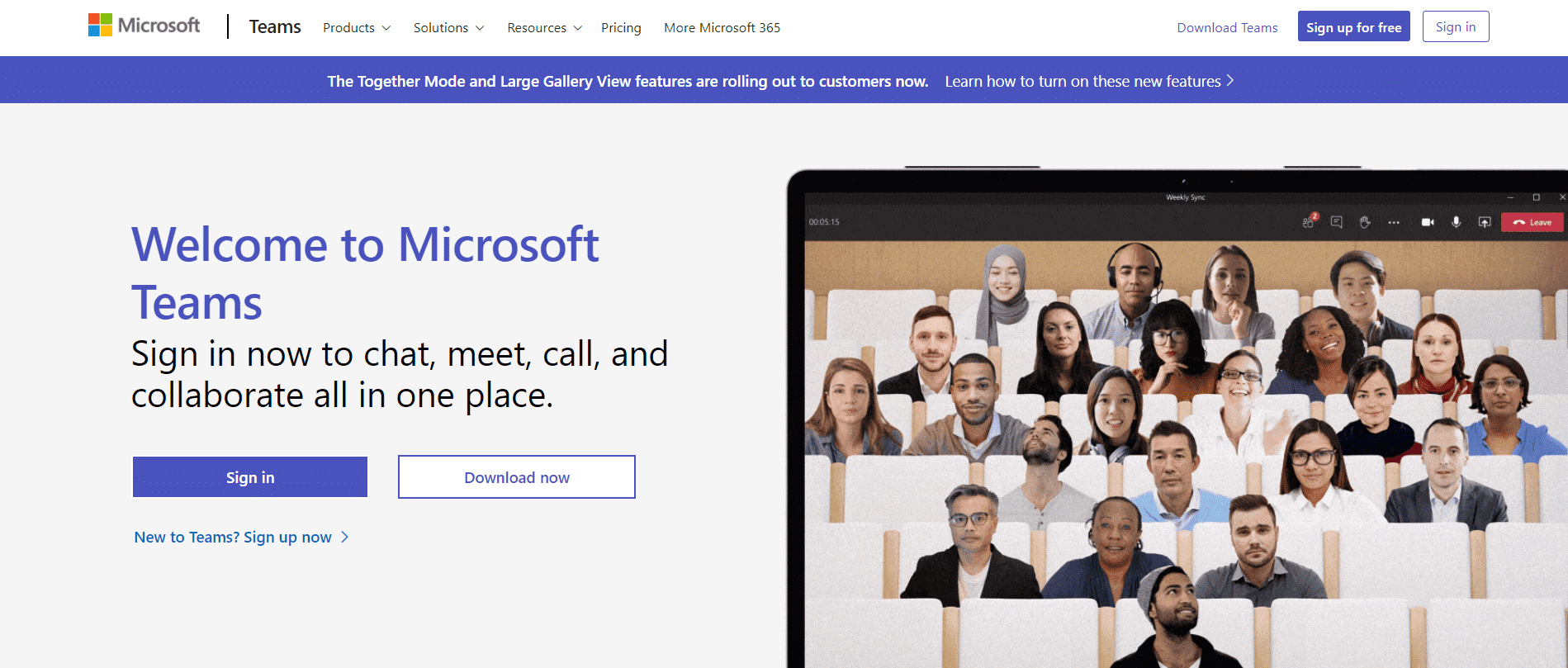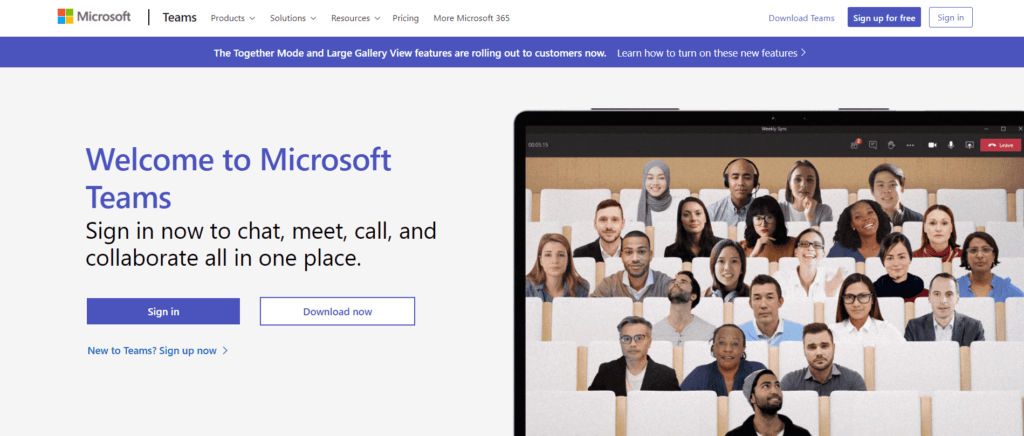 We recommend that you try the Teams web app using the Microsoft Edge web browser as other major web browsers such as Google Chrome, Firefox and Safari is believed to run the web app with limited features. 
8. Contact Microsoft Support
Perhaps you've tried everything and you can't install or update your Microsoft Teams client successfully. 😩
After long hours of trying to figure out the best fix, you might need professional assistance for a more definitive answer to your Teams issues. 
On that account, you can reach out to Microsoft Support or the Teams community who are ready to help you. Here are the 3 best channels you can use to get further help when you have issues installing or updating Microsoft Teams: 
Microsoft Teams Forum

– Submit a comprehensive report regarding the issues and get feedback from Microsoft representatives or other Teams users.

Microsoft Office 365 Support

– Send a report directly to the Microsoft Office 365 support department to get a prompt reply.

Microsoft Teams Twitter

– Get the latest announcements regarding the most recent issues, updates or fixes you can try by following the official Microsoft Teams Twitter page.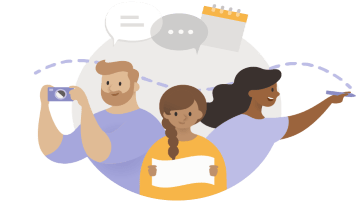 Conclusion
We understand the crushing feeling when you just can't update your Teams client, missing out on new features, app enhancements or essential bug patches 😢. Or, you're trying to download the revolutionary workspace platform but it keeps giving you some error messages! 🚫
We've got your back and have done our research on this one. 🕵️‍♂️
In this article, we've compiled the types of Teams update and installation errors you may find familiar as well as the 8 best fixes you can try to combat them. If you've tried and confirmed that one of them worked for you, don't be shy to share with us by leaving a comment. 🤗
Let us know of your experience and comment below:
Do you find that you can't update or install your Microsoft Teams client? 

What steps worked for you or other fixes would you like to recommend?

Are you struggling with any other issues on Microsoft Teams that you need help with?
Share this article with your friends or coworkers so they won't have the same problem in the future! 😄