Do you find that you're randomly signed out or keep logging out of your Discord account? Here are 8 fixes for that!
Discord is the social media app that is all the rage now 🔥. The platform differentiates itself from mainstream socmed by offering versatility in customization for its users 💪. On top of that, it boasts a multitude of functions such as file-sharing, video streaming, text boards, and voice-chat. It has since become the home of many tightly-knit online communities, with more than 100 million monthly users and 6.7 million active "servers". (Each community on Discord is known as a "server")
However, some users have reported an annoying glitch ☹️ that causes their Discord accounts to log out. It's a nuisance to have to retype in your account name and password every time you want to use Discord.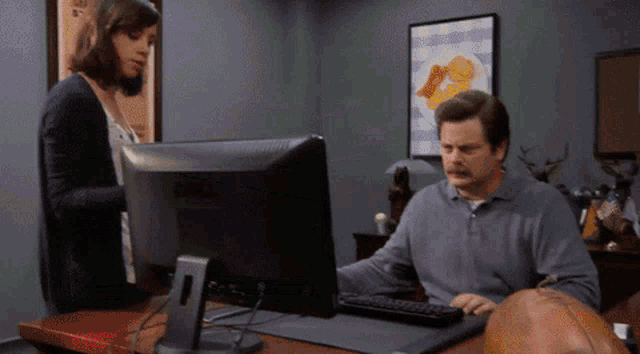 Inconvenient as it is, it's hard to pinpoint the exact source of this problem 😵. This is because the glitch can be caused by a myriad of different issues, such as account problems and even ongoing server-side issues. For instance, an ongoing ban wave on Discord's end could render plenty of Discord accounts flagged, disabled, or unintentionally logged out.
Thus, each cause may require different methods to troubleshoot and address this problem.
On that note, this can be rather confusing for the average Discord user to deal with. That's why we've prepared this compilation of 8 tips and fixes to help deal with this frustrating problem. 🧐
Without further ado, let's check out the various fixes for this issue!
Note: If your Discord account is disabled, we recommend checking out our other guide here for the steps to address those account problems. You might even find 1 or 2 useful fixes in there as well!
---
Table of Contents
---
1. Check Discord's Server Status
Before jumping to any conclusions, let's make sure the problem isn't caused by a server-side issue. This is because if the issue lies with Discord's own services, there's not much that we can do except to wait for them to fix it.
Minor outages typically last for minutes, but critical outages can last for hours or even a whole day 😫. However, if the problem lies on our side, then there are indeed steps that we can take to narrow down and potentially identify the issue.
The first step to go about this is to check the availability of Discord's services. For this, there are a lot of tools online that can help us detect such server issues for various major platforms, in this case for Discord.
Therefore, we recommend visiting Downdetector, which is one such tool 🛠️ with a simple interface and presents outage statistics in straightforward graphs.
As shown by the screenshot above, if there are minor outages at Discord, it may cause glitches such as being logged out of Discord whenever you close the app. In such cases, in the comments section, you may notice multiple users reporting that they keep logging out of Discord or their account is disabled. This could mean that there's an ongoing ban wave that's affecting some Discord users, and you might just be in the unlucky bunch!
So, if you notice a similar spike, simply wait it out or report the issue to Discord Support (see step 8).
However, if Downdetector doesn't show any potential problems with Discord's services, then it's very possible that the issue is on the client-side. In that case, keep reading for more tips and fixes!
2. Reset Your Login Info or Password
Earlier this year, following a mass ban wave, numerous Discord users found that they were logged out of their accounts as they were wrongly flagged for suspicious activity 😡. Hence, if your Discord account has been flagged, you may receive an email from Discord notifying you of the actions taken, like the following:
If you've received a similar email, then your account is likely disabled or flagged as a bot 🤖. To undisable a Discord account, we recommend checking this Pletaura article for possible fixes.
Suppose your account hasn't been disabled, but you somehow get automatically logged out of Discord. It's likely that your account has been flagged for suspicious activity but no further actions were taken. For instance, your account could have been mistakenly identified as a hacked account. 🐱‍💻
In that case, you should reset your login info by setting a new (and stronger) password for your Discord account. Doing this further improves your account security to prevent any account breaches or resolve password leakages.
Furthermore, it logs you out of every other device this account is attached to, even ones you may not have known about 😯. Thus, forcing you to log in with the new credentials.
That being said, the following are steps to change your account password on Discord:
First, go to

User Settings

in Discord. Generally, the

cog icon

can be found in the bottom-left corner of your screen, right next to your profile picture and Discord tag.
Under the

My Account

tab, scroll down until you see the

Change Password

button.
After that, enter your Current and desired New Password, then click Done.
3. Enable 2-Factor Authentication
2-factor authentication is important to your Discord account's security as it provides an extra layer of protection 🔒 that prevents unauthorized users from logging into your account remotely.
Furthermore, if you suspect that your account has been mistakenly flagged (see step 2), you should consider enabling 2-factor authentication as well. This is because turning on 2-factor authentication improves your credibility by proving to Discord that you are indeed a real person instead of a bot.
For this, two of the most popular authenticator or software token apps are Google Authenticator and Authy, both available on Android and iOS.
Steps to Enable Google Authenticator with Your Discord Account
Therefore, in the following steps we'll show how you can set up 2-factor authentication. For this purpose we'll be using Google Authenticator, though the process will be rather similar on other software token apps too:
First, go to

User Settings

in Discord. Generally, the

cog icon

can be found in the bottom-left corner of your screen, right next to your profile picture and Discord tag.
Next, under the

My Account

tab, scroll down until you see the

Enable Two-Factor Auth

button. So, click it to start the process.
Finally, you'll see a 3-step prompt to download an

authenticator app

for the authentication process.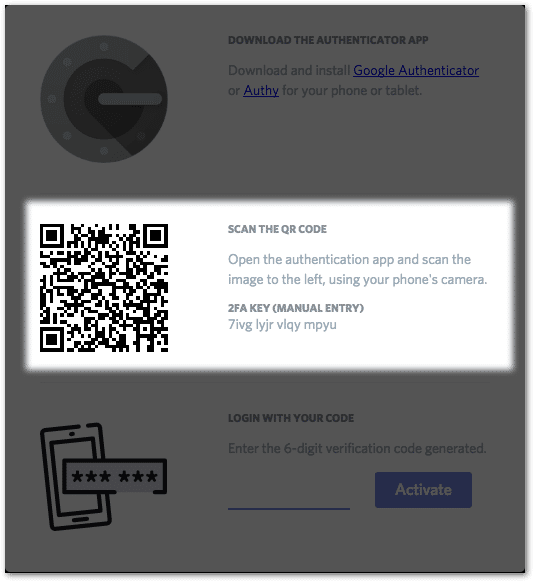 Now, head on over to Google Authenticator on your phone so we can link this Discord account.
Click the + button in the bottom right of the app to add a new 2FA key.
Here, you can either use the QR code scanner in the app or manually enter the key given in Discord.
Once that's done, you should now see a 6-digit code linked to your Discord account that changes every time the timer resets.
Next, in the Discord app, enter the 6-digit code in the last field, then click Activate.
Finally, if your code was right, you should be greeted with this message: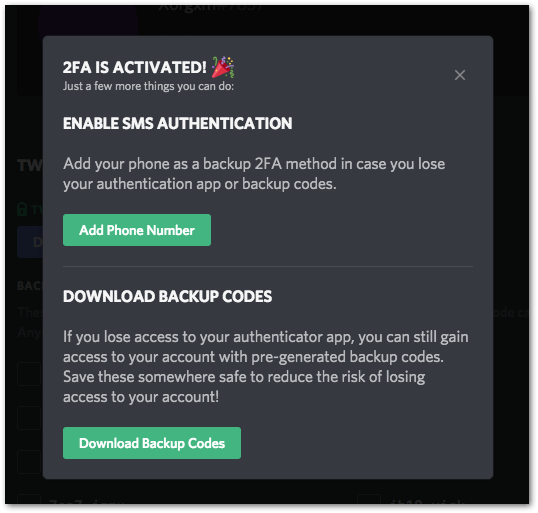 We highly recommend doing both as you never know when you might lose your phone or need to format it. So, keep those Backup Codes in a safe and secure place or you might just lose your account forever!
However, if you don't have the time to do it right now, but plan to do it later, you can still do it by going back into Discord settings.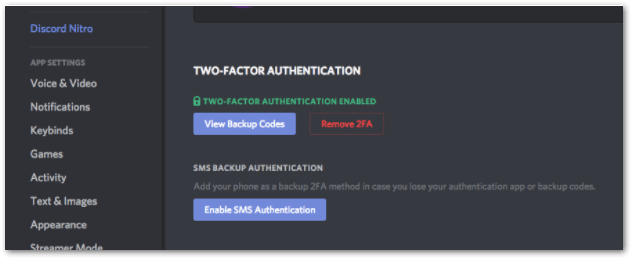 4. Try Logging In From Another Device
Sometimes, the problem is limited to a single device you're using and may be absent on other platforms. Most notably, many users have reported that Discord randomly logs itself out from Apple devices. Thus, it is worth checking if the login problem is limited to a specific OS/device. 🕵
Discord users on the iOS platform have generally reported that the glitch is less likely to be encountered on Android devices. Therefore, if you're having this problem on an iOS device, it's recommended that you try logging into Discord from another device — preferably on an Android or a PC.
5. Reconfigure the DNS Settings on Your Device
Problems with the DNS may also be a cause for Discord glitches which include random log-outs. Fortunately, this can be easily fixed by reconfiguring the DNS settings on your device.
While this fix may not apply to all users, it's still worth trying out.
What is DNS?
The Domain Name System is a vital component of the modern Internet. A good simile for DNS is to think of it as a phonebook of the Internet 🌐. In more technical terms, the DNS translates a human-readable domain name (such as google.com), into an IP address (example: 8.8.8.8).
Depending on the type of device you're using, there are several ways to reconfigure the DNS settings on your device ⚠️:
Note: Performing this step may momentarily disrupt your device's Internet connection. Additionally, suppose this step doesn't aid your situation or instead further halts your internet connection. In that case, you can follow the same steps to remove the custom DNS address and stick with the defaults.
For iOS
First, open the

Settings

app

.

After that, select

Wi-Fi

.

Next, tap the ⓘ icon next to the currently connected network.

(Optional) Under IP Settings, change DHCP to static.
Now, scroll down to the DNS section and select Configure DNS

.
Finally, select

Manual

and add the IP address for your desired DNS servers.

Then, we recommend adding

8.8.8.8 or 8.8.4.4

(Google's DNS) in the IPv4 section and

2001:4860:4860::8888 or 2001:4860:4860::8844

in the IPv6 section.

Finally, tap Save at the upper-right.
For Android
The specific steps to change the DNS address may differ depending on your Android version or device. However, generally, the steps are similar as the following:
First, open the

Settings

app

.

After that, select

Wi-Fi

or

Network Connections

.

Next, tap the

ⓘ

icon next to the currently connected network.
Then, scroll down and select

IP Settings

.
Here, make sure that

Static IP

is selected instead of DHCP.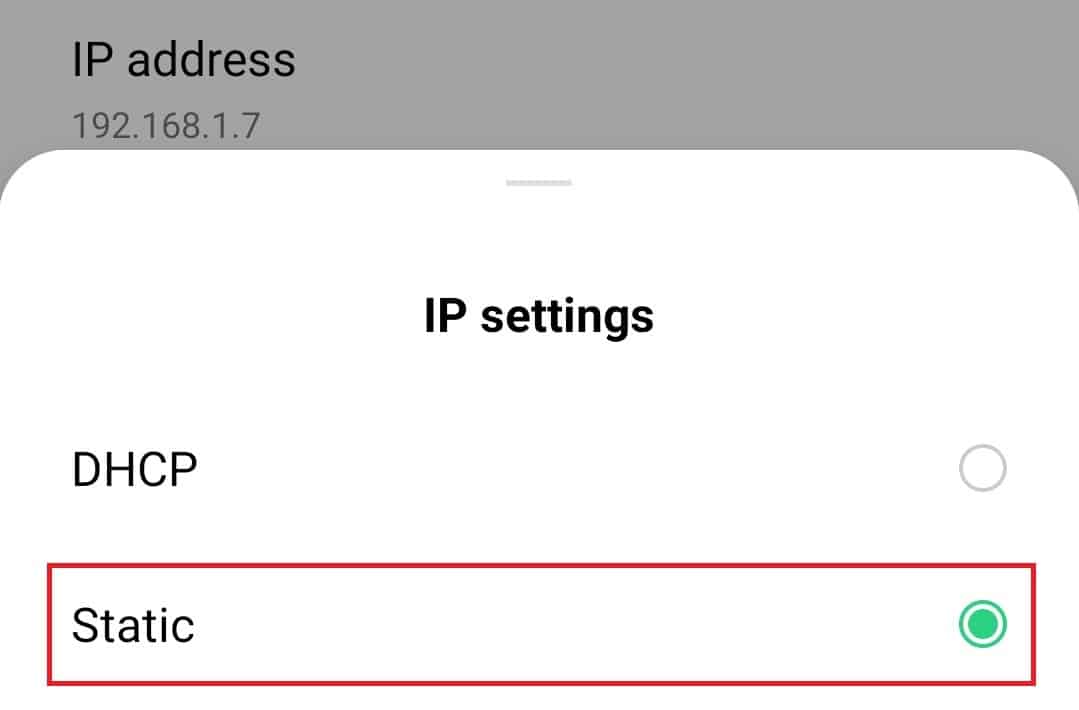 A new section should appear. In the DNS field, fill in the DNS server of your choice. Here, we recommend adding

8.8.8.8 or 8.8.4.4

as your primary DNS.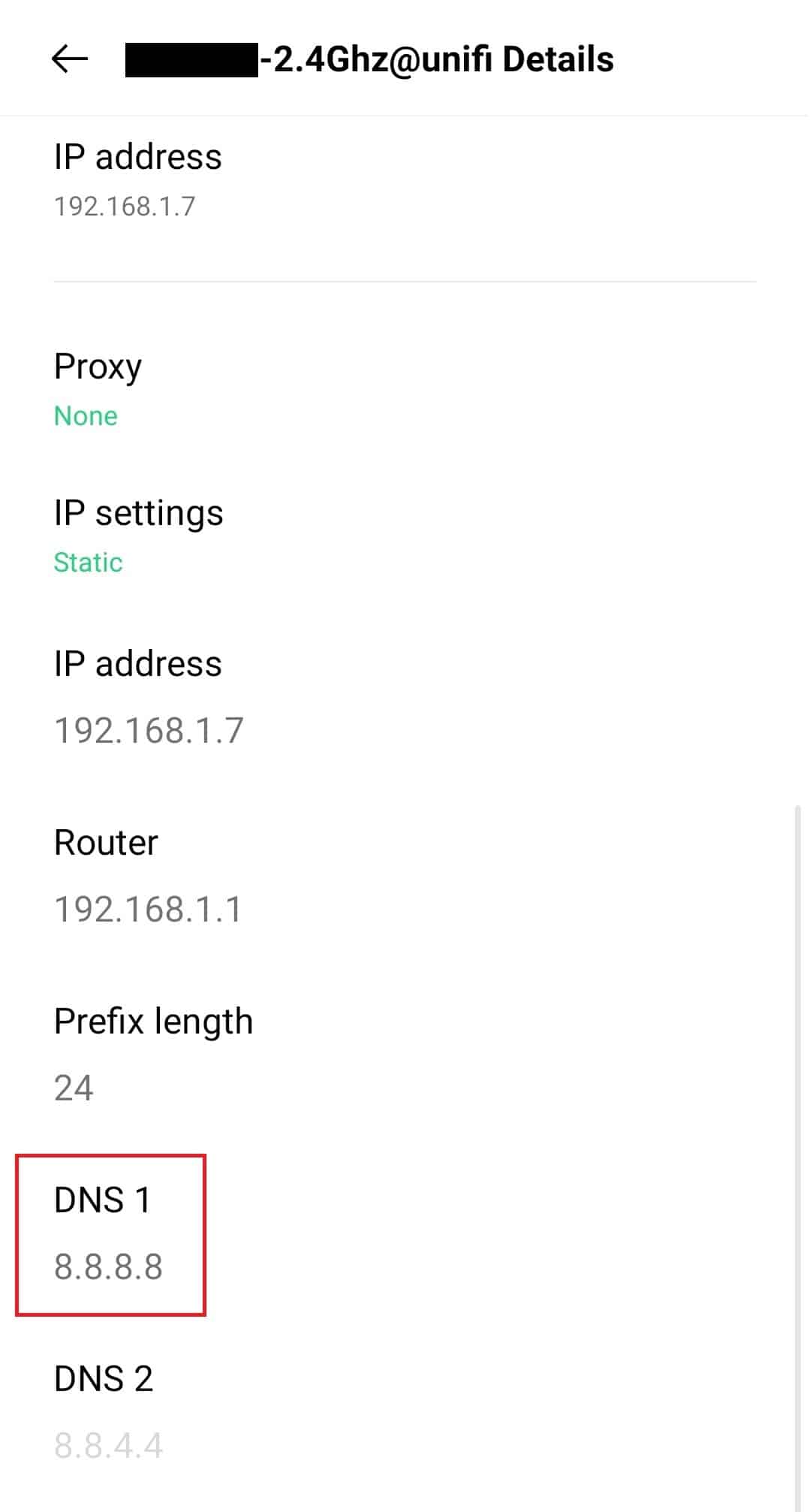 For PC
If
you're
using a
web browser
to access Discord on your PC, here's a quick way to clear your
DNS resolver cache
without messing with your machine's network settings:
Google Chrome
First, open the Google Chrome browser and type

chrome://net-internals/#dns

in the address bar.

Finally, select the

DNS tab

and click the

Clear Host Cache

button.
Mozilla Firefox
First, open the Firefox browser and type

about:networking#dns

in the address bar.

Finally, simply click the

Clear DNS Cache

button.
6. Clear Discord's Cached Data
Caches are the accumulation of data that are generated from your usage of the Discord app. For instance, when you load an image on Discord 📥, the image is cached in your device so that the next time you need it, the image will load faster.
While it's a convenient feature, Discord's data caches have their pros and cons too. Over time, these data caches can get bloated as the accumulated data keeps growing. These junk files can lead to glitches on the device while occupying precious storage space.
In such cases, we recommend resetting Discord's data cache manually:
Note: Unfortunately for iOS devices, there's no such way to completely clear the Discord app cache through a click of a button in the settings. Hence, for a similar effect, we recommend reinstalling the Discord app on your device (Step 7).
For Windows
If you're using the Discord app on PC, you'll need to manually delete the cached files.
First, go to Discord's AppData folder by typing

%appdata%\discord

in the search bar on top of your

File Explorer window

.
Next, look for the following 3 folders:

Cache

,

Code Cache

, and

GPUCache

.

Finally,

delete

these 3 folders.
For macOS
Similarly, if you're using the Discord app on a Macbook or macOS device, you need to remove the cache files manually.

First, open

Finder

, and from the menu bar select

Go, then at the drop-down click Go to Folder

.
A text box titled

Go to the folder

should appear. Type

~/Library/Application Support/discord/

in the text box.

Next, look for 3 folders:

Cache

,

Code Cache

, and

GPUCache

.

Finally, delete these 3 folders.
For Android
If you're using the Discord app on Android, you can clear the cache files in one click in the

Settings

.

First, open the

Settings

app, and go to

App Management

, or

Apps

.
Next,

select

Discord

in the list of apps.
After that, look for a

Clear Cache

option on this

App Info

page. It can usually be found in

Storage Usage

.
Finally, tap the

Clear Cache

button to remove all cached data.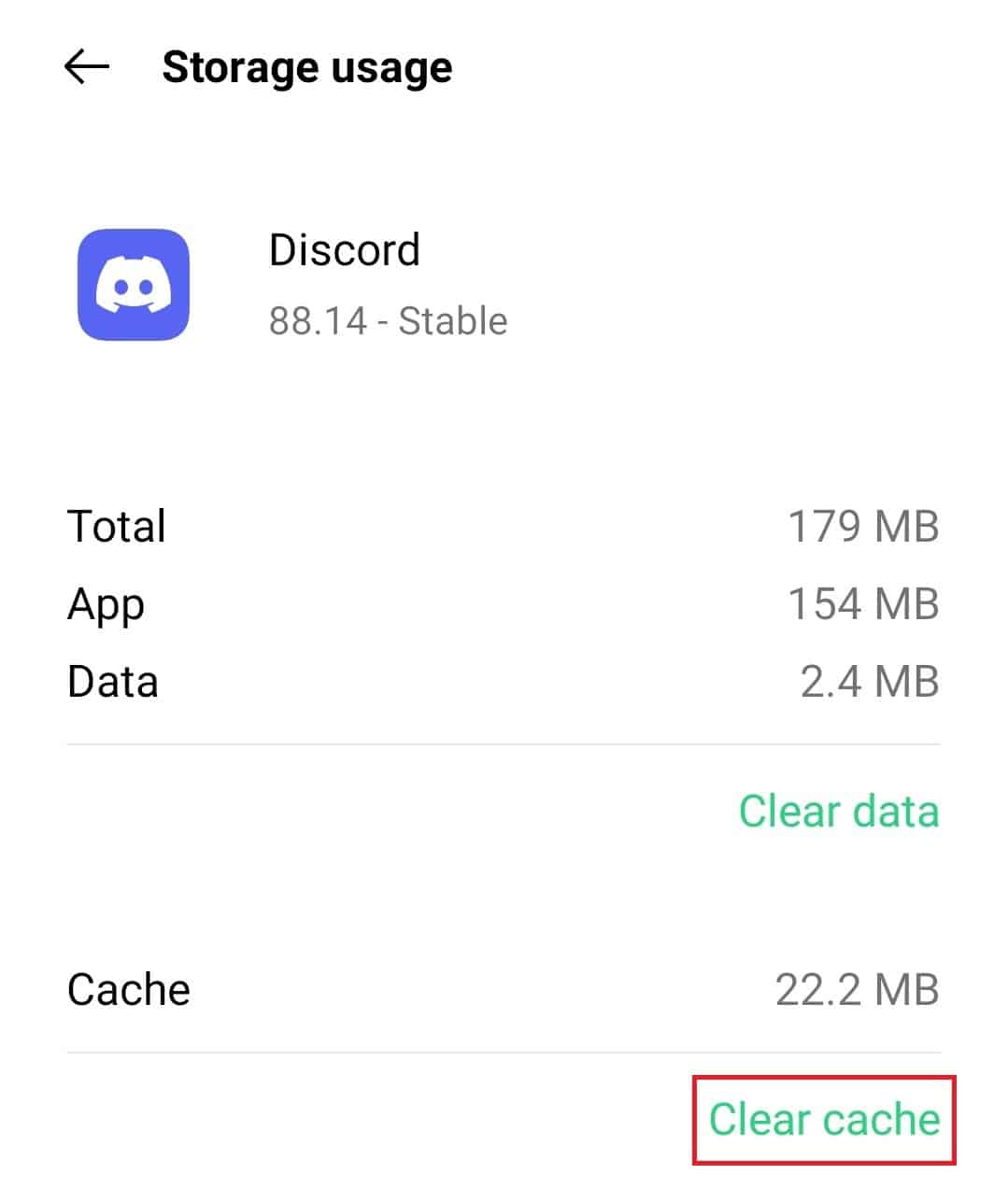 For Web Browser
If you're accessing Discord on web browsers such as Google Chrome, Edge or Firefox, you can clear your cached data simply by clearing all browsing history. Just make sure to set the time range to all time and select the option to clear cached images and files.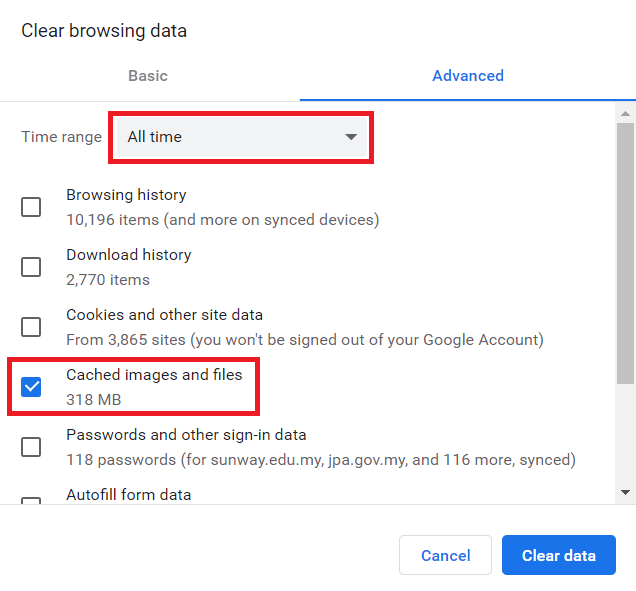 7. Uninstall and Reinstall the Discord App
If you've tried all the fixes above and the problem persists 😭, then you should try uninstalling and reinstalling Discord on your device. This is essentially a "Hail Mary" 🙏 which clears all cached data and restores the app settings to their default state.
Essentially, it's an add-on to the previous step, where you're not only clearing the Discord app's cache files, but you can also rectify installation errors. Thus, it's an effective fix for various Discord problems.
For this, we suggest checking this guide of ours which shows the detailed steps to completely uninstall and reinstall Discord on your device. This guide caters to Windows, macOS, iOS, and Android users. So, we definitely recommend checking it out!
Basically, this reinstallation step involves simply deleting/uninstalling the app from your phone/tablet/computer, and reinstall it again from the Google Play Store or the App Store.
For PC users, you can download the Discord installation file through their official Downloads page.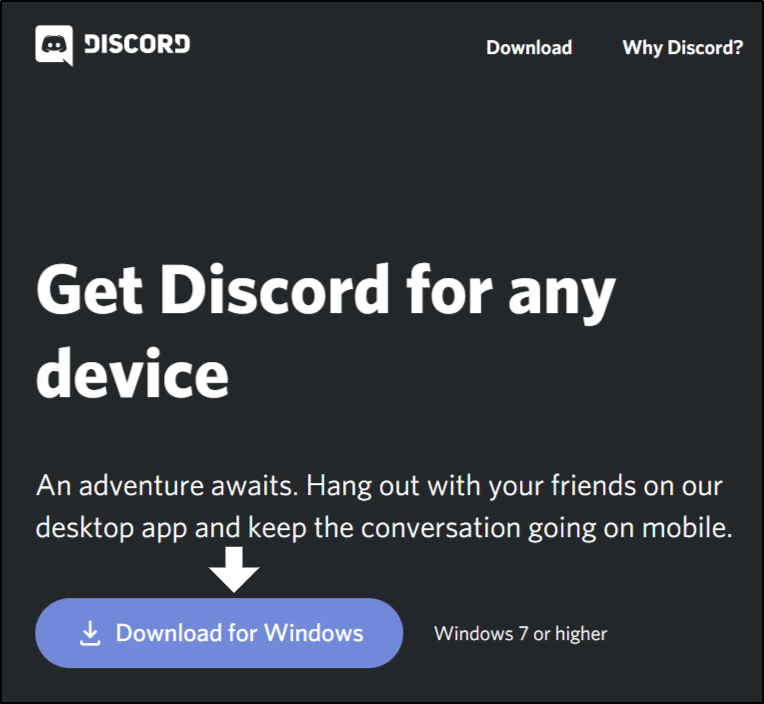 8. Report the Problem to Discord Support
Last but not least, it's worth mentioning that Discord has a help desk that can be reached via their email, support@discordapp.com. In addition, reporting the problem to Discord also helps the developers to discover bugs and glitches that need to be fixed! 🔎
Plus, by doing this step, we can get to the bottom of any account problems that may be resulting in you keep logging out of Discord.
On that note, there are other channels to reach Discord's support team too. So, here are some links to their official support channels: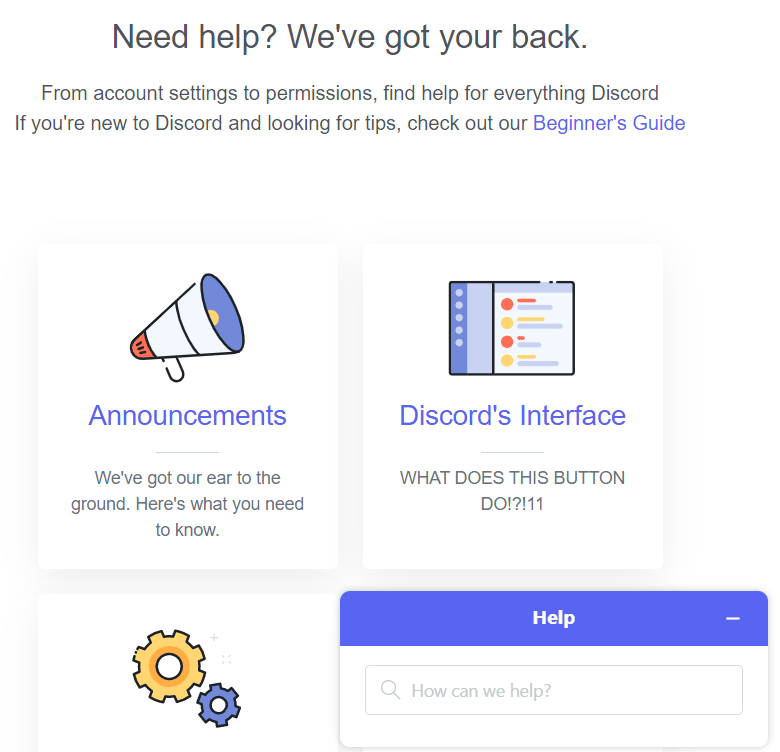 Conclusion
This wraps up the 8 fixes we've compiled for when you keep logging out of Discord randomly. Hopefully, that has put an end to you getting signed out of Discord. Now, you no longer have to go through this infuriating login process every time you want to read your latest messages or check in with your beloved servers.
We hope that this article has guided you to resolve the problem in a straightforward and efficient manner.
Also, do check out our other articles on Pletaura.com for more technical tips and information! 😎
Finally, we encourage you to leave a comment down below:
Do you find that you keep logging out of Discord? We'd love to hear about your experience! 😉

Have a solution that we might've missed out on?

What other infuriating issues are you encountering with Discord?
😄 Feel free to share this post with someone you know who's struggling with Discord keep logging out! 😄