Are you finding that hashtags on Instagram posts aren't working, showing up or linking correctly?
Hashtags, symbolized by the almighty # sign, are among the most iconic symbol in the current social media generation. You see them on websites and definitely won't miss them on social media platforms. 
However, did you know that hashtags were first introduced and implemented by Twitter? 😲
That is understandable since it was Instagram that boomed the usage and relevance of hashtags. Now, despite all the hashtag craze, there is always that one group of people who don't understand why people bother with hashtags. Here's why. 
Hashtags are one of the most fundamental ways to get more engagement on your posts and gain new followers. Research done by social media marketers has concluded that using even just one hashtag can up your post's engagement by a whopping 12.6%!
Hence, brands like to use them to expand their niche. A plus point to using hashtags on Instagram is that your post with the hashtag will be included with other posts that are related to your niche or industry. From there, even users who are not following your account can discover your content!
---
Types of Instagram Hashtag Issues
Unfortunately, many users have come across issues when it comes to using hashtags. Among them, some have reported that they couldn't find their post under the corresponding hashtag page. Otherwise, some users find that after adding a hashtag to their Instagram post, whether in their feed, Reels, or Stories, it doesn't appear or work correctly and doesn't link to the corresponding page, when tapped or selected to preview it.
There are also users who couldn't even upload their posts when they include hashtags while others didn't face any technical issues. In the end, they don't see growth in engagement or social media reach after using hashtags.
So, do you face a similar issue with using hashtags on Instagram? Feel free to share your troubles or experience on how your Instagram hashtag problem appeared, in the comments below.
---
With that said, after conducting thorough research, we found that there are many possible reasons behind this Instagram hashtag problem. Hence, we have compiled 13 reasons and 7 fixes to overcome this and tips for using hashtags more effectively on Instagram.  
For more information and fixes regarding captions and hashtags preventing your Instagram posts from uploading, check out our guide catered to fixing Instagram post captions that aren't showing up. Whereas for information and fixes for tagging and story mention issues on Instagram, we recommend checking our more comprehensive guide here. 
Note: This guide provides pictures and steps taken from the Instagram app or website on Windows, macOS, Android, iPhone, and iPad.
How to Add a Hashtag to Your Instagram Posts, Reels, or Stories?
After getting a grasp on the wonders of using hashtags, it's time to figure out how to use them correctly. From regular posts to reels and 24–hour stories, Instagram is an all-rounded platform that supports different types of postings to keep your audience engaged. 👨‍👧‍👧
As an icing on the cake, hashtags can be used in all of them!
Suppose your Instagram account is public, utilizing the benefits of the hashtag feature can increase the visibility of your post on corresponding hashtag pages and give you a bigger outreach.
With that said, let us walk you through the steps to tag your postings with hashtags.
Adding Hashtags to Instagram Posts (Photos & Videos)
To begin, for regular photo or video posts, you can add your hashtags in the caption or comment section of your post, both of which have a similar effect on the post's organic performance. 
The steps to tag a photo or video with a hashtag are as follows:
First, take or upload a photo or video.
Then, choose to add a filter to your uploaded media.

Subsequently, tap

Next

. If you're on an Android device, this button will appear as a

right arrow icon

for you.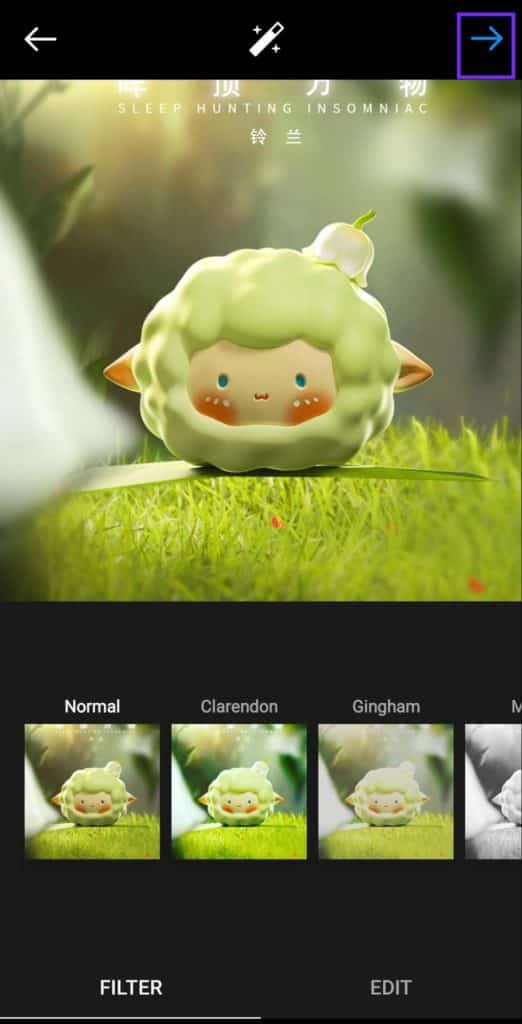 Next, tap

Write a caption

. 

From there, type your hashtag by entering a

#

sign followed by text or emoji. An example of a hashtag is #flower.

Finally, tap

Share

for iOS devices and the

tick icon

for Android. 
Perhaps you want to add or edit a hashtag for a post you've already uploaded. In that case, you can either edit the caption or add the hashtag in the comment section of your post. To add, edit or delete a caption, simply tap the three dots above your photo or video and tap edit.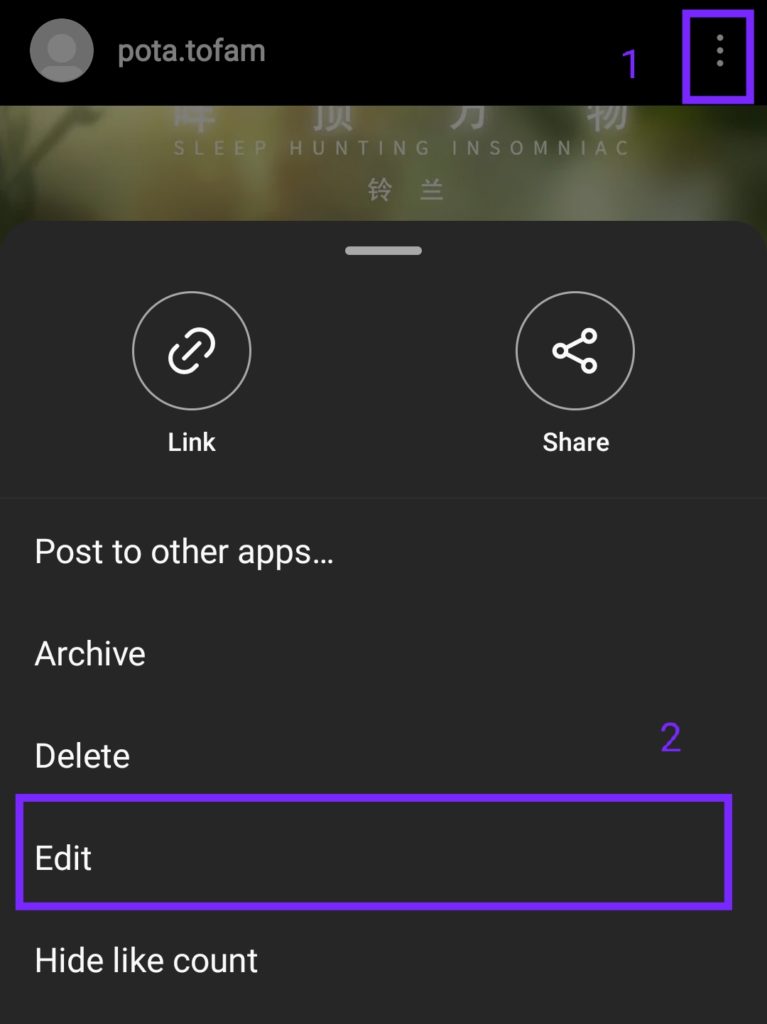 However, do note that edited captions are marked with the word Edited below the captions. 
Adding Hashtags to Instagram Reels
Next, hashtags also work on Instagram Reels. Similar to regular Instagram posts, you can add hashtags to Reels when creating the post by typing them in captions or comments.
Have some changes in mind?
Feel free to go back into an Instagram reel and edit the captions as well. 
Another bonus point 💡 when adding hashtags to reels is that Instagram provides a built-in tool on the caption page. This tool will suggest different relevant hashtags based on your reel, making it easy to find and add hashtags. 
To use this tool, simply scroll to the bottom of the page and tap Find Hashtags. From there, you can categorize your content for your viewers easily.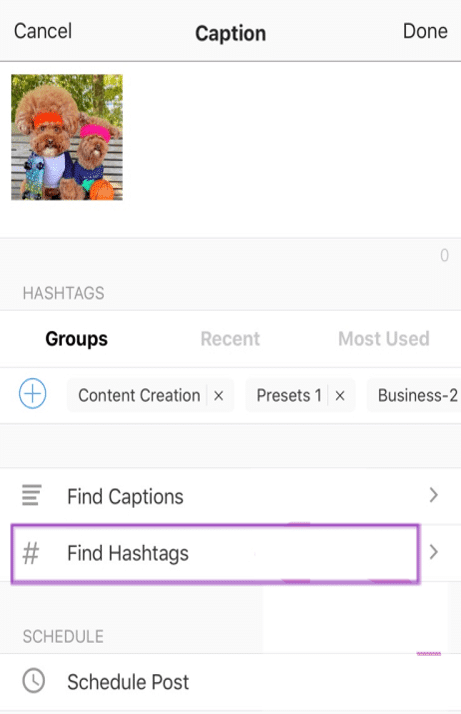 Adding Hashtags to Instagram Stories
Moving on to Instagram Stories, it's a feature on the platform that provides endless creative possibilities with the least amount of complicated processes. Stories are commonly used for brand recognition by encouraging audiences to share campaigns through stories and stay actively engaged. 
For stories, hashtags can be added to your Instagram stories through different means. For starters, you can add hashtags to your Instagram stories as a sticker. To do so, you can click on the stickers icon, tap the Hashtag option and enter your hashtag. 

However, this method only allows one hashtag per Story post. To overcome this limitation, you can also opt to add hashtags to your stories as normal text using the text icon. When posted as a normal story text, linked and working hashtags will often appear underlined.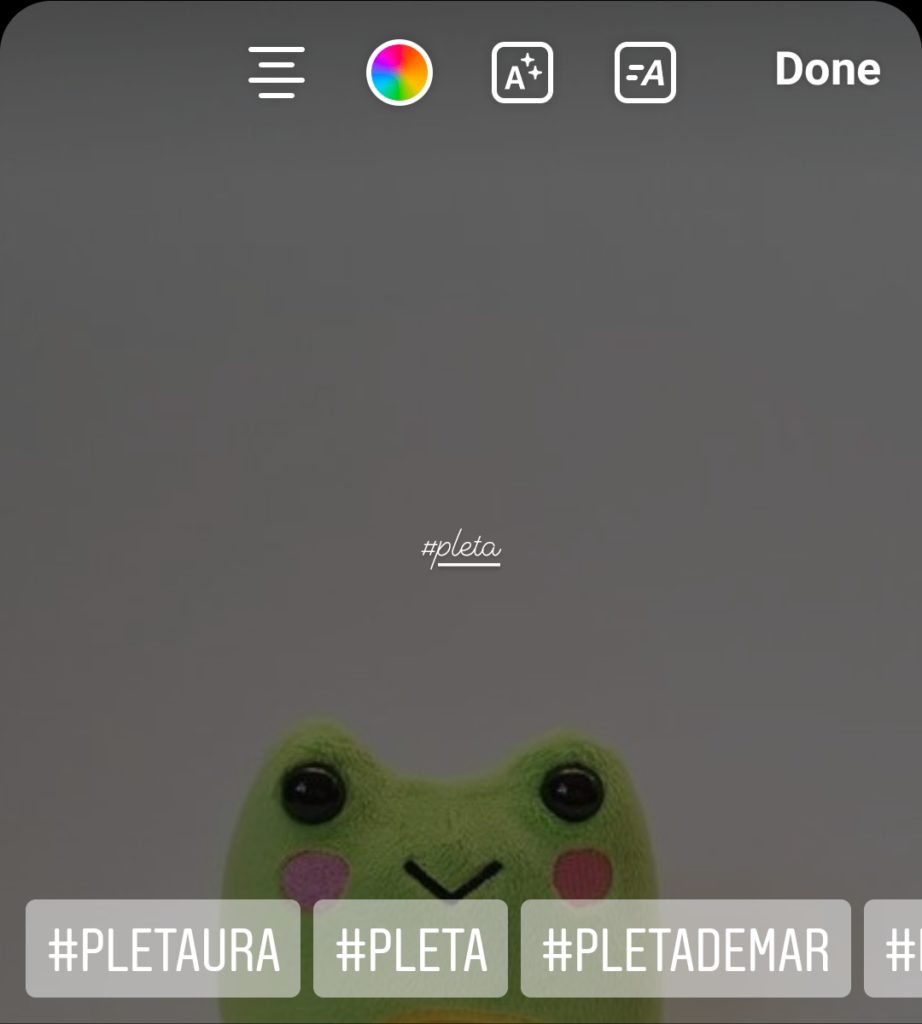 Like post hashtags, each story hashtag will have a compilation of Story posts created with that hashtag in the top-left hand corner. Unfortunately, there is one piece of bad news when it comes to using story hashtags. For feed posts, if you use a hashtag, your post will appear on the corresponding hashtag page whether it ranks or not. 
However, stories are curated. This statement indicates that it isn't guaranteed that your Story will be featured on that hashtag. This is because story engagement metrics are harder to apply to filter out top-ranking content. Additionally, the number of Stories posted in a day is much higher than feed posts. Hence, Stories are more selective and aggregation of these hashtagged Stories relies on both engagement and the quality of the post.
Nevertheless, the potential way to get around this setback is to insert your hashtag in a location tag. This step isn't guaranteed but it could be your best bet as nearly every location has an aggregated Instagram Story. However, do keep in mind that only one location tag is allowed per Story.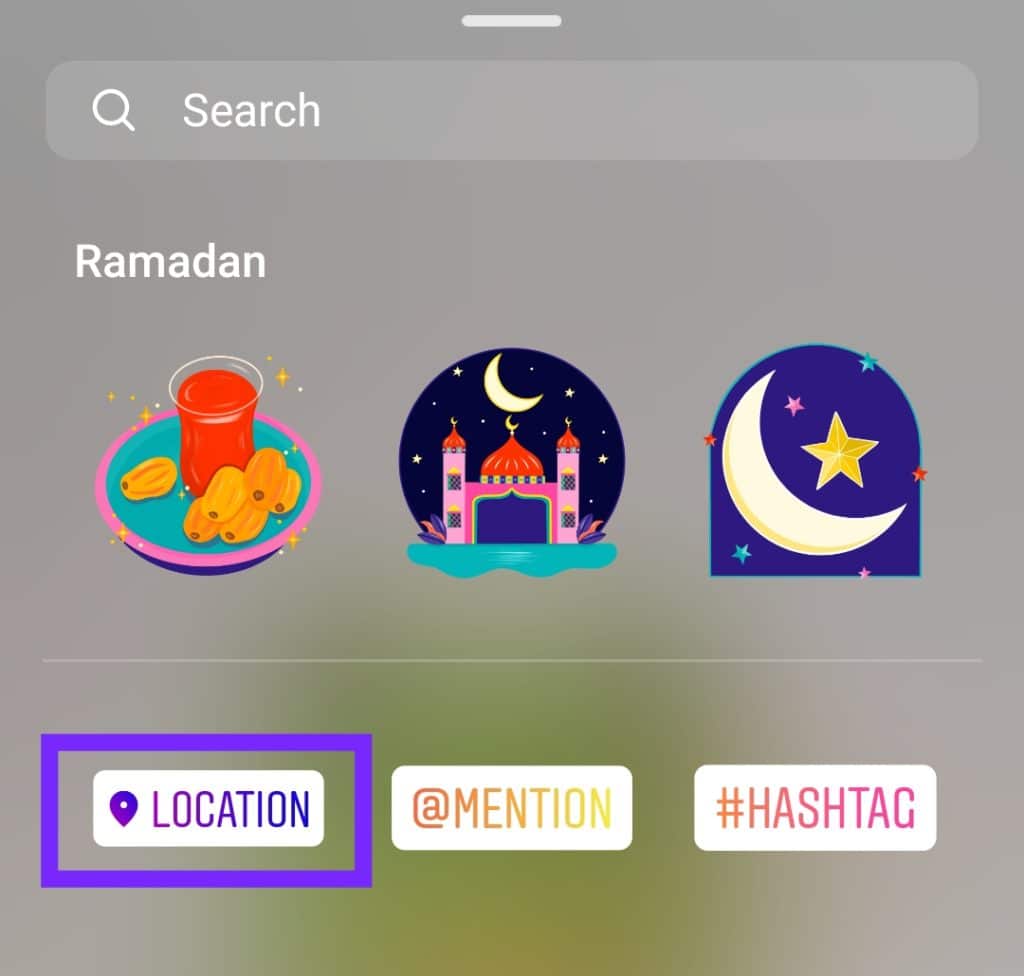 All the methods above will allow you to style your hashtags based on your preferred font style, color, and highlights.
How to Search for a Particular Instagram Post Using Hashtags?
At this point, a big round of applause to yourselves for getting past the nitty-gritty details of adding hashtags. Now, let's go over how to search for posts using hashtags. 🔍 
Whether you're an audience or a content creator, it is important to know how to locate posts based on hashtags. This is because as an audience member, being able to find posts using hashtags allows you to browse posts that suit your interest. On the other hand, as a content creator, knowing how to locate posts under hashtags is significant in helping you to figure out hashtag trends that suit your niche. 
Here, we've compiled the various methods you can use to look up a particular post using hashtags: 
Firstly, you can type in the keyword for the hashtag on the Instagram search bar. This method allows you to discover posts that are more preferable than what you were initially searching for.
Additionally, you can also discover several other hashtags relevant to your search using suggestions from Instagram.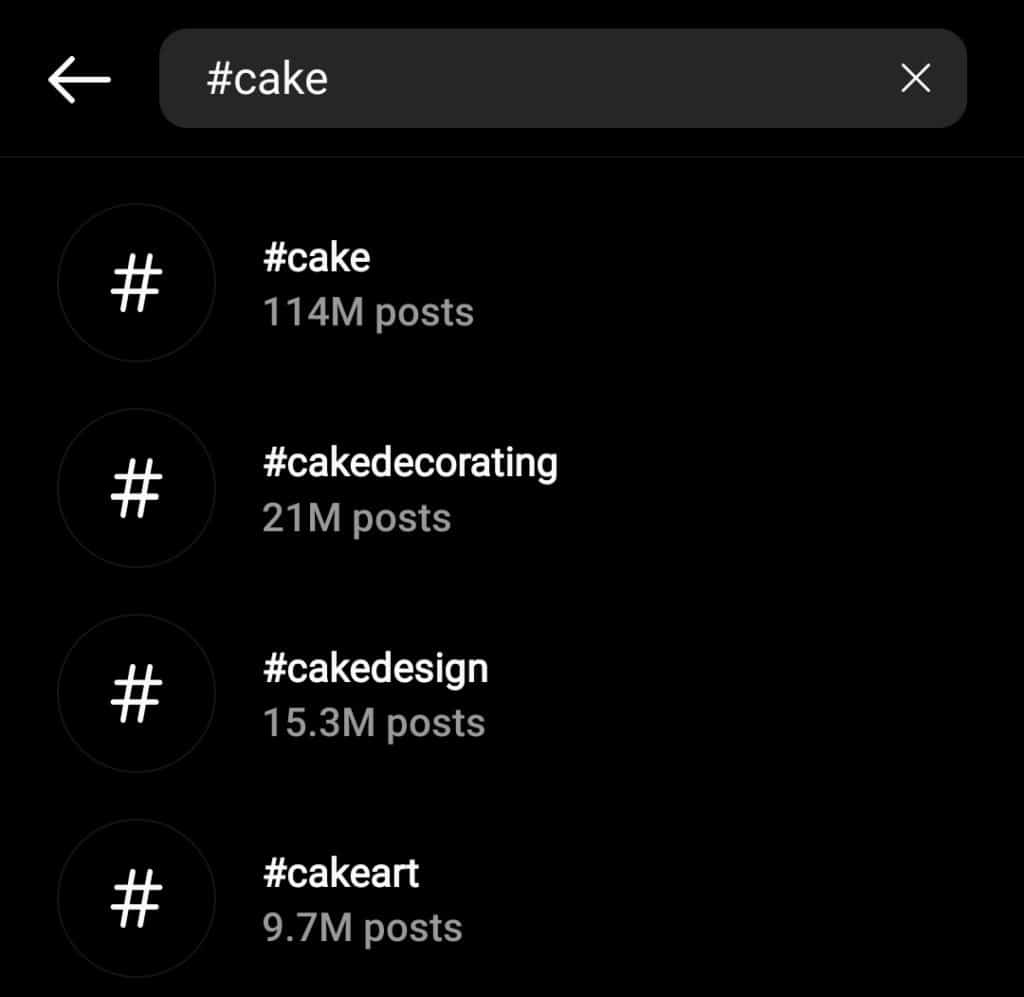 An extension to this method is finding posts under hashtags using the Tags 📌 option under the Search bar. The steps to do so are as follows:
First, click on the search bar in your Instagram app.

Then, choose the

Tags

option that is provided under the bar.
From there, enter the hashtag of your choice, making sure you use a "#" sign.
Next, you can search for posts using hashtags by tapping on a hashtag you found in the comment section or caption of a post. From there, you'll be redirected to a page filled with posts using that corresponding hashtag.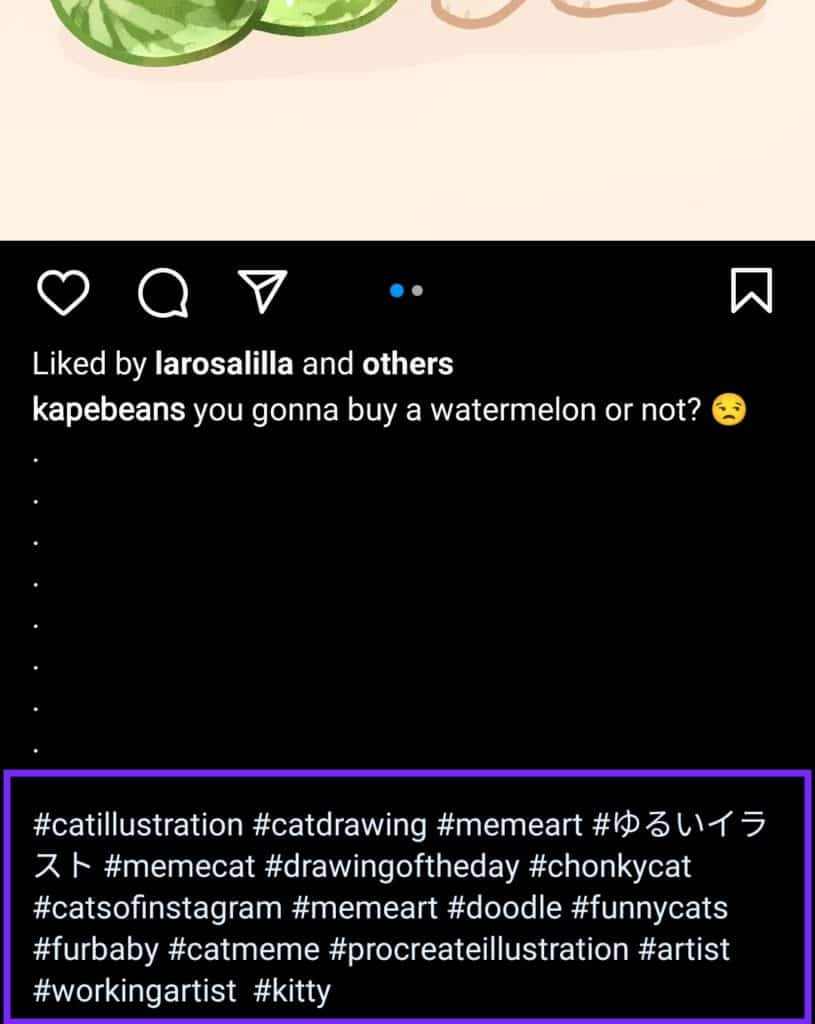 Note: Hashtags are like placeholders. Only a post that has been linked with a hashtag can be found by searching for that same tag. For your post to be findable, you have to intentionally and carefully add hashtags to them. So, if you find that your hashtags aren't showing up or linking correctly, you can refer to the fixes and other explanations in this guide to resolve the error.
How to Plan Your Instagram Hashtags?
Now that you've gotten a hang of the Instagram hashtag technicalities, it's time to look into what hashtags to use for your postings.
Like many other businesses and public figures, you first boarded the ship called social media, setting sail to build your brand or image. While there is definitely a need to create a sense of "YOU", social media marketing actually requires you to focus your strategy around "THEM", your customers. 
This applies to the use of hashtags as well. The use of hashtags can be trickier than it seems if you intend to achieve desired outreach. Your success on Instagram depends on the hashtags you choose. 
People often assume that using any set of hashtags or inserting something trendy would help to increase engagement. On the contrary, it can actually do more harm than good as random hashtags irrelevant to your postings can reduce your overall engagement. 
Therefore, when creating a list of hashtags to include in your post, there are a few pointers you need to consider.
For one, you must know who your target audience and potential customers are. From there, we suggest carrying out research on the hashtags your potential customers are using. 
To do so, simply take a walk in their shoes and ask yourself these questions:
What are they searching for?

What phrases are they using?

What trends are they paying attention to?

Where do they shop?

What are their interests?
Suppose you can get a good grasp on this information, you'll be able to speak your customers' "language" online. As a result, you'll be able to create and utilize hashtags that connect with your clients more effectively. 
Moreover, no matter the goal of your social media marketing strategy, there are certain hashtags you should always include with your post. These hashtags include your branded, campaign-specific and trending hashtags. However, you shouldn't go overboard with the trending hashtags you use and they must be relevant to your post.
In the end, simply target! 🎯
You need to find out who your audience is and what interests them. A plus point is that this won't require too much extra effort on your end. Whenever you're researching hashtags for your posts, just flick through the related hashtags in your search and see what other hashtags work well with your niche.  
Secondly, always think out of the box!
Change around hashtags and get creative. You can come up with hashtags that fit your needs while having less competition. By creating unique hashtags for your brand, you can establish your position as an expert in your niche.
As a result, your presence will also become more memorable in the market.
13 Reasons for Instagram Hashtags Not Working
However, some Instagram users have reported that their hashtags aren't working and their Instagram posts are getting a much lower reach than before. This situation can be reflected as statistics like 10% of people reached weren't following you based on your post insights.
So, why aren't people interested in your content? 
It is a very common problem and can take place for various reasons. In this article, we have compiled 14 reasons for Instagram hashtags not working. These reasons range from careless user errors to rumors that Instagram may be purposely decreasing your posts' reach. 
1. Instagram Servers are Down
For starters, your Instagram hashtags may not be working because of technical problems over at the Instagram servers. In that case, when looking up posts using a hashtag, you'll see that no associated post appears under it. 
While rare, Instagram can also experience issues with its systems. Hence, throughout the years, Instagram servers have been down several times.
One of the more serious cases was dated back in October 2021. During that time, all three social media platforms namely Facebook, Instagram and Whatsapp were down for up to 6 hours due to server-side problems. 
The servers can go down for various reasons such as server maintenance and glitches. It can also undergo temporary outages and downtime to keep up with the traffic and needs of Instagram's 1 billion users. 
Now, how can a server-side issue affect you as a user? 🤔
Servers are responsible for storing all the posts and content you upload on Instagram. When you log in to Instagram, your Instagram app has to reach out to the servers and retrieve your content. The same applies to other users as well. Therefore, when the servers are down, other users will not be able to see your posts under the corresponding hashtag page because they can't be retrieved. 
Thus, to verify whether the problem is a server-side issue, we suggest heading over to Step 1.
2. Your Instagram Profile has been Shadowbanned or Flagged as Spam
Secondly, ruling out server-side issues, your Instagram hashtags may stop working if your Instagram profile has been shadowbanned or flagged as spam. 🚩
In such cases, users may repeatedly encounter the "You're Temporarily Blocked" or "Action Blocked" error messages when interacting on the platform, such as liking, commenting, or uploading posts with hashtags.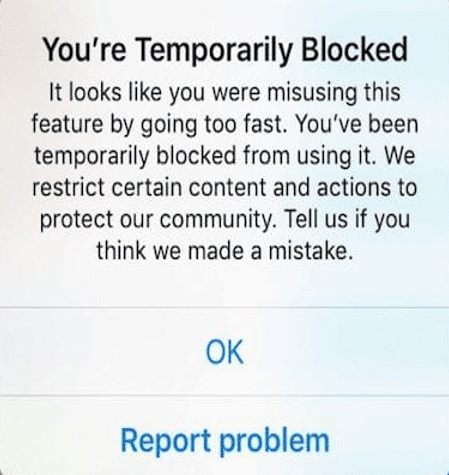 For starters, let us go through what is a shadowban and how it differs from a regular ban.
What is a Shadowban?
Shadowbanning is a soft punishment implemented by Instagram for rule and community guideline violations, including misused hashtags to limit spam. When an account is shadowbanned, one can still access and log in to their account. They are allowed to post, like and comment as normal. 
However, it takes away the visibility of an account to new audiences where people are unable to follow or interact with the account. The only people that would be able to see your posts are ones that are following you already.
Hence, it's possible if someone tells you that they searched up for your posts on hashtags and nothing came up. Consequently, it'll lead to no new followers and reduced engagement on the account. Unfortunately, as the name suggests, a shadowban is done discreetly where one won't be notified and wouldn't realize until they check their post insights. 
In contrast, a regular ban is a permanent one. It will lock you out of your own account and restrict your access. You'll neither be able to log in nor create a new account with the same username.
Nevertheless, shadowbanning is still rumored to be a myth. However, for this post, to ensure we cover all potential causes, we'll assume it's real. Now, as people often misuse hashtags, Instagram came up with stricter rules and regulations concerning hashtags to counter the problem. 
And these rules actually work!
People are more conscious and aware of how they use hashtags now.
Unfortunately, it has become very easy to mistakenly commit offenses on one's account that would be regarded as spam. Therefore, many innocent Instagram users that weren't spamming on purpose have also fallen prey to this shadowban. 
What Causes a Shadowban?
Nonetheless, don't worry, we got you covered. According to research, shadowbanning can take place for various reasons. 
a) The Type of Hashtags You're Using
Firstly, it may be issues related to the type of hashtags you're using. So, here is a list of mistakes you may be making:
You're using hashtags that are irrelevant to your post

You're using hashtags that are overly competitive

You're using the same set of hashtags every time you post

You're using limited or banned hashtags

You're using more than 30 hashtags on a single post and more than 10 hashtags on a Story
These mistakes aren't just big no's ❌ on Instagram's end but also can drop your audience engagement. To know more about each mistake and the reason behind them, read further into this article. We have provided in-depth explanations for all of them. 
b) Your Posting, Engagement, or Interaction Habits on the Instagram Platform
Moreover, shadowbans on your account can also be a result of your posting habits. Posting habits are usually observed as the number of Instagram interaction thresholds per hour. Some of the posting limits that you must be cautious of are listed below:
You shouldn't be

following or unfollowing

more than 60 people in an hour.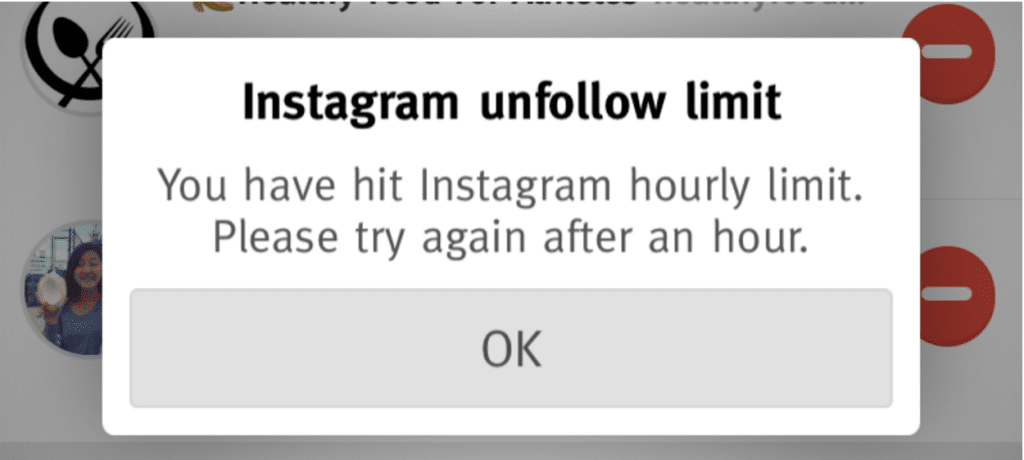 You shouldn't

like

more than 150 posts in an hour. While we have found out that you can actually go up to liking 300 posts at one time. However, it's best to keep it at 150.

You shouldn't be posting more than 60

comments

on other users' posts within an hour.
Suppose you exceed or surpass these pre-set numbers, your interactions are considered abnormal and your account is at risk of getting shadowbanned. This is because Instagram's AI system may detect abnormal interactions and postings on Instagram as the intervention and use of bots 🤖 or spam.
c) You're Using Unauthorized Automation Services and Third-Party Apps Connected to Your Instagram Account
Next, your Instagram account can also be shadowbanned if you're using unauthorized Instagram automation services and third-party apps. These services are also known as Instagram bots.
They are developed and used by Instagram users to carry out actions on Instagram such as liking or commenting on posts. Many Instagram pages and users enjoy utilizing them because they're nifty and give them the ability to carry out repetitive actions at faster rates. 
However, when used excessively, it can be easily detected by Instagram's AI. Consequently, it poses a risk of your Instagram account being shadowbanned and your hashtags not working. This is because Instagram is trying to reduce the number of bots and automation on their platform.
Therefore, you should disable any third-party apps or automation tools implemented on the Instagram app. 
Nevertheless, there are some third-party apps that are allowed on the platform but they are mainly scheduling tools for scheduling your Instagram posts. The criteria are that these third-party apps must be certified by or partnered with Instagram. 
d) Your Instagram Account Had Been Reported Repeatedly
Lastly, shadowbanning can occur if your account is continually being reported. Your account can be reported for reasons such as spamming and posting comments that violate community guidelines.
Due to the fact that anyone can report anyone as spam on the platform, if your account isn't spamming, you shouldn't have to worry as Instagram will conduct necessary investigations. However, suppose you were spamming people.
Even if you can easily retrieve your account, you're at risk of being shadowban for being reported multiple times. 
Overall, when using your Instagram account and hashtags, you just have to be more cautious to avoid getting shadowbanned. You can also use external tools to check if your account has been shadowbanned and the specific post or action that caused it. 
3. You're Using Restricted or Banned Hashtags by Instagram on Your Posts
Furthermore, your Instagram hashtags may not be working correctly because you've accidentally or intentionally included restricted or banned hashtags in your post. 
As the name suggests, a banned hashtag is one that has been blocked by Instagram and banned from being used. The reason for this ban is usually due to the excessive amount of inappropriate content posted under those hashtags.
Over the years, Instagram has banned over 100,000 hashtags. Most of the hashtags are either related to spam or associated with provocative and racist imagery. Hashtags related to pornography, terrorism, hate speeches or verbal and physical violence are also permanently blocked. 
Sometimes it's not so much about the words used in a hashtag but more about the posts that appear under them. Obviously, some words are expected to be banned because of the meaning they connote. 
However, not always do the most obvious hashtags get banned and innocent words made the cut too. It can even be the most harmless hashtags composed of just normal words. This is because of the type of content people post under them that ends up getting them blocked.
For instance, #beautyblogger was a trending and active hashtag back in the day. However, people took advantage of its popularity and hijacked it. They posted inappropriate content under it and eventually the hashtag was banned.
Some other examples of normal words getting banned are #besties, #books, and #hustler. On that note, you should also avoid spammy hashtags such as #likes4likes and #follows4follows. 
Therefore, it is important to conduct a brief but proper research on each and every hashtag you use before posting. This is because supposed even one of your 30 hashtags is banned. In that case, all your remaining hashtags will also become restricted. 
While restricted hashtags aren't banned, they can still affect the way your posts appear in searches, on people's Explore pages, and how they're categorized. On that note, to check if the hashtag you're using is banned, you may refer to Step 2.
Additionally, for more information regarding why hashtag issues might be affecting your Instagram posts, you may check out our guide for fixing Instagram post captions that aren't showing up.
4. You're Using the Same Set of Hashtags Every Time You Post
Additionally, suppose you realize you're always copying and pasting the same chunk of hashtags every time you're posting. In that case, that habit could be the culprit behind your Instagram hashtags not working or showing up correctly as well. 
This is because as previously mentioned, Instagram uses AI technology to study users' behavior. Its purpose is not only to determine what kind of content users are interested in but also to detect any spam or inauthentic behavior. In this case, there is a high possibility that Instagram's AI will interpret the act of copying and pasting the same set of hashtags for every post as inauthentic or bot-like. 🤖
This behavior will be depicted as an attempt to gain engagement in any way possible and not generate quality content for your followers. As Instagram's Ai is assuming that you're neglecting the benefit of your followers, it'll treat your precious postings as spam. 
From there, your account may be shadowbanned and lose visibility to a larger group of audience. With that said, we recommend swapping or switching up the hashtags you use on your posts once in a while (Step 5).  
5. You're Using Hashtags That Are Unrelated or Irrelevant to Your Post
Back when Instagram first started the use of hashtags, the old set of rules wasn't as strict. Sadly, people saw this as a loophole and took advantage of it. They would sneakily insert trendy and popular hashtags into the posts in hopes of increasing engagement rates. 
These higher engagement rates could potentially win them positions on more users' Explore pages. As they could get away with it scot-free, nobody cared or gave extra thought to whether or not the hashtags were relevant.
However, that isn't the case nowadays. There are consequences when using irrelevant hashtags. Based on the new Instagram rules, Instagram has the right to flag your posts and shadowban your account if irrelevant hashtags are detected in your posts.
As a result, your post will no longer be visible and cannot be found in the hashtag's page. Therefore, it is important that your list of hashtags must be generated based on the content of your post and not just a bunch of random words. 
Even without Instagram's intervention, using irrelevant hashtags can also cause more harm than good from the perspective of your audience. This is because audiences nowadays are very mindful of their user experience. From that point of view, Instagram has shifted its algorithm focus to ensure relevant content.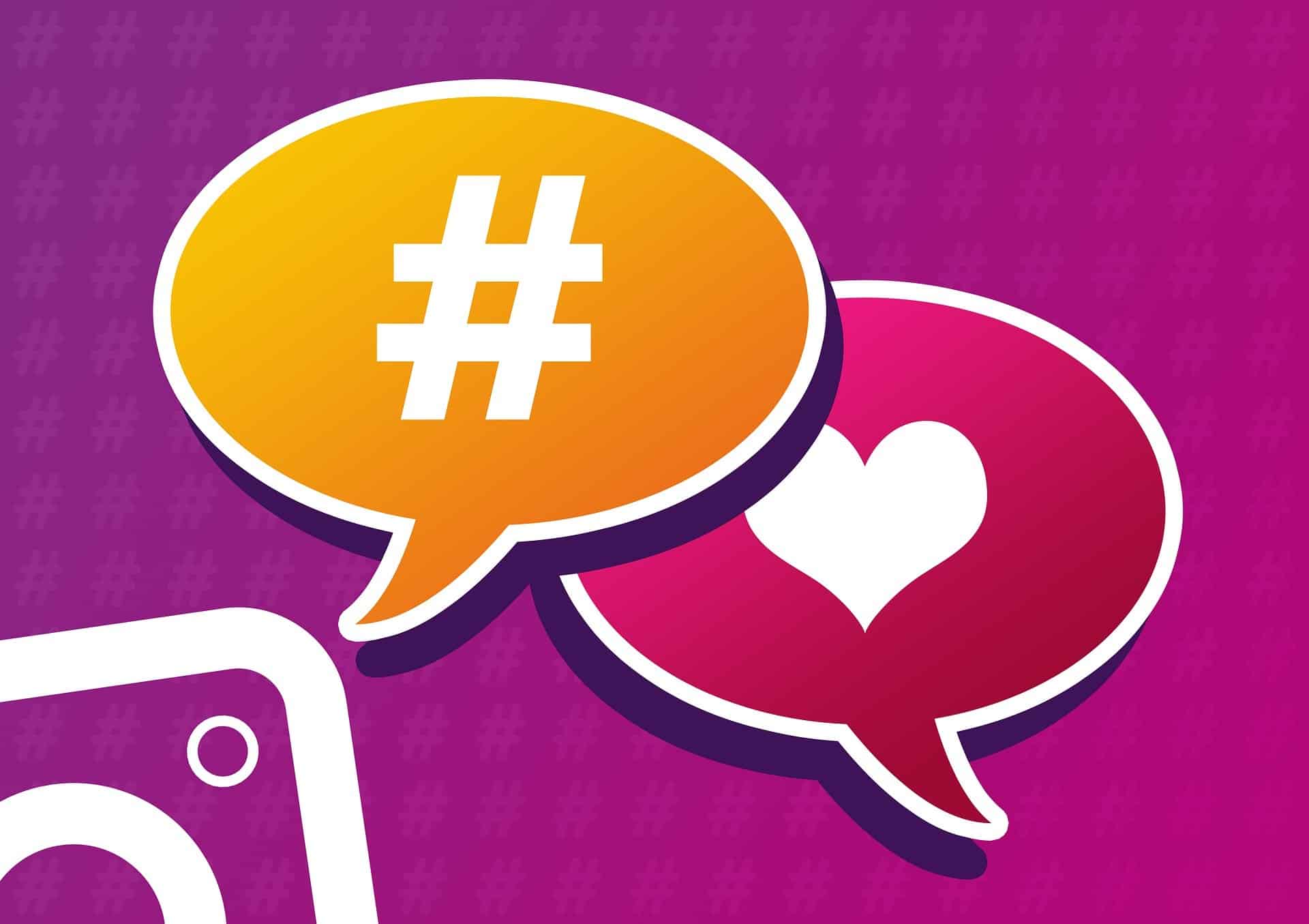 To motivate that goal, Instagram has offered users the ability to follow hashtags that interest them, making it a possible factor for boosting engagement. However, understand this, while your audience can follow hashtags they like, they can also mark the hashtag content as something "they don't want to see". 
Hence, hashtag engagement is very much centered on the type of content. For example, suppose you're posting a picture about cakes but use hashtags related to cars. Someone who is interested in cakes would search for cake but wouldn't come across your post. This is because your post will appear under the hashtags related to cars instead.
Consequently, it'll lead to a drop in engagement for those who are genuinely interested. Additionally, for those who come across your unrelated cake post in a sea of car-related posts, there is even a chance that they might report your post! 
Overall, it's just wiser to use hashtags that fit ✅ your post content. 
6. You're Entering the Hashtags in the Wrong Places
Subsequently, your Instagram hashtags may also not be working correctly if you're entering them in the wrong places. 
For starters, let us clarify that we're not implying you're making a technical error when adding your hashtags. Instead, it's more about how you segregate and format your hashtag list in your post. Back at the start of the article, we went through the steps on how to insert hashtags into your posts, reels and stories. 
Now, when placing hashtags, one may go by the policy the more the merrier. It is also often assumed that entering a larger list of hashtags can successfully increase audience engagement. However, overloading your hashtags can make your post caption very messy. Honestly, #it #is #not #much # fun #to #read #this. A difficult to read caption where your audience is unable to locate the hashtag that piques their interest can in turn throw users off. 
This can result in them losing interest in your posts. Hence, we strongly suggest including and arranging your hashtag in more visually appealing ways to allow a more readable user experience.
Here are some helpful tips! 👇
First, you can pick a few significant hashtags to include in your main caption. Then, you can use periods to break up your captions and hashtags. The steps to do so are as follows:
Firstly, after creating the perfect caption, tap the

123

key. 

Then, select

return

and then enter either a

period

,

dash

or

asterisk

. 

Next, repeat

steps 1 and 2

for at least four to six times. 

Lastly, add your remaining hashtags.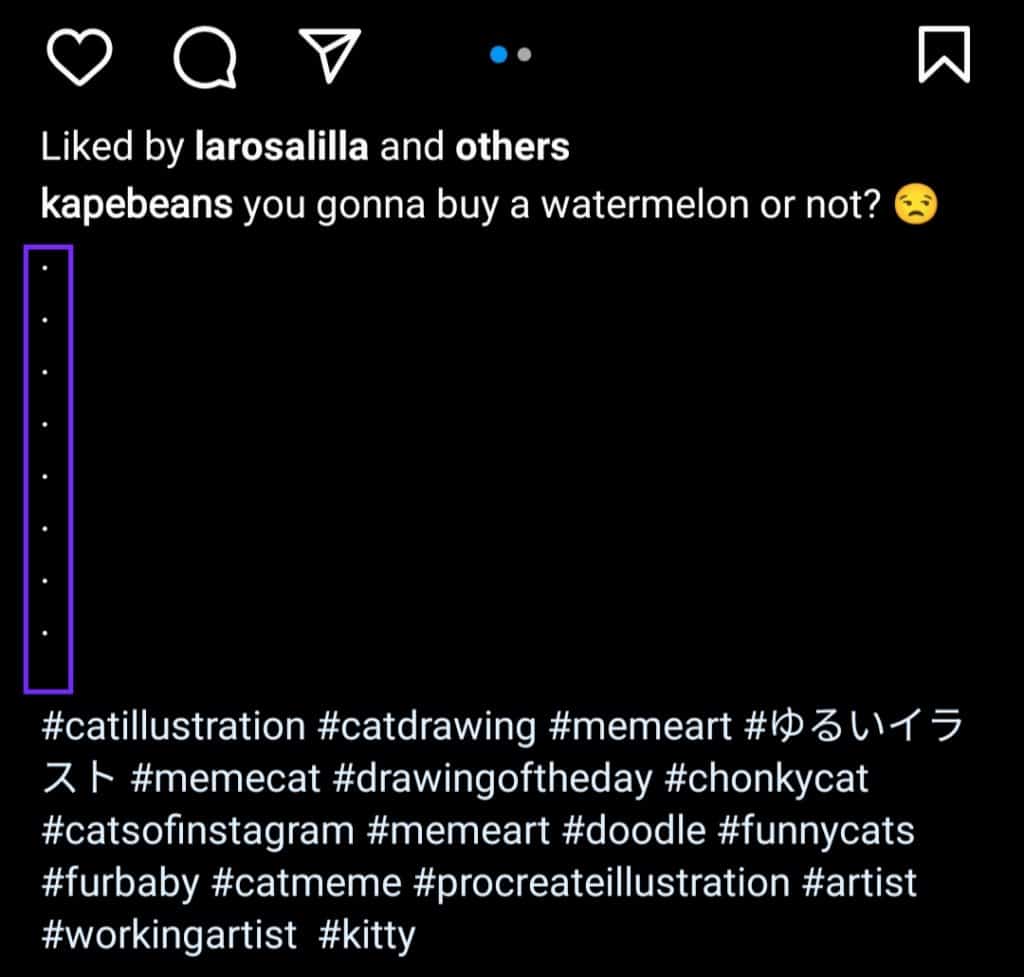 This is because Instagram caps off captions after three lines. By adding four to six periods after your caption, your hashtags won't be viewable to users unless they tap the more option. 
You can also utilize the comment section of your post to include hashtags and pin the comment at the top of your post. By doing so, you can create a more pleasant visual experience for your viewers with minimal hashtag clog up, all while keeping the benefits of organic hashtag traffic!  
7. The Hashtags You Use Are Not Specific or Too Broad
Moreover, your hashtags may not be working properly because the hashtags you choose are too generalized. Theoretically, using generalized hashtags won't affect your content from getting posted and your account won't be flagged either. 
However, with generalized hashtags, there is a lower chance that your target customers will come across your post on the hashtags page. This is because broad hashtags are usually piled up with posts of different kinds of content.
For instance, the hashtag #car is a very broad tag. Under the corresponding hashtag page, you can find anything and everything associated with cars from toy cars to car paint to car maintenance. 
With the wide scope of content broad tags cover, they usually have millions of posts coming in every day. Thousands of new posts using these hashtags get uploaded every second around the globe.
That being the case, don't be too surprised if your post gets drowned in the large number of posts using the same tag. Hence, as earlier mentioned in the How to Plan Your Instagram Hashtags? section, you should always find your target audience and see what applies directly to your niche.
Then, you can also be creative with your hashtags and change them up to something more specialized. Specific hashtags will make your posts more searchable and gain more engagement. 
8. Your Preferred Hashtags are too Competitive
Now, what if the hashtags you're using are specific to your content but too popular? When people think of and use hashtags, their aim is to ensure that their post gets stumbled upon.
To achieve this goal, most people will think of adding really popular tags and using the trend to their advantage. 
However, if you've thought of that, millions of others would have thought of it as well, leading to an oversaturated hashtag.
Let's say that there are 20 million posts under them and new posts getting added in by the thousands every second. In that sense, there isn't a logical way your post is seen easily in a tag that fills up that fast.
As a result, the effect of such actions is usually counterproductive, similar to using broad hashtags (reason 7). 
Hence, you'll find that your hashtags aren't working in helping with the visibility and engagement of your Instagram posts. Not to mention if you're just using the tag for its popularity and not the relation it has to your content.
In that case, you're just toying with the shadowban from Instagram and putting your account at risk. With that said, you may head over to fix 4 on steps to figure out whether a hashtag is considered competitive. 
9. You Are Making Some Sort of User Error
Furthermore, your hashtags may not be working because you've made some sort of user error. This mistake is understandable as it is easy to overlook a small error especially if you're using a lot of hashtags in a single post. When it comes to user errors, there are two types of possible errors when using hashtags that you should look out for:
a) Formatting Your Hashtags Incorrectly
For starters, you may be formatting your hashtags wrongly. When it comes to hashtags, it's important to note that they always begin with a "#" hash sign. This is a standard format across all social media platforms. The purpose of the hash sign is to make the hashtag clickable or hyperlinked.
From there, the app will be able to search for the word as a tag and fish out all relevant posts. Another thing to keep in mind is that numbers are allowed when using hashtags. However, spaces and special characters will cause your hashtag to not work. These special characters include dollar signs $, percentages %, and other punctuation marks. This is because these special characters would create a broken hashtag link that is useless and unable to carry out their functions properly. 
b) Spelling Errors in Your Hashtags
Next, you may be committing a spelling error when inserting your hashtags. Suppose you typed the wrong spelling for your hashtag unknowingly when making the post. In that case, when you search up the hashtag using the correct spelling, you won't be able to locate your post. Your post would appear under the corresponding hashtag page for the tag with the incorrect spelling. As a result, it gives the wrong impression that your Instagram hashtags aren't working correctly. 
Therefore, before uploading your post, story or reel, we encourage you to check for any formatting or typographical errors in your hashtags and content. 
Note: When using hashtags, you can only tag your own posts. You can't tag other people's posts or videos. While you can comment hashtags under their post, clicking on that hashtag will only bring you to the corresponding hashtag page. However, you won't find that person's post under the page unless they have added the hashtag themselves. 
10. You Have Exceeded the Limited Amount of Hashtags
Another possible cause that resulted in your Instagram hashtags not working is that you have exceeded the limited amount of hashtags. To begin, let us go through the predetermined numbers set by Instagram for different types of postings. 
For a regular Instagram post, comment and reel, the maximum number of hashtags allowed is 30. On the other hand, if you're including hashtags in your Instagram story, you cannot have more than 11 different hashtags. 
Suppose you exceed these numbers when adding hashtags to your postings. In that case, you'll find that you're unable to successfully post your content.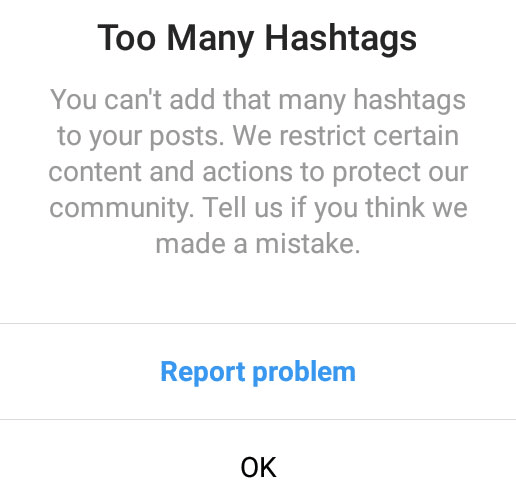 Now, you may be wondering whether you must use all 30 hashtags or is there a perfect number that you should adhere to for the best results. In all honesty, there isn't a perfect number. While you don't necessarily need to use all 30 hashtags, some swear by this number for maximum reach. 
However, as a brand, you should conduct some analysis on your post and see how people respond to different numbers of hashtags. Some Instagram experts recommend that 11 is the prime number. Simultaneously, there are also unfounded rumors and Instagram myths circulating that it's best to stick with 3 to 5 hashtags. 
Seeing that there is no one size fits all solution, here is where trial and error comes in. Test your hashtag strategy! 
Simply create a few posts with a similar style, format, and subject matter. From there, go with 5, 11, 15, and 30 hashtags for each post and see which works best for you! You may have to conduct this test several times to notice a pattern. You should also repeat this test every so often because as Instagram's algorithm changes, so should your strategy.
11. You Have Not Been Posting Consistently
On top of that, inconsistent posting habits are normally the number 1 cause behind your Instagram hashtags not working or showing up correctly. 
Have you recently taken a break from all the social media buzz on Instagram? Or perhaps you don't have a fixed posting schedule. Suppose you find yourself posting 2 posts today and disappearing from Instagram for the next week or so. Then, when you return, you bombard Instagram with 5 new posts in a row. 😮 
Your inconsistent and irregular postings don't follow a specific pattern. It can confuse Instagram's algorithms and in return, they won't show your random flow of content to a wider audience. Moreover, being consistent also means that your followers know when to expect to see your new content. This increases the likelihood of them being there to engage and interact with your posts.
Therefore, we recommend coming up with a posting schedule and committing to it. When planning your posting frequency, it's not just about high frequency. Instead, you have to think about the content you're posting and how much time you'll need to prepare a good-quality post.
Suppose social media marketing and posting is your side hustle, it's also important to take note of your other commitments. Hence, ask yourself this question: what is a posting frequency you can commit to? From there, you stick to it and make adjustments accordingly if necessary. 
12. You Are Not Checking Your Hashtag Insights
Subsequently, suppose you're doing the technical things right. Your hashtags are relevant, specific, and properly added with good readability. However, you find that you're still not achieving your goals in terms of social media outreach, engagement, and growth on the Instagram platform. This may be because you're not checking your hashtag insights and don't have a grasp on which hashtags resonate well with your target audience. 
With that said, it's always good to keep track of the necessary data to grow your account. While you can always track Instagram hashtags on your own, it can be a rather tedious and time-consuming job. 
A study from Altimeter has shown that up to 39% of businesses don't analyze their social media actions. This is typically due to the lack of tools and expertise. Hence, we suggest using an Instagram hashtag analytics tool for this purpose.
It makes things easier and more straightforward. A dedicated tool can help to track your hashtag usage and identify the top trending hashtags within your industry. From there, it can help you generate more relevant content to promote audience interaction.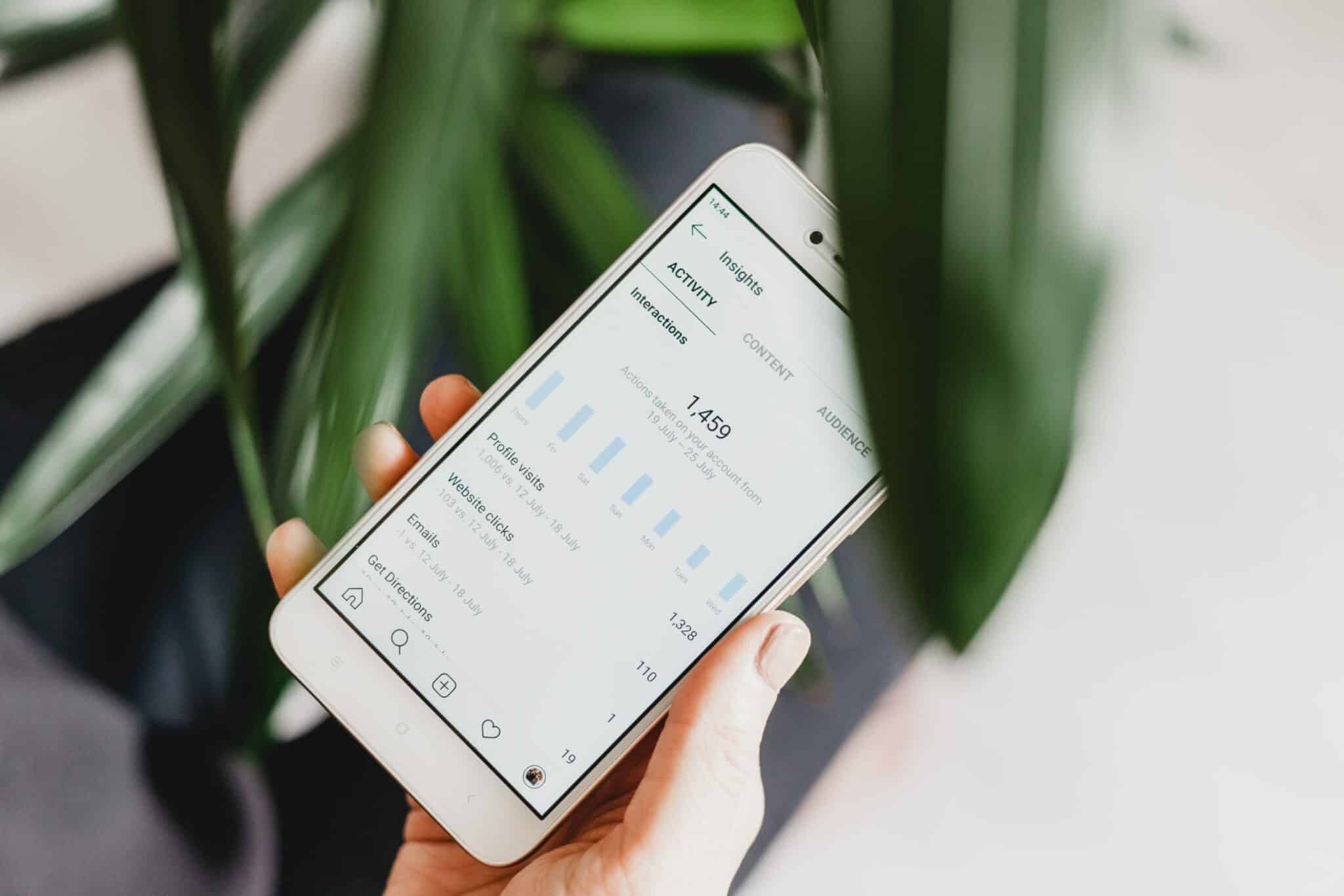 Types of Instagram Analytic Metrics
Some of the metrics Instagram analytics look into to track progress are volume of mentions, social media reach, engagement, and influence:
For starters, the volume of mentions is a good indicator of the popularity of your hashtag.
Next, social media reach refers to the number of social media users that may have come across your hashtag on Instagram. The algorithm calculates this by finding the sum of the number of followers the users sharing the post have.
Then, for engagement, it indicates how many users interacted with posts with your hashtags. These interactions include liking, commenting, and sharing. Using these numbers, you can figure out your engagement percentage by dividing the number of interactions by the social media reach of your hashtags.
Moving on, influence may sound enigmatic but it's actually measured by combining the number of followers and engagement metrics to obtain an influencer score. Lastly, some tools also show you Instagram profiles that use your hashtags the most often. You can use this list to identify potential collaboration. 
Unfortunately, Instagram doesn't have a built-in tool that allows you to track and analyze your hashtags. Nevertheless, there are plenty of external platforms that you can choose from, that can be integrated with Instagram.
13. Your Audience Has Lost Interest
Lastly, you may find that your hashtag doesn't work sometimes because your targeted audience has lost interest in the content you're sharing. Suppose your post doesn't receive any engagement in the first few hours. In that case, it's suspected that Instagram will limit the reach of your post as it is deemed as not valuable. Hence, more people won't be able to see your post.
Therefore, in these situations, we recommend rethinking your hashtag plan and inspecting whether you're attracting the right audience. Perhaps after some thought process, your answer is a definite "yes". If that is the case, then you should look into creating better content that vibes with your audience. 
Nevertheless, sometimes it may seem easier said than done. How would you know what type of content they want to see and engage with? Thus, the best way around this is to engage with your audience and ask them directly for their feedback! From there, take your time, do your research and create better and more valuable posts. 
However, perhaps you find that you're attracting followers but they don't engage and aren't your initial target audience either. In that case, there are two possible solutions:
For starters, you can take advantage of this new audience's presence on your account. Change your target audience and adapt to the preferences of this new audience. Since they're following your account, you might as well try to get them to engage.
Secondly, you can restructure your Instagram strategy and shift your focus to sharing content that attracts your ideal audience better. It will take time to figure out the content your initial ideal audience likes. However, you can create a more loyal following that will appreciate your content more. 
7 Fixes for When Instagram Hashtags Are Not Working
1. Inspect the Instagram Server Status
For starters, the first step to troubleshooting is always to check the Instagram server status before moving on to more technical fixes. This is because perhaps it's a confirmed server-side issue.
In that case, you wouldn't have to waste time trying out other fixes as the best way around is to wait it out. Nevertheless, you should still keep close tabs on any updates from Instagram themselves. 
In contrast, suppose the Instagram servers are all up and running. Then, it indicates that the issue is perhaps something on your end and you should proceed to try out other fixes in this post. 
Although Instagram doesn't have a dedicated page on the platform to display its server status, there are still other methods to use:
Method 1: Through Downdetector or Other Third-Party Status Checkers
To begin, we suggest trying out third-party status checkers. These checkers are user-based sites that depend on the number of user reports received to determine the Instagram server status. Today, many of these sites are made available on the Internet for free. However, out of the many status checkers online, we recommend using Downdetector for Instagram. 
This is because Downdetector is a well developed site that provides very thorough services and features that you'll need when checking the Instagram server status. 
Firstly, it is equipped with a live map that displays the number of reports in affected regions. From there, it will filter and pull out the top 3 problems reported. Nevertheless, being a worldwide social media platform, Instagram has many servers scattered around the globe.
Hence, for higher accuracy and reliability, you can also choose to check the servers in your country and location. Suppose you wish to know more about the issue, the comments section is also filled with user descriptions of the issue.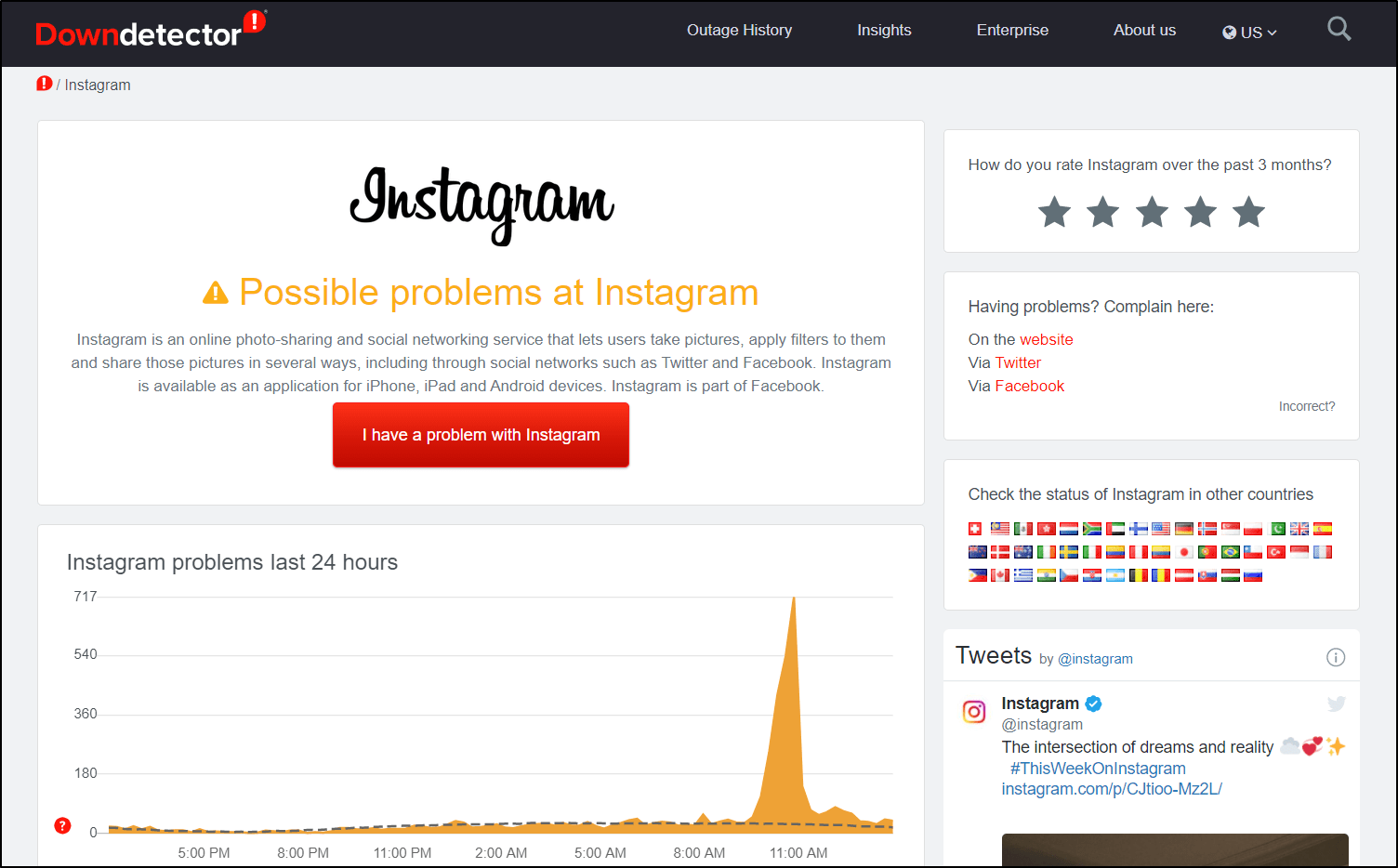 Another third-party status checker with similar features is the ServicesDown page for Instagram.
Method 2: Through the Instagram Twitter Page
The second option available is to check the Instagram server status by viewing Instagram's Twitter feed, (@instagram). While it isn't something that is specifically mentioned, suppose Instagram is facing a major nationwide issue that affects many of its users. In that case, their public relations team will usually post a notice to keep users updated. 
Additionally, Twitter is also a good place to get your hands on user reports via the hashtag #Instagram. From there, you can analyze tweet timestamps from other Instagram users. 
2. Check If Hashtag Is Banned or Restricted by Instagram
Next, we suggest checking if the hashtag you're using is a banned hashtag. Perhaps you don't come across any banned hashtags in your list. In that case, you're good to go and may proceed to check out the other fixes. 
However, if you do spot that you're using a banned hashtag, ditch it immediately. Keeping a banned hashtag in your post is not only a waste of hashtag quota. It also causes Instagram to limit the reach of your post if you continue to use them. 
Fortunately, banned hashtags are easily recognizable on Instagram. The steps to check if a hashtag is banned are as follows: 
First, launch the Instagram app and tap the

search

icon from the menu bar. 

Then, in the search bar, enter the hashtag. 

Next, select the hashtag from the search results

Lastly, click on the

Recent

tab.
Suppose the hashtag is banned. In that case, the following message will be displayed: "Recent posts from _ are currently hidden because the community has reported some content that may not meet Instagram's community guidelines."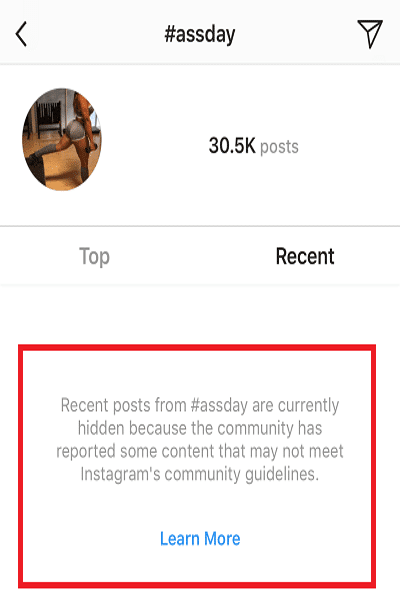 To avoid accidentally using banned hashtags, it's a good practice to make a list of hashtags related to your brand or niche and avoid sensitive topics. For a complete list of banned Instagram hashtags, you can check Social Insider's post by clicking here.
Then, before posting, look up the new hashtag and check its status. This practice also applies to the hashtags you're currently using. You need to regularly and proactively check their status because Instagram's algorithms keep changing along with the hashtags.
Subsequently, keep all the discovered banned hashtags in a list so you'll never mistakenly use them.
3. Make Your Instagram Account Public
Moving on, making your Instagram account public can also help fix issues with your Instagram hashtags. When using hashtags, it's important to note that they only work for public accounts. 🌎
This is because they're meant to help gain exposure to the community content on Instagram. 
So, if you're using a private account, you wouldn't be a part of the community conversation as Instagram won't show your post in the search results or Explore page. It will only be visible to those who are following your account on Instagram. 
As a result, it will limit your exposure as an influencer or personal brand. However, if you're using a business profile, this wouldn't affect you. It is because a business profile on Instagram will always be public. 
With that said, we have provided the steps to check if your account is private and to change said privacy settings here:
First, click on your

profile

icon in the bottom-right corner.

Then, tap on the

hamburger menu

in the top-right corner.

Next, from the pop-up menu, select

Settings.


After that, tap

Privacy

.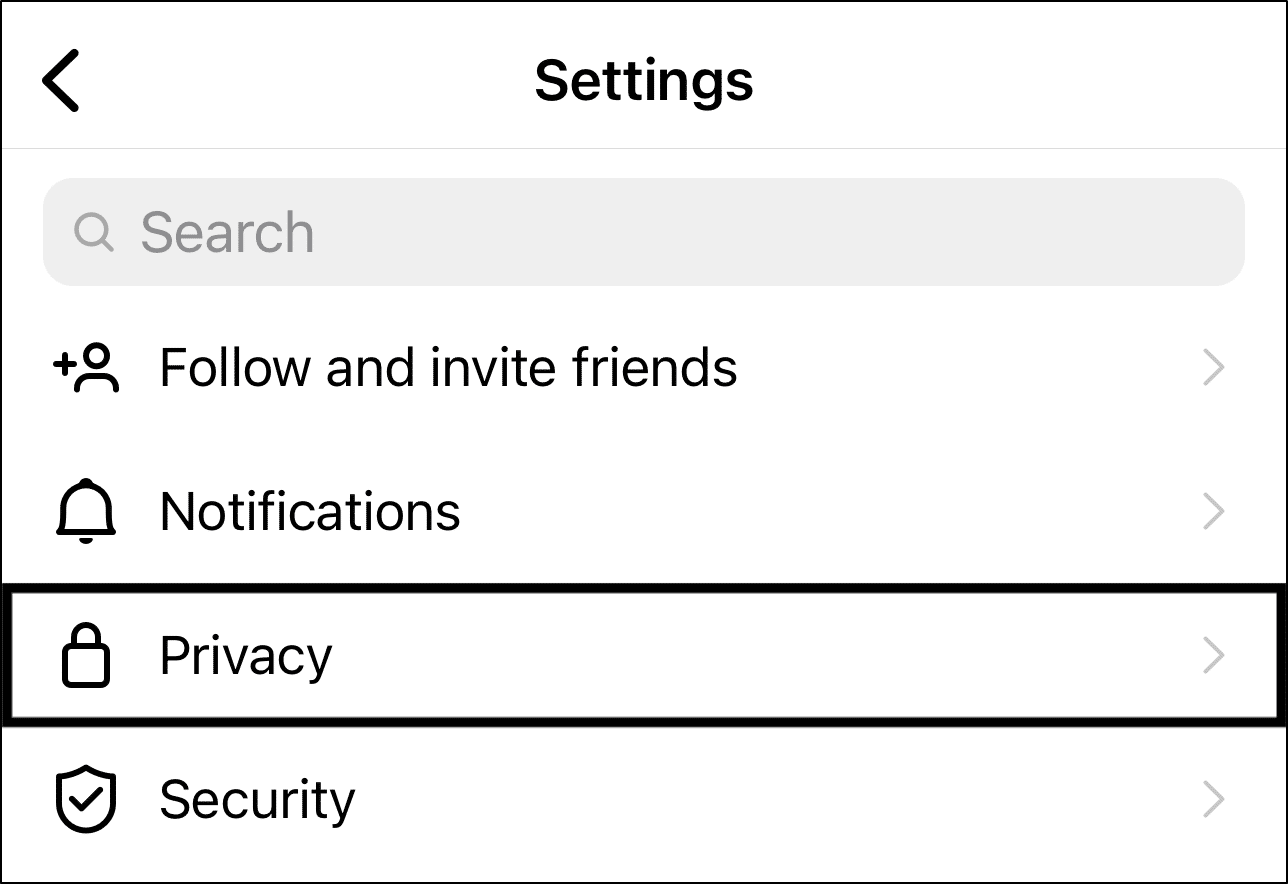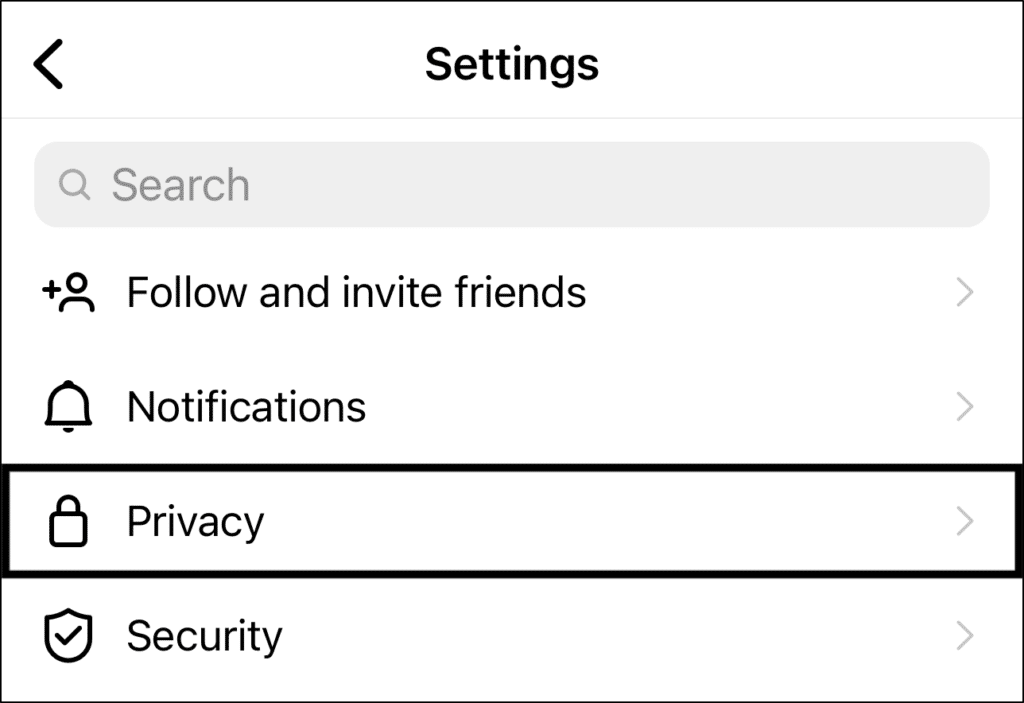 Finally, under

Account Privacy

, disable the sliding button next to

Private Account

.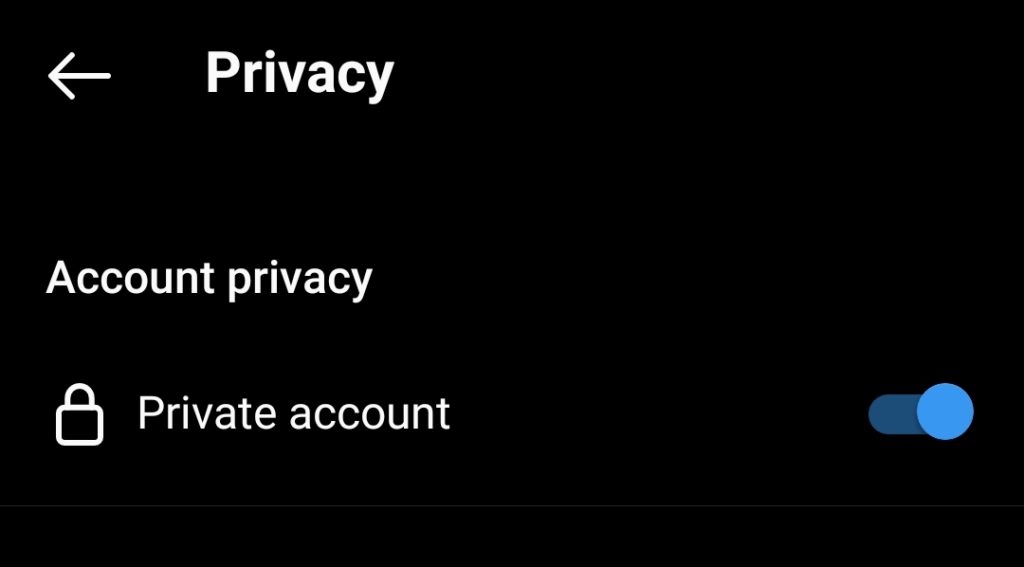 If you find that the button is enabled, this means that your account is in private mode.  
4. Check the Competitiveness of Hashtags and Consider Using Less Competitive Hashtags
Furthermore, when it comes to using hashtags, it's better to avoid chasing competitive hashtags and focus on less populated ones that fit your content. It may sound ironic, however, a less populated hashtag will give you better chances of reaching your audience. 👍
This is because they don't have a ridiculous amount of new posts kicking in every second. Therefore, your post will be able to stay on the "recent posts" feed of the tag for a longer period of time. 
On that note, how do you know if a hashtag is highly populated? Here's how!
First, you'll need to launch the Instagram app and tap the

search

icon from the menu bar.

Then, in the search bar, enter the hashtag you plan to use. 

Next, select the hashtag from the search results.

Lastly, under the hashtag page, you'll find the number of posts that have been uploaded under that particular hashtag.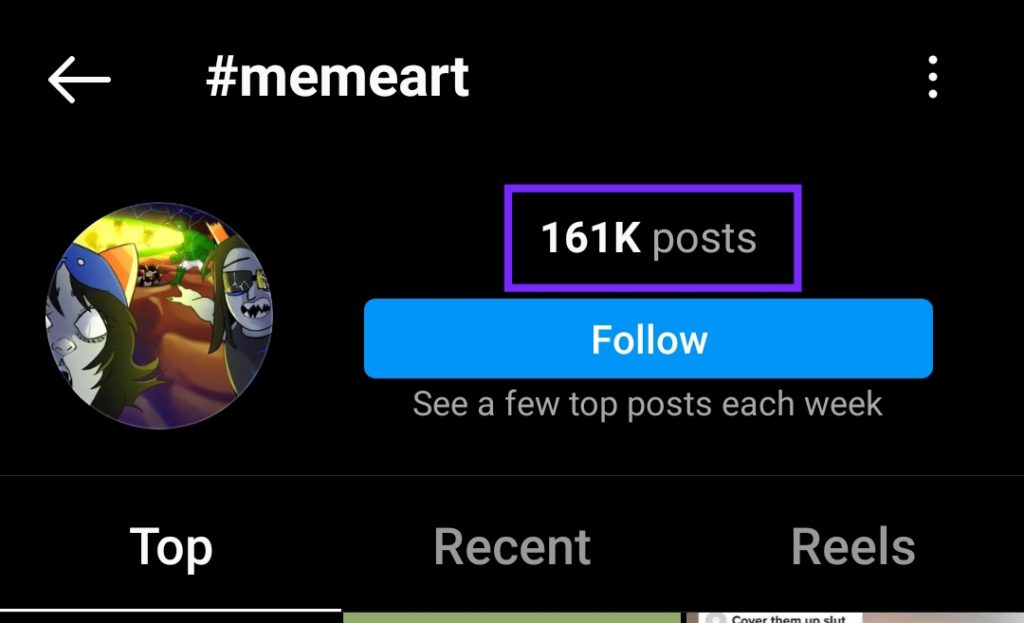 Suppose you find that the hashtag has millions of posts under it. Then, it may be considered an oversaturated hashtag.
However, you don't have to avoid these competitive hashtags entirely. Instead, you can have a good mix of them in your hashtag list. 
We have found that among your list of hashtags, you should aim for 3 to 5 popular hashtags. For these hashtags, it's okay if they have millions of posts under them. For the other hashtags in your list, try to go for ones with only a few hundred thousand posts under them. 
While minimizing the use of over-competitive hashtags, you wouldn't want to use those with little to no competition either. This is because it shows that there isn't high search traffic, a following, or a niche for that hashtag.
5. Swap Your Hashtags for Every Post
Additionally, to overcome issues with your hashtags, you should also swap your hashtags for every post. This is because using the same set of hashtags repeatedly (reason 6) gives Instagram Ai the impression that you're not valuing the quality of your content. In turn, it will flag your posts. 
With that said, we have prepared some tricks for changing up the hashtags you use occasionally:
For starters, you can change the sequence of your hashtags. It can start off in alphabetical order and move on to switching the positions of two or more hashtags. However, when doing so, we still encourage you to arrange them based on their level of significance to your posts. 
Next, you can also change the hashtags you use. While ultimately you're building a brand or an image, the content you post may differ across posts. In that case, some post-specific hashtags may not work for all your postings. Hence, you can opt to switch those tags for something that fits the post better. To make your overall posting journey easier with less hassle, we suggest creating different lists of hashtags during your research stage. Then, while you're posting, you can work through this list. 
All in all, just avoid using the same hashtags every time. It will not only keep Instagram happy, but you'll also gain new audiences with each new hashtag you're using.
6. Stop Using Hashtags on Your Posts for a Few Days
Next, you can also consider taking a break from using hashtags on your posts for a few days. This is because maybe your content quality has decreased, leading to your hashtags problems. In that case, take a step back to find your creative groove again! 
Here are some tips we've found along the way! 
Firstly, you can try geo-tagging your location to reach locals. From there, people near you can engage and get involved. 
Secondly, you can also include a call to action in your posts. These calls to actions can range from getting people to follow your account, and answering a question to visiting your website. By specifically mentioning what you want your audience to do, they are more aware of the next steps to take which increases the chances of engagement. 
At the end of the day, unique and high-quality content is the key to standing out and getting you good reach and engagement on Instagram. Even with all the existing competition, never stop being yourself in your posts. Avoid copying people's ideas and posting low-quality images.
7. Report the Hashtag Problem to Instagram Support
Lastly, suppose you find that none of the fixes has managed to solve your technical issues with the Instagram hashtags. Perhaps the hashtags aren't posting or linking correctly and you have no clue what's causing the issue. 
In that case, we strongly suggest contacting Instagram support for professional assistance. They'll be able to provide you with a more efficient fix catered to your situation and device.
To get in touch with the Instagram technical support team, you can follow these steps: 
First, tap your profile picture on the bottom-right corner to head to your profile. 

Then, tap on the hamburger menu icon in the top-right corner and tap on

Settings

. 


Under

Settings

, tap

Help

and select

Report a problem

.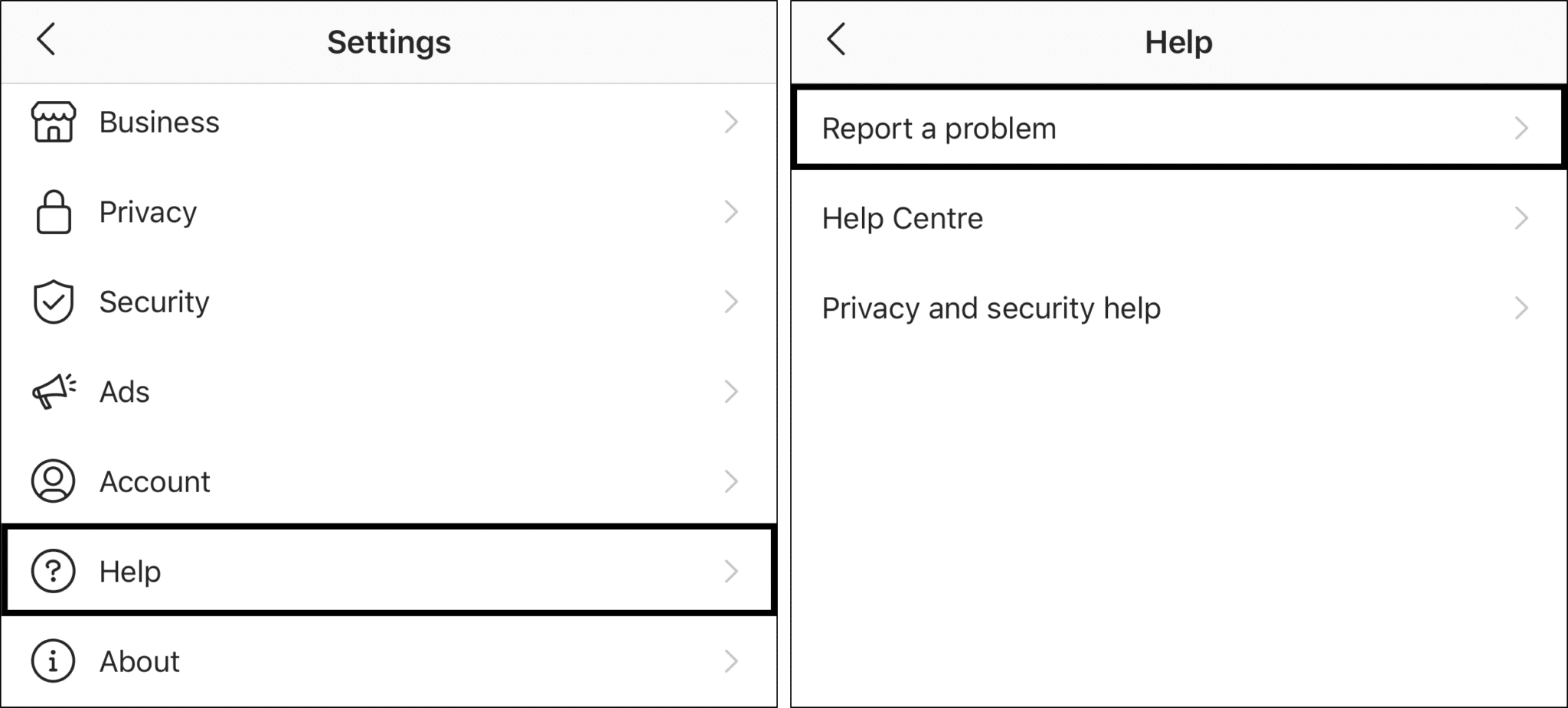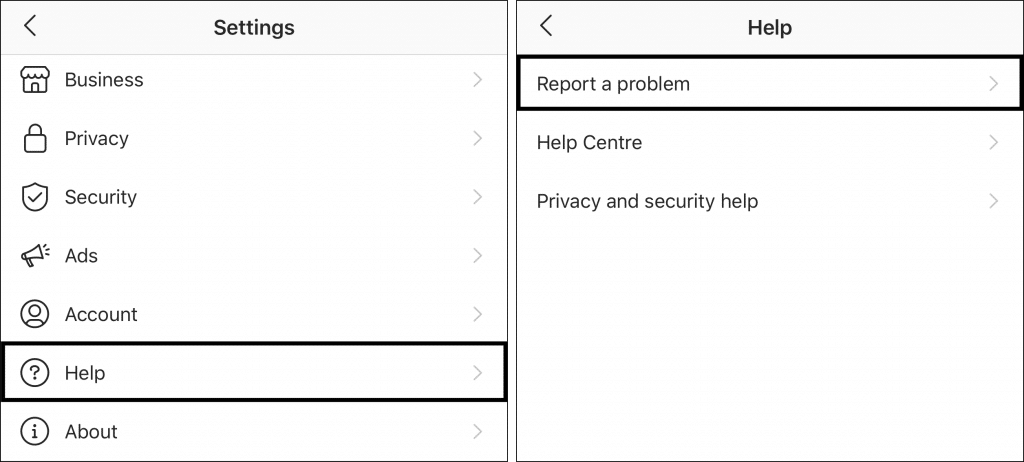 Following that, for this case, choose

Something Isn't Working

.

 

Next, describe the hashtag problem you are facing. 

Last but not least, hit the

Submit

button on the top-right corner.
Note: When sending in a report, it's important to be specific and detailed when describing the problem you're facing. Additionally, while optional, you shouldn't hold back from attaching a screenshot of the issue as well. This is because all these descriptions can give the technical team a better picture of what they're dealing with.  
Moreover, you can also follow this link to Instagram's Support Center for more explanations regarding hashtags and how to use them. From there, you can also find helpful guides on what to do when encountering other Instagram problems.
Conclusion
All in all, your Instagram hashtags may not be functioning properly for various reasons. However, you cannot deny the efficiency of hashtags when it comes to building your brand or image. Therefore, don't let petty issues like these stop you from reaching your goals. 
With that said, we've come to your assistance. In this article, we covered 13 underlying causes and 7 potential fixes for all your Instagram hashtag problems. For more information and fixes regarding captions and hashtags preventing your Instagram posts from uploading, check out our guide catered to fixing Instagram post captions that aren't showing up. Whereas for information and fixes for tagging and story mention issues on Instagram, we recommend checking our more comprehensive guide here. 
Additionally, suppose you encounter any other technical issues, Instagram-related or not. You can scout Pletaura.com for the potential fix to your problem. Don't find what you need? Give us a heads up and we're always happy to assist you!
Lastly, feel free to let us know in the comments:
Do you face problems when using Instagram hashtags too

? Share below how does your error look like.

Did any of the fixes above work for you?

Are there other useful fixes that you think we should add to the list?
Don't hesitate to share this post with your friends who aren't getting where they want to be with their Instagram hashtags! It's always nice to see your friends achieve their goals! 😊